School District Recognizes June Retirees
Wednesday, 13 June 2018 08:06
Last Updated: Thursday, 14 June 2018 14:07
Published: Wednesday, 13 June 2018 08:06
Joanne Wallenstein
Hits: 2702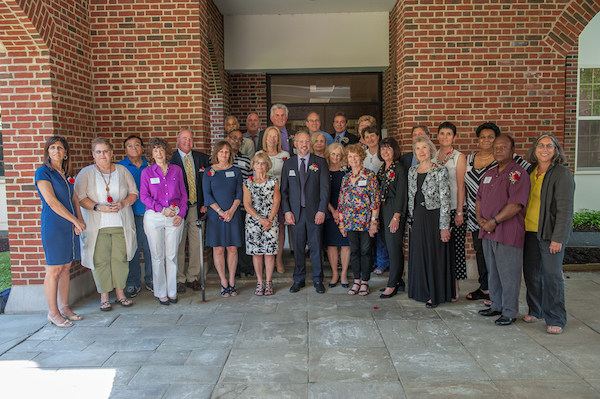 Many longtime teachers and administrators who will retire at the end of the this school year were recognized at a ceremony prior to the Board of Education on Monday night June 11. Since they were celebrated at a PT Council luncheon a few weeks ago, no individual remarks were made about each of the retirees, but they were each announced, handed a photo and given a hug and a handshake.
Here is the list of the retirees who were honored:
Dace Aperans, Quaker Ridge
Laura Bell, Scarsdale High School
Jean Conlin, Scarsdale Middle School
Sylvie Corten, Scarsdale High School
John Cuk, Scarsdale High School
Maggie Favretti, Scarsdale High School
Linda Fisher, Scarsdale Middle School
Barney Foltman, Scarsdale Middle School
Cristine Gilliland, Scarsdale Middle School
Ellen Kostas-Fiorella, Edgewood
Marjorie Najac, House Counselor, Scarsdale Middle School
George Olivier, Scarsdale High School
Chris Renino, Assistant Principal, Scarsdale High School
Trish Serafin, Scarsdale Middle School
Lynne Shain, Assistant Superintendent
Sue Silver, Scarsdale High School
Ellen Steckler, Scarsdale Middle School
Karen Steefel, Nurse
John Waters, Scarsdale High School
Board President William Natbony shared his comments below:
"On behalf of the Scarsdale Board of Education I want to welcome you to the Board's annual retirement recognition. Retirement is a momentous occasion on its' own. For the District it is time to reflect on how fortunate we were to have had all of you with us for all your years of service. Today we thank you for your lifetime of service. As an educational institution Scarsdale is a sum of its parts. No one person is responsible for its successes or continuity. We are sad that you will be leaving us but will always be grateful for your contributions and your contributions will always be part of the fabric of our schools. Indeed, as I look into the audience I see many of you who truly touched and positively impacted the lives of my own children, not only as teachers but as mentors and friends lending an ear to their struggles and their successes.
The Scarsdale Schools District is a national institution which stands for the Best in Public Education. With your help we prove each day that a public school can be just as good or even better than a private school. In recent political campaigns we have heard a lot about class warfare, the inability to move up the poverty ladder and social immobility. Public schools are at the heart of this issue. The last thirty years have seen an attack on these institutions and the rise of the charter school movement and rallying for school vouchers. But we in Scarsdale and you in particular know that you don't have to attend a private school to get a first class education. And you know that you can teach all the children from the gifted to the special needs. But you need dedicated hard working teachers and support from your district in the form of professional development and freedom in the classroom. It is your dedication and professionalism that has helped to keep Scarsdale at the top of public education. It is your dedication and professionalism that has helped us to grow, adapt and succeed in an ever-changing environment and a changing world. It is your dedication and professionalism that has helped us remain true to our motto of "non sibi." There is no question that your presence will be missed by many. As a result of your many contributions, your significant and positive impact will continue to live on in the halls of our schools and the lives of all your students.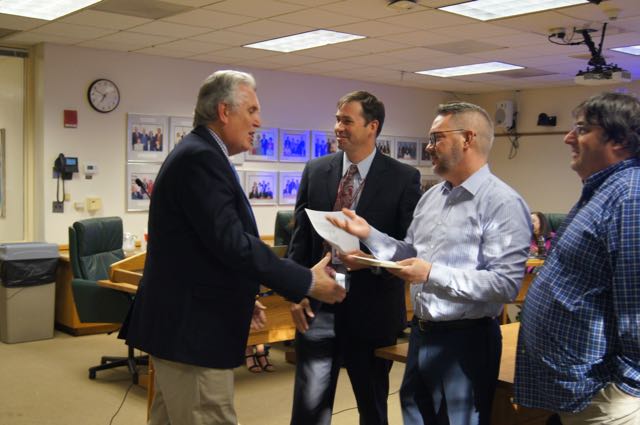 SHS Math teacher John Waters says goodbye.
We hope you will look back on your years in Scarsdale with good feelings, great memories and a bond we hope will remain with you even though you will not be walking the halls every day. You have touched the lives of so many students and co-workers. This was your home away from home. As a Board, we hope that we were good caretakers of this second home and hope that you will find ways to visit and enjoy the community you so very much helped to create.
Finally, I wonder if you have had the opportunity to draw up your bucket list for retirement. Do you have a plan for the first 100 days? What is on your checklist? Travel, museums, reading? Retirement is a wonderful time to re engage in so many interests that all of you have. We hope that this next chapter of your life brings you rest, pleasure and the great rewards you so justly deserve. Thank you."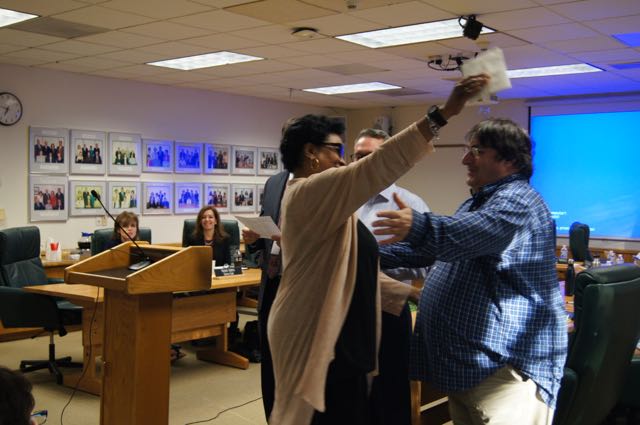 House Counselor Marjorie Najac embraces Bill NatbonyDr. Hagerman said "Retirements are a beginning, not an ending … a time for increased possibilities." Lee Brower once said, "A thriving new beginning should be an opportunity for amazing engagement, growth, contributions and increased possibilities. So, in other words, our 2018 retirees are leaving here to do more of what they have been doing for years. …."
Quoting Harvard Business School professor Clayton Christensen, he said, "Measure your career success by totaling up your relationships and not your paychecks. It is the enduring relationships over the years with students, parents, colleagues and community members that will be remembered and cherished as you look back at the time spent in your Scarsdale home away from home."
"I think we would all acknowledged that a purely quantitative approach does not do justice to the quality of the experience that our retirees have provided to countless recipients. You have taught us that you are teachers but also learners because for the best teachers these are always intertwined. You have been valued mentors and advisors for many but remain colleagues and collaborators first. … each of you has demonstrated the best of what it means to be an educator, to be passionate, to be caring and to be deeply committed."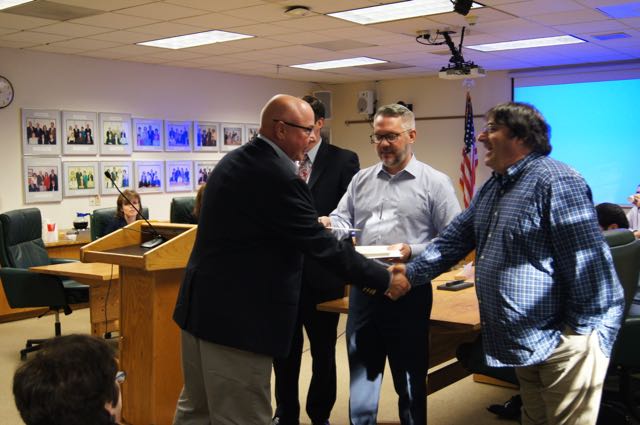 Teacher and Coach Barnie Foltman shakes hands."Individually and collectively people spoke about what they learned from being in this special place and working with one another. Colleagues were described as sources of inspiration and insight ….. On behalf of the Scarsdale community, we want to thank you once more and provide you with a group photo that we took a few weeks ago."
Assistant Superintendent Andrew Patrick also made remarks. He said, "The collective experience of the educators before us this evening, along with those not able to be here, is staggering. As a result of their contributions and commitment, thousands of Scarsdale students have had the opportunity to:
-be transformed by engaging literature, and find humanity in the words of others in one another
-discover imaginary numbers
-reach their potential in the gym, in the pool, or on the fairway
-receive truly personalized special education support
-read, write, listen and speak French, and more importantly, understand French culture
-Perform beautiful music that truly moves an audience, whether at Quaker or Carnegie
-Form and speak words precisely, clearly, and proudly
-be guided toward having agency in their own decision making
-draw, paint, sculpt, and design with passion
-act to challenge the status quo and identify, and solve, complex problems facing our world.
-experience a Scarsdale Education for Tomorrow, 2.0
When asked to reflect on their careers, the experience of working in Scarsdale was invariably described as a privilege, full of challenges to be sure, but full of opportunity as well. I am left with the collective impression that support for professional growth and renewal has been a commodity cherished by this group. In Scarsdale, the possibility exists to find just the right learning opportunity at just the right time to revisit, revise, and reimagine teaching and learning in ways large and small. These educators leveraged those resources to continually ensure that their passion for students and subject remained front and center. They depart having modeled high expectations and a capacity for renewal and reinvention for those of us remaining, and for future Scarsdale teachers and leaders. Congratulations, and thank you for many contributions!
Scarsdale resident Diane Greenwald made the following remarks about two of the retirees at the May 21, 2018 meeting of the Board of Education: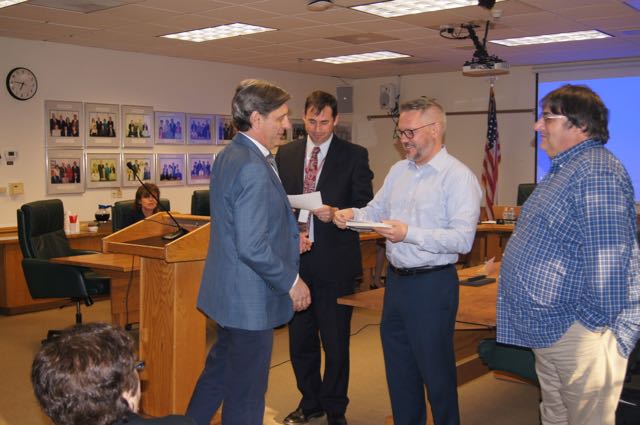 Music teacher John Cuk with Dr. Hagerman
First, Lynne Shain, in my volunteering with multiple civic organizations and as a parent, I have enjoyed learning from your leadership and your deep understanding of children's development. Your work has impacted countless students through thoughtful curriculum initiatives that collect and synthesize the most current thinking with the most tried and true methodologies. What I value most is your constant reflection on how we can best meet all children where they are -- and how to then bring each child forward to realize his or her full potential.
Thank you for your work in support of what is best in a child-centric education, and your support for our teachers as they work to impact our kids lives with warmth and energy. As the recipient myself of an education influenced by Lynne Shain from our days back in Westport, where I went to school, and she worked, I can honestly say, I felt lucky to have had you in Scarsdale for my children.
I would finally like to thank Dace Aperans, K-5 music teacher at Quaker Ridge. I first met Ms. Aperans when I was cleaning out the learning to look supply closet near her classroom one afternoon. There were an overwhelming number of art posters that Ms. Aperans would quietly come to peek through. And in her gentle way, she asked me, would it be ok if she borrowed any? Ms. Aperans was inspired by the images and integrated the art into her music lessons in all sorts of ways. In the 8 years I had children at QRS, I saw her constantly thinking of new and interesting lessons to make connections for children through music to their world around them. Performances, instruments, movement, from classic to world to popular, Ms. Aperans provided my children with a foundation that undoubtedly supports their now rather sophisticated expressions with the high school wind ensemble. If you have ever sat with me - or even near me - at a school performance, be it the squeaky early efforts or the stunning concerts at, say, Carnegie Hall - or the fabulous one I just attended for the 8th grade band and middle school jazz band, you know my unbridled enthusiasm for music education and for arts education in general. When we as a district speak of our commitment to building in our children critical thinking skills, I believe art in all its forms is central to this mission. If you have pushed your face against her classroom door window and watched Ms. Aperans flutter across her room, fully engaged in a piece or a lesson, you would be witness to, what Maxine Greene, the late Lincoln Center Institute philosopher, would describe as "a commitment to opening a door.' Ms. Greene describes this zeal and wonder as a "wide-awakeness, a perceptual aliveness, the sense of discovery, the desire to learn and thereby go beyond." Ms. Greene, when explaining why arts education is critical, reflected that, "nothing can be predetermined or predicted in the artistic-aesthetic domain. But anything is possible. We have only to free ourselves, to choose." Ms. Aparans' chose to be wide awake with our children through her joy and love of music. I thank Ms. Aperans for bringing her imagination to my children --- as so many others -- and inspiring them with possibility.