Examining the Big Questions at Westchester Reform Temple
Details

Hits: 2776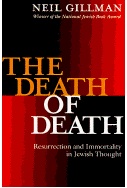 Beginning Monday, April 25th, Rabbi Jonathan Blake will begin a five-part course entitled "Death, Immortality, and Afterlife in Judaism." For five Mondays (concluding May 23rd), he will explore several questions: What does Judaism teach about death and what happens after we die? Can Jews believe in heaven? In a "soul?" In resurrection? Rabbi Blake will take participants through the many centuries of texts and traditions framing these questions and responses to them. All texts will be presented in English.
This program is free and open to the public. All session begin at 7:15 am and will be held at Westchester Reform Temple, 255 Mamaroneck Road, Scarsdale. Students are encouraged to bring a Jewish Bible (TaNaKH). A secondary text, Neil Gillman's "The Death of Death: Resurrection and Immortality in Jewish Thought" (Woodstock, VT: Jewish Lights Publishing, 1997) will also be used. This book will be purchased in bulk and sold through the temple office. To register please contact Suzanne Saperstein at: 914.468.0524 or Suzanne.Saperstein@wrtemple.org. For more information, please see  www.wrtemple.org.
On Tuesday, May 3 at 1:15 PM, members of Westchester Reform Temple's Women of Reform Judaism will welcome Rabbi Richard Jacobs as the speaker for their Spring Luncheon. Rabbi Jacobs was recently nominated to become the fourth president of the Union for Reform Judaism (URJ), but few know very much about this important pillar of American Reform Judaism. Join Rabbi Jacobs for a lively introduction to the people and issues that have shaped the Reform movement in his lecture, "From Isaac Mayer Wise to Rick Jacobs: A Short History of the URJ". A luncheon, which begins at 11:45 AM, will precede Rabbi Jacobs' talk.
This lecture is open to the public. Reservations for the luncheon portion of the program are requested by April 26th at a cost of $20 per person. This event will take place at Westchester Reform Temple, located at 255 Mamaroneck Road in Scarsdale, NY. For directions or to register in advance, please call the Temple at 914-723-7727, email to office@wrtemple.org, or visit www.wrtemple.org .
Wandering Jews
Details

Hits: 3684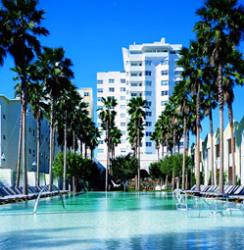 Setting: The Ritz-Carlton hotel, San Juan, Puerto Rico, April 2005. My husband, Brett, and I were lying by the pool, enjoying the early evening breezes and thinking about what to have for dinner.
"Do you hear that?" Brett asked, pointing towards a terraced area to our right. A party was beginning on a second floor balcony tucked around a corner and just out of our sight line. We could make out some laughter mixed with the sound of silverware clinking on china. Then a cacophony of music floated across the courtyard and down towards the beach.
"It's probably the same group that we heard last night," I shrugged. "A big wedding or something."
A mournful -- yet surprisingly upbeat -- whine of violin and clarinet in a minor key wafted along the shore.
This music from an ancient culture reminded us of somewhere we were not.
"Isn't tonight the second night of Passover?" Brett asked.
It was, come to think of it.
And so, we sneaked over to take a look. Eavesdropping through the glass windows and into the taffeta-and-gilded ballroom off the pool area, we saw hundreds of people milling about, preparing to sit for dinner at long banquet tables. With the Klezmer band as our witness, we confirmed what we already felt in our hearts: this was one heck of a Passover seder. And we were missing it.
It turns out that, centuries after making it out of Egypt, crossing the Red Sea on dry land, living in the desert for 40 years, and entering the Holy Land of Israel, Jews have continued to wander for Passover, just for the fun of it.
Who knew?!
Apparently, this is not news to a good deal of modern orthodox Jews. Just ask the coordinators at Totally Jewish Tours (totallyjewishtours.com), your one stop, full-service, Glatt Kosher guide to traveling the globe for Passover.
This year, you can choose your preferred Pesach locale from several resorts in Florida (obviously, duh), like Boca or Palm Beach. Do you like to golf? Then maybe the Arizona Biltmore is for you, with its two 18-hole golf courses and an 18-hole putting course. As a bonus, this hotel boasts an authentic desert surround, in case you want to, you know, reenact part of the story of the Exodus or whatever. Feeling more adventurous in your religiousness? Then I'd head to Croatia or cruise along the Panama Canal. And, if luxury is what your Passover is all about, then, by all means, do it in Capri, Italy. Stay at the Tiberio Palace, where the entire hotel will be ordained kosher for Passover. The website boasts, "Noted for its extraordinary natural beauty, splendid panoramic views, Blue Grotto, and warm climate, it is without doubt one of the most sought after destinations among jet-setters," and – dare I add – gefilte fishermen.
If you happen to be a New Yorker who wants to stay local for the holiday but are tired of the same-old, same-old at your Aunt Ethel's in Brooklyn, then I say head out for Mexicana.
Passover a la Mexicana.
You heard that right, my Hebraic compadres. Rosa Mexicano is hosting its 9th annual Passover a la Mexicana, offering Pesachdik-ish, Sephardic-inspired additions to the regular menu as a part of their "Flavors of Mexico" program for the week of April 18th.
Enjoy crisp corn tortillas filled with corned beef and cabbage, or the higadito de pollo para tacos, which, loosely translated, means chopped chicken livers. Perhaps you are more of a fan of lengua de res a la Veracruzana, a spin on traditional beef tongue. And what seder table would be complete without grandma's caldo de pollo con bolitas? (Figure it out yourself, chicken soup lovers.)
Six years have gone by since that fateful night in San Juan. Six years of predictable Passovers at home, hiding the afikomen for our children, opening the door for Elijah, and letting my dad lead us out of Egypt quickly so as not to dry out the apricot chicken awaiting us in the oven.
But not this year. Oh no. This year, what my Passover needs is lots of sun and surf. My Passover needs a hot stone massage and several Pina Coladas mixed in with the occasional macaroon.
It just so happens that one of these Glatt Kosher tour groups is running a week-long Passover Party at a hotel I'd love to visit. Call it beshert. Call it stalking. Call it what you will. Sure, the tour group is completely sold out of spaces in their program, and sure, there's no way my family and I would even qualify to be a part of such a group since we'd be snacking on bagels, pretzels and rice cakes between meals, arriving at the table with suspicious crumbs in the corners of our mouths. But I've seen their website, and now I'm kind of hungering for their famous all you can eat BBQ buffet and lavish tea room. Not to mention the renowned day camp and midnight dessert extravaganza.
Now all I need to do is convince Brett, overpay for airfare, get waxed, and totally bail on my extended family!
I may not be orthodox, but that doesn't mean I won't know a rockin' seder when I crash it.
To paraphrase the Haggadah: Next year, in Israel. This year, perhaps, in Miami.
Columnist and blogger Julie Gerstenblatt writes with humor and candor about her life in Scarsdale, her friends and family, and the particular demands of motherhood and wifedom in modern-day suburbia.
The Grneta Ensemble to Perform at Shaarei Tikvah
Details

Hits: 2747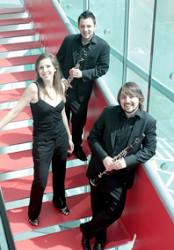 The annual Shaarei Tikvah Concert on Sunday April 3rd at 3:00 pm will feature the Grneta Ensemble, a dynamic group consisting of three exciting virtuosi -- Vasko Dukovski and Ismail Lumanovski, clarinets, and Alexandra Joan, piano, playing a fascinating and entertaining program entitled "Eastern Madness". The Gnreta Ensemble was 1st prize winner of the 2010 Arriaga Chamber Music Competition.
The concert "Eastern Madness" features folk-inspired new and older music, bringing the East to the West and a lot of excitement to the scene. The three performers, all of Eastern European heritage, excel both in classical music and in the very klezmer-like improvisational style of their native region. The program will feature several compositions of Cantor Gerald Cohen of Shaarei Tikvah, a distinguished composer of both concert and liturgical music, and also will include music by Bartok, Mendelssohn, Fairouz, and Grgin, the last a completely wonderful and wilde Macedonian clarinet virtuoso showpiece.
The Ensemble will be playing Cantor Cohen's "Grneta Variations" and "Five Hebrew Songs", both composed especially for the Grneta Ensemble, and Cantor Cohen will also be singing with the Ensemble.
Tickets are $25 in advance ($30 at door); $15 for seniors; $5 students/children.
For information or to get tickets, call 914-472-2013. Shaarei Tikvah, the Scarsdale Conservative Congregation is at 46 Fox Meadow Road, just north of Scarsdale village. It is a warm welcoming community with a dynamic religious school and educational, religious and cultural activities for all age groups. Learn more at www.shaareitikvah.org.
Claire Burson to Perform at Holocaust Commemoration at WRT
Details

Hits: 2523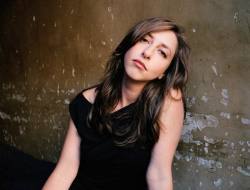 Clare Burson, the granddaughter of a Holocaust survivor, will be the special guest on Friday, April 29, at 7:45 pm at Westchester Reform Temple (WRT) during their annual Service of Responsibility. This special service is a cherished WRT tradition to commemorate the Holocaust and urges the end of genocide in our time. Performer Clare Burson, joined by members of her band, Mark Spencer on guitar (from Son Volt), Tony Leone on drums (from Levon Helm), and Andy Cotton on bass, will join with the WRT community to remember the slain and honor the survivors.
Ms. Burson's critically acclaimed album, Silver and Ash, imagines her grandmother's life in Germany, from her birth in 1919 to her escape in 1938. For this project, Burson visited her own childhood home in Memphis, where she conducted interviews with her grandmothers, and ventured to the childhood homes of her ancestors in Germany, Latvia, Lithuania, and the Ukraine. The result of Burson's travel, research, and ancestral archeology is a stunning album of 10 original songs that inhabit and give life to her grandmother's story as well as Burson's own struggles with rupture, silence, guilt, empathy, and continuity. The album was produced by Grammy® nominee Tucker Martine (R.E.M., The Decemberists), created with the help of her band, and was featured in The New York Times' article "Channeling a Family's Silence Into Songs About the Holocaust," (September 20, 2010). Ms. Burson will be performing songs from this album during the evening.

This service, free and open to the public, will take place at Westchester Reform Temple, 255 Mamaroneck Road in Scarsdale. For more information, visit www.wrtemple.org , or call (914) 723-7727.
Rabbi Jacobs Tapped to Lead the Union for Reform Judaism
Details

Hits: 3585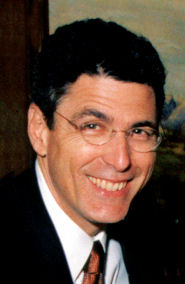 The Union for Reform Judaism (URJ) announced today the nomination of Rabbi Richard Jacobs for President of the organization, replacing Rabbi Eric H. Yoffie, who will retire in 2012. Rabbi Jacobs, Rabbi at Westchester Reform Temple (WRT) for almost 20 years, and a resident of the Scarsdale community, will be only the fourth president of the URJ in the last 68 years.
"What an exceptional honor and enormous responsibility that has been bestowed upon me," said Rabbi Jacobs. "Taking on this demanding new position means leaving a place I love and the remarkable sacred community we are still creating. But I became a rabbi almost thirty years ago to serve God and the Jewish people wherever I could do the most good. At this dramatic moment in the life of Reform Judaism, I feel deeply that I have a responsibility to serve our wider Jewish community."
"With this profound honor, of course, comes a degree of sadness for our community," said Lisa Messinger, WRT President. "For more than 19 years, Rabbi Jacobs has led our congregation. Together, we have celebrated holidays and life cycle events, taken action for justice, joined together to address human needs around the globe, and, of course, prayed, studied, celebrated and mourned. We are proud that his leadership will be the guiding vision for the Reform Movement in the 21st century."
WRT Executive Director, Yoel Magid, stated simply, "Rabbi Jacobs always challenges himself as a man and as a rabbi, and inspires others through his example. Now 900 congregations will be inspired, as well as the world."
The Union for Reform Judaism was founded in 1873 by Rabbi Isaac Mayer Wise (as the Union of American Hebrew Congregations). It has grown from an initial membership of 34 congregations in 28 cities to more than 900 congregations in the United States, Canada, the Bahamas, Puerto Rico and the Virgin Islands. It is the largest Jewish movement in North America and represents an estimated 1.5 million Jews.
Rabbi Richard Jacobs has been Rabbi at Westchester Reform Temple in Scarsdale, New York, since 1991. From the moment he arrived, he played a visionary role in guiding the educational mission of the community, creating meaningful ways to worship and heal, and most recently leading the lay and administrative team in building a new "green" sanctuary, as well as transforming the original sanctuary into new classrooms for the Religious School and adult learners.
Rabbi Jacobs was ordained in 1982 by Hebrew Union College-Jewish Institute of Religion (HUC-JIR) in New York, and he served as the Rabbi of the Brooklyn Heights Synagogue from 1982 until 1991. In the early 1990s, Rabbi Jacobs was part of the founding group of Synagogue 2000, an organization committed to revitalizing synagogues throughout North America. Working with rabbis across the country, he continues to address synagogue transformation as a board member and program fellow of Synagogue 3000.
Believing that change cannot stop at the local or national level, Rabbi Jacobs sits on the Board of American Jewish World Service, an organization providing nonsectarian humanitarian aid and emergency relief to underprivileged people worldwide. Since a 2005 trip to Chad, he has worked tirelessly to bring an end to genocide in Darfur. Rabbi Jacobs was a member of the international board of the New Israel Fund from 1992 to 2001, and now serves as the Chair of the Pluralism Grants Committee. For more than fifteen years, Rabbi Jacobs has studied at the Shalom Hartman Institute in Jerusalem and in 2007 became a senior rabbinic fellow. Rabbi Jacobs served on the Board and Executive Committee of the Central Conference of American Rabbis, as well as boards of the Union for Reform Judaism, New York's UJA-Federation, and ARZA/ World Union. Formerly a dancer and choreographer with the Avodah Dance Ensemble, Rabbi Jacobs has led workshops on movement and prayer at HUC-JIR, Union Theological Seminary and in many synagogues and educational settings. Rabbi Jacobs lives in Scarsdale with his wife, Susan K. Freedman, and their three children.