Gift Drive for Edward Williams School
Monday, 13 December 2010 12:34
Last Updated: Monday, 13 December 2010 12:37
Published: Monday, 13 December 2010 12:34
Hits: 2406
Westchester Jewish Community Services held their annual "Have a Heart for the Holidays" luncheon at the home of Linda Plattus on Friday December 10th. Attendees brought gifts and gift cards to be given to children who attend the Amazing Afternoon after-school program at the Edward Williams School in Mt. Vernon.
Mary Figueroa, Program Coordinator at Edward Williams spoke to the group about the program and how these gifts will benefit the disadvantaged children who go to the program. She also discussed the meaningful relationships Scarsdale children who volunteer at the school have built with the program's students.
Over the past five years, Scarsdale families have donated close to 1,000 toys and gift certificates for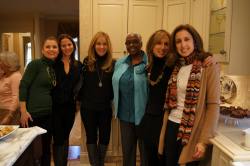 developmentally disabled and disadvantaged children and adults who are served by Westchester Jewish Community Services (WJCS). If you were not able to attend the luncheon, but wish to donate a gift, please contact Meryl Lewis, WJCS, 845 North Broadway, White Plains, NY 10603.