Teens Invited to Apply for The Trip of a Lifetime
Saturday, 15 January 2011 16:29
Last Updated: Saturday, 15 January 2011 16:32
Published: Saturday, 15 January 2011 16:29
Hits: 2607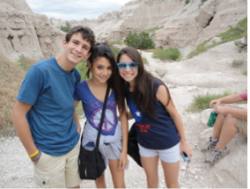 Stan Rosenberg SHS '10 is a freshman at NYU and the Founder and Chairman of Trip of a Lifetime. whose mission is to provide funding for underprivileged students to go on summer travel experiences. The completely student-run and operated organization has twelve members, ranging in age from 15-19. Since its inception in the fall of 2008, the organization has raised over $75,000 and has sent five deserving teenagers on life-changing trips to the West Coast. This year, Trip of a Lifetime plans to send 4-7 students on summer trips.
The idea for the organization stemmed from an amazing travel experience Stan had three years ago. In the summer of 2007, he went on a teen tour to the West Coast and the experience changed his life. Besides seeing awe-inspiring sites such as the Grand Canyon and The Golden Gate Bridge, the trip allowed him to develop self-confidence and leadership skills and gave him the impetus to start the organization.
From his experience, he realized that traveling is contagious; one positive experience can impact many lives. This is the premise Trip of a Lifetime is built on. The vision is for students to use these amazing experiences to make an impact in their community. One of the students who went on a trip this summer remarked how: "I've always wanted to help out in my community but was never motivated enough. This trip was the motivation I needed. I am now going to look into assisting in a hospital or soup kitchen. Volunteering is an easy way to help out in the community that can make a big difference. This trip gave me the confidence to really be a big impact my community in the coming years and the rest of my life."
Trip of a Lifetime works with local high schools and organizations to identify students for these trips. All eligible students must be in ninth or tenth grade, qualify for financial need, and use the experience to make a difference in their communities. In order to be considered, any student must fill out an application and get a recommendation from their dean or organization leader. The group has partnered with a national teen tour corporation to provide discounted trips and to ensure that as many students as possible are able to take advantage of this opportunity. All applications are due by March 15th 2011. More details about the application and the trips can be found on their website: www.projecttoal.org or email Stan Rosenberg at srosenberg@projecttoal.org .