Scarsdale Rotary Club Awards Grants to Local Charities
Wednesday, 07 February 2018 12:38
Last Updated: Wednesday, 07 February 2018 12:38
Published: Wednesday, 07 February 2018 12:38
Joanne Wallenstein
Hits: 2515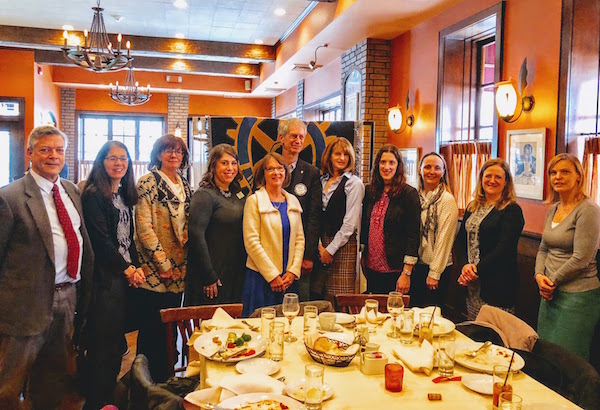 On January 16, 2018, at its weekly Tuesday luncheon at Muscato Restaurant in Scarsdale, the Scarsdale Rotary Club honored the local charities awarded discretionary grants through an application process. These grants are funded through the Club's annual Winetasting Fundraiser held each Spring. The charities which received discretionary grants are:
• Children's Aid Wagon Road Camp
• Girls Inc of Westchester
• Haiti MaryCare
• Hospice of Westchester
• The Luke Moretti iPad Program at Burke Rehabilitation Hospital
• Make A Wish of the Hudson Valley
• My Sister's Place
• Pace Women's Justice Center, and
• Scarsdale Task Force on Drugs and Alcohol
The Rotary Club's Ninth Annual Wine Tasting Fundraiser, which will take place on Thursday April 19, 2018 at the Scarsdale Golf Club from 6-8:30 PM. There will be a live auction and raffle, wines by Vintology and food will be provided by local restaurants, including Muscato, Chat, Meritage, Lange's Deli, Scarsdale Golf Club, Ruffled Feathers, Martines and others. This annual event funds grants to the Club's five annual charity partners (The Greenburgh Nature Center; Lakota Children's Enrichment; Scarsdale & Edgemont Family Counseling Services; The Scarsdale Foundation; and Scarsdale Volunteer Ambulance Corps), the discretionary grants like those made at the January luncheon and other charitable works supported by the Rotary Club throughout the year.
To learn more about the Scarsdale Rotary Club, or to purchase a sponsorship and/or tickets to the April 19, 2018 event, please visit the Club's website. The Scarsdale Rotary Foundation is a 501(c)(3) nonprofit corporation and contributions are tax deductible to the full extent of the law.