Bestselling Author Draws a Crowd to Scarsdale Library
Thursday, 15 February 2018 09:44
Last Updated: Thursday, 15 February 2018 10:14
Published: Thursday, 15 February 2018 09:44
Joanne Wallenstein
Hits: 3590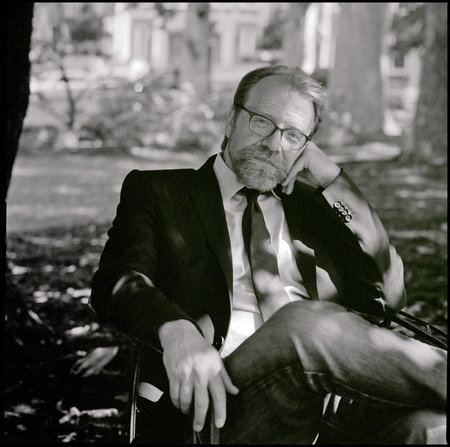 Bestselling author and winner of the Man Booker Prize George Saunders drew a sold-out crowd to the Scarsdale Library on February 8 for an interview and reading from his latest book, Lincoln in the Bardo. Also on stage was Andy Ward, Editor in Chief of Random House who has edited Saunders' work since 2005. The evening was hosted by the Scarsdale Adult School.

Saunders will be sixty this year but looks far younger and has a terrific sense of humor and a warm, engaging way about him. Former Scarsdale Adult School Board member Nancy Alderman introduced Saunders and explained his long road to becoming an author. Saunders was born in Amarillo, Texas and attended the Colorado School of Mines where he studied engineering. He eventually found his way to the MFA program at Syracuse but struggled for years, working as a technical writer by day and writing fiction at night. He now teaches writing at Syracuse.

Lincoln in the Bardo, is set in a graveyard during the Civil War and is narrated by a chorus of ghosts. President Lincoln has just lost his beloved 11 year-old son Willy, and reflects on his loss and the loss of thousands of soldiers in the war. Saunders' characters are drawn from historical texts and the book reads like a play, with a cast of unfortunates who are caught in purgatory.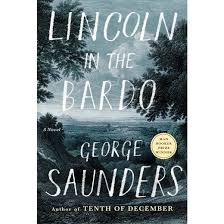 SAS Director Jill Serling served as narrator while a group of volunteers read from a section of the book. On stage were Ann Sacher, Sue Silver, John Seider, Alexa Trujillo, and Steven Orlofsky with Saunders playing the role of Lincoln, because as he explained, "It's my book."
Following the reading, editor Andy Ward came to the stage and Saunders explained that he was inspired to write the book when he saw Lincoln's crypt in Washington twenty years ago. He said that before writing this book he had written and abandoned another book set in a graveyard in upstate New York. When a student suggested he write a book of monologues from ghosts he went back to the idea about Lincoln and eventually created his bestselling work.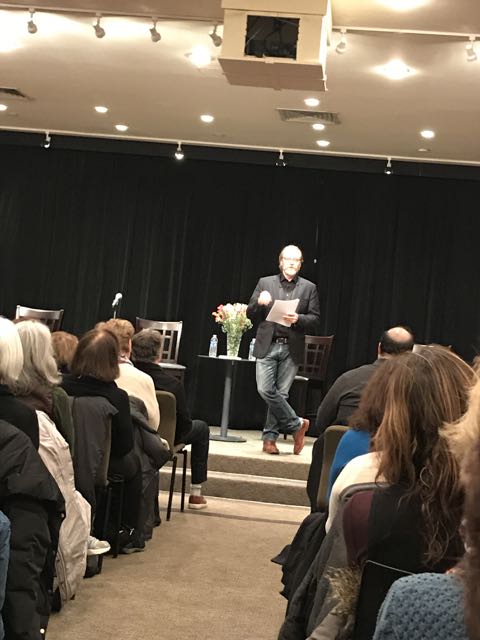 Saunders said he became obsessed with Lincoln and has a shelf full of books about him. He said that he "inhabited him" for several years. He explained that like Lincoln, he values kindness. This thought was reflected in a now famous graduation speech delivered at Syracuse by Saunders in 2013, when he said the following:
"So here's something I know to be true, although it's a little corny, and I don't quite know what to do with it:
What I regret most in my life are failures of kindness.
Those moments when another human being was there, in front of me, suffering, and I responded . . . sensibly. Reservedly. Mildly.
Or, to look at it from the other end of the telescope: Who, in your life, do you remember most fondly, with the most undeniable feelings of warmth?
Those who were kindest to you, I bet.
It's a little facile, maybe, and certainly hard to implement, but I'd say, as a goal in life, you could do worse than: Try to be kinder."
Lincoln in the Bardo is now available in paperback and Scarsdale was Saunders second stop on his book tour.

It was a night to remember in Scarsdale. Scarsdale Adult School Director Jill Serling wishes to thank Nancy Alderman, Esther Newberg, Andy Ward, Sue Silver, the SHS students, the custodial staff at the library and the entire staff of the Scarsdale Adult School.