A Shopping Day for Teens Brings New Clothes and Confidence
Wednesday, 02 May 2018 12:47
Last Updated: Thursday, 03 May 2018 11:14
Published: Wednesday, 02 May 2018 12:47
Sarah Kazan
Hits: 2627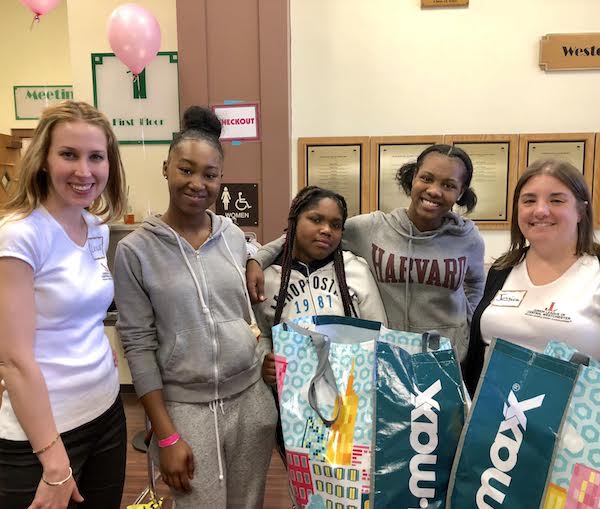 On Tuesday, May 1, 2018, more than 200 low-income girls had the chance to shop for new clothes thanks to the efforts of volunteers who gather twice a year to run a daylong "Teen Boutique." This clothing "pop-up" shopping experience, sponsored by The Sharing Shelf of Family Services of Westchester, provides low-income girls ages 13-19 with an opportunity to select from thousands of new and gently used clothes and accessories. The event, held on April 21 at the Westchester County Center, was made possible by more than 150 volunteers, who created the atmosphere of a trendy boutique by setting up racks of donated clothing.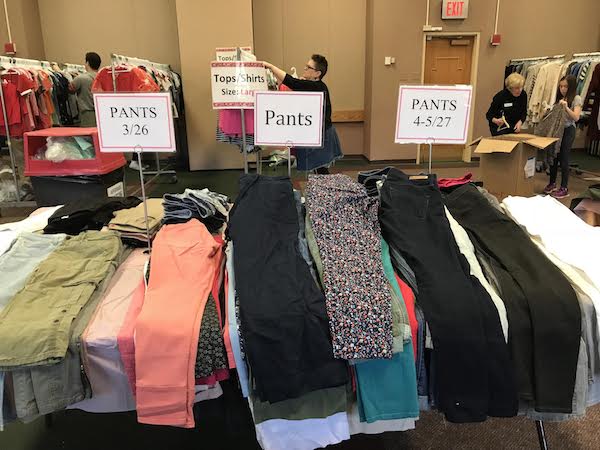 Donated Pants in All SizesAlthough Westchester County has one of the highest median family incomes in the country, many Westchester families live in poverty. Approximately one-third of all households spend at least 35% of their income on housing, leaving fewer resources for other needs. In such circumstances, new clothing and school supplies are a luxury these families cannot afford. The Sharing Shelf helps meet that need by organizing two Teen Boutique events—one in the Spring and another in the Fall—and by collecting new and gently used children's clothing and other items which are distributed to families in need through social service agencies, schools, hospitals and other non-profits.
"Our biannual Teen Boutique has been a vast success because it empowers the teen girls to choose the essential items they need to thrive, enabling them to feel valued and more confident," said Deborah Blatt, Program Director and Founder of The Sharing Shelf of FSW. "With each Teen Boutique, we see the power of the Westchester community coming together to make it happen, and we look forward to the continued support of those who need it most."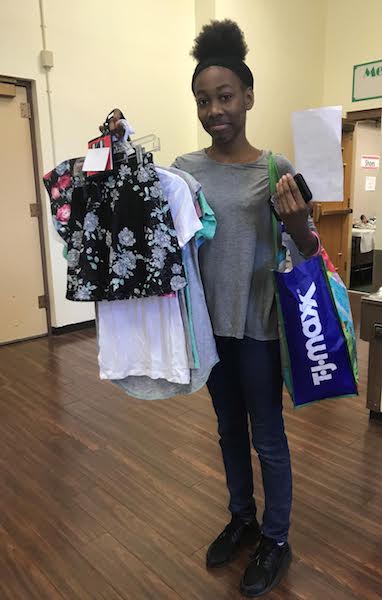 A Happy ShopperBlatt added that the Teen Boutique wouldn't be possible without the help of the entire community, including event partners from the Junior League of Central Westchester. Other key supporters included the Westchester County Government, Westchester County Center, Delivering Good, Eileen Fisher Leadership Institute, Bra*Tenders, Inc, Church of Saint Pius X, Kneaded Bread Inc, Costco, Trader Joe's, I AM MORE Scarsdale, and the many community members who ran clothing drives.
FSW Board Chair Lisa Copeland, who volunteered as a personal shopper for a girl with special needs, called the event "rewarding and memorable." She credited her fellow volunteers with creating a fun and meaningful experience, adding "everyone was so enthusiastic and there was a spirit of camaraderie as volunteers worked together to assemble outfits and find just the right clothing for each of the girls. We all had a great time!"
Excess merchandise from the event will be donated to The Summer Camp, a camp serving 150 low-income girls, and Neighbor to Neighbor, a food pantry and clothing program based in Fairfield County.
For more information and ways to get involved with future Teen Boutiques, click here.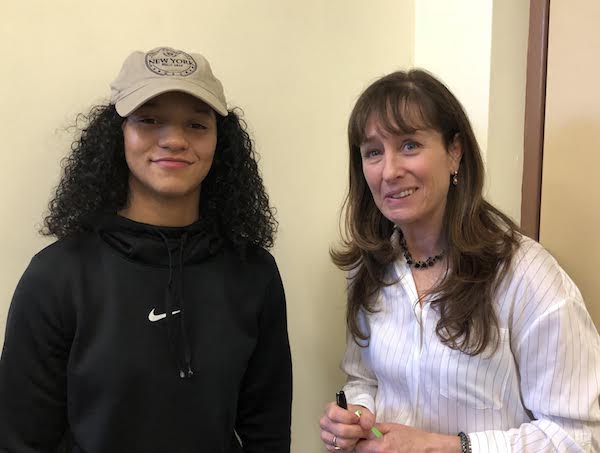 A Successful Day at the Boutique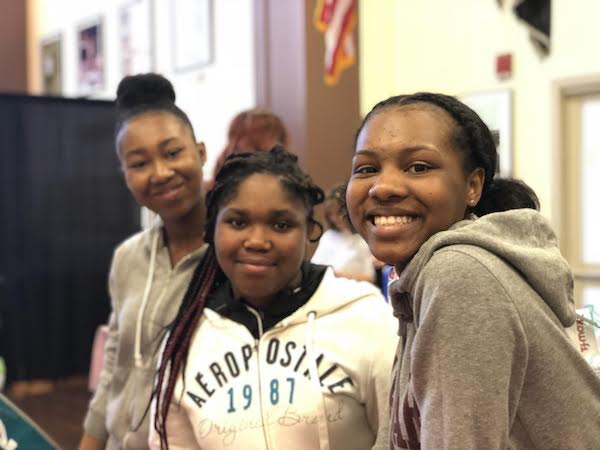 More Happy Shoppers
About the Sharing Shelf
Founded in 2008, the Sharing Shelf of FSW collects new and gently used children's clothing and other items and distributes them through social service agencies, schools, hospitals and other non-profits to families in need.
About Family Services of Westchester
Family Services of Westchester, Inc. (FSW) is a private, not-for-profit agency serving our community since 1954. Headquartered in Port Chester, FSW runs more than 50 social service and mental health programs that reach 30,000 children, teens, adults, and families a year. Programs include adoption and foster care for children; Head Start and Pre-K programs for Westchester's youngest students; Big Brothers/Big Sisters and other mentoring programs for teens; social support for the elderly; assistance to veterans; and educational and support services for people living with HIV/AIDS. We are licensed by the New York State Office of Mental Health to provide comprehensive mental health services at seven Family Centers (Hastings-on-Hudson, Mt. Vernon, Pelham, Port Chester, Sleepy Hollow, White Plains, and Yonkers) and five school-based mental health clinics. For more information about FSW, click here.