Scarsdale Assistant Superintendent Drew Patrick Earns Doctorate and Wins Award
Tuesday, 22 May 2018 14:06
Last Updated: Thursday, 24 May 2018 11:12
Published: Tuesday, 22 May 2018 14:06
Hits: 2700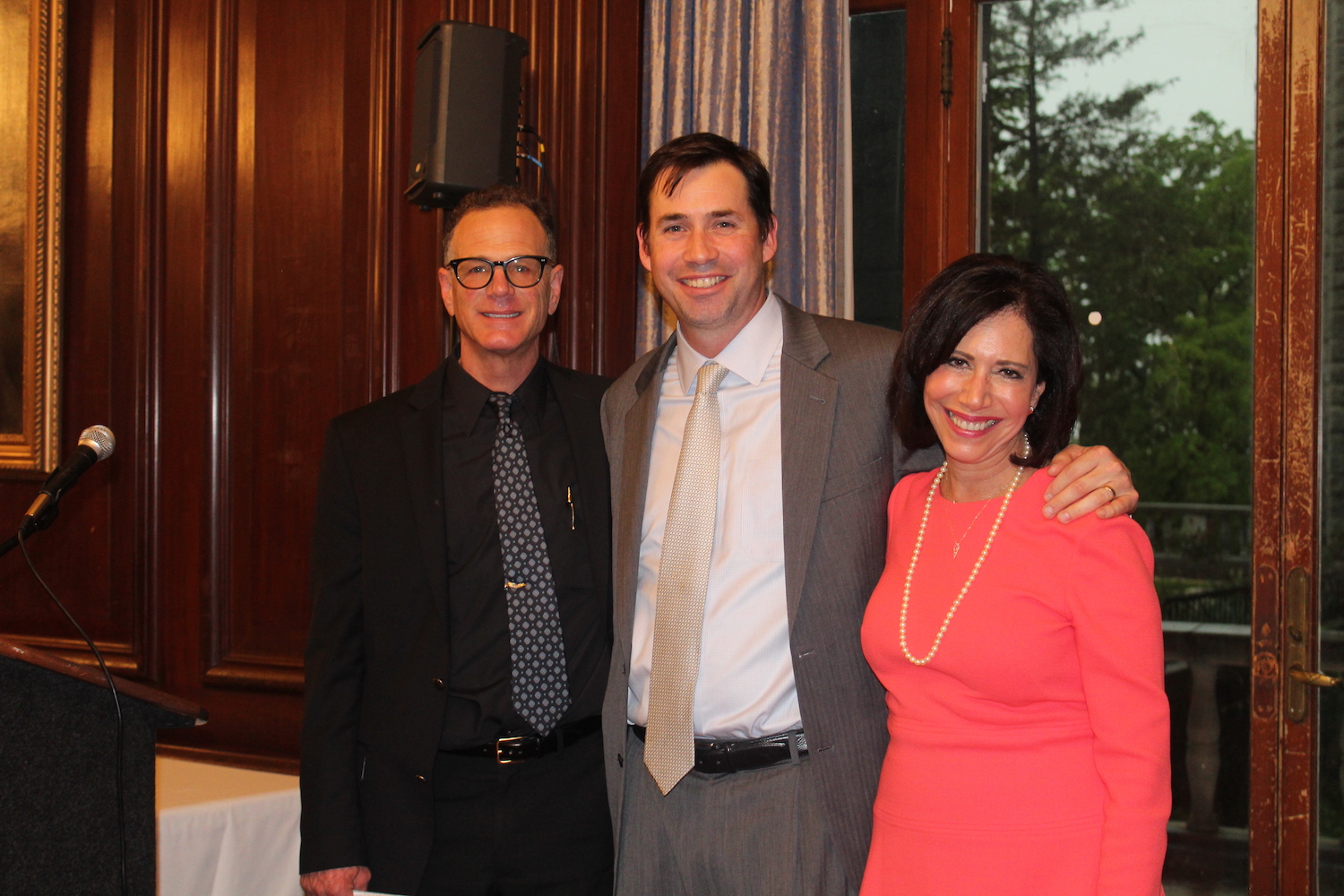 Dr. Andrew P. Patrick (Center) Receiving His Doctorate and AwardOn an evening when tornadoes touched down nearby, Manhattanville College Graduate School of Education hosted a pre-graduation reception for the doctoral class of 2018 at Reid Castle. Amid 100-mile per hour winds, the century-old granite structure held strong—an apt metaphor for the enduring capacity and supportive relationships shaped through Manhattanville's Doctoral Program in Educational Leadership.


The crowd of faculty and administrators, graduates and their guests, and graduates from the prior eight years of the doctoral program as well as many currently enrolled, gathered in the gracious Ophir Room. Renee Gargano, Assistant Director for the Doctoral Program in Educational Leadership, opened the evening, followed by a welcome by Manhattanville College's Provost Louise H. Feroe and a toast by Dr. Shelley Wepner, Dean of Manhattanville College School of Education.


The graduates were called up one by one by their advisors and presented with a gift and hood for commencement, including Scarsdale Schools Assistant Superintendent for Human Resources and Leadership Development Dr. Andrew P. Patrick.


Dr. Stephen Caldas presented Dr. Andrew P. Patrick with the award for Outstanding Leadership in the Doctor of Education in Educational Leadership.

"Drew used his time in the program to research the flaws that he saw within the state's Annual Professional Performance Review (APPR) plan," said Dr. Caldas. "The powerful evidence demonstrated through his research caused the State Education Department to put a moratorium on using growth scores in the APPR—a moratorium which is still in effect today."


Putnam/Northern Westchester BOCES and Manhattanville College's impact on preparing educational leaders is remarkable, far reaching, and deep within many school districts in the Hudson Valley and beyond. Several of the graduates also received their prior degrees from Manhattanville College and the many leadership preparation programs offered through the Putnam/Northern Westchester BOCES, namely the Future School Leaders Academy.


"I have shared the joy of watching several of these new doctors grow since they were very young teachers," remarked Gargano.


"The Latin root of doctor--doceō, literally means 'I teach,'" said Dr. Monson, Director of the program, in his closing remarks to the graduating class of 2018. "Defending your dissertation to the faculty was your first conversation among peers. As practitioner-scholars, you have the opportunity to effect broader change throughout the field of education."