Scarsdale Swimmers to Cross Long Island Sound to Raise Funds for Cancer Research
Wednesday, 18 July 2018 23:10
Last Updated: Thursday, 19 July 2018 17:35
Published: Wednesday, 18 July 2018 23:10
Joanne Wallenstein
Hits: 3423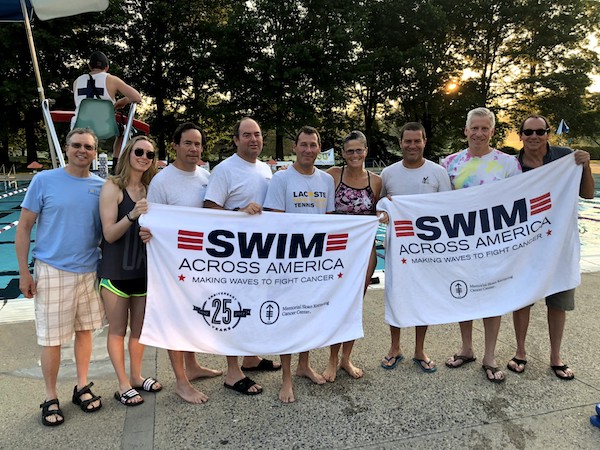 Michael Zeller, Amanda Rachlin, Doug Rachlin, Joe Kaufman, Joel Talish, Carol Wolfe, Eldad Blaustein, Josh Glantz, John NeedhamNext week, on July 28, more than a dozen Scarsdale residents will take part in the 26th annual Long Island Sound Swim to raise money for cancer research and treatment. As part of Swim Across America, the Long Island Sound Swim has raised more than $10 million over the past 25 years benefiting immunotherapy research at the Swim Across America Laboratory at Memorial Sloan Kettering Cancer Center, pediatric oncology research at Morgan Stanley Children's Hospital of New York-Presbyterian and patient services with Cancer Support Team.
The Scarsdale residents participating this year include Joe Kaufman, Joel Talish, Josh Glantz, Noah Glantz, Eldad Blaustein, Patrick Bates, John Needham, Dan Needham, Doug Rachlin, Amanda Rachlin, Miles Rubin, Noonie Thompson, Jeannine Palermo, Carol Wolfe, Michael Zeller, Peter Doyle, and Chip Rich. They will be joined by kayakers Jeff Malsch, Joe Losardo, and Mitch Kulick.
Each year, the takes a name in memory or honor of someone close to our team who has lost their life to cancer or is currently fighting it. We hope that one year, we will fail to have a name. While sadly this is not that year, we're grateful to be swimming in honor of a friend and Scarsdale neighbor.
This year, the team is swimming as "Team Valerie" in honor of Valerie Narins Malsch. Her husband, Jeff, has accompanied the team in prior years as a kayaker and will do so again this year. Valerie, a lifelong Scarsdale resident and mother of four, was diagnosed with Multiple Myeloma in April 2017. Multiple Myeloma causes cancer cells to accumulate in the bone marrow, where they crowd out healthy blood cells. Following her diagnosis, Valerie has undergone chemotherapy, immunotherapy and a bone marrow transplant, which required a three-week hospital stay and two additional months of very limited interactions with friends due to a severely compromised immune system. In May, Valerie's blood tests and bone marrow biopsy results showed no detectable cancer, and she is currently considered in complete response. Still, she will continue to take a maintenance drug cocktail for the foreseeable future. Valerie feels and looks great, especially with her current GI Jane hairstyle, and Team Valerie is motivated by her fighting spirit to swim on her behalf.
Please consider supporting Team Valerie by clicking here: Donate to Team Valerie.
The Malsch Family