Deb Pekarek to Chair Scarsdale Bowl Committee
Friday, 12 October 2018 15:43
Last Updated: Friday, 12 October 2018 15:57
Published: Friday, 12 October 2018 15:43
Joanne Wallenstein
Hits: 1765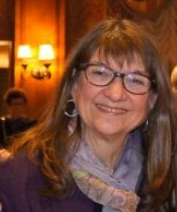 Deb Pekarek has been named Chair of the 2019 Scarsdale Bowl Committee. Randy Guggenheimer, President of the Scarsdale Foundation, announced the appointment.
Mr. Guggenheimer also announced that Abby Sroka will be joining the Bowl Committee as Secretary/Treasurer.
The Scarsdale Bowl is awarded annually to a Scarsdale resident in recognition of their outstanding volunteer service to the community.
As Bowl Committee Chair, Deb Pekarek will head the Scarsdale Bowl nominating committee and the community celebration dinner to be held on Wednesday April 10, 2019 at Mulino's at Lake Isle. When she accepted her appointment, Ms. Pekarek noted, "Volunteerism and Scarsdale are synonymous. To be part of the process to recognize one of our many volunteers is a great honor. I look forward to our Scarsdale Bowl Dinner! Please join us!"
Deb has been an active volunteer in a multitude of Scarsdale organizations and boards most recently as a Village Trustee and Police Commissioner, chaired Personnel, Sustainability, Municipal Services, and was Fire Commissioner. She has also served as Vice President and chaired Planning & Zoning with the Scarsdale League of Women Voters, was a director of the Friends of Scarsdale Parks, President of the Greenacres Neighborhood Association, vice chair of the School Board Nominating Committee, Scarsdale Forum Sustainability Committee chair, Junior League of Central Westchester
Finance and Training Chair and Greenacres PTA Carnival Chair. Deb graduated from Elizabethtown College with a degree in business administration and received her Masters of Teaching from Manhattanville College. She was a product manager for ten years and then was a teacher in Mamaroneck and the Bronx. She and her husband Jon Leslie lived in many communities across the country and moved to Greenacres in 1992 with their son Jeffrey, who graduated from SHS.
The Scarsdale Bowl is administered by the Scarsdale Foundation, which operates as a not-for-profit community foundation to promote the civic welfare. The Foundation provides need-based financial aid to Scarsdale High School graduates who are entering their sophomore, junior and senior years in college and to children attending the Recreation Department summer day camp. It also administers a number of special purpose funds and makes grants for various community needs, which have included the Scarsdale Volunteer Ambulance Corps, the Scarsdale/Edgemont Family Counseling Service and the Scarsdale Public Library.
Additional information about the Scarsdale Foundation and the Scarsdale Bowl can be found at www.scarsdalefoundation.org.