"This is Hunger" A Must-See Experience Reveals Faces, Stories of America's Hidden Hungry
Details

Written by

Joanne Wallenstein

Hits: 1122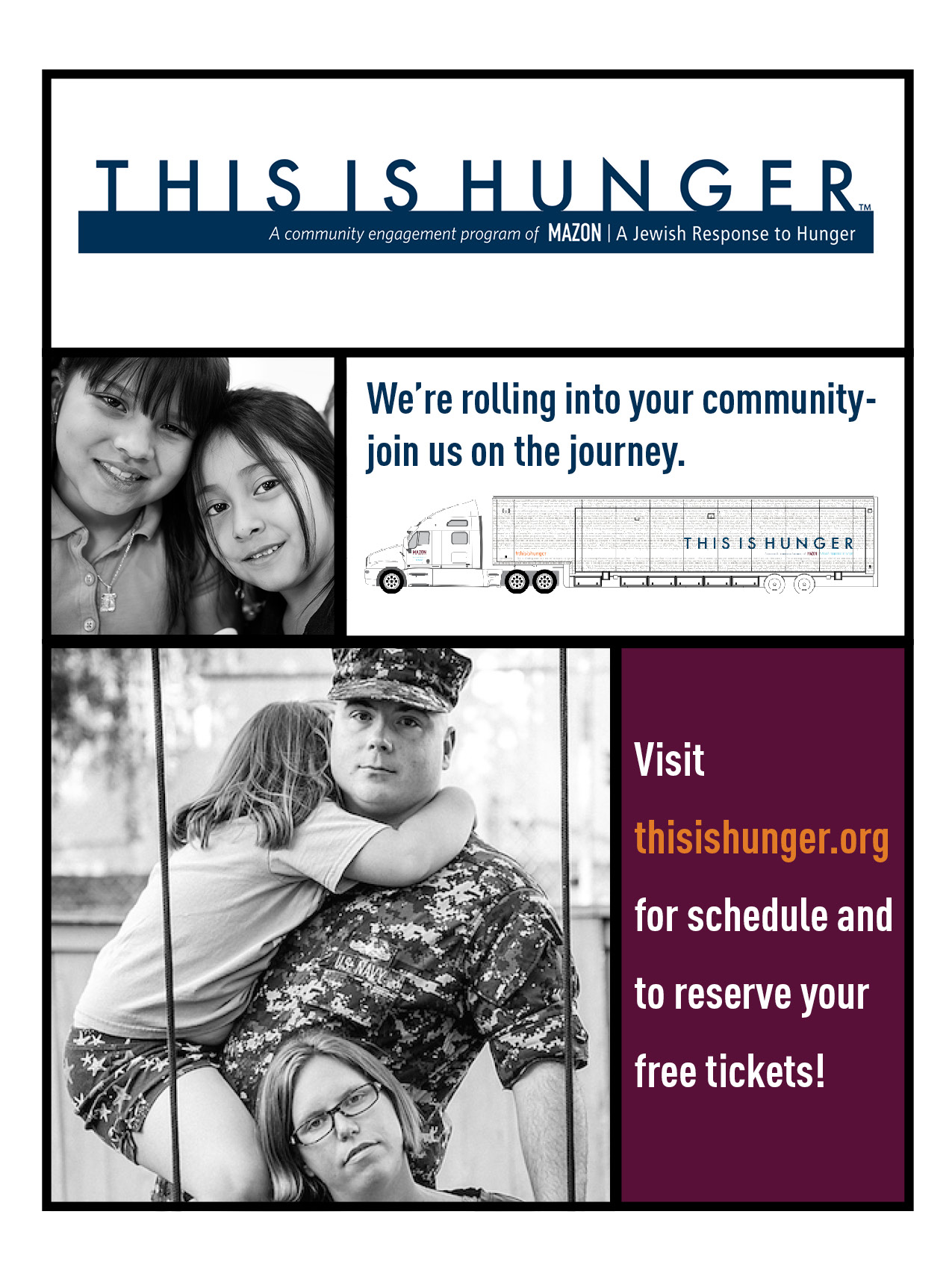 A first-of-its-kind free exhibit will bring members of the Westchester community face to face with the stark realities of hunger through state-of-the-art storytelling techniques and interactive elements. Westchester Reform Temple will host "This Is Hunger," a national touring exhibit that will be in Scarsdale from Wednesday, October 25 to Sunday, October 29, 2017.

"We often think of hunger in stereotypes, such as the homeless person walking down the street, but the reality of hunger in Westchester is much more complex," said Associate Rabbi David Levy. "This exhibit gives us an opportunity to engage the whole community with an incredible experience that will change the way you look at hunger. We want to help everyone understand that those who are hungry can be your neighbor who just lost her job or the teenager at school who can't concentrate properly because he isn't eating enough nutritious food at home."
Every community struggles with hunger. At the national level, the U.S. Department of Agriculture's annual report on food security found that nearly 13 percent of American households had difficulty at some point last year in providing enough food for their families.
To raise awareness about the prevalence of hunger in Westchester County, Westchester Reform Temple partnered with MAZON: A Jewish Response to Hunger to bring "This Is Hunger" to a local audience. The exhibit features black and white portraits by an internationally renowned photojournalist and the stories of dozens of Americans who have had difficulty putting enough nutritious food on the table each day. Through digital and hands-on activities, "This Is Hunger" takes participants on a compelling journey that draws them into the real-life circumstances of these individuals and deepens their awareness about who in America struggles with hunger and why. Visitors are then encouraged to educate others and advocate for change.
"This Is Hunger" is housed in a 53-foot-long double expandable semitrailer that, when parked and opened on both sides, provides nearly 1,000 square feet of exhibit space. The exhibit is on a 10-month national tour that is stopping in more than 30 cities across the country.
For free ticket reservations and tour times, visit thisishunger.org.
About This Is Hunger
"This Is Hunger" is a community engagement program commissioned by MAZON: A Jewish Response to Hunger. The exhibit will tour the United States from Nov. 16, 2016 to through the end of 2017. Key members of the creative team include Marni Gittleman, Creative Director/Principal Concept & Content Developer; Gail Greenberg, Principal Designer; Chris Green, Multimedia Show Developer/Production Designer; and Karen Snider, Project Manager/Developer.
About MAZON: A Jewish Response to Hunger

Founded in 1985, MAZON: A Jewish Response to Hunger is a national nonprofit organization working to end hunger among people of all faiths and backgrounds in the United States and Israel. For more information, please visit mazon.org.
About Westchester Reform Temple
Among the more than 1,100 WRT member households you will find the embodiment of Reform Jewish diversity in America today. Our ever-evolving tradition seeks to find meaningful expressions of prayer, song, ritual, study and community involvement, through our five pillars of Avodah (Spirituality), Chavurah (Community), Talmud Torah (Learning), Tikkun Olam (Repairing the World), and Clal Yisrael (The Jewish People). The community is committed to social action. In 2008 WRT completed a "green" sanctuary and transformed the original spaces into new classrooms for our Jewish Learning Lab and a Beit Midrash – place of study. The active congregation always seeks to honor the past with an eye to the future of our community and the world beyond our walls.
Add a comment
Girls Varsity A Field Hockey Team Improves as the Season Progresses
Details

Written by

Emmeline Berridge

Hits: 1576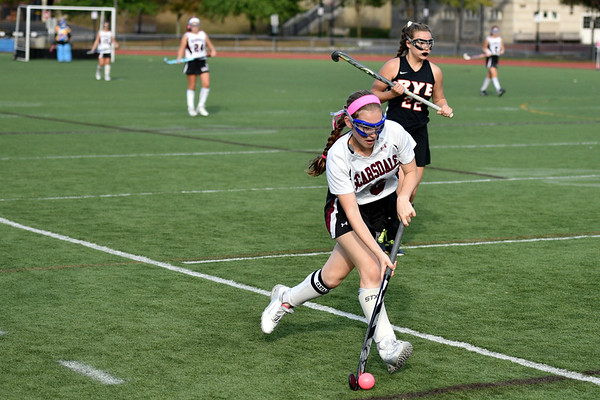 The Scarsdale Girl's Field Hockey team's season can be summed up in 3 games against Rye. In a preseason matchup, the Raiders lost to Rye. An early loss against a respected program was not the way that the reigning section champs wanted to begin their season. "We knew the season wasn't going to be perfect given how many important seniors we lost," noted starting defender Sam Felder. The team had to fill major gaps, including those created by graduated defenders Emma Coleman, Angie Burns, and midfielder Erin Nicholas. The new starting defense consists of juniors Lena Glickman and Sam Felder, and Seniors Emma Carnicelli and Paige Panessa. In the Midfield, Junior Captain Julia Jamesley and Sophomore Elizabeth Scarcella have stepped up.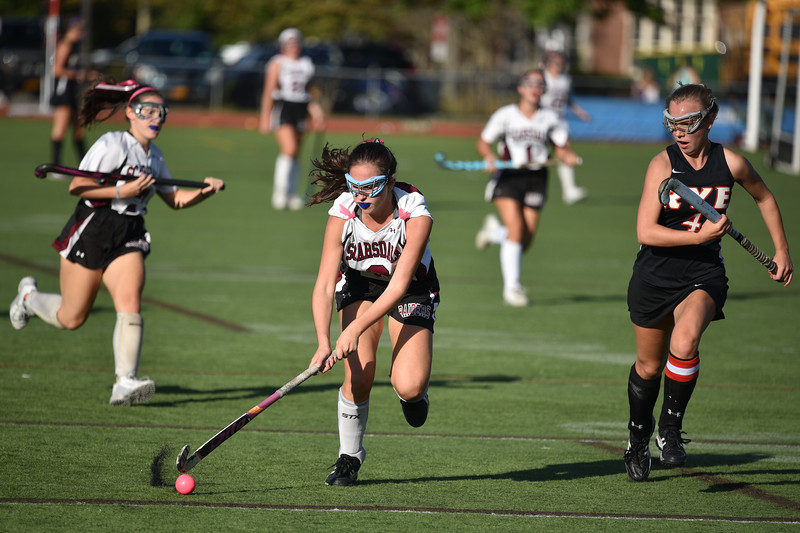 When the Raiders faced Rye for a regular season game just a few weeks later, the players had time to get used to their new roles on the field. The outcome of this second game was a tie. Still early on in the season, the team took this result as evidence of improvement, but also as proof that they had more work to do. Specifically in the defensive end, Felder mentioned "we're working a lot on footwork and block tackles which has been very helpful."
Going into their third game against Rye on October 10th, the Raiders were prepared to benefit from their hard work. Scarsdale beat Rye in an intense game, ultimately winning 1-0. The deciding goal was scored by Sophomore Elizabeth Scarcella. "We came out really fired up which I think helped us win," said Junior Isabella Waterhouse. The defensive shutout was also extremely promising. "We have gotten significantly better at communication," noted Felder. With concrete evidence of improvement, the Raiders look excitedly to the postseason.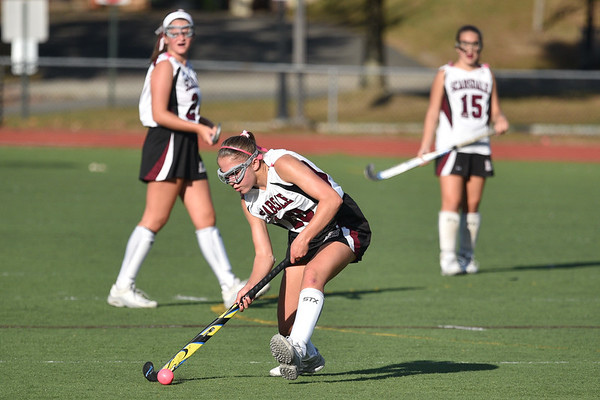 Still, the team's season has been far from perfect. "We've had some tough losses against Lakeland, Chappaqua, and Mamaroneck" mentioned Waterhouse. Scarsdale fell to all three of the strongest teams in the area, including Mamaroneck, the team that they beat to win Section 1 last year. In their most recent game, the Raiders beat Ursuline 8-1, with 5 goals by Scarcella. Looking forward to the upcoming playoffs, Scarsdale's success depends on their seed in postseason play. Based on their less than perfect record, the team's seed is very much undecided at this point. Felder was positive about the team's chances going forward, commenting "I think we've improved since our first games and I hope that will show during playoffs." Scarsdale will play their last regular season games in the coming weeks. Their next game is at home at 5:00 against White Plains on Wednesday October 18th.
Photos by Jon Thaler -- See more here:
Add a comment
Who Deserves the Scarsdale Bowl?
Details

Written by

Joanne Wallenstein

Hits: 1377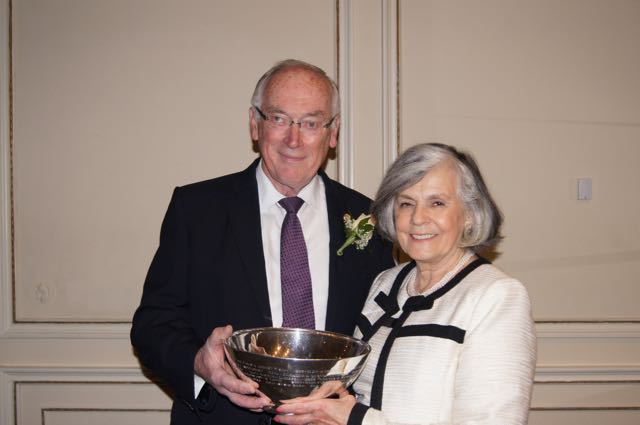 The 2018 Scarsdale Bowl Committee will begin its work in early December to select the 2018 recipient of the Scarsdale Bowl and is seeking recommendations from the community for a possible honoree. The Scarsdale Bowl, under the sponsorship of the Scarsdale Foundation, has been awarded annually since 1943 to an individual, or in rare instances a husband and wife, who has given "unselfishly of his/her time, energy and effort to the civic welfare of the community." The founding donors of the Bowl believed that "many who serve generously and voluntarily, without office, honor or publicity, are those deserving of having their names permanently inscribed on the Scarsdale Bowl."
Terri Simon is serving as chair of this year's Scarsdale Bowl Committee. The members of the committee serve staggered two-year terms. The newly appointed Class of 2019 includes Karen Brew, Leanne Freda, Jack Scott Miller, Deb Morel, Dan Moretti, Jill Serling and John Spiro. The continuing Class of 2018 includes Norman Alterman, Diane Baylor, Kate Conlan, Lee Fischman, Mona Longman and Margaret Smith. Seth Ross, Scarsdale Foundation trustee, will serve on the committee as the liaison, and Robert Jeremiah is serving as secretary/treasurer. Randy Guggenheimer, president of the Scarsdale Foundation, is an ex officio, non-voting member.
The Scarsdale Bowl will be awarded at a dinner on Wednesday, April 25, 2018, at The Fountainhead in New Rochelle. The ceremony will pay tribute to the 2018 honoree and to the spirit of volunteerism, central to the civic life of the Scarsdale community.
The Bowl Committee welcomes community input. It will hold its first meeting December 3, 2017, and requests that residents contact any member of the committee with suggestions of potential recipients. Recommendations are requested by November 10, 2017, although suggestions will be accepted at any time before the December 3 meeting. Suggestions should be emailed to the Committee chair at terrisimon103@gmail.com. Questions may directed to Terri Simon at 914-723-5004.
Additional information about the Scarsdale Foundation and the Scarsdale Bowl can be found at www.scarsdalefoundation.org.
Add a comment
Scarsdale Boys Contribute to Weekend Tournament Win
Details

Written by

Joanne Wallenstein

Hits: 1664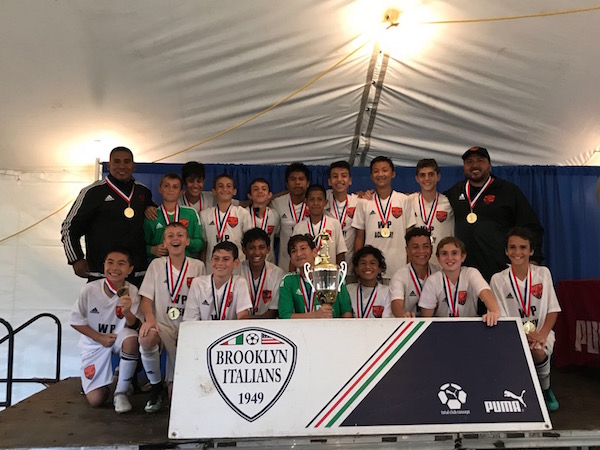 White Plains Academy won the Brooklyn Italians Columbus Day Cup tournament with a thrilling penalty kick victory over the East Meadow Soccer Club after the teams played in a rain and wind, soaked at a 0-0 draw in regulation time.
The boys U14 Academy team includes four boys from Scarsdale who helped the team complete an undefeated tournament not giving up a single goal. Scarsdale Middle School students Nico Galeano, Alex Hershon, Adrian Lim, and Ryan Nicholl joined the White Plains Academy team in the fall of 2016 after playing for Scarsdale Travel teams for most of their young soccer careers. The WPA team plays in the National Premier League 2004 U14 division and recently competed in the prestigious Madrid Football Cup in Madrid, Spain playing against teams that included Real Madrid, Liverpool and the Irish National team.
Photo: Front Row (L-R) Alex Hershon, Gil Zion, Ryan Nicholl, Brennyn Ordonez, Daniel Alvarez, Nico Galeano, Cesar Rosario, Jason Cohen, Henry Field
Back Row: Coach Alex Cano, Marco Ferrando, Matthew Cardoso, David Ferrando, Pablo Perez, Daniel Ramirez, Alejandro Vega, Daniel Espinoza, Adrian Lim, Johnny Antolino, Coach Pablo Guère
Add a comment
Terri Simon to Chair Scarsdale Bowl Committee
Details

Written by

Joanne Wallenstein

Hits: 1814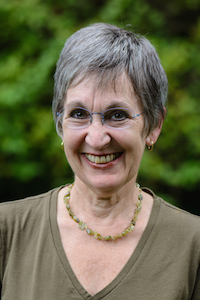 Terri Simon has been named Chair of the 2018 Scarsdale Bowl Committee. The appointment was announced by Randy Guggenheimer, newly-installed President of the Scarsdale Foundation. As Bowl Committee Chair, Simon will head the Scarsdale Bowl nominating committee and the community celebration dinner to be held on Wednesday evening, April 25, 2018, at The Fountainhead in New Rochelle. The Scarsdale Bowl is awarded annually each spring to a Scarsdale resident in recognition of his or her outstanding volunteer public service to the community. Robert Jeremiah is the Executive Secretary/Treasurer of the Scarsdale Bowl Committee.
Ms. Simon has been active in community affairs since the early 1990's, most recently as President and Trustee of the Scarsdale Public Library. In prior years, she served as President, Vice President and trustee of the Scarsdale Board of Education; Chair and long-time Board member of My Sisters' Place, Inc.; and President of Bet Am Shalom Synagogue. She was President of the Greenacres School PTA, Secretary of PT Council, Chair of the Advisory Committee to the Board of Education on Legislative Issues, and served twice on the School Board Nominating Committee, including a year as Vice-Chair. A graduate of Tufts University and New York University Law School, Terri retired as a litigation and education law partner at the law firm of Kehl, Katzive & Simon. She served for many years as a volunteer mediator for the United States District Court for the Southern District of New York. She and her husband, Eric Levine, have lived since 1989 in Greenacres, where they raised their sons, Adam and Ben Levine, both SHS graduates.
The Scarsdale Bowl is administered by the Scarsdale Foundation, which operates as a not-for-profit community foundation to promote the civic welfare. The Foundation provides need-based financial aid to Scarsdale High School graduates who are entering their sophomore, junior and senior years in college and to children attending the Recreation Department summer day camp. It also administers a number of special purpose funds and makes grants for various community needs, which have included the Scarsdale Volunteer Ambulance Corps, the Scarsdale/Edgemont Family Counseling Service and the Scarsdale Public Library.
Additional information about the Scarsdale Foundation and the Scarsdale Bowl can be found at www.scarsdalefoundation.org.
Add a comment