Over 2000 Books Collected for Needy Children
Details

Hits: 2374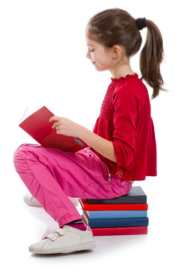 On March 26th, 2011 Scarsdale Schools held its Annual Young Writer's Workshop. Prior to the event, organizers reached out to our organization, the Child Care Council of Westchester, Inc. (CCCW), to ask us to be the recipient of the gently used children's books that participating children would bring to donate that day. So that chilly morning, a few of us from CCCW watched as what seemed like hundreds of children poured in for the day's activities, dropping their books into our boxes on their way in. We have not finished counting the books; but it's likely we received over 2000 books in new or very good condition, just from that day! We are so appreciative to all the children and their families, who went through their book- shelves and brought books with them.
Our annual Children's Book Drive is in its third year. It's a joint project between the Child Care Council of Westchester and Westchester AEYC (Association for the Education of Young Children). Last year we distributed many thousands of high quality books to Westchester programs serving children in need. This year, the Book Drive officially kicks off on April 11th and runs until May 13th -we hope to add more books to the thousands already collected thanks to the Young Writer's Workshop.
Click here to see a flyer with all the details and drop-off points for books, for those who still may want to donate. Thank you once again to the organizers of this recent event, and to everyone who donated books, lending to our efforts to enhance literacy for Westchester's children.
Miriam Kerness
2011 Book Drive Organizer
Child Care Council of Westchester, Inc.
313 Central Park Avenue
Scarsdale, NY 10583
(914) 761-3456 x. 134
Students Raise Funds for Cancer and Japan
Details

Hits: 2407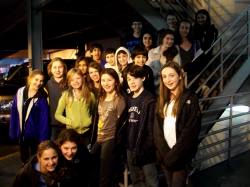 Inspired by the tragic and untimely death of some local students from cancer, fifth grade students from Seely Place and Greenville Elementary Schools became interested in learning how they could help children who are suffering with cancer.
With the help of parent Jill Abraham, several children from both schools joined together to form Caring Kids Curing Cancer (CKCC), a group dedicated to raising money and awareness for pediatric cancer. One of the first pieces of information we received was that for every $1 the U.S. government contributes to cancer for adults, pediatric cancer only receives one cent. Working to make a change was a unanimous decision.
Two years later, we are still going strong and we have become an official Edgemont Club. We have held many great fundraisers and have learned so much about this topic. Our most recent trip was to Montefiore Hospital, a hospital with a fantastic pediatric cancer program. Our friend, Dr. Siobhan Dolan, who works at Montefiore and was able to help make our trip possible. During our visit, we met with Meghan D. Kelly, MSEd, CCLSDirector, Child Life Program and Carl Sagan Discovery Program.
Caring Kids Curing Cancer, presented the Montefiore pediatric cancer unit with a $500 gift card to refill their art supply closet, which they use to ensure that children with cancer will be happy and comfortable while they are being cured. In return, we were presented with a massive amount of knowledge, which has further extended our understanding about the cause and given us more opportunities to help out in the future.
For upcoming projects, we plan to support pediatric cancer at Montefiore by donating more supplies, such as gift cards, books, and baby toys. Each child treated at Montefiore is looked upon as a normal child. The gift cards we plan to donate will be given to the cancer patients to ensure a happy birthday or other holiday. Baby toys and books are a few of the many supplies that the Montefiore staff allow their patients to keep as their own, so the supply is always running low. We look forward to helping the patients at Montefiore and change the lives of children with cancer.
Please keep a close eye out for the many projects that CKCC will organize in the future. We are determined to work hard until pediatric cancer is eradicated forever.
Submitted by Emma Cunningham, 7th Grade Student, Edgemont Jr. High School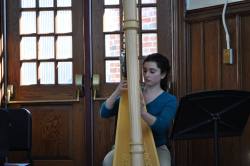 The Scarsdale High School Tri-M Music Honor Society held a benefit concert on Sunday, March 27th in the high school Music Tower to raise funds to assist Japan in the aftermath of the earthquake. Over $800.00 was raised. High school students performed on various instruments including, piano, harp, violin, flute and cello and there were a variety of singers performing classical, jazz, rock and Broadway selections. The concert was very well received. John Cuk is the faculty advisor for the Tri-M Society and the student officers are Jun Sasamuro, Greg Seiden, Andrew Wang, Rachel Halperin, and Olivia Harris.
Here is a list of Sunday's performers and the program:

Andrew Wang: vocalist sang In a Sentimental Mood and All of Me

Greg Seiden and Rachel Halperin: vocalists sang A Whole New World

Cindy Du: piano: played Sonata in B flat by Clementi

Tara Kantor: flute: played Syrinx by Debussy


Joseph Louie: violin, Yalini Pathmakumar: violin, Jun Sasamura: cello and

Jessica Li: piano played Divertimento in C Major by Haydn


Sarah Roth: harp played Interlude by Britten

Jacob Kirshenbaum: piano played Concerto for Piano #1 in C Major by Beethoven

Submitted by Andrew Wang, student at Scarsdale High School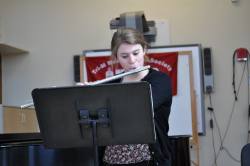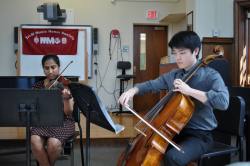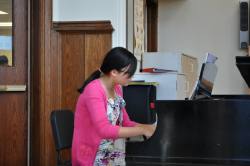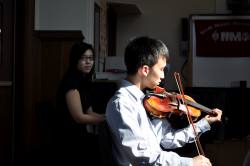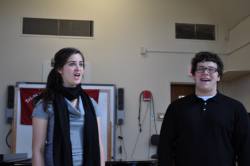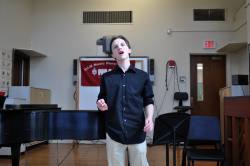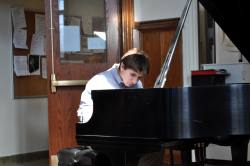 Scarsdale Women Lead Initiative to Fund Senior Center
Details

Hits: 3415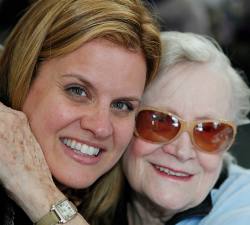 Two Scarsdale women, Linda Plattus and Cynthia Samwick are helping the UJA-Federation of New York's Scarsdale Women's Philanthropy to raise funds for the WJCS Senior Program, a day program that provides 250 older adults with a critical lifeline: an opportunity to connect to others and their community. The women have committed to raising $50,000 as part of UJA-Federation's Share a Mitzvah, with an additional $25,000 available from a challenge grant if the goal is met.
The senior program, which is run by Westchester Jewish Community Services (WJCS), a UJA-Federation beneficiary agency, offers Yiddish and art classes, a current events club, card games, exercise classes, holiday celebrations, and a hot lunch program, among other programs. For some clients, it is their only hot meal of the day.
Most of the people who come to the senior center, which is housed at the Sinai Free Synagogue in Mount Vernon, are widows and widowers in their 80s and 90s. Many have lost their closest friends. Some have outlived their children. Others have spent years caring for a frail spouse. Nearly all of them must now build new lives — alone. The WJCS senior program provides services to allow them to continue to live independently.
Cynthia Samwick told Scarsdale10583 why she was moved to get involved in this important project:
"With the population of the elderly growing so rapidly in the US, it is vital that we address their growing needs – especially right in our own community. Currently, I am an intern with Dorot, an organization that provides companionship for isolated seniors, while I'm getting my masters in social work. Therefore, when Tammy Brass, from the UJA, told me about the problems that the WJCS Senior Program at Sinai Free Synagogue was facing, I knew I had to get involved. Many of my clients at Dorot attend the programs at Sinai Free. It is such an important part of their lives and an incredible resource that is their lifeline. It's a privilege to be involved with the "Share-a-mitzvah" initiative. I just hope we can raise these vital funds and help our neighboring seniors.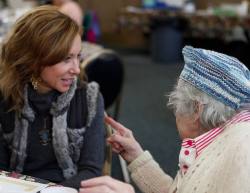 Cynthia Samwick and Linda Plattus, both of Scarsdale, serve as chairs of the WJCS Senior Program Share a Mitzvah project. For more information, please contact Tammy Brass at 1.914.761.5100, ext. 133 or brasst@ujafedny.org .
High School Students Raise Funds for Haiti and Japan
Details

Hits: 2042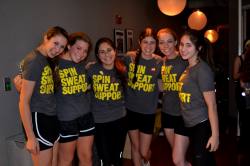 Two groups of high school students organized successful fundraisers this weekend and shared photos with Scarsdale 10583.com. On Saturday Marcy 19 the SHS for Haiti Club, headed by Chloe Kaufman organized a Soul Cycle ride to raise money for AFYA to assist earthquake victims. The room was filled with teen riders who raised awareness about events in Haiti as well as $1,500 for AFYA.
SHS for Haiti will continue to support AFYA by collecting sports bras for Haitian women. Due to the earthquake, many women have wounds and Danielle Butin of AFYA has noticed that sport bras are better support than bandages. If you wish to contribute, collection boxes for the sports bras are on hand at Soul Cycle.
Also on Saturday morning, the Scarsdale High School track team organized a Run for Japan to support the Red Cross relief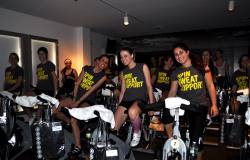 efforts. There was a terrific turnout and the bake sale alone raised $2,000. The team is still counting up the funds received from sponsors and is hopeful that all told they raised $20,000.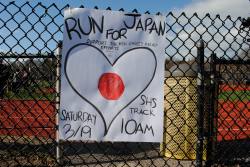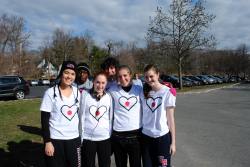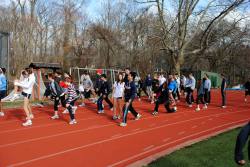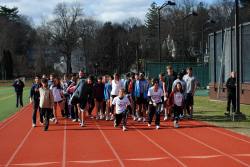 John King Tells You Why You'll Love Mozart's Requiem
Details

Hits: 2638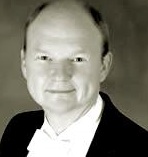 John T. King, the Minister of Music at Hitchcock Church and the Artistic Director and Conductor of the New Choral Society is well known in Scarsdale for his wonderful concerts. He leads a chorus of 48 talented vocalists from Westchester and offers four choral concert programs each season, two accompanied by a professional orchestra and soloists.
This Sunday, March 13, the New Choral Society will present Mozart's Requiem at 3 pm at Hitchcock Church. Soloists include soprano Arinna Zukerman, mezzo soprano Laura Vlasak-Nolen and bass-baritone Christopher Temporelli who will perform with the chorus.
King spared a few minutes in his busy schedule this week to answer our questions:
Where did you grow up and when did you first become aware of your musical talents?
I grew up in Louisville, Kentucky and started piano lessons very late in the game--ninth grade, to be exact, and organ lessons even later--between tenth and eleventh grade.
As a child did you play an instrument or sing?
I always sang in children's choirs at church but didn't start formal instrumental lessons until high school.
What is your formal music training?
I have a Bachelor of Music from the University of Louisville School of Music; a Masters of Music from Yale University and a Doctorate in Musical Arts from the Manhattan School of Music.
What was your first musical job after you completed your education?
I have been working "in the field" since I was in high school...my first job was very part time as a church organist when I was a high school senior and I have been playing the organ and conducting ever since. My first job out of post-graduate school was at Hitchcock Church, where I started twenty one years ago.
How did you find Scarsdale ... or how did Scarsdale find you?
Hitchcock Church found me when I graduated with my Doctorate of Musical Arts from Manhattan School of Music in May 1989 . Hitchcock was starting a search a former professor of mine gave them my name. The head of the search committee contacted me, and after some time, I threw my hat in the ring. The rest is history!
What are you responsibilities at the Church?
I am the full-time Minister of Music where I work with all of the choirs, including the adult and four children's choirs. I play the organ at all of the services as well.
What can you tell musical novices about Mozart's Requiem? And why did you select it for the concert on Sunday?
The Requiem is probably the most familiar piece of classical choral music ever written. Even if you have not ever listened to classical choral music,

you will recognize some of the movements from movies and commercials. The music from the Requiem runs throughout the movie "Amadeus." It is so popular because it is a work of true genius. It is sublime, transcendent and absolute beauty.
What are the specific challenges to performing this work?
The work requires excellent choral singers and just the right mix of soloists to really make the music come to life, for it runs the gamut of blood-curdling to tender and peaceful.
What do you most enjoy as the Director of the New Choral Society?
I LOVE bringing great music to this audiences and to know that people have been transported is very rewarding.
What advice would you give aspiring musicians and conductors today?
Find the passion.
Last: Can you tell those who may not be classical music aficionados why they would enjoy the concert this Sunday?
It's all there … the thrill of victory and the agony of defeat. If you liked Amadeus or old Volvo commercials or Black Swan, you will walk away with a new appreciation for classical music and Mozart.
Background on Mozart's Requiem:

Mozart's "Requiem", is often thought to have been finished after his death by one or more composers who were close to him, is a must hear for any classical music lover. Shrouded in mystery regarding the actual parts of the work that were composed by Mozart, or by rivals, the legend that is probably closest to the truth is that the work was commissioned by Count Walsegg, who came to Mozart in disguise. Count Walsegg was known to have commissioned works from well known composers and then copy them into his own hand and take credit for the composition. It is speculated that Mozart was in such poor health when approached by a mysterious stranger (Walsegg) that he believed that the man in the dark cloak was a messenger of Death. The work remained unfinished and eventually his widow saw to it that Mozart's students, most notably Franz Süssmayr, finished the piece.
If you would like to see the performance on Sunday March 13 at 3 pm, there are still a few tickets left! To reserve yours now, click here: