Spa for the Soul at Kol Ami
Details

Hits: 2891

In just a few hours you can discover something new about yourself, feel uplifted and regenerated, and adjust your perspective at Kol Ami's second Spa for the Soul on Sunday April 3rd from 11:30 – 4:40 pm. The journey of replenishment will be lead by Rabbi Shira Milgrom, keynote speaker, Rabbi Pamela Wax and Rabbi Cara Weinstein Rosenthal. The day will be filled with learning, great food and spa time. time. Participants can try a yoga class, massage, or a facial, shop at the mini boutique, and get guidance from professionals in a variety of health-related fields. Spend the day treating your mind, body and soul.
Three study sessions will be included:
Every Move You Make: Turning Your Life Into Spiritual Practice: Rabbi Pamela Wax
We tend to think of spiritual practices as "extras" in our life -- things like prayer, meditation, or yoga. In this workshop, the group will discuss these spiritual paths, but also expand the parameters of what constitutes spiritual practice. It can include your most intimate relationships, childcare, or housecleaning. Find out how our everyday living can also be spiritual practice.
Nurturing a Heart of Gratitude: Rabbi Shira Milgrom
Scientists and mystics alike tell us that the most likely way to happiness is by cultivating gratitude. Study some of these ancient and contemporary texts and consider why this spiritual practice - the practice of blessings - is so challenging and so filled with potential.
The Prayer of the Heart: Chana's Story: Rabbi Cara Weinstein Rosenthal
Walk into almost any synagogue, and you'll see people praying silently. Where did this practice come from? Delve into the story of Chana, the Biblical heroine from the Book of Samuel who transformed the way that Jews pray. Learn about how a mild-mannered Israelite woman became a liturgical innovator, and use Chana's story as a lens to examine your own prayer lives and the uniqueness of women's relationship to prayer.
$85.00 includes all programming and the luncheon
Sponsors: $118.00
Patrons $144.00
Benefactors $ 180.00
To sign up, click here
For questions please contact Jill Abraham at 472-5806 / jill.sa2@verizon.net or Lauri Carey at 472- 8076 / lauricarey@hotmail.com
Spa for the Soul
Sunday April 3, 2011
11:30am- 4:30pm
Congregation Kol Ami,
252 Soundview Avenue,
White Plains, New York
Gingerbread House Donated to White Plains Hospital
Details

Hits: 2282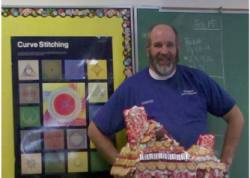 Gordon Hamilton, a custodian at Scarsdale High School, constructed this gingerbread house for Valentine's Day. Hamilton is a skilled pastry chef and spent 15 hours working on his giant confection that was displayed at Scarsdale High School for Valentines Day. Prior to February break, the gingerbread house was donated to the Pediatric Ward in White Plains Hospital.
--Posted by Monica Palekar, Mathematics Teacher, Scarsdale High School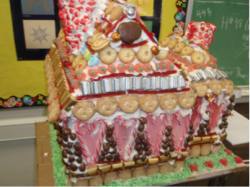 Spinning for Haiti, Book Swap for Toddlers and the Internet for Seniors
Details

Hits: 1990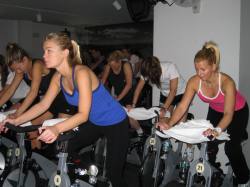 SHS for Haiti invites you to spin, sweat and support the Afya Foundation for Haiti. This unforgettable 45-minute workout will be held at 12:45 pm on March 19, 2011 at Soul Cycle at 7 Popham Road in Scarsdale. Tickets are $50 and include one reserved bike, shoe rental, t-shirt and food. If you can't come, don't sweat it! You can still support the cause by sponsoring a rider! You can reserve your bike now by contacting Chloe Kaufman at kaufman.chloe@gmail.com or by phone at 917-328-0944.
The JCC of Mid-Westchester Nursery School PTA hosted its first annual book swap on Wednesday, February 9th.
Nearly 200 children and parents enjoyed a "pajamas only" evening of stories, book swapping, milk and cookies and a visit from Clifford the Big Red Dog. Over 700 books were donated by nursery school families for the event. All the books that were not "swapped" were donated to local charitable organizations. The JCC Nursery school's next PTA event will be a Mitzvah Day in May.

On February 7, At Home in Scarsdale ran a session on Social Networking for Adults at the Scarsdale Woman's Club for members and prospective members of the Club. Carol Freidman, computer educational consultant spoke for well over an hour to a full room of eager adults who wanted to learn more about the Internet, Twitter, Facebook, Linked-In,blogs and more.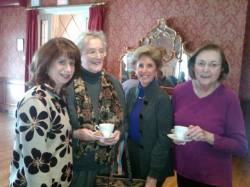 Photo from left to right, Carol Freidman, Ellen Bierman, Mimi Ripp, Eileen Laxer.
News from the Scarsdale Bowl, Teen Center and Gourmet Galaxy
Details

Hits: 2110

The Scarsdale Bowl, honoring Emily Sherwood will be held at Lake Isle Country Club on Wednesday April 6th. Invitations have been sent out and the committee welcomes everyone in the community to attend the dinner. If you plan to attend, please RSVP to your invitation. If you did not receive an invitation and would like to go, visit the Scarsdale Foundation website at: www.scarsdalefoundation.org and click on Reservation Form or contact Nancy Michaels at 725-8310, or by email at eatright1@aol.com .
The Nominating Committee of the Scarsdale Teen Center Adult Board seeks candidates for next year's Adult Board (2011-2012) from the Scarsdale community. They welcome all recent high school graduates and Scarsdale residents 18 years or older. Please contact Kendra Porter, Executive Director of the Scarsdale Teen Center with a letter of interest at kporter@scarsdaleteencenter.com or call 722-8358 for more information.
Save the date for the Gourmet Galaxy, the Scarsdale Edgemont Family Counseling's Gala event, on May 4th at the Westchester Country Club, honoring Judge John Galloway, III. Sample tastes from top caterers, bid at the world class auction, support Scarsdale Edgemont Family Counseling, and honor Judge Galloway, all on a marvelous May evening at the Westchester Country Club.
Rotary Club Winetasting at Fox Meadow Tennis Club
Details

Hits: 2361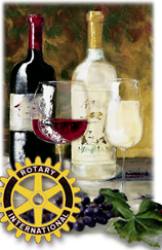 The Rotary Club of Scarsdale is involved in several charitable activities, and one of  the club's objectives is to raise funds for the Haitian Water Project, a project that supplies Haitian communities with self-sustaining water filtration systems that allow local residents to generate their own potable water. Last year they held their inaugural wine tasting event. The event was a smashing success, and they raised $15,000, with all of the proceeds going directly to the Haitian Water Project.
The second annual wine tasting event is coming up next month. The event will be held on Thursday March 24, 2011, 6-8pm, at the Fox Meadow Tennis Club, and the theme of the evening will once again be "Scarsdale Rotary, Turning Wine into Water". This year's proceeds will be used to expand the size and scope of the on-going Haitian Water Project, and will also be used for some other Scarsdale Rotary charities.
Tickets to the event are $60 per person, and include finger foods and the opportunity to taste wines from several countries.
Tickets are available by calling Thomas Cain, president of the Scarsdale Rotary Club, at 914-722-1215. Please come out and support the event!