Benches Dedicated by Friends of the Scarsdale Parks
Details

Hits: 2678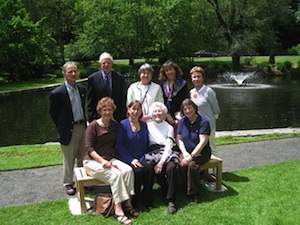 On Saturday, May 21 the Friends of the Scarsdale Parks gathered for its annual meeting at the Scarsdale Library. A large group turned out for a lovely luncheon and the dedication of three benches at the Audrey Hochberg Pond in honor of Jane Bedichek and in memory of Irving Sloan and Linda Weiss.
Below please find photos from the bench dedication supplied by Jeannie Baubion-Mackler, a Vice President of the Scarsdale Parks.
Free Jazz Concert in Chase Park June 5
Details

Hits: 2746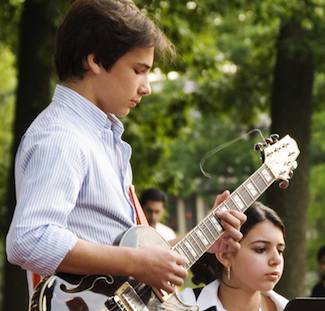 The Hoff-Barthelson Music School Jazz Department will present its final jazz ensemble performances of the year on Sunday, June 5 at 6 pm in Scarsdale's Chase Park. The outdoor concert is always a big hit with local residents and members of the school community.
The program, under the direction of Ed Palermo, Coordinator of the Jazz Studies Program, is entitled All That Jazz, and will feature several of the Music School's smokin' student jazz ensembles. The ensembles will perform a delightful cross-section of American jazz standards as well as pieces composed and arranged by the students and faculty. They will be joined by jazz faculty members in a variety of jazz combos.
The Hoff-Barthelson Jazz Studies Program, in addition to ensemble performance through which students explore improvisation performance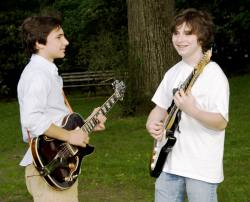 techniques, provides a full range of jazz musicianship courses. Middle and High School students can choose among Jazz Improvisation; Jazz Theory Levels 1 and 2; and Jazz Arranging as part of their basic Jazz Studies curriculum.
Everyone is invited to picnic and relax in the park while the ensembles perform. Information: 914-723-1169, hb@hbms.org, www.hbms.org .
Carnival Fun
Details

Hits: 3816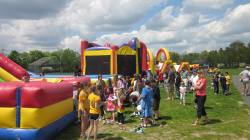 Scarsdale elementary schools were graced with perfect weather for the elementary school carnivals on Saturday May 7th. A tradition in Scarsdale, the carnivals seem to get bigger and better every year, as the parents who run these events benefit from their predecessors experience and add their own ideas to mark the day.
At Quaker Ridge, it was a day of school spirit, and kids were encouraged to dress up in their most-spirited outfits. Activities included a chalk drawing exhibition, hula hoop contest, freeze dance, spin art and spirited games run by Danny and Backyard Sports.
Heathcote, the theme was the beloved board game Candyland. Kids climbed the Gumdrop Mountain, ran around in the Lollipop Woods, bounced in the Candy Castle and dunked in the Molasses Swamp. At the arts and crafts table and the hair and makeup table kids got all glammed up.
At
Fox Meadow, the backdrop was Hollywood, and students had the chance to walk the red carpet. The theme "a star is born," conveyed the idea that every Fox Meadow child, is a "star" in his or her own right. Coincidentally, the fair theme was synergistic with this year's Staff Appreciation Luncheon, which was an Academy Award theme, uniting the 2010-11 school year.
In
Edgewood the theme was Surf's Up – and students enjoyed a beach party with five amusement attractions and the Ultimate Survivor, which included a suspension bridge and two zip lines. Coach Steve, lead the children in games of dodge ball, relay and potato sack races from 1-3 p.m. Children had great fun with all the art activities and games. In addition, three different groups of very entrepreneurial Edgewood students ran their own charities, raising money for Japan, for mosquito nets to protect from Malaria, and an animal shelter. The Edgewood fair food court sold tasty Indian, Greek, Chinese, Japanese, Mexican and American fare.
At
Greenacres, the entire community came out to enjoy "An Old Time Carnival" fun with a blow-up slide, jumping castle, rides, dunk tank, photo booth, cotton candy, fried dough plus games, prizes and fun. Kindergartners through fifth graders participated in a talent show showing off their singing, dancing and acting skills.
In
Thanks to Angela Manson, Lindsay LeBoyer, Lauren Mintzer, Tracy McCarthy and Valerie Shulman for photos and carnival coverage.  See more carnival photos in the photo module on the home page of Scarsdale10583.
Scarsdalians Support Let's Get Ready
Details

Hits: 3730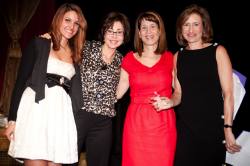 On May 3rd nearly 500 guests attended the 5th annual Let's Get Ready Gala event held at Capitale in New York City. The evening honored Eugene Lang, Founder of the I Have a Dream Foundation, and Nancy Katz and Linda Ortwein, Co-Chairs of LGR's Adult Mentoring Program. Founded by Nancy and Linda in 2010, the Adult Mentoring Program matches high school seniors in Let's Get Ready with adults trained to assist in the college application process (covering everything from searching for schools to writing college essays). The event raised $750,000.

This year Let's Get Ready is on track to provide more than 2,500 low-income and first generation college-bound students with SAT tutoring and college admissions guidance. The program has grown from Mount Vernon (where it was founded by Jeannie Lang Rosenthal of Scarsdale) to sites throughout the northeast, from Philadelphia, PA to Portland, ME. And 93% of LGR's students have gone directly to college after high school.
The gala event was made possible by a number of Scarsdalians, including Chairs Steve and Nancy Karotkin, Barbara and Gil Kemp, and Dan
and Paula Reingold. Vice Chairs Priscilla Natkins and Seth Novatt and Ann and David Yaspan, as well as Committee Chair Alison Greene, also led the way. Other local Committee Members included Nancy Rubini-Aks, Margie Arsham, Linnae Boyer, Jane Buck, Charlotte Carr, Anna Decker, Gina Duncanson, Debbie Eisenberg-Lever, Suzi Eisman, Susan Friedman, Barbara Gewirtz, Liz Gordon, and Lisa Rodman. And the room was filled with even more Scarsdale representatives, including Flo Wiener and Nancy and John Alderman.
Right now many of these Scarsdale residents are leading an online charge for Let's Get Ready – voting for the organization in the Chase Community Giving Campaign on Facebook. To help LGR win up to $500,000, please click this link and vote: http://apps.facebook.com/chasecommunitygiving/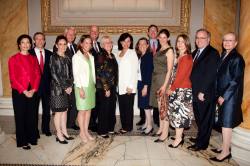 Leah Peskin, Dan Reingold, Alison Greene, Marty Gardner, Ann Yaspan, Gil Kemp, Liz Gordon, Linnae Boyer, Andrea Stewart, David Eckert, Jeannie Rosenthal, Priscilla Natkins, Jeff Waters, Jane Buck
Pictured at top: Janibell Monegro, Nancy Rubini-Aks, Nancy Katz, Linda Ortwein

Photos by (c) 2011 Leslie Barbaro
A Glorious Gourmet Galaxy
Details

Hits: 2893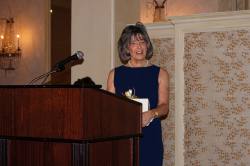 The Gourmet Galaxy at the Westchester Country Club showcased a dazzling array of area food purveyors and honored the late Rita Aranow, who provided a lifetime of support for Scarsdale and Edgemont Family Counseling and helped to launch a new initiative for Scarsdale seniors. Also sharing the Open Door Award was the Louis and Anne Abrons Foundation that was honored for their contributions.
This year's Galaxy was held on Wednesday May 4th and it was the event's eighteenth year. The night included a substantial silent auction with splendid gifts from many area retailers and professionals. Available for bids was Judith Ripka jewelry, tickets to sporting events, restaurant gift certificates, wines, flowers, beauty services and more.
Food was provided by many of the areas leading restaurants, named below. Sushi, pasta, seared tuna, sliders and
spanikopita were just a few of the delectable dishes available. Desserts abounded with yodels from Lulu's, the famous Renaissance cake and handcrafted chocolates donated by Margaret Smith of Odyssey Chocolate.
A large crew of volunteers took on this ambitious project, contacting restaurants, retailers and community friends to produce this successful event.
Galaxy Chairperson Marie Posthumus remembered Aranow as "charming" and "interesting" and credited her with being the woman behind the initiative to launch "At Home in Scarsdale" in 2010. She thanked the entire event committee, including Penny Bauersfeld, Anne Moretti, and Monica Rafajac as well as the entire staff of Scarsdale and Edgemont Family Counseling for their efforts.
Geraldine Greene, SFCS Executive Director thanked the restaurants for their "movable feast" and also alerted the group to SFCS's new van and driver that will ferry Scarsdale seniors to meetings and medical appointments. The van was provided by Aranow's family who has vowed to continue their support in the future. Saying that "we live forever in the institutions we create", Greene said that Aranow "lives on through her generosity."
Rita Aranow's daughter Vicki accepted the award in her mother's name, and choking back tears she told the group that she missed her mother who was shy and would have avoided public recognition. Crediting her with a life of "quiet dedication" she said her mother would be happy to know that her gifts are allowing people to age at home in Scarsdale.
Thanks to these restaurants, caterers and bakeries for their support:
An American Bistro

Anna Maria's Restaurant

Benjamin Steakhouse

Bistro 88

Caffe Azzurri

Captain Lawrence Brewing Co.

Chat American Grill

Chat 19

CRAVE Bar and Grill

Don Coqui

Eastchester Fish Gourmet

Il Castello

La Panetiere

La Renaissance

Lulu Cake boutique

Lusardi's

Martine's Fine Bake Shoppe

Moscato

Niko's Greek Taverna

Odyssey Chocolates

Rainwater Grill

Route 100 Wine Bar and Grill

Seth Greenberg's Just Desserts

Tango Grill

Turkish Meze

Za Za Restaurant

Kirari

Haiku

Sakanaya Sushi