Scarsdale Seniors Make a Difference at Habitat for Humanity of Westchester
Details

Hits: 3488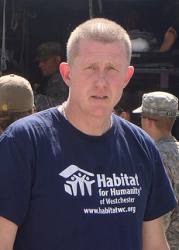 Senior Options is a time for Scarsdale High School seniors to get out of the classroom and experience something new… and that's just what six Scarsdale seniors did when they ventured into the world of volunteering and joined the Habitat for Humanity of Westchester team. Over the course of their five-week internship at Habitat, the group of seniors; Katie Wheeler, Alex Kowalczuk, Alex Wess, Jason Samwick, Constantinos Vissas, and Paolo Torres— dubbed "the CSI team" (Community Scarsdale Internship)—discovered the responsibilities, challenges, and rewards that accompany volunteering.
"The CSI team is great," stated Jim Killoran, Executive Director of Habitat for Humanity of Westchester. "I call them that because they come in at a time that is busy, and we have a long relationship with Scarsdale High School with a strong Habitat club there as well as seniors like these who come and end their four years at Scarsdale in service with Habitat. No better way to culminate four years of Scarsdale education than with service with Habitat."
The seniors were each assigned their own job in working at Habitat. Wess, Samwick, and Vissas were in charge of deliveries and pick-ups for Habitat's ReStore, which sells used and surplus household items at a small fraction of retail prices. After coordinating with donators and clients, the trio created a fully functional schedule and executed many of the deliveries and pick-ups themselves. Kowalczuk and Torres were the leaders of Habitat's green initiative, which strives not only to make Habitat's office and homes more environmentally friendly, but also to implement environmentally friendly practices in the community at large. The two worked to acquire and locally intersperse composters, recycling bins, and bike racks. And because of their work, Habitat is on its way to building a wind turbine and roof garden for its main office. Wheeler was head of social media and was able to update Habitat's website and various Facebook pages, which include "Habitat for Veterans, Veterans for Habitat," "Bike Mount Vernon," and "Bike Yonkers." She created flyers explaining Habitat's initiative to help and involve veterans and the Habitat-hosted biking expedition in celebration of Earth Day.
While the seniors each had their own individual responsibilities, they most enjoyed the ability to work together. Their favorite day was MasterCard Day, an event for which over 100 MasterCard employees came out to help clean up and beautify a Yonkers neighborhood. Wheeler teamed up with Riverside High School students to design a mural for the face of an abandoned building on Ashburton Avenue. The mural, which read, "Go green, go clean with Habitat," emphasized Habitat's mission to create environmentally friendly housing and practices throughout Westchester County. The seniors were truly amazed at what they had accomplished in a single day—vacant lots had been converted into community gardens, trash was picked up, walkways were cleared, and progress on Habitat's house on Orchard Street was furthered. "We really had fun together and got a lot accomplished," reflected Kowalczuk. "This is God's work!" cheered Wess, Samwick, and Vissas in unison.
Habitat for Humanity of Westchester engages more than 40 high schools and all the colleges in the county to help students realize that giving is part of success. All summer long it offers a Builders Camp in which students can learn to build. For more information visit www.habitatwc.org, call 914-636-8335, or see Habitat for Humanity of Westchester's Facebook page.
Contributed by Scarsdale High School senior Katie Wheeler

Greening Our Way to Good Health
Details

Hits: 2939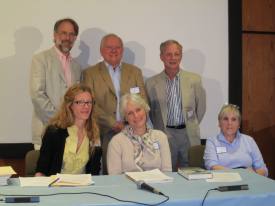 The Scarsdale Forum had a very full agenda for their June 2nd annual meeting. In addition to honoring Barbara Kemp and Linda Chayes who just completed six years on the School Board, the Forum also elected their new leadership and welcomed BK Munguia as President, Dan Hochvert as First Vice President, Robert Berg as Secretary and Robert Tucker as treasurer.
The Forum's Sustainability Committee invited an expert group of panelists to discuss Greening Our Way to Good Health. The three women who spoke offered a wealth of ideas on how to make your home safer and greener and provided useful information on the dangers of the foods we commonly eat and cleaning products we use everyday.
Steve Frantz introduced the panelists, who are all leaders of non-profits with the goal of sustainability. At the table were Megan Klein of Earthjustice, Patricia Wood of Grassroots Environmental Education and Nancy Alderman of Environment and Human Health Incorporated. They each pointed out how individuals can make subtle changes in their lives that together will go a long way to safeguarding our health and our environment.
Klein advised that we consider the distance our food travels before it is eaten, saying that on average food travels 1,500 – 2,500 miles. She advocated buying locally grown and produced foods despite the fact that goods might cost more at the local farmer's market.
She provided some additional tips to keep in mind for your own health and the good of the planet:
Shop at farmers markets and join a CSA (Community Supported Agriculture)

Eat what's in season

Don't buy bottled water or soda

Buy organic meat

Eat vegetarian one day per week

Don't take the bag when you buy lunch

Don't consume high fructose corn syrup

Buy organic goods in the supermarket

Don't eat any packaged foods with more than five ingredients
Patricia Wood addressed many of the environmental hazards that are common in our homes. She made recommendations on which products are safe to use for cleaning, how to care for your lawn and what to look for on labels when buying so called "green products."
Among her recommendations were:
Use an organic lawn care service – you can visit grassrootsinfo.org to find organic lawn care people in our area

Compost yard waste and kitchen scraps

Avoid pressure treated wood on playground equipment and decks as it contains arsenic.

In schools, urge administrators not to use pesticides and toxic cleaning products --and prevent buses from idling.

Inside your home, Wood claimed that Wifi is radioactive and suggested that you turn off your Wifi at night to reduce exposure

For cleaning, she recommended usage of bio-based, non-petroleum products without fragrances

Rather than use anti-bacterials that create antibiotic resistant strains, she recommended using thyme oil or grapefruit seed extract instead

For personal care, Wood advocated the use of bio based personal care products that are derived from plant or marine materials.

Last, she said that even the paint on our walls can be toxic and recommended the use of the Natura line of paints from Benjamin Moore, which are no-VOC paints.
Nancy Alderman also revealed more disturbing facts about toxic products and their effects.
She reported the following:
The largest exposures come from vehicle exhaust and cleaning products we use at home. A study by the CDC found that over 90% of participants had chemicals in their bodies, which can be passed onto embryos via the umbilical cord that carries chemicals and pollutants to the fetus.

Asthma rates have rising continually for the past 30 years and the incidence of peanut allergies has tripled in the past decade.

Contributing to toxins in the environment are air fresheners that contain toxic chemicals.

Fire retardants that are present in carpet, household fabrics and sleepwear are another environmental hazard.

Together, the three women made a very convincing case for rethinking your buying and eating habits. You can learn more at www.grassrootsinfo.org and at www.sustainable.org. Thanks to the Scarsdale Forum and the Sustainability Committee for putting together this enlightening session.

Pictured at top: (top row from left ) Bruce Wells, Steve Frantz, Dan Hochvert
(bottom row from left) Megan Klein, Patricia Wood, Nancy Alderman
Free Jazz Concert in Chase Park June 5
Details

Hits: 2944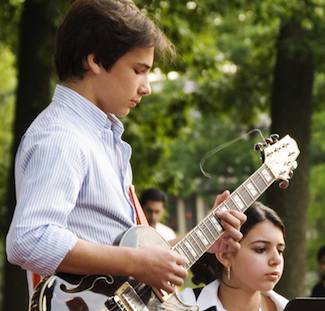 The Hoff-Barthelson Music School Jazz Department will present its final jazz ensemble performances of the year on Sunday, June 5 at 6 pm in Scarsdale's Chase Park. The outdoor concert is always a big hit with local residents and members of the school community.
The program, under the direction of Ed Palermo, Coordinator of the Jazz Studies Program, is entitled All That Jazz, and will feature several of the Music School's smokin' student jazz ensembles. The ensembles will perform a delightful cross-section of American jazz standards as well as pieces composed and arranged by the students and faculty. They will be joined by jazz faculty members in a variety of jazz combos.
The Hoff-Barthelson Jazz Studies Program, in addition to ensemble performance through which students explore improvisation performance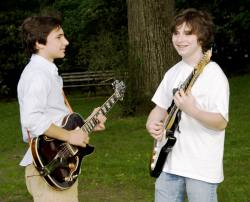 techniques, provides a full range of jazz musicianship courses. Middle and High School students can choose among Jazz Improvisation; Jazz Theory Levels 1 and 2; and Jazz Arranging as part of their basic Jazz Studies curriculum.
Everyone is invited to picnic and relax in the park while the ensembles perform. Information: 914-723-1169, hb@hbms.org, www.hbms.org .
Benches Dedicated by Friends of the Scarsdale Parks
Details

Hits: 2869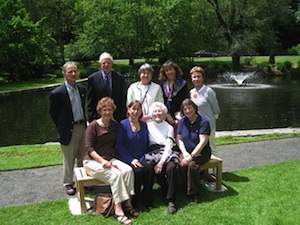 On Saturday, May 21 the Friends of the Scarsdale Parks gathered for its annual meeting at the Scarsdale Library. A large group turned out for a lovely luncheon and the dedication of three benches at the Audrey Hochberg Pond in honor of Jane Bedichek and in memory of Irving Sloan and Linda Weiss.
Below please find photos from the bench dedication supplied by Jeannie Baubion-Mackler, a Vice President of the Scarsdale Parks.
Scarsdalians Support Let's Get Ready
Details

Hits: 4018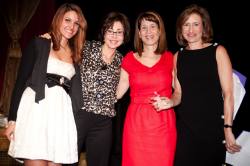 On May 3rd nearly 500 guests attended the 5th annual Let's Get Ready Gala event held at Capitale in New York City. The evening honored Eugene Lang, Founder of the I Have a Dream Foundation, and Nancy Katz and Linda Ortwein, Co-Chairs of LGR's Adult Mentoring Program. Founded by Nancy and Linda in 2010, the Adult Mentoring Program matches high school seniors in Let's Get Ready with adults trained to assist in the college application process (covering everything from searching for schools to writing college essays). The event raised $750,000.

This year Let's Get Ready is on track to provide more than 2,500 low-income and first generation college-bound students with SAT tutoring and college admissions guidance. The program has grown from Mount Vernon (where it was founded by Jeannie Lang Rosenthal of Scarsdale) to sites throughout the northeast, from Philadelphia, PA to Portland, ME. And 93% of LGR's students have gone directly to college after high school.
The gala event was made possible by a number of Scarsdalians, including Chairs Steve and Nancy Karotkin, Barbara and Gil Kemp, and Dan
and Paula Reingold. Vice Chairs Priscilla Natkins and Seth Novatt and Ann and David Yaspan, as well as Committee Chair Alison Greene, also led the way. Other local Committee Members included Nancy Rubini-Aks, Margie Arsham, Linnae Boyer, Jane Buck, Charlotte Carr, Anna Decker, Gina Duncanson, Debbie Eisenberg-Lever, Suzi Eisman, Susan Friedman, Barbara Gewirtz, Liz Gordon, and Lisa Rodman. And the room was filled with even more Scarsdale representatives, including Flo Wiener and Nancy and John Alderman.
Right now many of these Scarsdale residents are leading an online charge for Let's Get Ready – voting for the organization in the Chase Community Giving Campaign on Facebook. To help LGR win up to $500,000, please click this link and vote: http://apps.facebook.com/chasecommunitygiving/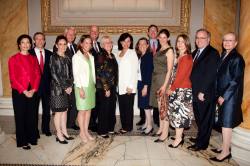 Leah Peskin, Dan Reingold, Alison Greene, Marty Gardner, Ann Yaspan, Gil Kemp, Liz Gordon, Linnae Boyer, Andrea Stewart, David Eckert, Jeannie Rosenthal, Priscilla Natkins, Jeff Waters, Jane Buck
Pictured at top: Janibell Monegro, Nancy Rubini-Aks, Nancy Katz, Linda Ortwein

Photos by (c) 2011 Leslie Barbaro