A Glorious Gourmet Galaxy
Details

Hits: 3228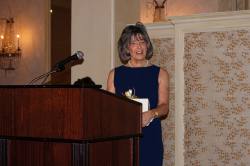 The Gourmet Galaxy at the Westchester Country Club showcased a dazzling array of area food purveyors and honored the late Rita Aranow, who provided a lifetime of support for Scarsdale and Edgemont Family Counseling and helped to launch a new initiative for Scarsdale seniors. Also sharing the Open Door Award was the Louis and Anne Abrons Foundation that was honored for their contributions.
This year's Galaxy was held on Wednesday May 4th and it was the event's eighteenth year. The night included a substantial silent auction with splendid gifts from many area retailers and professionals. Available for bids was Judith Ripka jewelry, tickets to sporting events, restaurant gift certificates, wines, flowers, beauty services and more.
Food was provided by many of the areas leading restaurants, named below. Sushi, pasta, seared tuna, sliders and
spanikopita were just a few of the delectable dishes available. Desserts abounded with yodels from Lulu's, the famous Renaissance cake and handcrafted chocolates donated by Margaret Smith of Odyssey Chocolate.
A large crew of volunteers took on this ambitious project, contacting restaurants, retailers and community friends to produce this successful event.
Galaxy Chairperson Marie Posthumus remembered Aranow as "charming" and "interesting" and credited her with being the woman behind the initiative to launch "At Home in Scarsdale" in 2010. She thanked the entire event committee, including Penny Bauersfeld, Anne Moretti, and Monica Rafajac as well as the entire staff of Scarsdale and Edgemont Family Counseling for their efforts.
Geraldine Greene, SFCS Executive Director thanked the restaurants for their "movable feast" and also alerted the group to SFCS's new van and driver that will ferry Scarsdale seniors to meetings and medical appointments. The van was provided by Aranow's family who has vowed to continue their support in the future. Saying that "we live forever in the institutions we create", Greene said that Aranow "lives on through her generosity."
Rita Aranow's daughter Vicki accepted the award in her mother's name, and choking back tears she told the group that she missed her mother who was shy and would have avoided public recognition. Crediting her with a life of "quiet dedication" she said her mother would be happy to know that her gifts are allowing people to age at home in Scarsdale.
Thanks to these restaurants, caterers and bakeries for their support:
An American Bistro

Anna Maria's Restaurant

Benjamin Steakhouse

Bistro 88

Caffe Azzurri

Captain Lawrence Brewing Co.

Chat American Grill

Chat 19

CRAVE Bar and Grill

Don Coqui

Eastchester Fish Gourmet

Il Castello

La Panetiere

La Renaissance

Lulu Cake boutique

Lusardi's

Martine's Fine Bake Shoppe

Moscato

Niko's Greek Taverna

Odyssey Chocolates

Rainwater Grill

Route 100 Wine Bar and Grill

Seth Greenberg's Just Desserts

Tango Grill

Turkish Meze

Za Za Restaurant

Kirari

Haiku

Sakanaya Sushi
Tickets Still Available for the Gourmet Galaxy on Wednesday
Details

Hits: 2580

The gala annual Gourmet Galaxy is scheduled for Wednesday, May 4th at the Westchester Country Club, and you don't want to miss it! Starting at 6:30 pm, you will be able to sample delightful wines provided by Frederick Wildman and Sons and beer from Captain Lawrence Brewing Company. There will be culinary surprises from An American Bistro of Tuckahoe, Anna Maria's, Chat 19 and Lusardi's of Larchmont, Caffe Azzurri of Hartsdale, Il Castello and Turkish Meze of Mamaroneck, and more. Some local favorites like Eastchester Fish Gourmet, Chat American Grill, Bistro 808, and Moscato will add some delicious offerings. Other returning favorites include Don Coqui, Niko's Greek Taverna, La Panetiere, Route 100 and Tango Grill. Benjamin Steakhouse, Crave Bar and Grill, and Rainwater Grill and ZaZa have also joined in this year!
As usual, the night will begin with cocktails and hors d'oeuvres at 6:30 with the opening of the exciting silent auction that includes many unique items to bid on. Cocktail hour will include sushi from the new Haiku and Kirari in Scarsdale, and Sakanaya Sushi in Hartsdale. And at 8pm the doors to the ballroom will open and guests will be treated to a variety of specialties from the participating restaurants.
And there's more. Those with a sweet tooth will marvel at the selections from Lulu Cake Boutique, La Renaissance Patisserie, Martine's Fine Bake Shoppe and Odyssey Chocolates to have with their evening coffee.
Scarsdale/Edgemont Family Counseling will present the Open Door Award for outstanding community involvement. This year, Rita Abrons Aranow, a very generous, gracious and loyal benefactor of SFCS and a Scarsdale resident for over 60 years will be honored. This is the principal fundraiser for SFCS, serving the community for almost 90 years. Tickets are $200.00 ($150.00 for first time attendees). For information and tickets, call 723-3281 or check our website at www.sfcsinc.org or reserve a spot by email at ngs612@hotmail.com .

tay-bandz Continues Its Mission in Edgemont and Beyond
Details

Hits: 3328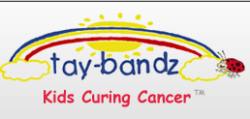 Has everyone seen the great tay-bandz/ Kids Curing Cancer car magnets that have started showing up on cars all over town? The magnets pictured here feature an adorable ladybug and rainbow designed and marketed by a student at Edgemont High School. Everyone has been asking me how to get one for their own cars. The magnets are part of tay-bandz's latest fundraising effort for pediatric cancer research. tay-bandz introduced their "One Magnet At A Time" fundraiser earlier this year and they are everywhere now. For every $7 donation to tay-bandz, you will receive one car magnet that one day will save a child's life. If you would like to order a car magnet, simply email tay-bandz directly at taybandz@gmail.com .
tay-bandz is a 501 (C) 3 non-profit organization dedicated to raising awareness and funding research for pediatric cancer. tay-bandz was founded in 2003 by a truly remarkable Edgemont student, Taylor Matthews who, at age 11, was diagnosed with cancer. Taylor had a heart of gold and her dearest hope was that someday no child would ever have to face cancer. Taylor passed away in February of 2008 but the organization she founded continues through her family's hard work and dedication to Taylor's dream that no child should face cancer. tay-bandz is completely run by volunteers and every penny raised by tay-bandz goes to fund pediatric cancer research.
Through their tireless fundraising efforts, tay-bandz has raised over one million dollars for pediatric cancer research. They have funded grants to Hopes & Hero's Cancer Fund at Columbia Presbyterian, Memorial Sloan Kettering, MD Anderson Cancer Institute and have just approved a grant to fund the National Institute of Health. In May of 2010, Columbia Presbyterian Hospital announced the grand opening of a new state-of-the-art Pediatric Solid Tumor lab named after tay-bandz and Taylor. Several of Taylor's pre-med friends will be interning this summer in the tay-bandz lab at Columbia.
In the past, tay-bandz has raised funds through selling a wide variety of tay-bandz merchandise such as sweatshirts, headbands, jewelry, beach towels, tote bags, key chains, hair scrunchies, scarves, belts, flip flops and t-shirts. They have also partnered with other organizations such as Bloomingdales and Presents with a Purpose to raise funds and recently announced a new Capital One VISA credit card that will donate $50 after your first purchase, and then 2% of your gas and grocery purchases and 1% on all other purchases to tay-bandz.
If you would like to order any tay-bandz merchandise or make a donation to tay-bandz, send an email to taybandz@gmail.com. To learn more about tay-bandz, please visit the organization's website at www.taybandz.org . You can also visit their facebook cause page called "Tay-Bandz - Cure Pediatric Cancer." Taylor's parents are very grateful to everyone who continues to support tay-bandz to keep Taylor's hopes and dreams alive. Every donated dollar is greatly appreciated and helps fund important research.
Fundraising Made Simple
Details

Hits: 2301

Here's an easy way to raise funds for your favorite cause or organization. GreaterClick.net lets you use web-based tools to change the way you raise money for all kinds of not-for-profit organizations including charities, houses of worship and people in need.
Use this internet service to start your own campaign. Ask your contributors to purchase a magazine from a list of 167 first-rate publications, and 50% of the revenue comes back to your group.
Everything is done online eliminating the need for order forms and checks.
With three easy steps, you can set up a campaign, invite other friends and family to participate and purchase magazines to support a cause. To check it out, click here to visit their website or go to http://www.greaterclick.net.

Riverkeeper's Executive Director to Speak on Indian Point at League Luncheon
Details

Hits: 2300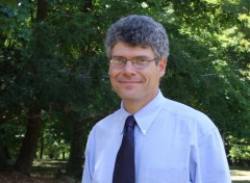 Paul Gallay, the Executive Director of Riv erkeeper, will discuss "Indian Point and the Future of Energy in the Hudson Valley" at a luncheon sponsored by the Scarsdale League of Women Voters on May 13 at Scarsdale Golf Club. Riverkeeper is a member-supported watchdog organization dedicated to defending the Hudson River and its tributaries and protecting the drinking water supply of nine million New York City and Hudson Valley residents. Mr. Gallay has worked for over 25 years to protect the environment and support local communities as a non-profit executive, public official and educator. Before joining Riverkeeper in 2010, Mr. Gallay served with New York State's Attorney General and Department of Environmental Conservation to help shut down polluters and reduce contamination in the Hudson; led Westchester Land Trust, creating the Westchester Open Space Alliance which successfully lobbied for over $45 million to fund parkland and preserves; and served as the president of Maine Coast Heritage Trust.
All League members are invited to the League's annual meeting, which will be held before the luncheon at 11 am and will include electing a new board and adopting a budget and programs for 2011-12.
The luncheon will begin at 11:45 am. The cost is $40 per person (or $45 payable at the door); make your check payable to League of Women Voters of Scarsdale and mail to Anne Lyons, 82 Greenacres Avenue, Scarsdale 10583. For more information, call Lisa Copeland at 472-2568.