SHS Students Forge Cross Cultural Connections in New Zealand
Details

Written by

Emmeline Berridge

Hits: 3683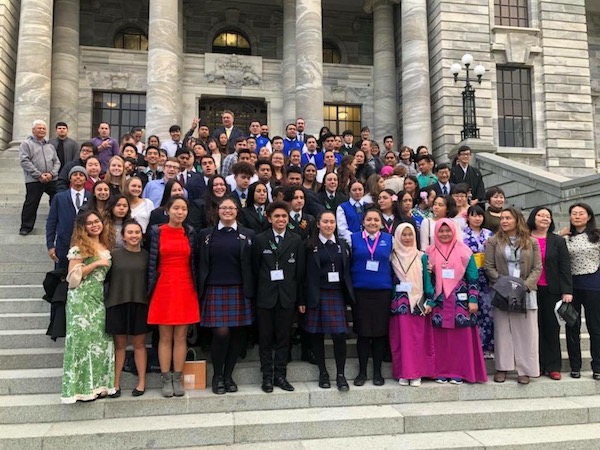 The students of P4Y gather on the steps of New Zealand Parliament before closing ceremonies.This summer, five upperclassmen students traveled to New Zealand to represent Scarsdale at Partnership for Youth: Shaping Vision 2030, a conference about sustainability and revitalization. Students from Hawaii, Indonesia, New Zealand, China, Japan, and Scarsdale met to form cross-cultural connections while discussing the UN's 17 Sustainable Development Goals for the year 2030.
Partnership for Youth (P4Y), hosted by the East West Center, is an annual conference. According to the East West Center, "P4Y creates opportunities for young people to come together to develop friendships and connections, and build knowledge and skills; share creativity and innovation as they work across cultures, nationalities, and other differences to take action for social change." In 2017 the forum was held in Japan, where three Scarsdale students attended to collaborate about wellness and peace.

The Scarsdale group this summer was made up of rising seniors Amanda Glik and Emmeline Berridge and rising juniors Rishabh Gharekhan, Ty Kawamura, and Anna Donovan. History teachers Patrick Healy and Nicola Minchillo led the students in the program. Prior to collaborating with their peers in New Zealand, the group formulated a preliminary sustainability project focused on the Scarsdale community. School wide surveys were sent out to the student body and teachers to collect data regarding the improper consumption and disposals of plastic in the high school.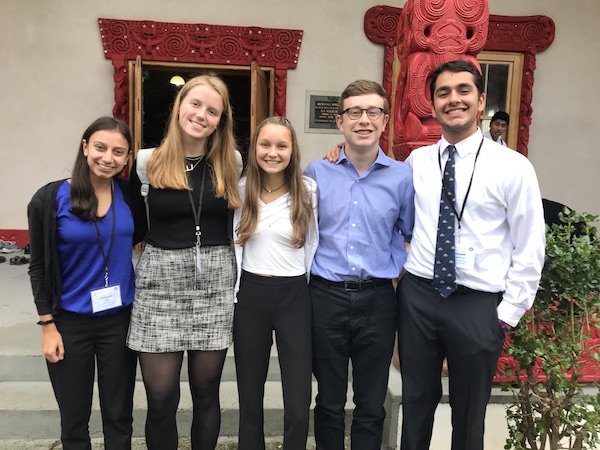 (left to right) Amanda Glik, Emmeline Berridge, Anna Donovan, Ty Kawamura, and Rishabh Gharekhan represented Scarsdale High School at Partnership for Youth, a sustainability conference in New Zealand.

The program was made up of two phases. During phase one, the "In Country Cultural Immersion", participants traveled to New Zealand, where they explored New Zealand, participated in peer-to-peer and expert dialogues on sustainable development challenges, and were immersed into the community of the Maori Tribe. The Maori are the native people of New Zealand. The Maori tribe is an incredible success story as over the past 50 years the Maori culture and language have been revitalized after near extinction when the British settled in the early 1800s. Maori is now an official language of New Zealand, and the tribe is well respected, with seats in New Zealand parliament. While the program was centered around the theme of sustainability, it challenged the notion that sustainability is exclusive to the environment. Rather here, sustainability meant the ability to sustain a community or culture, which could entail family, social, economic, or environmental systems.

During their two week immersion in New Zealand, the students engaged in discussions with peers, went on excursions throughout Wellington, and were taught about facets of the Maori culture through storytellers, Maori politicians, and prominent leaders in the community. During the first week participants were split into mixed country groups for sustainability excursions around Wellington. Rishabh participated in the "World of Waste" tour, a trip to the landfill and The Remakery, a local business that repurposes trash headed to the landfill. Ty ventured into downtown Wellington with his group to help the homeless in the city. Anna tracked the water quality from the top to the bottom of the Waiwhetu stream, a stream that passes through Lower Hutt. Amanda worked with Harakeke, a fiber plant grown in New Zealand, learning how to weave with it and utilize its fiber properties to create sustainable materials. I went to the Petone Settlers museum to understand how devastating the British settlement was on the Maori community.
Students then shared their experiences with the rest of the group. An important part of the P4Y experience was the ability to engage intimately with the Maori culture. Not only were the students from New Zealand predominantly Maori, but the program was facilitated by Maori leaders of Lower Hutt. The students were welcomed into the Maori family, participating in their prayers, meals, games, and staying in their meeting house, a Marae, for a weekend homestay.

What was most captivating about the P4Y experience was the ability to create connections with peers from diverse cultural backgrounds. Not only did the students' differing perspectives enrich dialogue about sustainability, but it also helped foster the individual growth of the participants. During meals, the Scarsdale students were known for branching out and engaging with students from other countries, regardless of language barriers. At free time in the evening, students gathered in common rooms to play cards, share dances, and watch movies. During one memorable evening the Hawaii group attempted to teach everyone the Hula while Japanese students taught a lesson on origami. With every joke, story, and experience shared, students were both learning from each other's differences and appreciating their similarities. It was this informal time where P4Y students were able to bond, ultimately seeing one another as a network of future leaders with who to keep in touch in the future.
The final project was an individual community action plan, where Scarsdale students came together to outline an implementation plan for the high school community next year. The plan focused on the overconsumption and improper disposal of plastic at SHS.
The importance of community in the Maori culture was particularly interesting to Scarsdale students. It was evident that the Maori's nightly songs, stories, and language revitalization contributed to an intense pride in their community, leading to a mindset of cooperation with regard to recycling and the reduction of waste. Scarsdale's critical question was "how do we change apathy to action?" as many students are unwilling to reduce their plastic waste because of a sense of apathy toward the environmental cause. The students narrowed in on three sources of critical plastic waste at SHS: water bottles, school supplies, and food plastics. They will be working with a program called Terracycle, a school supply recycling service, which will be implemented as a way to reduce school supply waste.
Additionally, Scarsdale's P4Y group will prepare a video presentation for Global Citizenship Day focused on plastic consumption at the high school. The students are working with a participating school in Hawaii to document the plastic on Hawaii's beaches in an attempt to harness an empathetic response for the way that plastic is affecting high school students in other communities. The ultimate goal of these campaigns is to increase students' awareness of how the plastic they consume and dispose affects the global community.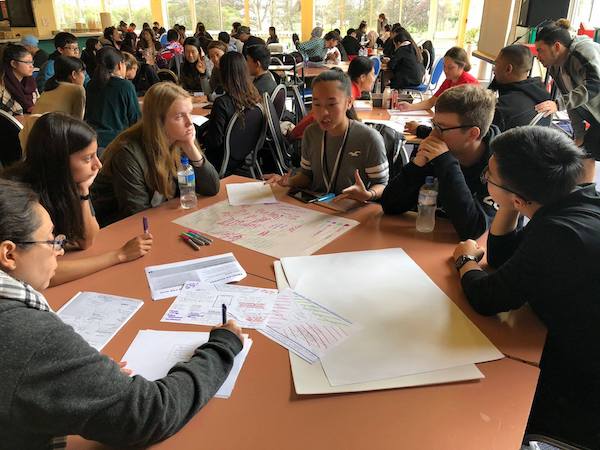 Scarsdale students engage in cross-cultural discussions about sustainability issues throughout the world.
Students and teachers ended their P4Y trip with a closing ceremony at New Zealand Parliament. Awards were presented, countries shared cultural presentations, and participants were given the opportunity to say farewell to one another. Two members of New Zealand Parliament spoke to the students, referring to them as the "next generation of change-makers." To close the night, the Maori students initiated a final evening prayer, which was a culmination of the progress made throughout the week. During the first night of the program only the Maori were able to sing the words for the nightly blessing. However, as the guitar sounded to initiate the final prayer, every single participant stood in unison and belted out the jubilant tune of the hymn with a tangible sentiment of trust. It was inspiring to see such diverse minds come together so organically, no longer separated by ethnic boundaries, but united as citizens of the world.
SHS Senior Sends Books to South Africa
Details

Written by

Joanne Wallenstein

Hits: 3115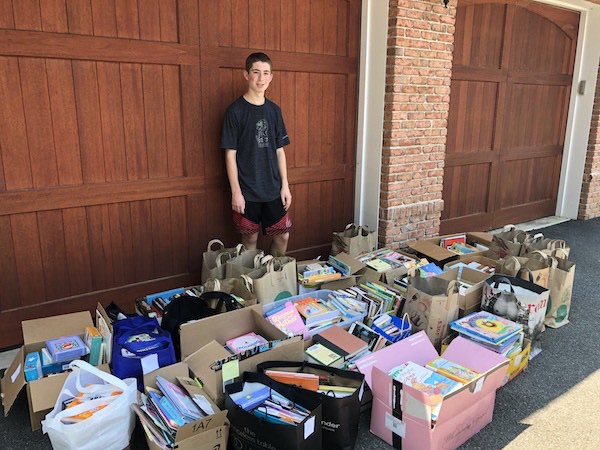 Soon to be senior at Scarsdale High School Zach Hoexter has undertaken an ambitious project to bring books to children in South Africa. Last summer, as a volunteer in South Africa, he witness first-hand witn pit toilets, poor conditions ... and no libraries. When he returned home he was inspired to send children's books donated by families in the United States to elementary schools near Kruger in South Africa where many schools have no libraries.
Using social media he has already collected 1,500 books for Books for South Africa and donations continue to arrive daily. Undaunted by the challenge of shipping them overseas, Zach went through a lengthy application and approval process, and secured shipping from a major international shipping corporation who will deliver the books from New York to South Africa. Moreover, he's excited to report that the company has invited him to a special event this week to meet their Global CEO and deliver a speech.
The issue is timely. The New York Times published a front-page article on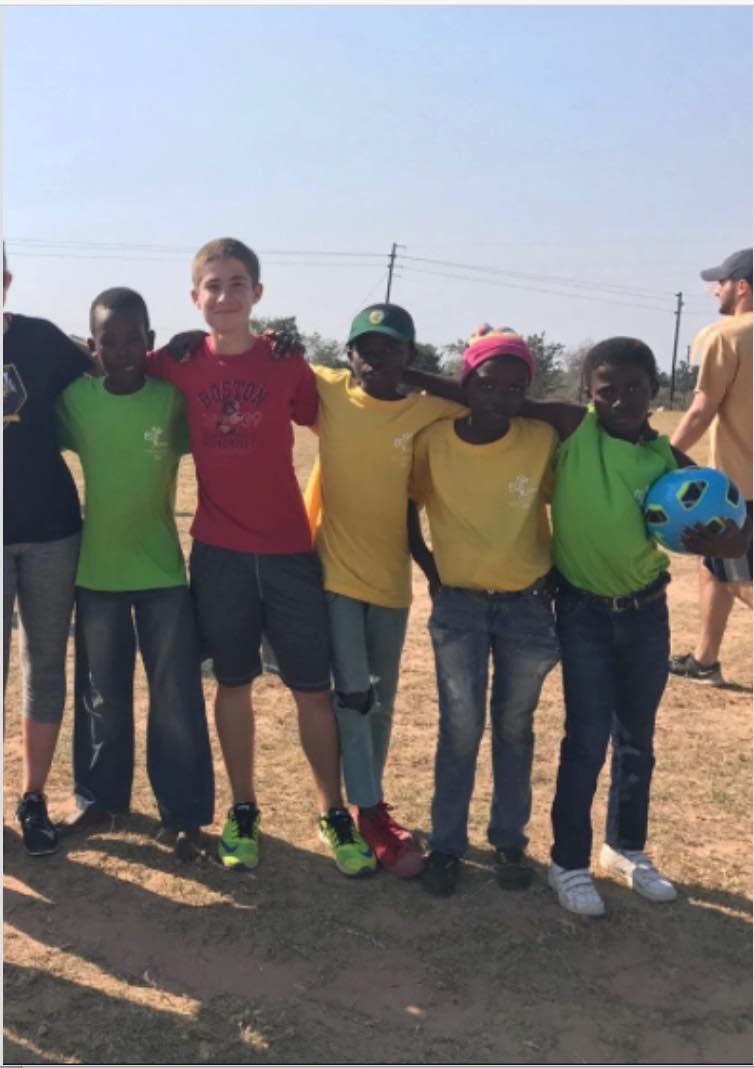 August 5th highlighting the mass corruption plaguing South African primary schools. It discusses exactly what Zach witnessed during his volunteer service there. South Africa has one of the lowest literacy rates of developing countries and less than 5% of the school in and around Kruger National Park have a library. He is working with a local organization in South Africa that is helping to improve literacy for these schools and the books he collected will stock a library for the Mphaku School in Kruger and possibly other primary schools in that area.
If you have books for children ages 5-13 that you would like to donate, click on the Go Fund Me link for instructions. https://www.gofundme.com/books-for-south-africa.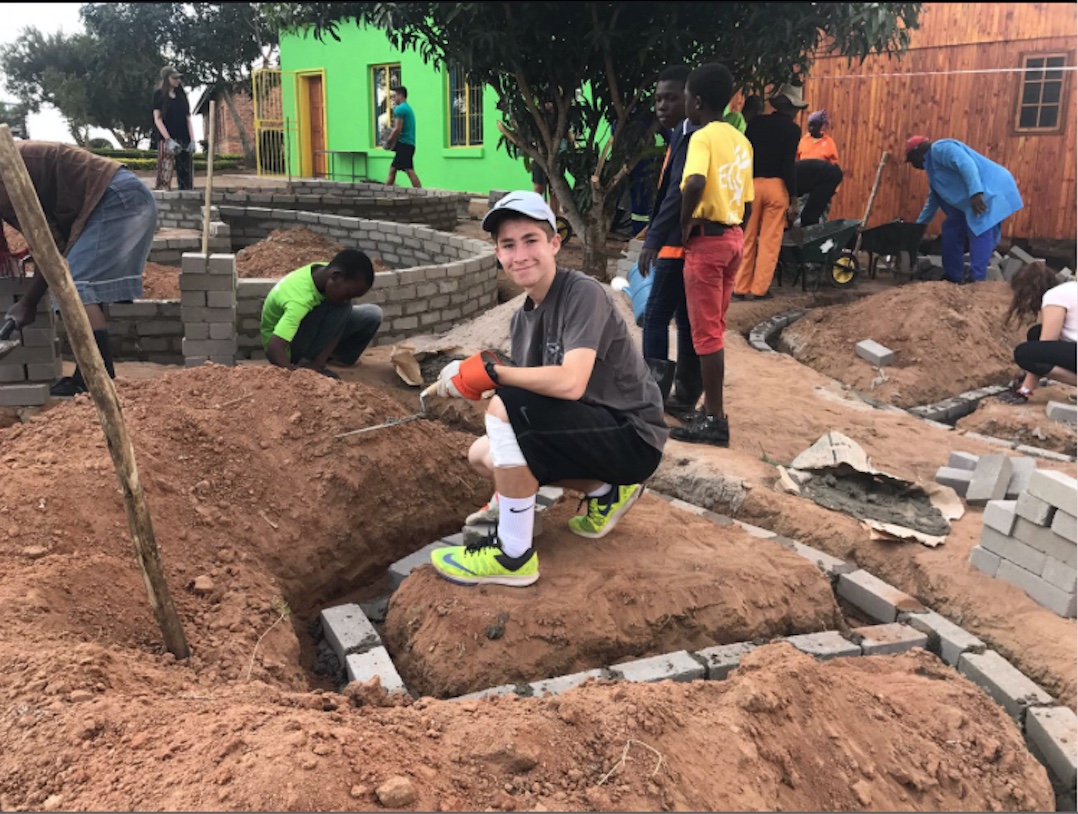 Scarsdale Swimmers to Cross Long Island Sound to Raise Funds for Cancer Research
Details

Written by

Joanne Wallenstein

Hits: 3840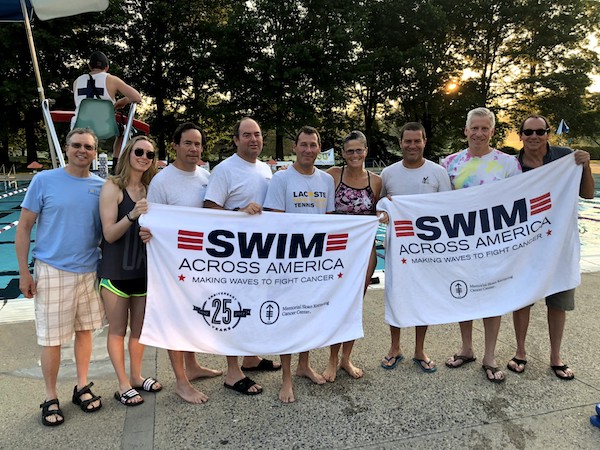 Michael Zeller, Amanda Rachlin, Doug Rachlin, Joe Kaufman, Joel Talish, Carol Wolfe, Eldad Blaustein, Josh Glantz, John NeedhamNext week, on July 28, more than a dozen Scarsdale residents will take part in the 26th annual Long Island Sound Swim to raise money for cancer research and treatment. As part of Swim Across America, the Long Island Sound Swim has raised more than $10 million over the past 25 years benefiting immunotherapy research at the Swim Across America Laboratory at Memorial Sloan Kettering Cancer Center, pediatric oncology research at Morgan Stanley Children's Hospital of New York-Presbyterian and patient services with Cancer Support Team.
The Scarsdale residents participating this year include Joe Kaufman, Joel Talish, Josh Glantz, Noah Glantz, Eldad Blaustein, Patrick Bates, John Needham, Dan Needham, Doug Rachlin, Amanda Rachlin, Miles Rubin, Noonie Thompson, Jeannine Palermo, Carol Wolfe, Michael Zeller, Peter Doyle, and Chip Rich. They will be joined by kayakers Jeff Malsch, Joe Losardo, and Mitch Kulick.
Each year, the takes a name in memory or honor of someone close to our team who has lost their life to cancer or is currently fighting it. We hope that one year, we will fail to have a name. While sadly this is not that year, we're grateful to be swimming in honor of a friend and Scarsdale neighbor.
This year, the team is swimming as "Team Valerie" in honor of Valerie Narins Malsch. Her husband, Jeff, has accompanied the team in prior years as a kayaker and will do so again this year. Valerie, a lifelong Scarsdale resident and mother of four, was diagnosed with Multiple Myeloma in April 2017. Multiple Myeloma causes cancer cells to accumulate in the bone marrow, where they crowd out healthy blood cells. Following her diagnosis, Valerie has undergone chemotherapy, immunotherapy and a bone marrow transplant, which required a three-week hospital stay and two additional months of very limited interactions with friends due to a severely compromised immune system. In May, Valerie's blood tests and bone marrow biopsy results showed no detectable cancer, and she is currently considered in complete response. Still, she will continue to take a maintenance drug cocktail for the foreseeable future. Valerie feels and looks great, especially with her current GI Jane hairstyle, and Team Valerie is motivated by her fighting spirit to swim on her behalf.
Please consider supporting Team Valerie by clicking here: Donate to Team Valerie.
The Malsch Family
Call for Candidates for the Citizens Nominating Committee
Details

Written by

Joanne Wallenstein

Hits: 2310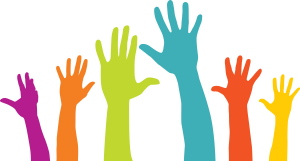 The Procedure Committee, the ad hoc committee of volunteers who administer the village nonpartisan election system, invites Scarsdale residents to run for election to the Citizens Nominating Committee ("CNC"). Members of the CNC play a direct role in interviewing, evaluating and selecting candidates who will be on the ballot for village elected offices, under the banner of the Scarsdale Citizens Non-Partisan Party in the March 19, 2019 general election.

The CNC plans to meet 5 or 6 times on Monday and/or Wednesday weekday evenings in November, December and January to nominate candidates for the positions of Mayor, three Trustees and Village Justice. The CNC meeting dates for 2018-2019 are: Monday, November 26 (organization meeting); Wednesday, December 12; Wednesday, December 19, Wednesday, January 9, Wednesday, January 16, and if necessary, Wednesday, January 23.

CNC members serve staggered three-year terms followed by one year on the Procedure Committee. A candidate for the CNC must be a qualified voter (U.S. citizen and 18 years of age or older), and a resident of Scarsdale for at least two years. A CNC candidate may not simultaneously be a member of the Procedure Committee, the School Board Nominating Committee, the School Board Administrative Committee, the Scarsdale School Board or the Village Board of Trustees.

Residents in each of the five elementary school districts (Edgewood, Fox Meadow, Greenacres, Heathcote and Quaker Ridge) typically run for two available positions on the CNC in their districts. This year, there is an additional position for a one-year term to fill a vacancy in Edgewood. Candidates will need to file a short biographical sketch and a Nominating Petition with 10 signatures of registered voters from their district. Forms and filing instructions for both may be downloaded from the Procedure Committee website at www.scarsdaleprocedurecommittee.org. A FAQ sheet about the non-partisan system can also be found on the website.

The deadline for filing both forms is Sunday September 30. After this date, additional candidates will be accepted only if there are fewer than two candidates for each position in that school district. The CNC election will be held at Village Hall on Tuesday November 13, 2018 at 7-10 am and 2-9 pm.

For help in filing or for more information, potential candidates are welcome to contact the Chair of the Procedure Committee, Madelaine Eppenstein, Fox Meadow, at meppenstein@eppenstein.com and 914-262-6656, or Vice Chair Eric Cheng, Edgewood, at chengchoi@optonline.net, or one of the current Procedure Committee members. They are: from Edgewood, Eli Mattioli, David Peck and Richard Pinto; from Fox Meadow, Timothy Foley, Mayra Kirkendall-Rodríguez, Pam Rubin, Jill Spielberg and Bruce Wells; from Greenacres, Michelle Sterling; from Heathcote, Charles Baltman, Sara Bell, Jeff Goodwin and Greg Soldatenko; and from Quaker Ridge, David Dembitzer and Nancy Steinberg.
Historic Mid-century Home is Back on the Market in Fox Meadow
Details

Written by

Joanne Wallenstein

Hits: 5670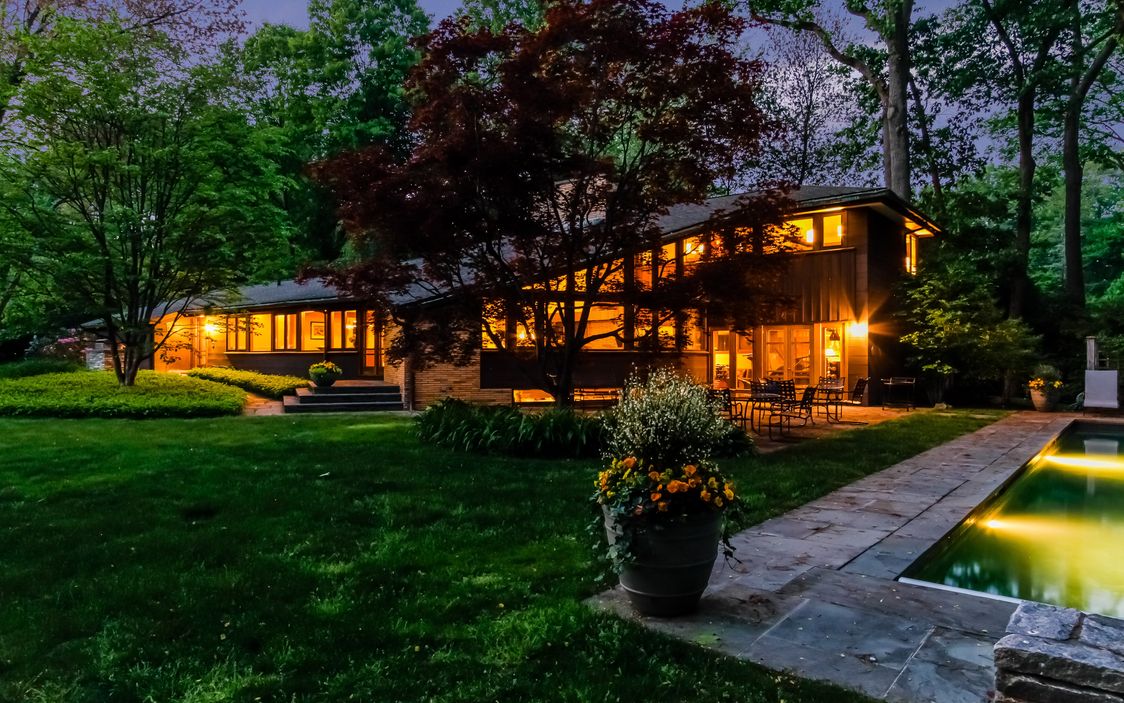 (Updated July 11, 2018) After being denied permission to tear it down, the owners of a Mid-century Modern home at 8 Overlook Road in Scarsdale have put the house back on the market.
The home was purchased in May 2018 for $2.97 mm and an application was filed to the Committee for Historic Preservation (CHP) to tear it down.
At their May 29 meeting the CHP denied the application and the house is now back on the market for $2,990,000. The 3,317 square foot home has 3 bedrooms, 4 baths and sits on .95 acres with a 45 X 15 foot swimming pool.
This was the first meeting of the Committee for Historic Preservation since a change in the criteria for preservation was enacted. The prior code was even stricter than the national code for historic preservation and said, "That the building is the work of a master AND That the building embodies the distinctive characteristics of a type, period or method of construction that possess high artistic value." Under the new code, the AND has been changed to an OR so that as long as one of these criteria is met, the house can be preserved.

The home at 8 Overlook Road was designed by Edgar A. Tafel, a disciple of Frank Lloyd Wright, for Jacob J. Alpern, an owner of Grand Iron Works, one of the largest fabricators and erectors of structural steel in New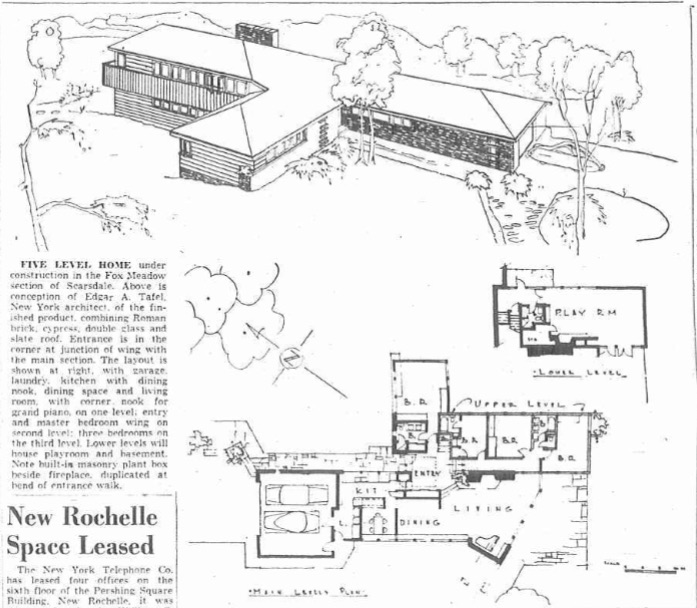 Tafel's rendering of 8 Overlook Road as shown in The Herald StatesmanYork. It was later purchased by the Ottinger family. Richard Ottinger grew up in the house and went on to serve six terms in the U.S. Congress, to found the Peace Corps and to become the Dean of Pace Law School.
The application to raze the home was filed by current owners Josh Kaufman and Nicole Israel who were represented at the May 29, 2018 hearing by their architect Chris Kitterman of Deborah Berke Partners, an architectural firm based in Manhattan. Kitterman noted that Tafel was an apprentice to Frank Lloyd Wright and had built other homes in Larchmont, Bedford, Greenwich and Ridgefield. This house is the only example of Tafel's work in Scarsdale. In addition, Tafel designed churches, including the First Presbyterian Church on Fifth Avenue and 12th Street in New York along with a chapel at JFK airport as well as a fine arts building at SUNY.
When committee members asked Kitterman if he thought Tafel was a master, Kitterman argued that Tafel was a disciple of Wright and said, "Just because we learn about an architect in school, it does not mean he is a master."
The committee received many letter supporting preservation of the home, some offering evidence that Tafel was indeed a master.
A group called do_co, mo.mo_us, which stands for Documentation and Conservation of buildings, sites and neighborhood of the Modern Movement, sent a letter about the house to Adam Lindenbaum, the Chair of the Committee for Historic Preservation in May before the CHP meeting. In the letter, the group's president, John Shreve Arbuckle said the following about Tafel and 8 Overlook Road:
"Tafel, who passed away in early 2011 at the age of 98, was the last survivor of Wright's original Taliesin Fellowship team, and he was among the most prominent. Working with Wright and fellow apprentices from 1932 to 1941, he played key roles in the creation of such iconic structures as Fallingwater and the administration building for Johnson Wax in Racine, WI. After serving in the war, Tafel opened an office in New York City.
This house, completed in 1950, was among the earliest of his post-Wright commissions. It embodies distinctive design attributes of his residential work: modesty, practicality, and an intimate relationship with the landscape. Tafel was particularly attuned to the needs and rhythms of modern family life, which are reflected in his compact floor plans and built-in cabinetry. The house's dipping eaves, cypress, and the continuation of exterior masonry as an interior finish are signature details of Tafel's early residences.
Additionally, the design clearly reflects the influence of Tafel's mentor, Frank Lloyd Wright. The house was sensitively restored by architect Linda Yowell for a prior owner.
It is rare to have a Modern Movement residence retain such design integrity. For the sake of preserving our region's finite architectural heritage for the next generation, we respectfully urge your committee to use the full extent of your authority to prevent the unnecessary loss of this house."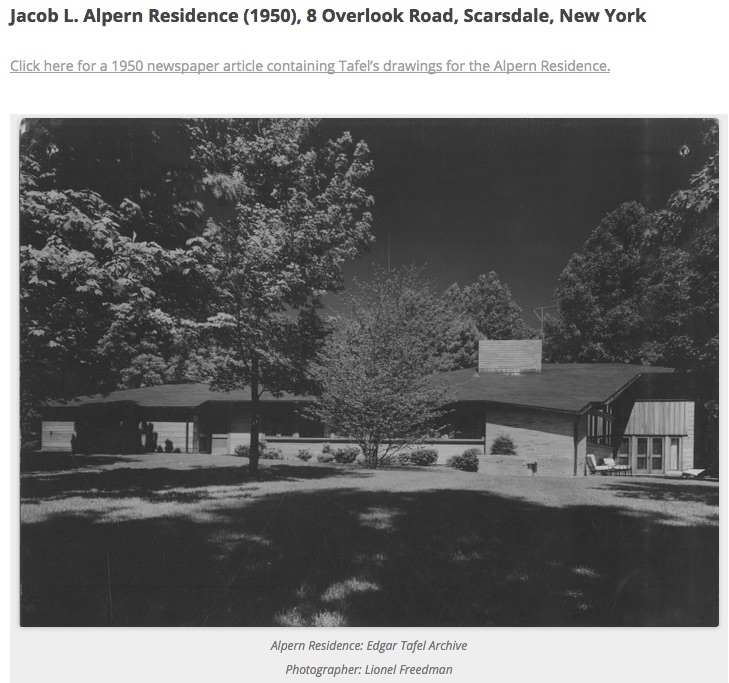 From the Edgar A. Tafel Archive at Columbia UniversityThe committee also received a letter in support of preservation from architect Linda Yowell who designed renovations to the house in the late 1990's. She wrote that when the renovation was complete, she invited Tafel to see the house and in her words, "the house embodies the best elements of Tafel's residential designs." She also noted that there is a Tafel Hall at the Center for Architecture in New York
and at the Department of Architecture at the University of Illinois. Tafel was also instrumental in saving Wright's house in Minnesota.
The house is also called out in the Edgar A. Tafel Archive at Columbia University. According to the archive, "Tafel was an apprentice at Taliesin from 1932 to 1941, after which he began his own architectural practice. There is evidence of a few of Tafel's early residential projects from the early 1950s in the archive which survive in the slides, photographs, and in some files and drawings."
Historian Andrew Dolkhart, who authored the 2012 Cultural Resources Survey of Scarsdale also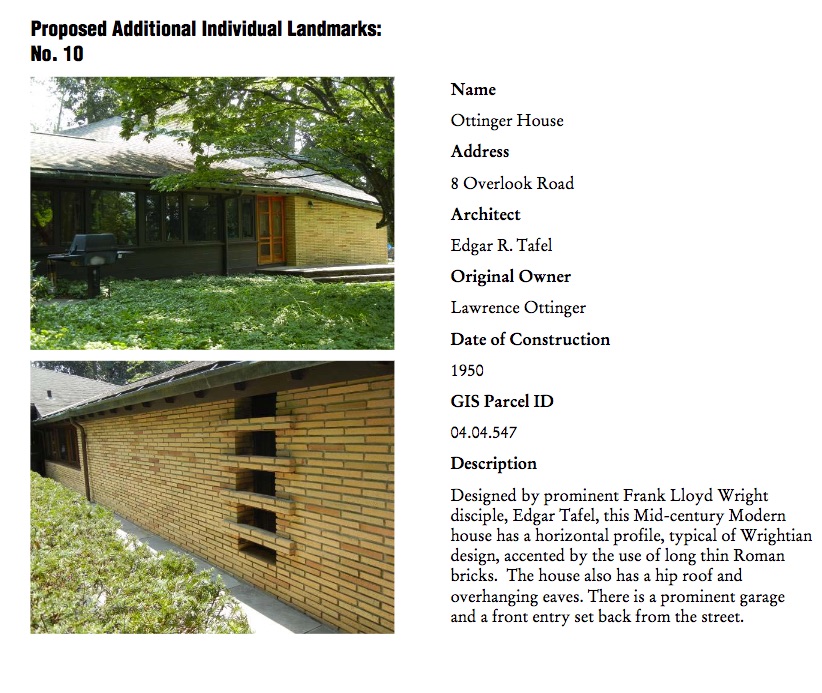 From the 2012 Cultural Resources Surveyrecommended that it receive historic designation. In his report he said this about 8 Overlook Road: "Designed by prominent Frank Lloyd Wright disciple Edgar Tafel, this Mid-century Modern house has a horizontal profile, typical of Wrightian design, accented by the use of long thin Roman bricks. The house also has a hip roof and overhanging eaves. There is a prominent garage and a front entry set back from the street.
At the hearing, several neighbors spoke in defense of the house, one who said, "It would be a travesty to knock this down. The purpose of this new committee is to have some teeth and give some fight back to the community. If someone assumes they can buy a house and knock it down, there is no historic preservation."
Jack Miller, a former Chair of the Board of Architectural attended the hearing and made an impassioned appeal to preserve the house. He brought Tafel's books that are used when students learn about Frank Lloyd Wright and said, "These books are gospel." He called the house "a timeless piece of art," and an example of the magical results of a gifted architect and a willing client. To the members of the CHP he said, "This is the reason why you are here … This house is special…..I don't understand why anyone would buy this without a contingency that it could be demolished. I am almost speechless."
Committee member Lauren Bender said this house "embodies the distinctive characteristics of Mid-century Modern and Frank Llolyds Wright's Usonian style and Prairie style – this is one of those seminal homes. It was built in 1950 and embodies 1950's architecture.
The committee voted unanimously to deny the application for demolition finding that the home was the work of a master, which is defined as "A figure of generally recognized greatness in a field, a known craftsman of consummate skill." They also believe it satisfies another criteria, that "the building embodies the distinctive characteristic of a type, period or method of construction that possess high artistic value." However, the focus of their decision was Tafel's "importance in the architectural history in the United States and of the Mid-20th Century period, and the particular integrity of the property's design and construction as situated in the Fox Meadow neighborhood of Scarsdale."