Photo Opps: Girl Scouts Learn anti-Bullying Stratgies, TedX Talks are a Hit at SHS
Tuesday, 13 March 2018 16:46
Last Updated: Wednesday, 14 March 2018 17:04
Published: Tuesday, 13 March 2018 16:46
Joanne Wallenstein
Hits: 2518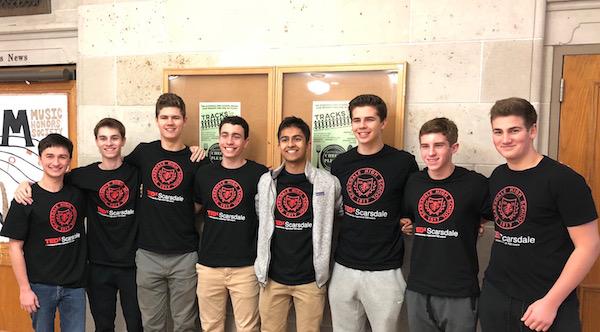 TEDxScarsdale launched its inaugural event in the Scarsdale High School Auditorium on March 11, 2018. The student-run club, led by co-founders Ishwar Mukherjee, Ben Lehrburger, and Connor McCarthy, curated speakers and organized the event under the guidance of faculty advisor Wesley Phillipson and with the help of Assistant Principal Andrea O'Gorman and Principal Kenneth Bonamo.

Speakers included two Scarsdale alumni, journalist Alan Schwarz and human rights activist Suzanne Nossel, as well as entrepreneur Divya Narendra, artist Viktor Koen, and comedian Frank King. TED Talks from Scarsdale residents Sheryl WuDunn and Mark Bezos were also played. TEDxScarsdale's goal was to bring together local bright minds under the theme of "Living a More Meaningful Life" and foster deeper interactions between the schools and the community. Pictured Club Officers: Nico Cavalluzzi, Noam Cherki, Daniel Korobeynyk, Jacob Gliedman, Ishwar Mukherjee, Connor McCarthy, Benjamin Lehrburger, and Michael DiSanto.
Girl Scouts Learn to Cope with Bullies
First Grade Girl Scouts at Greenacres learned how to deal with bullying in a program presented by Scarsdale Family Counseling Service on Friday March 9.

Youth Outreach Worker Jenna Horowitz started by reading a book about a playground bully, Mean Jean "The Recess Queen" and then engaged the girls in a conversation about recognizing bullies and using strategies to deal with them. What to do? Kids suggested telling an older child or a parent; ignoring the bully and walking away; telling the bully to "stop, you're being mean," or standing up to them ... all good suggestions!

After the discussion, kids drew pictures of "Mean Jean," and came up with words to use in these situations.