Scarsdale Raiders Baseball Team Celebrates Seniors
Tuesday, 08 May 2018 12:48
Last Updated: Thursday, 10 May 2018 12:49
Published: Tuesday, 08 May 2018 12:48
George Samwick
Hits: 2296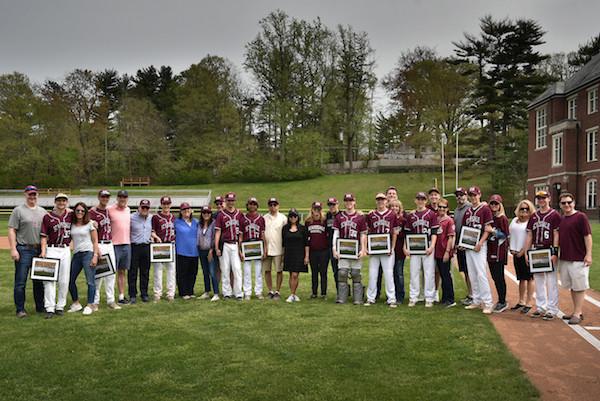 Scarsdale Raiders Seniors and their parents holding team photosSaturday, May 5, the Raiders faced off against the Stepinac Crusaders on senior day. Preceding the game, a ceremony was held to honor the ten seniors on the team: Jack Callahan, James Conlan, Matt Daniel, Michael Green, Daniel Karp, Evan Maroney, Zach McMurray, Kiran Ramachandran, George Samwick, and Joe Weintraub. Assistant Coach Boyer announced each senior, their parents, their respective college, and a witty comment for each player. The players, after being announced, made their way to home plate to greet their parents and take a picture before getting a team photo. To conclude the ceremony, a plaque was hung on the dugout fence and read, "Standing on the shoulders of those who came before us" followed by the name and number of each 2018 senior. After the ceremony, the Raiders quickly got to work.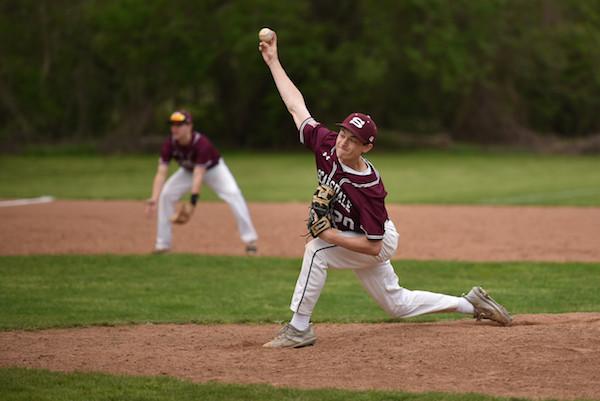 Trevor Lambert ('19) pitching in reliefWith Junior Ben Lehrburger as the starting pitcher, the Raider defense held Stepinac to a scoreless top of the first inning. The Scarsdale offense wasted no time as Senior captain Evan Maroney hit a double and was driven home by senior captain Joe Weintraub, making the score 1-0 at the end of the first inning. In the top of the second inning, the Crusaders answered back with two runs of their own. After Stepinac scored again, Junior Trevor Lambert relieved Ben Lehrburger on the mound in the fourth inning.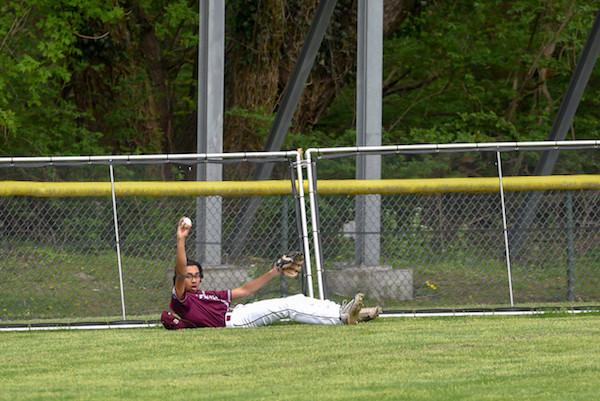 Kiran Ramachandran ('18) showing the umpire the ball after a spectacular catchTrevor Lambert had a dominating performance on the mound, throwing 3.2 scoreless innings. Scarsdale was able to tack on another run in the bottom of the fifth inning to make the score 3-2, Stepinac. Both relief pitchers threw well as the rest of the game went scoreless. The game, filled with spectacular defensive efforts, was highlighted by a catch by Senior Kiran Ramachandran in Left Field. Crashing against the wall and juggling the ball, Ramachandran was able to make the play and save the Raiders a run. In the end, the Raiders fell to the Crusaders 3-2.
Update: The team played White Plains on Tuesday, May 8 and Wednesday, May 9 and lost both games 5-1 and 6-0 respectively.
Photos courtesy of Jon Thaler, for more click here.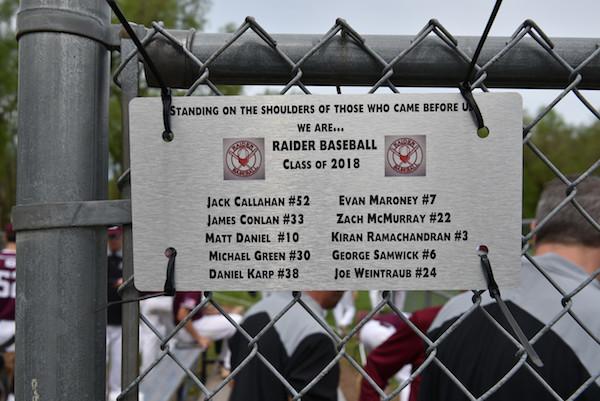 The new plaque hanging in the dugout