Jane Bedichek Dies at 99
Tuesday, 05 June 2018 14:19
Last Updated: Tuesday, 05 June 2018 15:04
Published: Tuesday, 05 June 2018 14:19
Louise Bedichek
Hits: 3150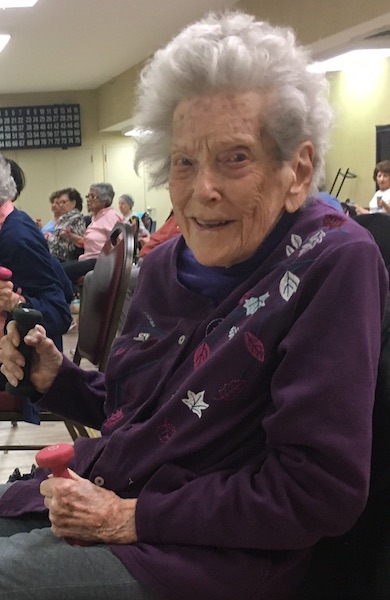 Bedichek at a senior exercise class at the County Center in 2017(The following was sent to Scarsdale10583 by Louise Bedichek, daughter of Jane Bedichek)
Jane Gracy Bedichek died at White Plains Hospital Thursday morning, May 31. Rev. Pete Jones, Pastor of Hitchcock Presbyterian Church, and I were at her side.
She was born September 9, 1918, in Austin, Texas, the only child of John and Bessie (Wells) Gracy. She and her husband Bachman Bedichek moved to Scarsdale in 1949 when their first child, John, was a one-year-old. Their five children attended Scarsdale schools, beginning with Greenacres.
She ​became​ involved in community volunteer work early on, but found unique roles for herself in later years, after her children had left home for college, most memorably as she devoted many hours to gardening at the Library Pond and enlisted volunteers to help, at the same time that she served as President of the Friends of the Scarsdale Parks. ​Current President of Friends of the Scarsdale Parks Madelaine Eppenstein ​says her organization has built on these initiatives with planting events for volunteers in the spring, such as the one this year in the woods between the Scarsdale Library and Scarsdale High School. ​ In 2004 ​Jane was awarded the Scarsdale Bowl, an honor which thrilled her.
She ​found ​living near New York City​ to be very stimulating​ and enjoyed attending theater and ballet, visiting museums, and enthusastically sharing the cultural attractions of New York with her out-of-town guests. ​Closer to home s​he hosted speakers for the lecture programs of the Westchester chapter of the Archeological Institute of America (AIA).
On receiving word of Jane's death, her friend Ruth Petschek Stein wrote from London, "Her enthusiasm, energy, open mindedness, welcoming of new ideas and strange people were admirable—and in the background she never forgot her father's admonition​:​ always remember, you may be wrong.
A​ ​service of Celebration of the Life of Jane Gracy Bedichek, will be held on Sunday afternoon July 22 at 2 pm at Hitchcock Presbyterian Church, 6 Greenacres Avenue in Scarsdale, to be attended by her children, daughters-in-law, son-in-law, grandchildren, great-grandchildren, nephew, niece, and grandniece. All who knew her are invited to participate in it.