Low Income Students to Receive Free Dorm Supplies from Grad Bag on July 20
Thursday, 19 July 2018 07:36
Last Updated: Thursday, 19 July 2018 07:57
Published: Thursday, 19 July 2018 07:36
Joanne Wallenstein
Hits: 1953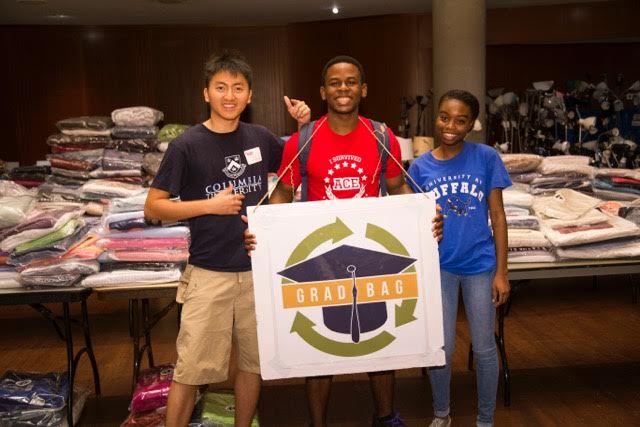 When you are the first in your family to go to college, there is already a lot to worry about financially, so it was a huge relief to Nasir Dunham, 18, of New Rochelle when he found out that he would receive all of his dorm room supplies for free. "I think it's amazing," said Nasir. "I was already stressing about how to pay for everything." Thanks to Grad Bag, an organization that collects and redistributes new and lightly-used dorm room essentials, Nasir will receive full bedding including a comforter, a set of sheets and pillows as well as a rug, hangers, shower caddy and a table lamp all at no cost.
To distribute the goods it collects, Grad Bag works with Yonkers Partners in Education (YPIE), a non-profit organization that helps low-income Yonkers Public School students prepare for college. Grad Bag also works with Let's Get Ready (LGR), a 501 (c) (3) non-profit organization that provides low-income high school students from Philadelphia, PA to Lewiston, ME with free SAT preparation, admissions counseling and other support services needed to gain admission to and graduate from college.
"As a first-generation college student, my parents didn't have the resources to assist me with the college process. Let's Get Ready helped me with SAT preparation and my college applications, now they are facilitating with the transition to college," said Gensy Maldonado, 18. The New Rochelle High School graduate is excited to pick out her dorm supplies. "I am so grateful that Let's Get Ready provides the support to make the transition easier."
On Friday, July 20th, 100 incoming college freshmen, who are participating in YPIE's transition workshop at the College Zone, will go to Grad Bag's one-day pop up "shop" filled with dorm room items – all without price tags. The event will take place beginning at 9 a.m. at 600 North Broadway in Yonkers. In addition, more than 500 students in New York City, Boston and Maine will also receive free dorm room items at other events. Last year, Grad Bag gave away over 400 comforters, 700 decorative and bed pillows, 150 rugs, 400 bunches of hangers, 450 blankets, 700 twin XL sheet sets, 200 desk and standing lamps, hundreds of shower caddies and more.
According to the National Retail Federation's 2016 Back to College Study, students spend an average of $114.21 outfitting their dorm room.
Grad Bag was founded in 2012 by two Westchester County moms, Liz Gruber and Tara Tyberg, who realized there was so many dorm room items that graduating seniors no longer needed, but were still in great condition. Instead of having the sets of XL sheets and twin comforters thrown away or gathering dust in attics, Grad Bag addresses two social issues: insuring that low-income students won't have to stress about equipping their dorm rooms while recycling objects that would otherwise not be used.