Organic and Healthy Landscaping
Monday, 23 July 2018 15:12
Last Updated: Wednesday, 25 July 2018 11:24
Published: Monday, 23 July 2018 15:12
Conservation Advisory Council
Hits: 2569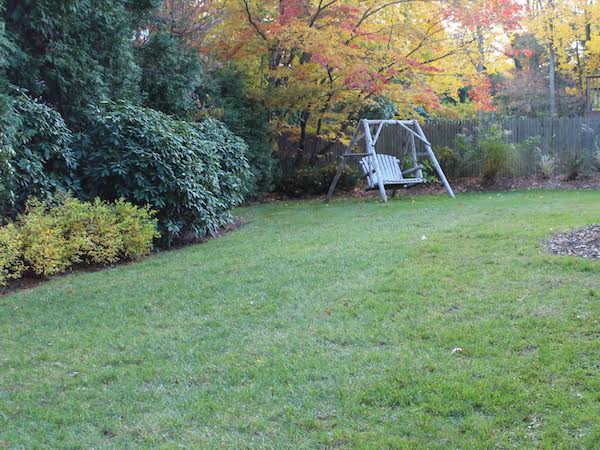 Many residents have asked how to switch to organic landscaping on their property. The Conservation Advisory Council has put together this brief overview on what it means to use organic landscaping, how to make the switch and where to find more information.
Organic landscaping uses natural products to feed lawns and help plants grow rather than using synthetic chemicals. There are also many natural ways to protect your landscape from weeds and harmful insects instead of chemical herbicides and pesticides.
For many years, Scarsdale schools, Village parks and fields, and many homes have been using organic landscaping. In the case of the schools, New York State banned the use of pesticides on school property due to safety concerns for the kids being exposed to such chemicals.
How do I know if I receive chemical or organic treatments? The easiest way to spot a chemical application is if your landscaper places a small yellow sign at the edge of your lawn. These little yellow signs, which are required by law, indicate that a chemical fertilizer or pesticide was applied and that people and pets must stay off the lawn. You can also determine if you are receiving chemical applications by looking at your landscaping invoices. Look for terms such as pesticide, insecticide, herbicide, weed killer, pre-emergent and fertilizer. If the products don't clearly state they are organic they most likely are not. Your landscaper (or garden center if you purchase your own products) should be able to tell you whether a product is a conventional chemical or organic. Oftentimes, however, their answers can be convoluted. You may hear responses such as "everything we use is safe;" "we use just the minimum of what is needed;" or "our staff is properly trained for applying the product." If you don't get a straight answer, you should assume that what is being used is a non-organic product.
How do I make the switch to organic treatments? There are now many natural alternatives that will keep your lawn green, plants growing and, most importantly, keep you, your pets and the environment healthy and safe. If you use a landscaper, consider asking your landscaper what organic options they have available. They should be able to explain the types of organic products used and the cost should be reasonable. If you are concerned with any answers, or if your landscaper does not offer an organic lawn care program, consider using your current landscaper only for weekly maintenance (mowing and pruning) and hiring an organic company for fertilizer and other seasonal applications. There is also the option of switching to a full service organic lawn care company for both maintenance and applications.
Organic landscaping options for those who use a landscaper:
Option #1: Keep your existing landscaper and have them switch to organic products. Keep an eye out for yellow signs which will appear if they apply synthetic chemicals to your property by mistake.

Option #2: Keep your existing landscaper for weekly maintenance items (mowing, pruning, etc.) and use an organic company for all fertilizer and other applications.

Option #3: Switch everything to an organic landscape company.
Going organic if you do your own landscaping:
Switch all applications to organic products; talk to the salespeople at your garden center to find the right organic products for your needs.

Ensure proper timing of applications. Timing is more important with organics than conventional products. For example, corn gluten, which is used as both a fertilizer and weed preventer, should be applied when soil temperature (4'' down) is 55 degrees – usually in early spring.
What should my expectations be in switching to organic landscaping?
Switching from a chemical to an organic based landscaping program may require a few seasons to fully transition. During the first couple of years you may have to contend with some weeds in the lawn. However, your lawn and plants will thrive after a few seasons and be healthier and stronger.
You may also find your lawn will have more clover with their green petals and small white flowers in the lawn. The benefit of clover is that it provides a natural fertilizer to your lawn - clover generates nutrients which fertilize your soil and grass.
Overall an organic lawn will look just as good as a lawn treated with chemicals, but be healthier for us and the environment.
What is the cost difference between conventional and organic treatments?
Organic treatments tend to be more costly than synthetic and chemical treatments in the short term but are more cost effective in the long term. Organic landscaping creates healthy soil which leads to a healthier landscape. This healthier landscape will require less reseeding, watering and plant replacement in the long-term.
Why should I switch?
There are a number of health and safety concerns linked to commonly used chemical pesticides. These chemicals harm people, pets, local wildlife and are damaging to the environment. While many countries have banned certain chemicals that are still widely used in the US, we can do something about it in our community without waiting for our lawmakers to catch up.
Before allowing your landscaper to introduce these toxic substances into your landscape, consider whether they are really necessary. Consider also that they do not just stay on your property. Rain washes these substances onto your neighbors' property and into storm drains which lead to local waterways. Sprays can be carried by the wind and breathed in by people and pets nearby. These chemicals are also brought into our homes on our shoes and by our pets.
What if I have an issue that requires a chemical application?
There may be times when a spot chemical application is needed. Talk with an organic landscaper or arborist to see what your options are. An organic option may be available. Even if chemicals are needed in a specific instance, not all chemical applications are the same, and in many instances a less harmful option may be available.
Each property will have different needs – but make it clear to your landscaper that you want to use the least amount of pesticides possible.
What other steps could I take to promote a healthy and safe landscape?
As part of switching to organic landscaping, there are a number of other easy changes you can make to your landscape management.
Mow high and water deeply twice a week, both of which promote deeper roots and help grass tolerate the hot summer. Leave grass clippings on the lawn thereby providing both moisture and natural fertilizer. In the fall, mulch fallen leaves by mowing over them and leaving the little pieces where they fall. The small pieces of leaves will quickly settle into the grass and nourish the soil below. Seed the lawn in autumn to allow grass to crowd out weeds.
Consider native plants which are common to our area, or other areas in the Northeast. They are acclimated to our local climate and are often resistant to common insects and are less likely to be damaged by them. All the local nurseries carry native plants and some have whole sections devoted to native plants.
If you want your yard to help support local wildlife, add beneficial plants such as milkweed to help Monarch butterflies and shrubs with berries that attract birds.
Organic lawn care gives us a beautiful, healthy and thriving landscape, and is also better for us, our pets, wildlife and the environment. Please consider making the switch!
Resources and More Information