Jill Spieler Honored for Exemplary Service at the Scarsdale Bowl
Thursday, 11 April 2019 12:41
Last Updated: Thursday, 11 April 2019 14:41
Published: Thursday, 11 April 2019 12:41
Joanne Wallenstein
Hits: 2784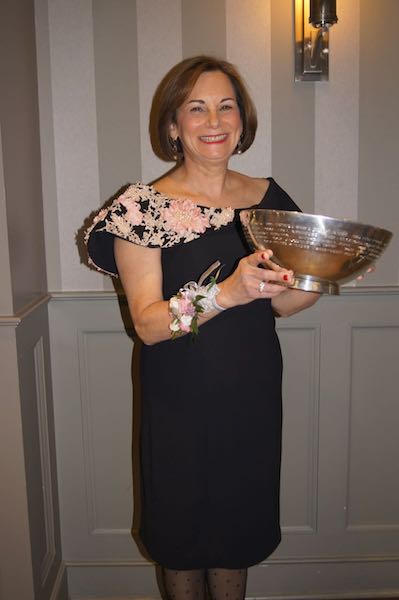 Jill Spieler, a committed community volunteer who never sought the limelight found herself in the spotlight on April 10 where she was showered with love and praise as the winner of the 2019 Scarsdale Bowl at Mulino's at Lake Isle.
Spieler, who is trained in fine art and works in graphic design did not bring the traditional skills to the many leadership positions she held, but used her ability to coalesce groups and form teams to produce an impressive list of accomplishments to benefit the Scarsdale community. In the words of colleague and former Bowl winner Jackie Irwin, Spieler "did what she was asked, and asked what she could do" with energy, grace and enthusiasm. Her modest demeanor belies the huge impact she had on the community.
Jill's first major volunteer work in Scarsdale was in the 1980's when she joined what was then the Child Care Association of Scarsdale that provided after school care for the children of working women. Seeing that the community needed more than an ad hoc after school program, she worked with her team and eventually created Kids' B.A.S.E. and the Little School, a full time nursery school and after school program that is now housed in it's own building. Spieler served on its board for many years and helped to raise the $1.8 million to construct the facility that now serves hundreds of families.
In 1997 she joined and eventually lead the Village Parks and Recreation Council where she strengthened the programs, and brought Scarsdale Little League to town. She was Vice President and President of the Town and Village Club – now the Scarsdale Forum – and revitalized the organization with a highly successful 100th anniversary celebration that raised over $100,000.
She served on too many Village advisory boards, nominating committees to list, but perhaps did her most notable work during her six years as a member of the Scarsdale Board Education, two as its president.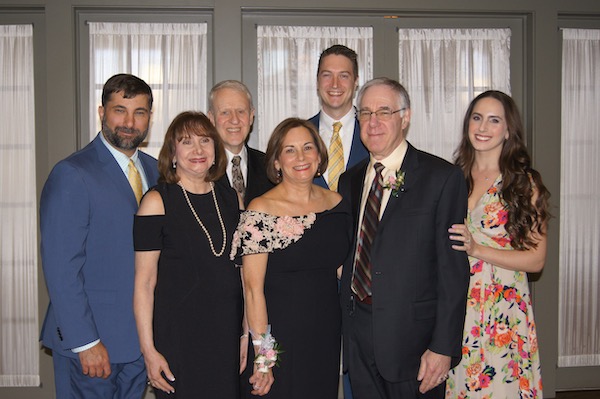 The Spieler Family
Suzanne Seiden, who served on the School Board with Spieler said this about Jill's tenure on the Board:
"Jill was also an effective leader who took on critical challenges and controversial issues and worked relentlessly to find well-supported solutions. As President, Jill appointed the Education Foundation Steering Committee that after study and research resulted in the Board's approval of the creation of the Scarsdale Education Foundation. She worked tirelessly to build consensus on a range of policy and budgetary matters. During Jill's tenure, the District implemented several forward thinking curriculum enhancements such as the launch of the Center for Innovation, the Global Learning Alliance, and The Google application for educators. She also shepherded the district through the implementation of a new state-mandated teacher evaluation system as well as the search for a new high school principal that brought us the wonderful Ken Bonamo.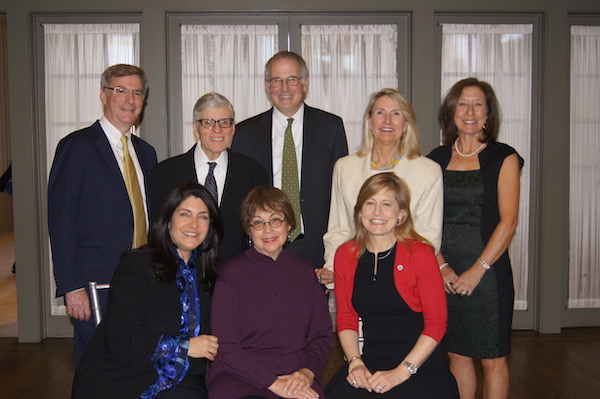 The Scarsdale FoundationJill was also instrumental in the launch of the new curriculum that began as Scarsdale Education for the Future – now known as Scarsdale Education for Tomorrow - with its emphasis on critical thinking and preparing our students to succeed in a global economy. Jill was also an important part of the District's efforts to better evaluate student work including the grade 5 capstone and the ninth grade world history projects. These culminating projects gave the students the opportunities to demonstrate age-appropriate reading, research, technology and writing skills; these assessments provided an opportunity to evaluate critical and creative thinking while fostering a love of learning.
Jill led the Board to adopt a budget in the face of a newly imposed state mandated tax cap. She did not allow this new budgetary reality to move Scarsdale off of our mission to enhance the education for all Scarsdale students."
Using a sports metaphor that she often employed as president of the school board herself, Seiden summed up by saying, "But tonight is about recognizing, saluting, and saying thank you to our favorite team member who helped lead and served on incredibly successful teams."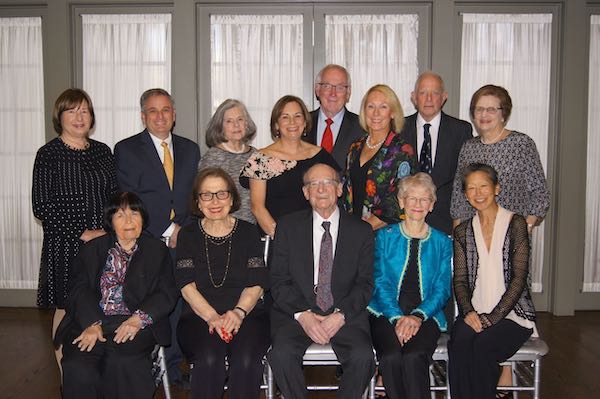 Former winners of the Scarsdale Bowl
Spieler's children Russ and Dani were also given the opportunity to toast their mother and offered some amusing insights into Jill's ability to juggle a full time job, and an overtime volunteer career without giving anyone short shrift.
Russ, who now has three young children of his own marveled at how well his mother was able to manage. He said, she was "there for us," but at the same time, busy hosting events in the living room, creating forums for discussion and being respectful of other people's desires and needs. From his mother he learned the value of hard work, not settling for mediocrity and listening and encouraging others, lessons he hopes to pass down to his own children.
Her daughter Dani, who is now a professional actress said, "All this happened before I left the house – all when I was living under the same roof? Who knew? Not me!"
She said, "Her volunteering did not impact our lives – we came first. As far as I was concerned I was my mom's top priority. But there were subtle hints … the dining room full of papers, the people in the living discussing boring topics…"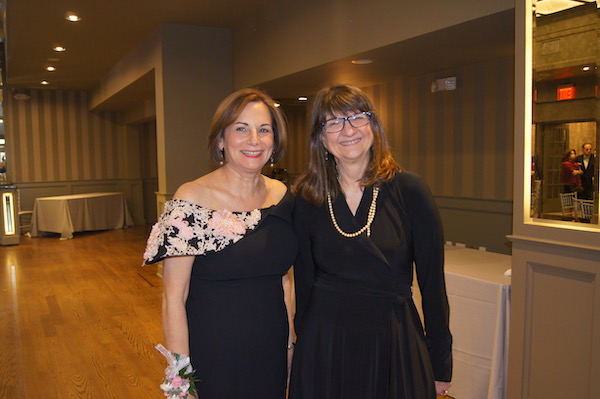 Jill Spieler with Scarsdale Bowl Chair Deb PekarekShe credited her dad's ability to work from home with helping to "make both of their goals a reality," and thanked him for driving her to dance classes and all her extracurricular activities which made it possible for her mother to have a career and volunteer responsibilities.
Dani said, "Until I got engaged -I didn't understand what an asset it could be to have Jill Spieler on your team! I have come to realize that her volunteering affected my entire life" and thanked her mother for teaching her to manage her time, be organized and detail oriented.
Deb Pekarek, who chaired the 2019 Bowl Committee thanked Spieler and all the people in the audience who "help make Scarsdale the exceptional community that it is." She recognized the 15 past Bowl winner in attendance and noted the passing of five former Bowl winners this past year:
Bev Sved
Eric Rothschild
Jane Bedichek
Eric Rothschild
Eleanor November
She thanked the Bowl Committee for planning the dinner, sending out invitations, and choreographing the night, with a special shout out to Abby Sroko who served as the committees secretary and treasurer.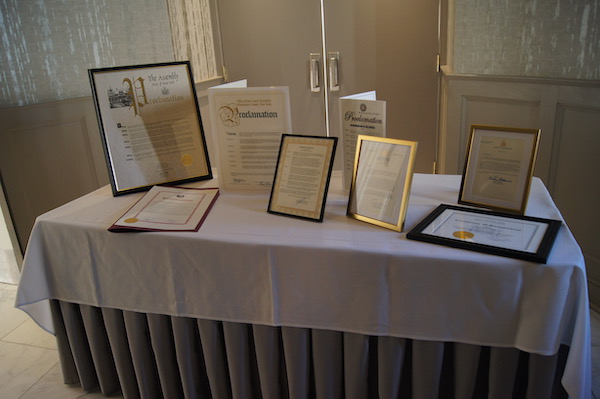 She recognized many local leaders in attendance at the dinner including:
State Assemblywoman Amy Pulin
County Legislator Ben Boykin
Judge Arlene Katz
Scarsdale Mayor Marc Samwick
Scarsdale Village Manager Steve Pappalardo
Scarsdale School Superintendent Thomas Hagerman
Village Justice Jack Alemany
Acting Village Justice Cindy Dunne
Scarsdale Library Director Beth Bermel
State Senator Andrea Stewart Cousins
along with a full table of proclamations from Scarsdale, Albany and Washington DC.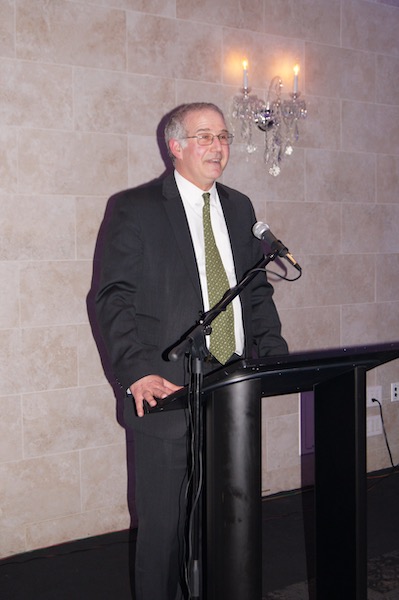 Scarsdale Foundation President Randy GuggenheimerRandy Gugggenheimer, President of the Scarsdale Foundation who is the custodian of the Scarsdale Bowl explained the work of the Foundation, which provides grants to community organizations in need and need-based scholarships for Scarsdale college sophomores, juniors and seniors. He said, "last year we awarded $130,000 and we'd like to do more."
Spieler thanked the entire Bowl Committee, and said how surprised she was when she learned she was the 2019 recipient of the Bowl. She said, "I must admit I was quite taken aback by the small crowd at my front door one Sunday night in early January. Gary answered the door, recognizing many of the faces. He figured for sure I was going to be asked to engage in more "volunteering." When I came to the door, I was thoroughly surprised. It took a few moments for the news to sink in and scan all the faces. I started to recall all the wonderful experiences I had shared with so many of you."

She continued with a quote, "Volunteering is the ultimate exercise in democracy. You vote in elections (once a year), but when you volunteer, you vote every day about the kind of community you want to live in."
Spieler spoke of her love of community, saying, "Although I enjoyed my career in graphic design and marketing, I loved my work in the community. I had a great passion for the ideals we were trying to achieve, which gave me tremendous gratification and fulfillment. I learned so many skills from the people I was working with, which helped me to grow as a person."
She thanked her husband Gary, "who never made me feel guilty when I sometimes, many times, chose my volunteer commitments over my paid job," and said that the people in her office gave her a little sign that read "Stress is what happens when your gut says, no… and your mouth says… 'Sure, I'd love to!'"
She continued, "As parents and role models we should naturally want to model this in our own lives. And so many of us do. That is why we are all here tonight. To honor the act of volunteering. And I applaud all of you for all that we do together, collectively as a cooperative community; that is when Scarsdale is at its best.
I want to especially thank my husband, because without you I would have never been able to sustain the pace. You were my cheerleader, advocate, and the man behind the curtain who was always there for Russ and Danielle, when I wasn't. My kids for not making me feel guilty running out the door at night. My friends, co-workers and volunteers I have worked with over the years. You worked alongside me and bridged the gaps when needed.
Thank you all for coming tonight to help me celebrate this memorable occasion."