Lifelong Learners Attend Scarsdale Adult School
Details

Written by

Joanne Wallenstein

Hits: 1630
Scarsdale Adult School, an award-winning non-profit organization, is a proven source of quality adult education. Now in its 80th year, SAS boasts a wide array of humanities courses as well as computer, foreign languages, writing, career development, personal finance, arts and crafts, photography, fitness, card and board games, cooking, health/wellness, and hobbies and edutainment classes.
Registration for the fall semester is underway at www.ScarsdaleAdultSchool.org, with staggered class start dates throughout the year for fun and enrichment all season long. Class locations, days, and times vary by course, but all are housed in venues convenient to Scarsdale. Classes are open to all, regardless of residency, and fill on a first-come/first-served basis.
Continuing its year long celebration of its 80th birthday, SAS will host several special events. On Sunday, October 14, 2018, SAS offers an 80th Anniversary Academy, featuring keynote speaker Laurie Santos, Professor at Yale University. After the one-hour mini-version of her popular course, Psychology and the Good Life, students may choose between Alfred Hunt's Around the World in 80 Days with Mark Twain and Page Knox's Alfred Stieglitz and His Circle. The afternoon celebration ends with Daniel Blake and his jazz ensemble, the Digging, for an annotated concert of Benny Goodman's 1938 hits as well as delicious appetizers prepared by cooking instructor, Jensina Olson. Participants may register for just the keynote lecture or for the entire program.
On Wednesday, October 24, 2018, SAS welcomes An Evening with Anna Quindlen, from 7:30 to 9 pm at Scarsdale Middle School. Among other things, this celebrated writer and former columnist for The New York Times will discuss her most recent novel, Alternate Side, her ninth book of fiction in her highly successful career. Registration in advance is highly recommended. Seating cannot be guaranteed for walk-ins.
Next semester's walking tours include public art installations and galleries in the subways, Battery Park City, Chelsea, the Lower East Side, and Greenpoint, Brooklyn. Architecture tours include SoHo's cast iron buildings and Central Park West art deco. Additional theme tours include a Japanese garden stroll and tea ceremony, Lincoln Center, sites from the show Hamilton, and Broadway musicals. Artists and art historians will highlight the latest exhibits at the Met, the Met Breuer, the Whitney, MoMA, the Museum of Arts and Design, and the Asia Society Museum.
1938 and the Swing Era as well as From Spirituals to Swing commemorate the music at the time of SAS's founding whereas 80: A Musical Birthday Celebration explores a variety of pieces that share opus number 80. Our 80th celebration continues with An Evening Concert of Classical Greatest hits with Cristiana Pegoraro. Other popular music appreciation courses survey the music of Jerome Kern, Cole Porter, and Leonard Bernstein, and the careers of Shirley Jones, Howard Keel, Nat King Cole, and Florence Henderson. The Sunday chamber music concert series returns and SAS will offer several different classes to enjoy the music of Claude Debussy, 100 years after his death.
Noteworthy new history and current event topics this term include:
● Echoes of Slavery
● Constitutional Implications of Current U.S. Foreign Policy
● Remembering the Twin Towers
● Overview of African American History
● Contemporary Politics through the Lens of Dystopian Fiction
● History and Culture of the Jews of Persia.
The fall semester also promises an opportunity to revisit Genesis, examine sects and schisms in Jewish history, explore religion in China, revel in the heritage of England's Tudor monarchs, or study the Italian Renaissance. Students may improve their English, French, German, Italian, or Spanish language skills.
Movie matinees delve into the element of suspense and a new Wednesday personal documentary film course will view family mysteries and histories. Literary discussion groups cover the fiction of Philip Roth, stories by Hawthorne and Melville, science fiction literature, the wit of Oscar Wilde and Noel Coward, ecology-themed poetry and prose with Ruth Handel, as well as perennial favorites BookTalk with Harriet Sobol, contemporary memoirs with Lori Rotskoff, and short stories with Marilyn DeRight. Single-subject classes will focus on La Celestina and There There by Tommy Orange.
In its technology department, SAS offers answers to questions about social media, Excel, and eBay. Students may jump-start careers with grant writing tips or wind them down with retirement planning and investment courses to help students navigate ever-changing estate tax, and social security laws, and shed light on strategies for investing and living on fixed incomes.
Aspiring performers can be swept up in song, improv, or Indian classical tabla drumming. Arts and crafts opportunities include flower arranging, calligraphy, drawing, basket weaving, decoupage, crochet, embroidery, knitting, jewelry-making, mosaics, mixed media, and painting, and stained glass. Photoshop and photography courses appeal to those with a passion for cameras of all shapes and sizes.
Fitness and dance classes run the gamut from (A) aerobic fit blast to (Z) zumba, including body sculpting, tap, pilates, Walk 15®, and yoga. Students may hone their bridge game or take up canasta or mah jongg. Others may learn to meditate, become more mindful, experience a spirit encounter, or learn the basics of genealogy research reading.
All these classes and many more will be starting before the leaves begin to turn. With both day and evening classes, SAS has something to fit everyone's schedule. The new fall catalog was mailed in mid July to all Scarsdale residents and is posted on the adult school website. Extra printed catalogs are available at Village Hall and in limited quantities at the Scarsdale Library Loft. Visit www.ScarsdaleAdultSchool.org to register, to sign up for the bimonthly electronic newsletter, or for additional information about the dynamic line-up. Call (914) 723-2325 with questions.
Shake Shack to Open on Central Avenue Plus More Retail News
Details

Written by

Joanne Wallenstein

Hits: 5934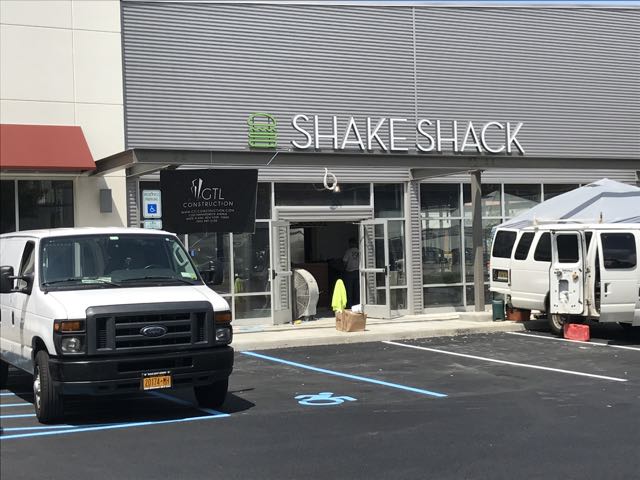 Though many people are out of town, we took a trip around town to see what August had to hold.
First, we noticed that a large Shake Shack is opening in the Dalewood Shopping Center on Central Avenue in front to HMart. That should be welcome news for burger lovers as Shake Shack's burgers are made from 100% all-natural Angus beef, with no antibiotics or hormones. Shake Shack also offers crispy chicken sandwiches, flat top hot dogs and cheese fries. For dessert there's rich and creamy frozen custard with a mouthwatering choice of topping like dark chocolate chunks, chocolate truffle cookie dough and Doughnut Plant doughnuts.
Hand-spun shakes come in vanilla, chocolate, caramel, black & white, strawberry, peanut butter or coffee Fair Shake. To drink the menu includes shack-made lemonade, beer, and red and white wine. Don't forget their breakfast sandwiches too.
I have a feeling we will all be hanging out on Central Avenue soon!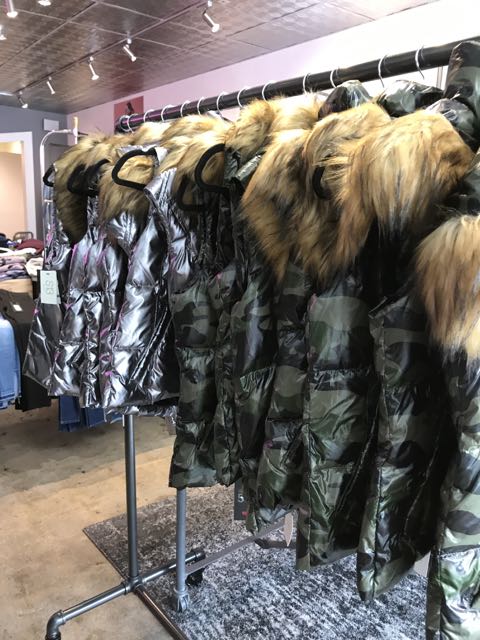 Fur trimmed vests at MixologyIn Scarsdale Village, it looks like the new bookstore is planning a late summer opening, and we're hopeful that we'll welcome Bronx River Bookstore to Spencer Place by the end of the month.
We found some intriguing sales of summer merchandise and great new looks for the fall.
At Mixology on Spencer Place, we spotted these cool camouflage or silver vests with fur-trimmed hoods that will be fun for cooler weather. Mixology is hosting a series of designer trunk shows at their Rye Brook and Scarsdale stores throughout August. Stop by to see what's in for Back to School.
There were many busy shoppers and tables loaded with sale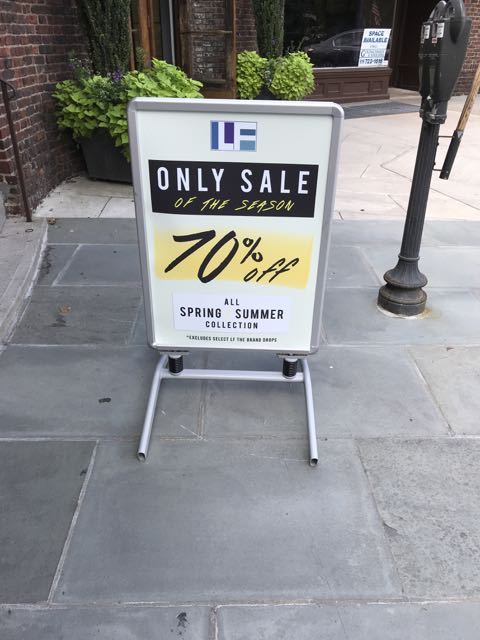 merchandise at LF on Harwood Court, where they are now offering up to 70% off on their spring and summer collection. Find denim shorts and skirts, jean, knit tees, playsuits, sweaters, woven tops and more. Just plowing through the merchandise is a good way to beat the heat.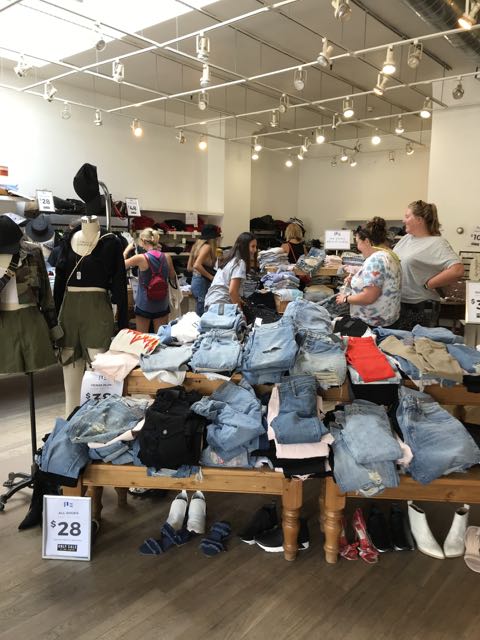 Sort through the sale merchandise at LFPookie and Sebastian on East Parkway is offering up to 75% off their summer goods and already has a nice collection for fall featured in the front of the store. Get a good deal on summer whites and cottons or try on knit sweaters, fur vests, leather jackets and and an appealing mix of tops, pants and sweaters in taupe, gray, khaki and mauve for fall.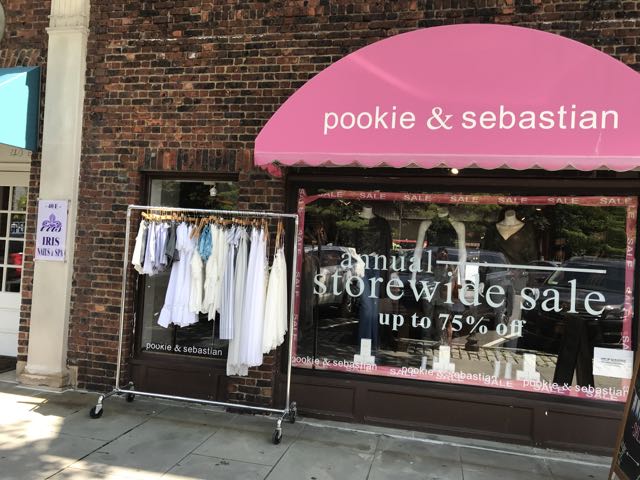 Pookie and Sebastian
I Am More on Spencer Place also has a summer sale in progress. We liked this display of silky camis paired with cut off denim shorts. They also have a rack of jeans on sale.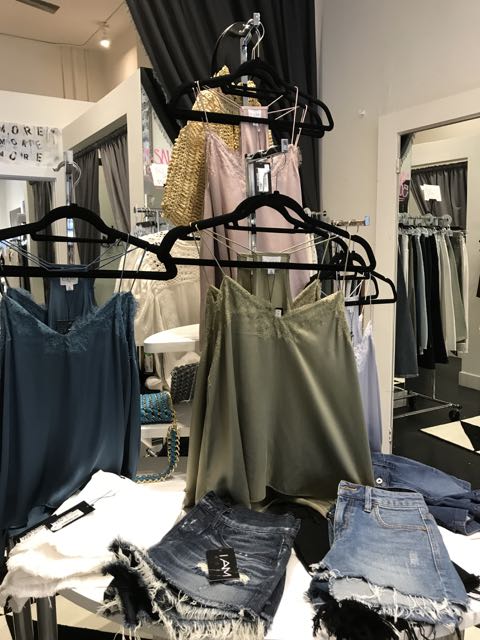 Camis and cut-offs on sale at I Am More Scarsdale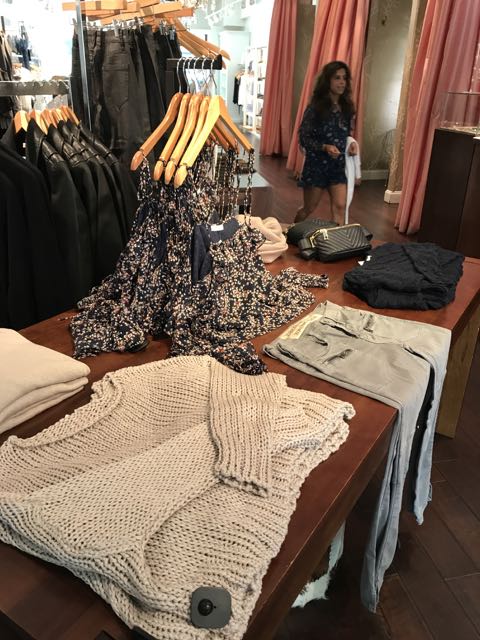 Fall colors at Pookie and Sebastian
The Dark Horse, a unique gift shop appears to be running their summer sale on Harwood Court.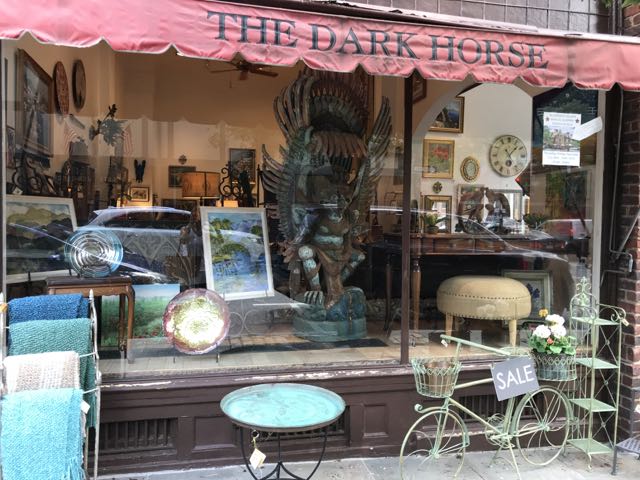 A summer sale is in progress at The Dark Horse
Raiders Scramble for Field Space after Butler Turf Field is Closed
Details

Written by

Emmeline Berridge

Hits: 2297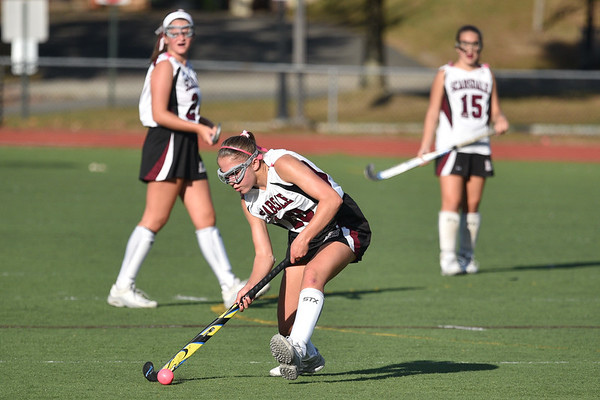 Scarsdale fall sports teams have been scrambling to secure field space after the abrupt closing of the Butler turf field just days before the start of the season. The turf field, the epicenter of Raider spirit during fall pre-season, is shared by girls field hockey, girls soccer, and boys soccer.

Concerns about the vitality of Butler field are not new. Over the past few years, Scarsdale's Maroon and White organization had been campaigning to replace the 10 year-old turf, with plans to start renovation once the fall season was over. But as preseason approached, it became clear that it was not safe for fall athletes to play on the field. Athletic Director Ray Pappalardi sent a note to the Scarsdale community to announce the closing, emphasizing key safety concerns:
-At every five-yard line, the field level changes.
-There are several locations on the field where the level changes more severely.
-Where the pre-construction borings were performed, the surface cannot be repaired completely; the turf is too old and worn.
-After each hard rain, more low spots appear, infill aggregates, and playing conditions continue to degrade.
So, where does this closing leave the athletes? For one thing, they must wake up early. With a lack of available field spaces, teams like soccer and field hockey utilize turf whenever they can. Girls field hockey players uses Edgemont's turf weekly at 6 am, and the girls soccer team woke up at six am during pre-season to use field space at Fox Meadow Elementary School.
A sentiment of frustration is also present among fall athletes. Some athletes feel that actions should have been taken sooner to solve the turf issue, and it should not have come at the cost of an entire fall season. Senior soccer Captain Allison Stafford noted, "If there was considered to be any risk that Butler Field would not be suitable for play this fall, it should have been replaced this summer." Senior field hockey star Sam Felder felt similarly, saying, "it's frustrating that the turf has been in such bad condition for so long and nothing was done about it and now our season is suffering as a result."
The field hockey team is especially impacted by the turf closing. The sport, which requires a fast moving ball to ensure high-level play, is almost always played on astroturf. With grass fields being the only available options in Scarsdale, players are having a difficult time adjusting. The team practices mostly at Scarsdale Middle School, periodically busing to Edgemont turf when a time slot becomes available. Felder noted that playing on the grass makes the ball move "painfully slow," with a pass that would have moved 50 yards on the turf moving 20 yards on the grass. As a senior leader, Felder believes that a lack of turf practice will affect the freshmen the most, as many of them are just learning how to play the game. Lastly, the constant switch between grass and turf could leave the raiders at a disadvantage when playing against opponents on their home turfs.
The turf field is a symbol of Raider pride during the fall season. Students flock excitedly to support their fall teams under the rented lights during night games. The bleachers allow room for a "raider rooting" cheering section. Stafford emphasized that her and her teammates were really looking forward to playing home games on the turf because "they bring a lot of excitement, and the loud fans cheering us on in the stands always hypes up the team." Without Butler to play on, Stafford is disappointed that "the other seniors and I will not have the opportunity to play in that kind of environment during our last high school season."
Movie Night to Support the Friends of the Scarsdale Library
Details

Written by

FOSL Board of Directors

Hits: 2574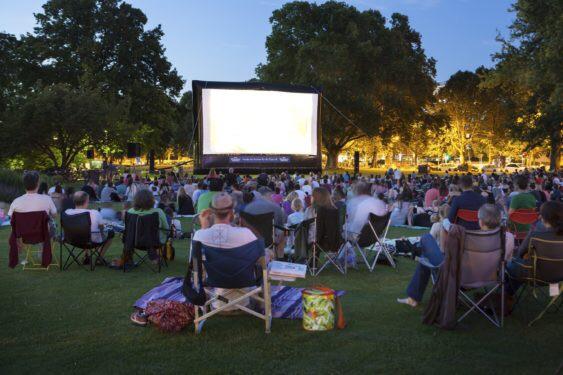 This letter was sent to Scarsdale10583 by the Friends of Scarsdale Library:
Dear Scarsdale:
The Friends of the Scarsdale Library are thrilled to announce Community Movie Night which will take place at Crossway Field on Friday, September 7th at 7:30pm. Dinner and dessert can be purchased from one of the Food Trucks starting at 6:30pm and Back to the Future will be shown at 7:30pm.
Admission to the movie is free and popcorn, blankets and frisbees will be for sale on site. Lawn games will be available for kids to have some pre-movie enjoyment. Members of the community will also have the opportunity to become a Friend of the Scarsdale Library or renew their commitment with a donation of $25 or more.
Click here to become a Friend of the Library today.
This will be a fun evening for folks of all ages! Kids under 12 must be accompanied by an adult. Cars can be parked at Crossway or by the pool. No alcohol permitted.
The residents of Scarsdale have generously supported the future of the Scarsdale Library, and the Friends are excited for the chance to give back with this amazing event!