Incumbent Eliot Engel Takes 74% of the Vote in the Democratic Primary
Details

Written by

Joanne Wallenstein

Hits: 2558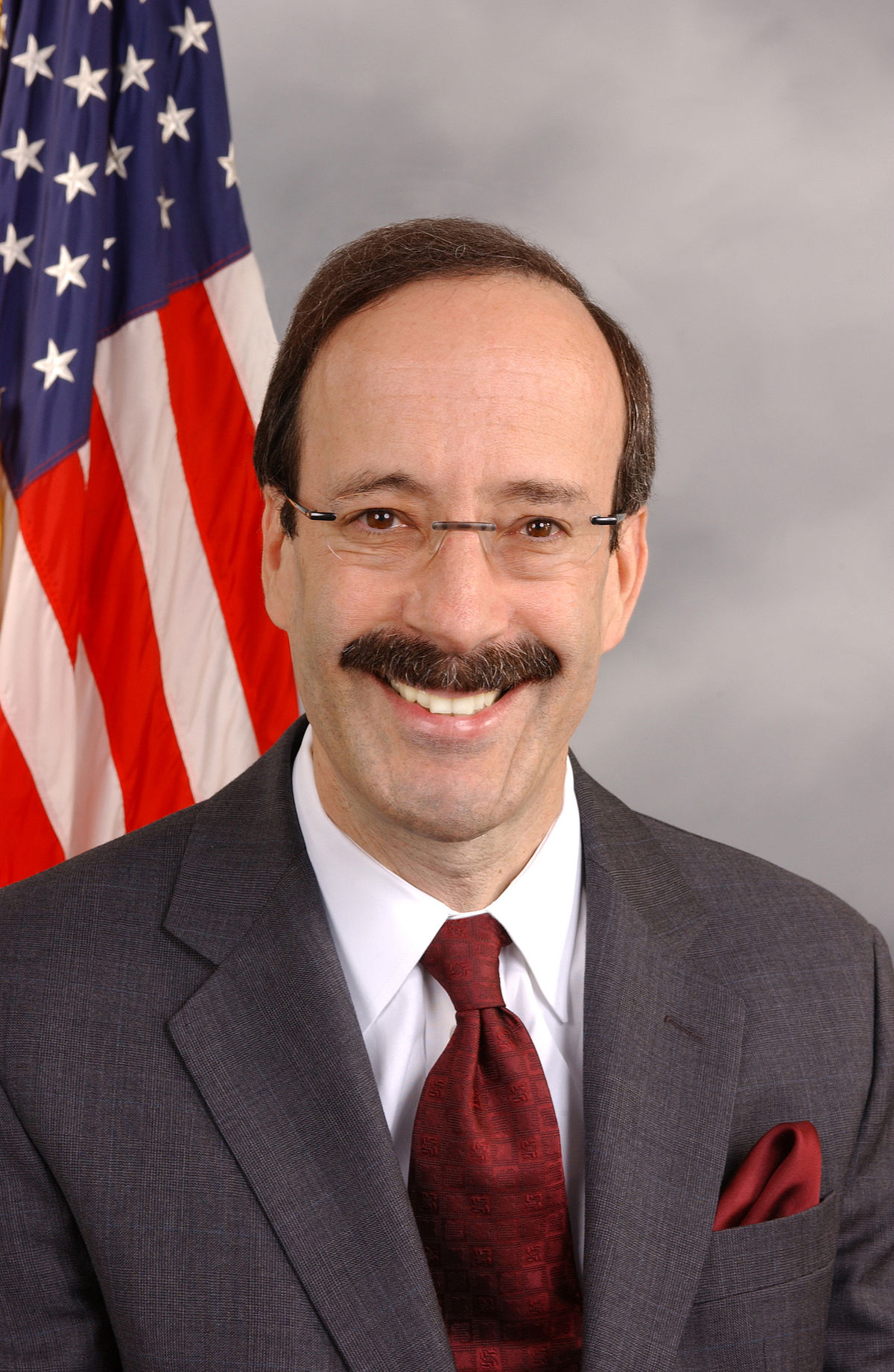 After a fierce campaign, incumbent Congressman Eliot Engel was the clear victor in the June 26 primary for the Democratic seat for the 16th Congressional District, encompassing the north Bronx and southern Westchester County. Scarsdale resident Jonathan Lewis posed a serious challenge to Engel, and both candidates spent considerable funds to sway voters. Scarsdale residents received copious amounts of colorful mail, many phone calls and saw both Engel and Lewis on television nightly.
With 719 of 732 districts reporting, Engel had 20,394 votes, or 73.67% to Lewis' 4,468 or 16.14%. Candidates Derickson K. Lawrence and Joyce Brisco each took about 5% of the tally.
Considering that a total of only 27,684 votes were cast, this was one expensive campaign. The district has 251,841 registered Democrats, but only 11% turned out to vote. Engel spent upwards of $1.3 million to defend his seat, while Lewis spent $700,000, much of it from his own pocket.
What accounts for the lackluster voter turnout? Democrats outnumber Republicans 4:1 in this very liberal swath of New York and Engel's stance on issues such as healthcare, immigration and human rights and a voting record in line with much of his constituency. Many voters that we spoke to felt that with Trump in the White House now was not the time for Democrats to be fighting amongst themselves. Engel is the ranking Democrat on the House Committee on Foreign Affairs and if the Democrats take the house in November he will be in a leadership position.
Engel sent in the following about the election to Scarsdale10583: "I'm humbled by the overwhelming support I received from voters in every corner of my district. Our campaign was always based on real progressive values and leadership—two things we desperately need in Washington today to fight the radical Trump agenda. I will continue to fight for them every day as their Member of Congress."

Lewis issued the following statement:
"During my campaign I have spoken directly with thousands of voters across the district and have heard their concerns about education, healthcare and economic opportunity, as well as curbing the influence of special-interest money in politics. This campaign has succeeded in giving my neighbors a voice, and I am forever grateful for their time and their substantive interest in these issues. We have held the party establishment accountable in a constructive effort to build a better Democrat party and most effectively oppose Trump and the Republicans."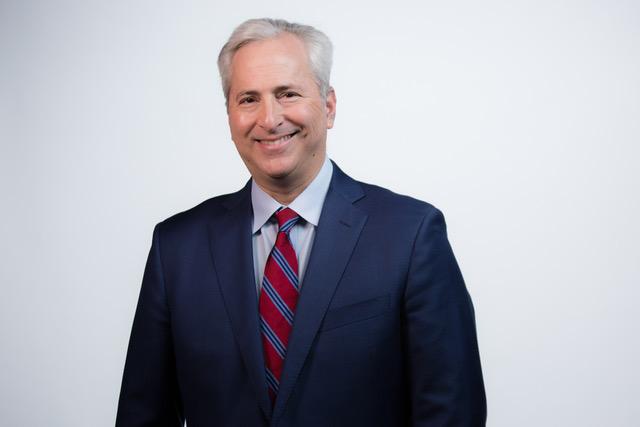 "I thank my fellow candidates – Joyce Briscoe, Eliot Engel and Derickson Lawrence – for their spirited campaigns and discussion of the issues. This primary – Eliot Engel's first significant primary challenge in almost 20 years -- has served its purpose of providing a public discussion and debate on the issues, which is what Democracy is all about. Now, in these dangerous times, we put our differences behind us and work together to achieve our progressive goals."

"We congratulate Congressman Eliot Engel on his victory tonight and look forward to continuing a healthy dialogue with him as we move forward."
The June 26th Congressional Primary Election: What You Should Know
Details

Written by

Derek Moritz

Hits: 3724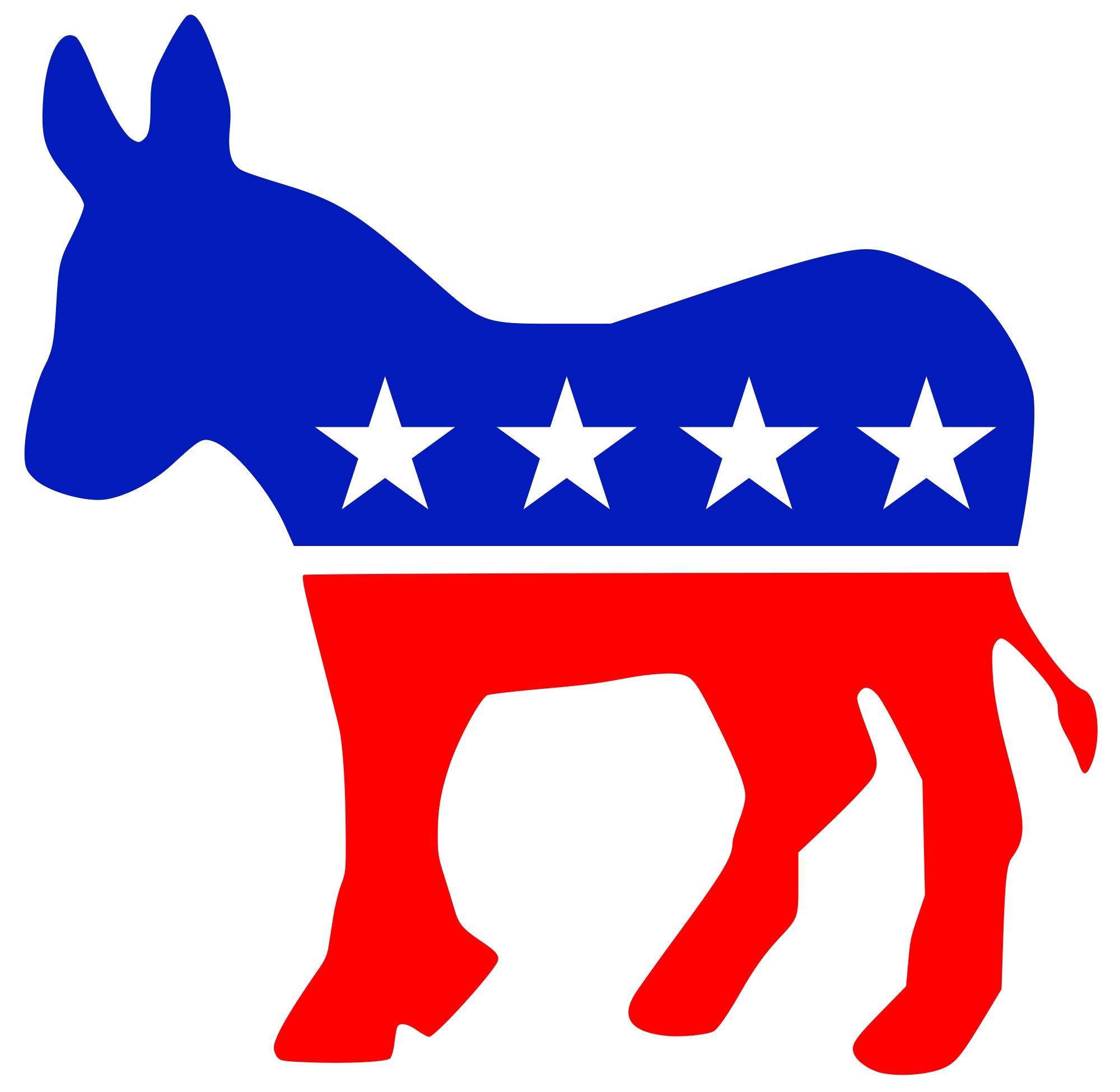 Many of us are receiving lots of mail from the Democratic candidates running in the June 26th primary for Congress for the 16th district. The seat is currently occupied by Eliot Engel who has been in Congress for nearly thirty years. Unlike the past, when the seat was uncontested, Engel faces some competition this year.
Although he's served in Congress for much longer, he only began serving the 16th district in 2013. The 2010 census lead to congressional redistricting in New York, and Engel's district changed drastically. In the past, Engel represented the 17th district, which included Riverdale and the Northern Bronx, Mount Vernon, the western portions of Yonkers and the Rivertowns, and Southern Rockland County. From 2013 onwards, Engel maintained a sizable portion of the Northern Bronx, but no longer represents Rockland County and instead serves nearly all of Southern Westchester. This change caused both the 16th and 17th districts to lose a sizable amount of registered Democrats, with the 16th district having 19.8% less and the 17th district losing 17.9% of its registered Democrats.
This year Engel is one of four contestants vying for the 16th district, with challenges from Jonathan Lewis of Scarsdale as well as Derickson K Lawrence of Mount Vernon and Joyce Briscoe of the Bronx.
Here's some information on the candidate's backgrounds and views on the issues: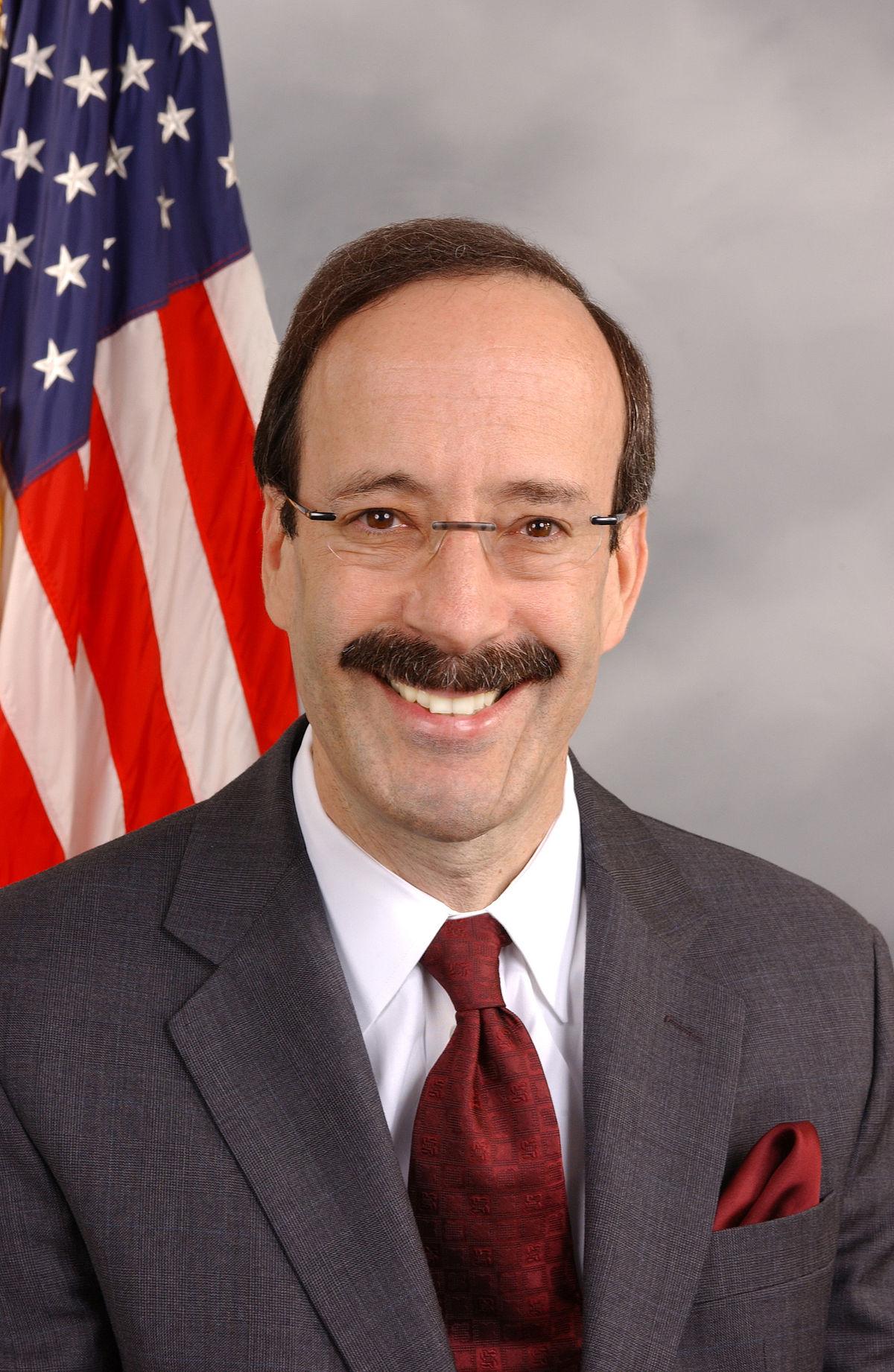 Eliot Engel
Eliot Engel has served New York in Congress for 29 years. Among his key issues are equal pay for women, social security and Medicare, gun control, health care, and equal rights. He sponsored the Paycheck Fairness Act to increase penalties for discrimination in the work place, fought against Medicare cuts, received an "F" rating from the NRA, worked to make Obamacare a law, and sponsored the hate crime prevention law. He's also a strong advocate for protecting the environment, and has sponsored legislation to protect and restore the Hudson River. Engel is also known for his work in Kosovo, where he urged President Clinton to intervene in the fight between Kosovo's Muslim Population and the Serbians under Slobodan Milosevic to prevent another genocide. He also was among the first to support Kosovo when it declared independence from Serbia in 2008, and helped secure $49mm in US government assistance for the country. For his actions in Kosovo, his face is now on a stamp and a street has been named after him.
Because of his actions in Congress and strong commitment to democratic values, Engel has received numerous endorsements from local officials, including Westchester County Executive George Latimer, State Senator Andrea Stewart-Cousins, Assemblywoman Amy Paulin, and County Legislator Ben Boykin. He's also received endorsements from organizations including the New York State AFL-CIO, New York State United Teachers, Planned Parenthood, and the Working Families Party to name a few. Engel believes that these endorsements speak volumes to the amount of work he's done to further democratic values and hopes to continue serving the 16th district.
Jonathan Lewis, has decided to challenge Engel as a newcomer with minimal political experience in county or state government. Lewis has significant volunteer experience and is now a trustee for the Yonkers Partners in Education and served a term on the Scarsdale Board of Education. On the issues, Lewis' positions are quite similar to those of Engels', including the need for affordable healthcare, gun safety, reproductive rights, saving the environment, strong national security, and protecting senior citizens to name a few.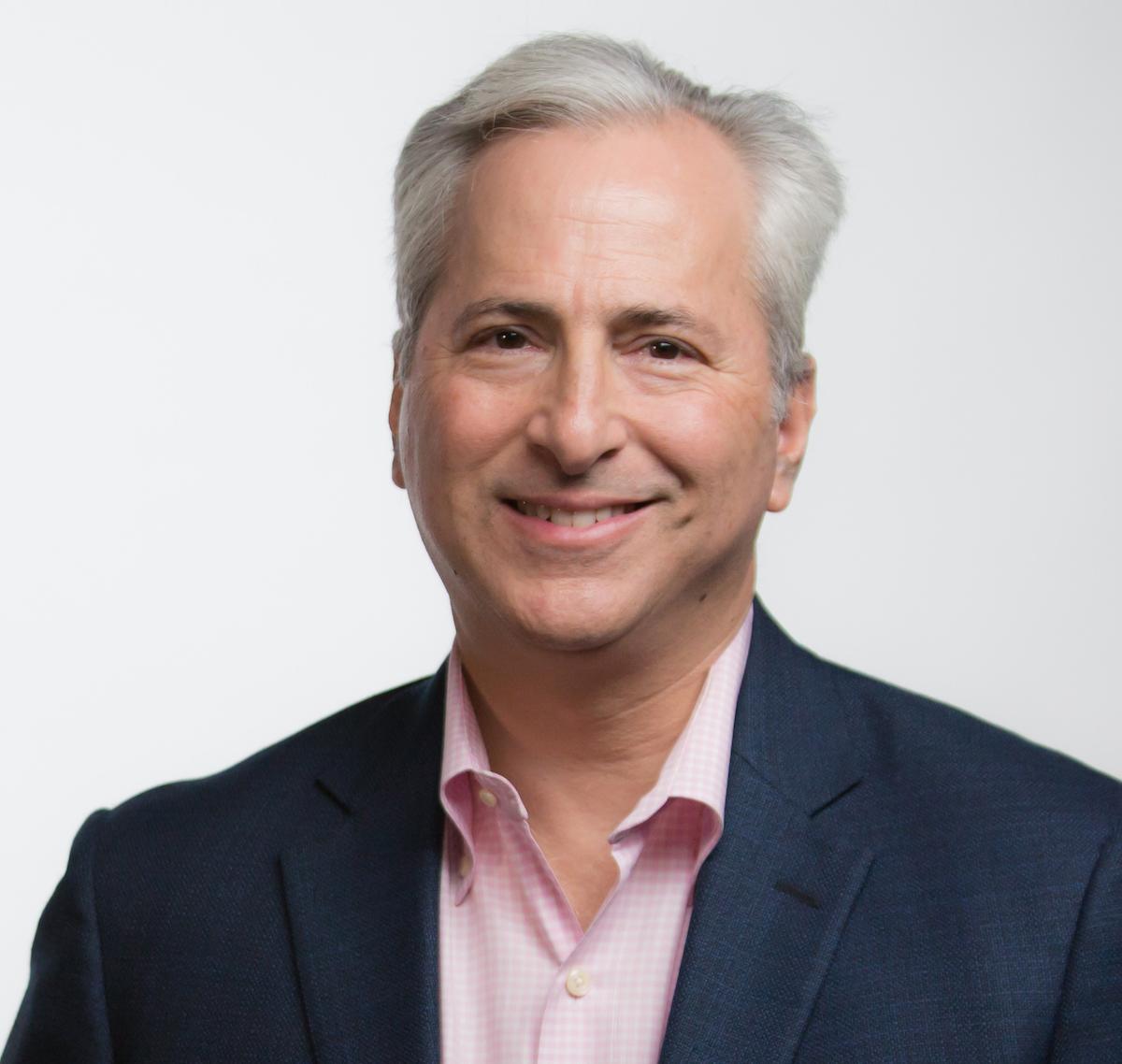 Jonathan LewisBut this begs the question - why is Jonathan Lewis running for Congress?
According to his campaign website, Jonathan Lewis is campaigning on "Repairing Our Broken Democracy" and cites Engel as a key example of a "broken democracy".
"Both of my children have Type 1 Diabetes, and several months ago, my daughter and I met with Eliot Engel in Washington seeking to enlist his support to find a cure for Type 1 Diabetes. When my teenage daughter mentioned that something felt off about the encounter, I decided to dig a little. What I found was a deeply conflicted elected official: while serving on the House Diabetes Caucus, which is supposed to represent the interests of those afflicted with both Type 1 and Type 2 diabetes, Eliot Engel has at the same time chosen to accept hundreds of thousands of dollars from political action committees (PACs) representing big sugar companies AND big pharma companies. Eliot Engel has done nothing meaningful against these companies as they have raised the price of life-saving insulin nearly 300% in the past decade. That's wrong, especially during a time when family incomes have been stagnant".
It should be noted, however, that Engel has co-sponsored legislation to establish a National Diabetes Coordinator to reduce the progression and impact of Diabetes in America.
To spread his message, Lewis has sent out numerous attack ads against Engel, and has even payed for video ads on YouTube. Engel has taken Lewis as a serious threat, and has spent money sending out ads both attacking Lewis and touting his numerous legislative accomplishments over thirty years in congress. He's also sent out ads that specifically target the Jewish community that list his numerous efforts in combatting anti-semitism and demonstrating strong support for Israel.
To show his commitment to fixing democracy, Lewis has pledged not to accept any money from corporate PACs or special interests. Engel has fired back at Lewis, noting that Lewis has failed to vote in multiple primary and general elections, thus demonstrating a lack of commitment to "protecting democracy". Lewis, however, has attacked Engel for a poor voting record within Congress, noting that Engel has second-worst attendance record in the New York Congressional delegation, and has missed over 1,300 votes over thirty years.
In the midst of the back and forth between Engel and Lewis, two other candidates sit in the background hoping for a shot at the 16th congressional seat. Derickson K. Lawrence of Mount Vernon and Joyce Briscoe of the Bronx are also running for the seat.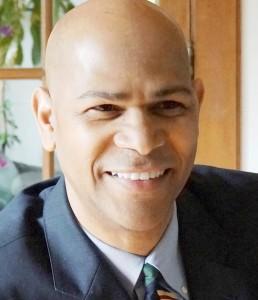 Derickson K. Lawrence
Lawrence actually ran against Engel in the 2016 general election as a People's Choice candidate and lost in a landslide, receiving only 5.3% of the vote. Lawrence has served as the Co-Vice Chair of the Westchester County Charter Revision to renegotiate the charter, Chairman of the Westchester County Homeowners' Coalition, and Chairman of Westchester County Crime Stoppers. Some of Lawrence's key issues include protecting the environment (including the labeling of GMO products), ending mass incarceration, and building an economy that works for all.
Lawrence is running because he believes he's "the only candidate who has a record of improving lives in the 16th congressional district", and has done so in four distinct areas. On jobs and upward mobility, he played a key role in starting the Mount Vernon Yonkers Bronx (MYB) $$eed Tank, an entrepreneurship program that allowed WCC students to learn to become entrepreneurs. The winner received a $10,000 stipend (paid for by Derickson). He's also worked to close the achievement gap in Mount Vernon by bringing in Apple Education, a company that helps educators find better methods for teaching special education students. Additionally, he's helped stop gun violence by sponsoring a gun buyback program in Mount Vernon, which was extremely successful. Lastly, Lawrence believes legislation should be introduced at the state level to force pharmaceutical companies to disclose prices before prescriptions are filled and a state dispensary of drugs should be created for competition.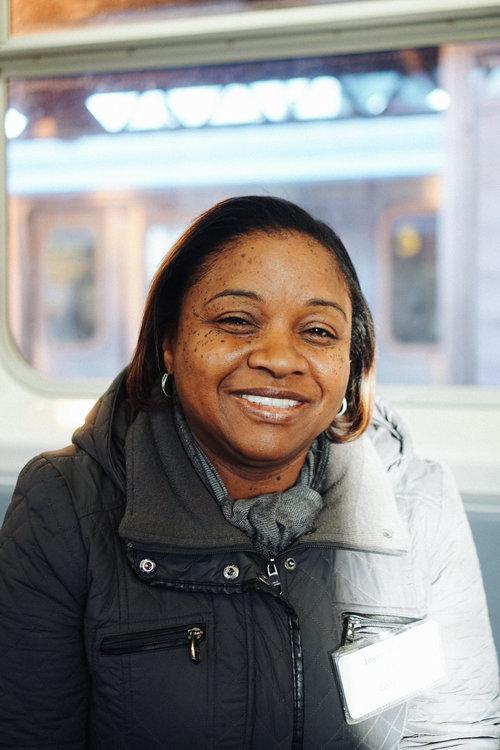 Joyce BriscoeJoyce Briscoe is a paralegal who has volunteered within her community at food pantries, the YMCA, and the Red Cross. Briscoe believes that "Her role as a paralegal has helped her to impact the lives of my family and others. Being able to provide information needed to empower them and change their circumstances for the better". She's running because she believes that the current candidates do not represent the people in her community and can't speak to the issues they face everyday.
Briscoe's key issues include schools, public housing, police re-training/mass incarceration, DACA, and inequality. To fix public housing, Briscoe believes there should be a "contractor bidding/competition for best and fastest "Extreme Home Makeover" "move that bus" renovations, similar to how the reality show homes were completed in a week." Briscoe believes that competition among contractors will lead to the most positive outcome. On police re-training, Briscoe believes that "Every cop should not be allowed to carry a gun--only the best on the Force….If a person is murdered on an officer's watch, there must be a mandatory punishment (i.e.: jail, suspension without pay)"
All of the candidates will face off at the League of Women's Voters Candidates forum on Sunday, June 24th at Sarah Lawrence College in Bronxville. You can find out more about the forum by clicking here. The primary will take place on Tuesday, June 26th and voting will take place at Scarsdale's elementary schools.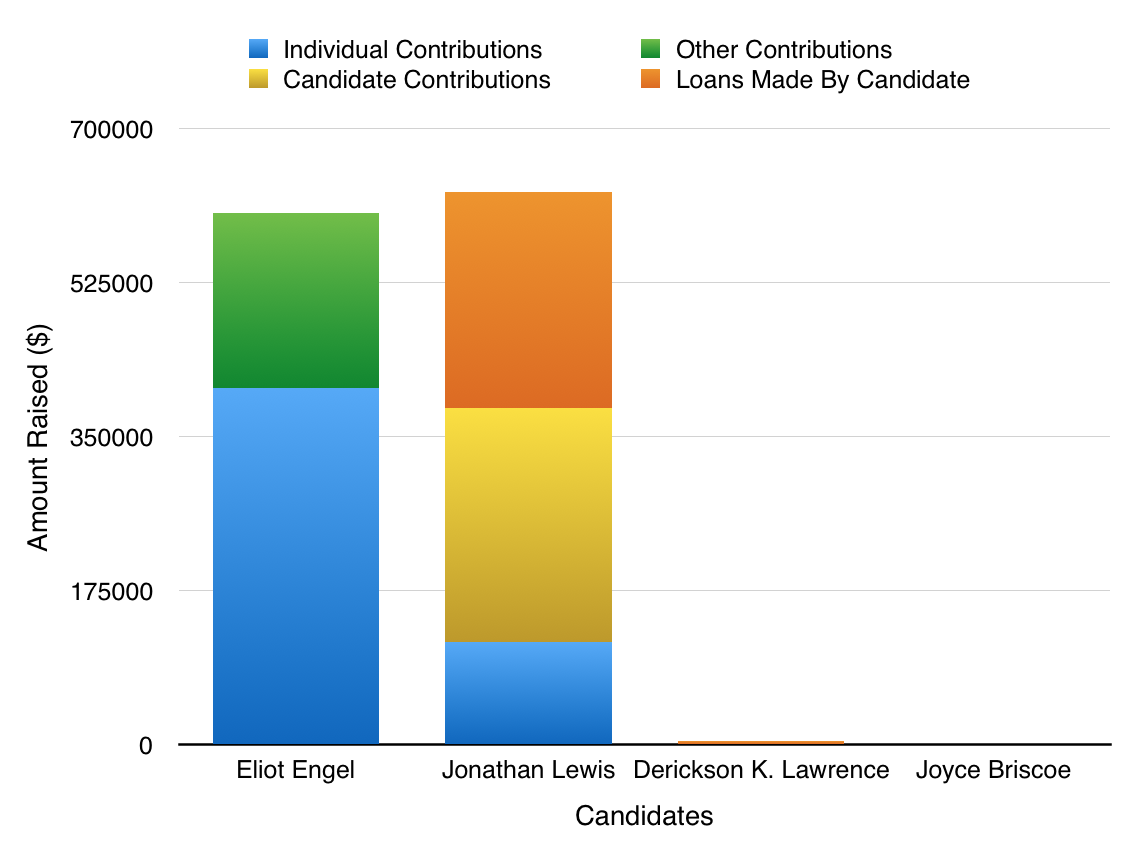 Amount of Money Raised by Each Candidate
Josh Ringel to Marry Joanna Bryan June 9
Details

Written by

Joanne Wallenstein

Hits: 2926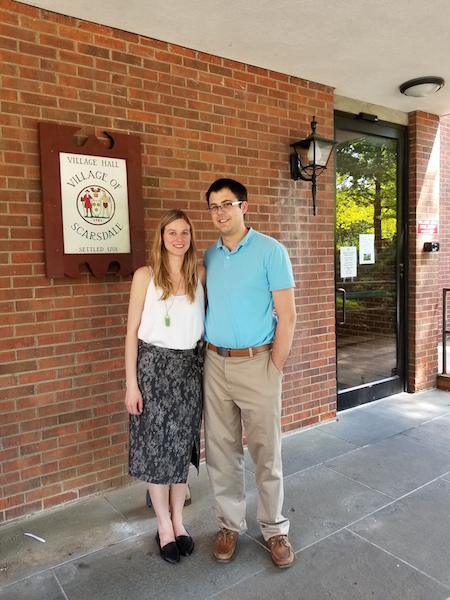 Joanna Bryan and Josh Ringel at Scarsdale Village HallJosh Ringel, Assistant to the Scarsdale Village Manager will be married to Joanna Bryan on June 9th. Here they are, awaiting their marriage license at Village Hall on Friday May 25. Congratulations to Joanna and Josh!
Jane Bedichek Dies at 99
Details

Written by

Louise Bedichek

Hits: 3374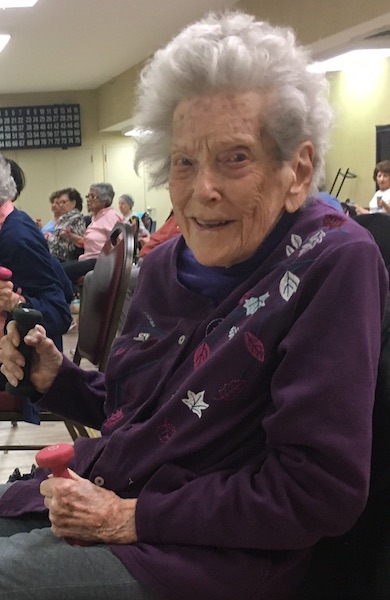 Bedichek at a senior exercise class at the County Center in 2017(The following was sent to Scarsdale10583 by Louise Bedichek, daughter of Jane Bedichek)
Jane Gracy Bedichek died at White Plains Hospital Thursday morning, May 31. Rev. Pete Jones, Pastor of Hitchcock Presbyterian Church, and I were at her side.
She was born September 9, 1918, in Austin, Texas, the only child of John and Bessie (Wells) Gracy. She and her husband Bachman Bedichek moved to Scarsdale in 1949 when their first child, John, was a one-year-old. Their five children attended Scarsdale schools, beginning with Greenacres.
She ​became​ involved in community volunteer work early on, but found unique roles for herself in later years, after her children had left home for college, most memorably as she devoted many hours to gardening at the Library Pond and enlisted volunteers to help, at the same time that she served as President of the Friends of the Scarsdale Parks. ​Current President of Friends of the Scarsdale Parks Madelaine Eppenstein ​says her organization has built on these initiatives with planting events for volunteers in the spring, such as the one this year in the woods between the Scarsdale Library and Scarsdale High School. ​ In 2004 ​Jane was awarded the Scarsdale Bowl, an honor which thrilled her.
She ​found ​living near New York City​ to be very stimulating​ and enjoyed attending theater and ballet, visiting museums, and enthusastically sharing the cultural attractions of New York with her out-of-town guests. ​Closer to home s​he hosted speakers for the lecture programs of the Westchester chapter of the Archeological Institute of America (AIA).
On receiving word of Jane's death, her friend Ruth Petschek Stein wrote from London, "Her enthusiasm, energy, open mindedness, welcoming of new ideas and strange people were admirable—and in the background she never forgot her father's admonition​:​ always remember, you may be wrong.
A​ ​service of Celebration of the Life of Jane Gracy Bedichek, will be held on Sunday afternoon July 22 at 2 pm at Hitchcock Presbyterian Church, 6 Greenacres Avenue in Scarsdale, to be attended by her children, daughters-in-law, son-in-law, grandchildren, great-grandchildren, nephew, niece, and grandniece. All who knew her are invited to participate in it.
Scarsdale Forum Celebrates New Officers and Endorses Study on the Feasibility of a Dog Park
Details

Written by

Joanne Wallenstein

Hits: 6146
Outgoing Forum President ML Perlman shares a laugh with incoming President Jon Mark.The Scarsdale Forum celebrated their former leaders and greeted their new slate of officers at their meeting on Thursday May 17. Taking the reins as President is former Scarsdale Mayor Jon Mark, a 40-year resident of Scarsdale. During his last year as Forum Vice President with Forum President ML Perlman, Mark chaired the Freightway Steering Committee to examine options for downtown development and also ran the campaign for the Citizen's Non-Partisan Party election in March, 2018.
Mark's VP will be Tim Foley who is currently a member of the Scarsdale Village Planning Board and previously served on the Scarsdale Advisory Council on Human Relations, in addition to serving on the Scarsdale Forum Board of Directors and Executive Committee. He has an extensive background in public policy and politics, having served on the steering committees for a number of community-labor coalitions, issue advocacy campaigns, and grassroots organizations across eight states and the District of Columbia. In 2014, he served on the Public Health Committee for the Transition Team for Newark Mayor Ras Baraka, and was also a member of the Paid Sick Days Advisory Committee for the Department of Consumer Affairs for the City of New York. He currently works for Scarsdale's own Assemblymember Amy Paulin.
Forum members also elected Randy Guggenheimer as treasurer, Richard Pinto as secretary and Eric Cheng, Alexander Harrison and Karen Smith as directors-at-large.
Foley said, "When I first moved to Scarsdale, the first and best piece of advice I received was,
Trustee Justin Arest with newly appointed Forum VP Tim Foley. that if I wanted to be involved deeply in civic life, I had to join the Scarsdale Forum. Jon and I have a shared vision of how we feel Scarsdale Forum can contribute to the community, and I will be looking for every opportunity as vice president to share the advice I was given and encourage residents – whether long-term or recent arrivals -- who seek to be more involved to find their home, as I have, in the forum." He continued, "Residents should know that the Scarsdale Forum is open to all in the community who wish to have thoughtful discussions about, and express their views on village matters."
According to Mark, "This is very exciting for the Scarsdale Forum and its members. Further, I consider it a privilege to have the opportunity to work with Tim, Randy, Richard and our new directors-at-large. I know that our organization will be all the better for Tim's leadership and the involvement of the newly elected officers and directors."
Dog Park

Also at the meeting, Madelaine Eppenstein who chairs the Forum's Municipal Service Committee reviewed the results of the committee's study on the development of a dog park in Scarsdale. The committee did an extensive study of dog parks in other areas and produced a list of factors to consider when creating a park in Scarsdale.
The 13 page report outlines many points to be considered including the costs of building and maintaining a park, the size of the park, the surface, shade, parking, rules for conduct, waste removal and use by non-residents.
Eppenstein acknowledged that the report does not recommend a particular site in Scarsdale for the location of the park. That decision was intentionally left to the Village staff and Board to determine. However, the report quotes Marilyn Glasser, a former parks superintendent who has been retained by several Westchester municipalities to consult on dog parks. Glasser recommends that the dog park be about one acre, have a relatively flat grass surface and be enclosed with a chain-vinyl fence with a minimum height of five to six feet. A water fountain should also be installed. Other requirements are handicapped accessible parking nearby and that the site not be too close to homes.
They estimate that it will cost $50,000 to build the park and ongoing costs to maintain it and clean it. One local municipality spent $14,015 on annual costs.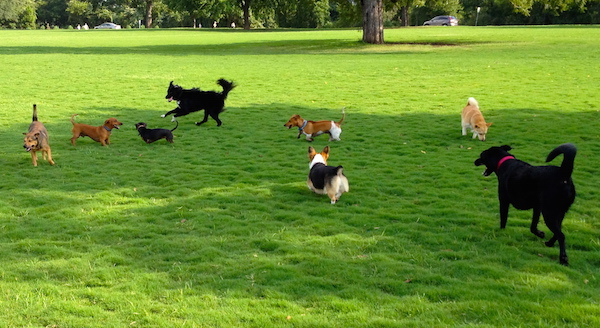 The report finds that dog parks are not only good for dogs, they have "significant positive social outcomes for dog owners." In Meridan, Idaho they found, "Because dogs are natural ice breakers, they can help to spark a conversation that might otherwise not happen. Discussing the breed of their dogs, temperaments and funny quirks are all topics you might overhear during a visit to a local park, not unlike parents discussing their children playing on the playground."
The report recommends that the Village Board and staff convene a working group to consider the feasibility of constructing a dog park, the siting of the park and the funding, perhaps seeking private contributions for the construction.
Commenting on the possibility of a dog park in Scarsdale, one dog owner hoped it would it be built. She said, "I am tired of paying the $100/year non-resident fee to use Ward Acres Dog Park in New Rochelle. It would be good to have our own right here."
(Photo credit: Lisa VanGundy)