Response to How Big is Too Big
Details

Hits: 2545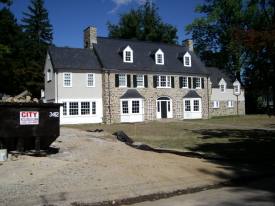 Dear Scarsdale10583: Congratulations on writing the most important piece of information I have seen about Scarsdale in the past 44 years that I have lived here. The property on 21 Carstensen borders on my property where I have lived for 30 years. With a few neighbors I vigorously tried to prevent the seven additions that they built in addition to the pool, barbeque (which if you have seen the drawings at Village hall looks like it belongs at a Caribbean resort and is 10'X 8') and the fireplace close to the neighbors property which is approximately 13.9' high, 10' wide, and 3' deep and looks like a Mayan temple. In addition to the claustrophobic backyard, more recently they have added retaining walls around most of the property. We initially thought these were going to be 3' high sitting walls but they are now approximately 4'.
At the zoning board meeting this spring I mentioned that the house was in a drain sensitive area which was extremely problematic due to our recent storm-related weather problems; nobody cared and the Village said this was not an issue. Despite neighbors concerns the Village allowed everything to go forward. My neighbor and I who are most impacted by this project are extremely upset by this disaster which has been ongoing. I knew the people very well who lived in what was once a beautiful house.
Keep up the good work Scarsdale10583 and let me know if I can be of any help.
Still Hopping After 79 Years
Details

Hits: 2325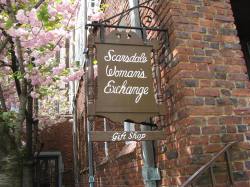 Dear Scarsdale10583: The Scarsdale Women's Exchange is reopening on September 7th, after having been closed for the month of August.
The shop is still hopping after 79 years. Founded during the Depression in 1931, the Exchange was originally founded to help women in need by selling their home-cooked foods and handmade items. There are currently similar exchanges in 19 cities.
The Scarsdale Woman's Exchange stocks new handmade items, including knitted and crocheted baby sweaters and hats, quilts, dolls, smocked baby dresses, jewelry and countless items that are unique and reasonably priced. In addition, the shop also sells beautiful tableware, gift items, scarves, handbags and wonderful hostess gifts, Another feature are the delicious and decorative homemade tea sandwiches and baked goods that customers use for entertaining at luncheons, showers and parties.
The Exchange is a not-for-profit shop and when able, makes contributions to charitable organizations, such as Gilda's Club, My Sister's Place, Scarsdale Ambulance Corp., Scarsdale and Edgemont scholarship funds.
The staff includes manager, Doreen Goldsmith, and several helpful volunteers.
Stop by the Woman's Exchange and see what the shop has to offer. You will be pleasantly surprised.
Renee Hock
Scarsdale Woman's Exchange
33 Harwood Court
Scarsdale, New York
Tel: 723-4728 – Fax: 723-3670
Calling All Penn State Students and Alumni
Details

Hits: 1715
A Penn State Student send off barbecue and cook out for incoming Freshman from Scarsdale and Edgemont High Schools, current PSU students, parents, PSU Alumni and friends will be hosted by Bob ( ' 62 ) and Terri Harrison at their Scarsdale home at 65 Fox Meadow Road on Monday, August 16th from 6 PM to 8:30 PM . There are eight incoming freshmen from Scarsdale High School and several from Edgemont High.
This event will give new PSU students an opportunity to meet with current students and alumni to share stories about Penn State as they join the Penn State Family of over 500,000+ living alumni, known as the Nittany Nation.
Current high school juniors and seniors from Scarsdale and Edgemont High Schools with an interest in attending Penn State are welcome to the event. Bob Harrison has been a volunteer Penn State Alumni recruiter for 19 years and has assisted many area students to achieve their dream of attending Penn State.
For those planning to attend, please RSVP to Bob at 914 725-0962 or proscars@aol.com.
Are Village Penalties Out of Whack?
Details

Hits: 2470

Dear Scarsdale10583: Though I love living in Scarsdale, lately I feel that the Village is waiting to fine me excessively for minor offenses.
For the past 20 years, workmen and handymen have parked on the street in front of our home while they worked. However, in the past two months we have received three $30 tickets for parking next to our own front walk. The other morning we pulled the car up in front our house to load it for a big trip – and minutes later a policemen appeared and told us we were to be fined for parking in the wrong direction, as the front of the car was facing the wrong way.
And these fines are not limited to parking at home. Last week I was in the Village and parked on Chase

Road in front of the Christie Place Sales Office. I put money in the meter but later found out that one could only park there after 3 PM and was given a ticket. Why is this necessary when construction on Christie Place was completed long ago and the office appeared to be closed. I later found out that three of my daughters friends received parking tickets in the village that same day.
Two friends have told me stories of outrageous fines they received for violating the 15 MPH speed limit in front of the Scarsdale Middle School. One friend was stopped for speeding on a Jewish holiday when the school was closed. He was travelling 40 mph and paid a $400 fine.
Now there's a new fee to pay. If you violate the watering restrictions, you are subject to a fine of $250 per day. And if you cut down a tree on your own property without a permit, you'll be assessed $250 per tree; no matter what danger the tree poses to you or your home. And pity the poor landscapers … $100 - $200 fees for using a leaf blower? Where will this end?
Signed,
Frustrated Taxpayer
Construction Noise
Details

Hits: 2388
This letter was written to the West Quaker Ridge Neighborhood Association by a concerned resident: I live in Quaker Ridge. I would like to know if anyone has raised the issue of construction noise on the weekends with the town. The noise we have had this summer certainly rivals and surpasses the leaf blower issue. And we have regulations in regards to leaf blowers.
I do not think construction should be permitted on weekends or holidays. This is what would occur in a condo or coop. I am near the construction site on Crossway and Rural. The builder has been doing most of the outdoor work on weekends. With the constant beeping of machines moving materials and dirt back and forth. This goes on for the whole day and has prevented me and my family from being able to use our backyard.
I would be interested in any information in this regard and if anyone is already working on this issue or how to start. There are a number of homes in this neighborhood that may be construction sites in the future, mine being one of them. Therefore I think various individuals might also be concerned. I have already spoken to the town and the police.
Thanks for your response.
Sari Kaminsky