Tuesday Morning: Power is Still Out Around Town
Monday, 05 March 2018 19:03
Last Updated: Tuesday, 06 March 2018 12:18
Published: Monday, 05 March 2018 19:03
Joanne Wallenstein
Hits: 3338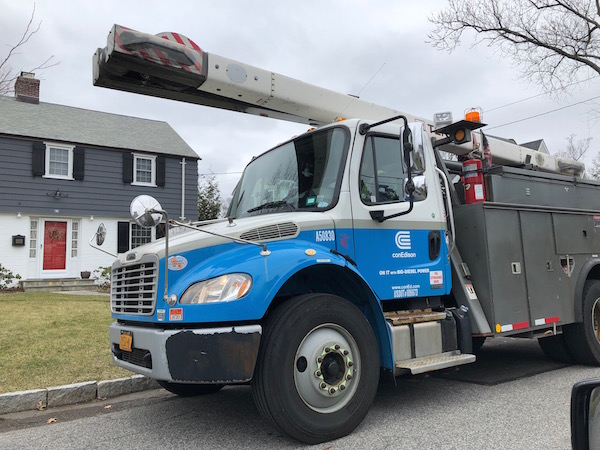 (Updated Tuesday) As of Tuesday morning, Con Edison is reporting that 1,012 customers are without power - up from 859 last night. Though we were originally promised restoration by 11 am today, we noticed that Con Edison has changed that deadline to 11 pm tonight. One friend just received a text saying power would not be restored until Friday - let's hope that was a mistake.
Unfortunately, the power went out at Scarsdale Middle School at 7:25 am, but power was restored a few hours later.

Also without power are the Scarsdale Synagogue and the Scarsdale Medical Center, which are both closed for today.
On Monday night we heard from friends in Edgewood that in some parts of the neighborhood the lights are back on. However Drake and Nelson Roads are still out. We're hopeful that we'll be hearing more good news today.... from Greenacres, Heathcote and Quaker Ridge.

We stopped by to chat with the Con Edison man who is guarding the fallen wires on Walworth that are causing our outage. He says that there are crews in town from Canada and Texas and appeared hopeful that a tree crew would remove the large branches from the wires today. However, the promised 11 am restoration time has now passed.

The weather forecast calls for rain and up to 12 inches of snow on Wednesday, so let's hope the out of state crews can get the job done before we're hit with another storm.

The Village Manager's update says "Con Ed has advised that over 290 out-of-state contractors have arrived to support the Westchester County recovery effort, with over 390 anticipated by tomorrow. ConEd continues to represent that they will have power restored to at least 90% of Westchester County customers by late Tuesday night, leading into early Wednesday morning."
So if you do have power and heat, invite friends to stay with you, because it's just too cold to hunker down in a house that has not been heated since Friday.
We received these photos today – please share yours by sending them to scarsdalecomments@gmail.com.