An Hour of Exercise in Just 30 Minutes
Monday, 30 July 2018 16:14
Last Updated: Monday, 30 July 2018 16:14
Published: Monday, 30 July 2018 16:14
Sarah Kazan
Hits: 2368
It's hard to believe that in only 30 minutes you can burn more fat and calories than in traditional workouts that are twice as long. That's the promise from Fit Body Boot Camp in Scarsdale, and I attended two classes to test it out. After my first 30 minute High Intensity Interval Training (HIIT) session I was actually eager to go back for more.
While FBBC is a franchise, the Scarsdale location, on the second floor of Colonial Village Shopping Center on Weaver Street has been around for two and a half years. Since then, 360 members have joined. Rather than buying classes a la carte, here clients choose from different membership options and attend as they please. To get started, new clients claim 3 free workouts and after that sign up monthly or annually.
While the idea of having a membership may hint at a traditional gym membership, FBBC is committed to keeping their clients engaged. "We're like the anti gym gym," said Jim Moyna FBBC Scarsdales Head Coach, "We don't want people to pay and not come." They are so committed to their members that if they notice they haven't seen a regular member coming in, they will call or text to check in.
Since most exercise classes last 45 60 minutes the idea of an effective 30 minute workout sounds too good to be true. However, FBBC manages to pack a full workout in the shortened period of time which burns the same amount of fat and calories as longer sessions. What makes FBBC so effective is the aftermath. Due to the High Intensity Interval Training, (HIIT), you will burn even more fat after the workout while your body is recovering.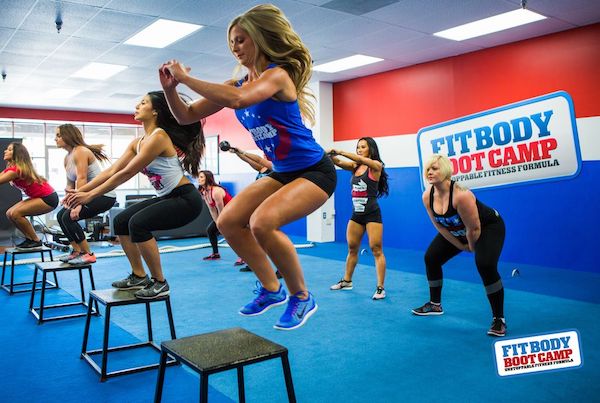 "We believe in resistance workouts with weights. Running and biking should just be an accessory," said Moyna. Each day the class switches off between Boot Camp and Boot Camp MetaFIT (MF). Regular Boot Camp uses equipment such as hand weights, kettlebells, battle ropes and more to burn fat, boost metabolism and build lean muscle. Boot Camp MF focuses on burning fat, boosting metabolism and improving speed and cardiovascular fitness through exercises using body weight as resistance.
The classes begin with a warm up which includes stretching. Before getting started, the instructor will explain each exercise. The first class I attended was a circuit with core concentration. There were four different set ups and each had two different exercises. We did each exercise at each station for 30 seconds with 5 second breaks in between each station. After doing each exercise three times we switched to the next set up. Since no exercise was longer than 30 seconds and we were constantly doing new sets, the time flew bye.
The second class I attended was one of their more traditional bootcamps which focused on cardio. Here, we did eight cardio exercises, each three times with short breaks in between. To switch it up, the eighth exercise was different each round.
While running on the treadmill or biking for an hour is a great way to workout, it's often boring doing the same thing for such a long time. Again, the class flew bye due to the constant change in the exercises. Even Though the class was only 30 minutes, I definitely felt like I had been in the gym for hours.
For anyone looking for a quick yet effective workout, give FBBC a free trial. "We try to be the best 30 minutes out of everyone's day," said Moyna. FBBC is always offering new membership deals, so try it out and claim 3 free workouts today.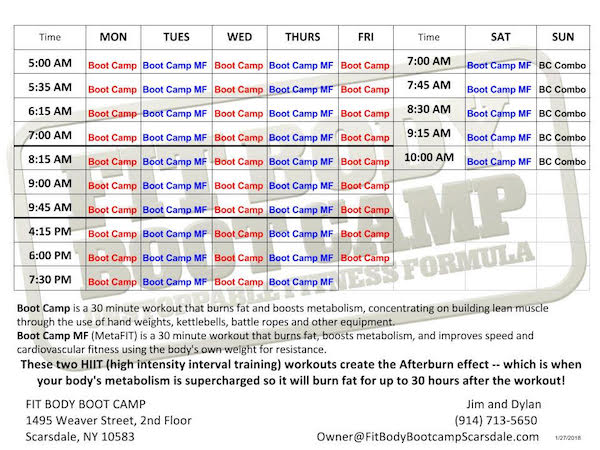 Fit Body Bootcamp
1495 Weaver St, Scarsdale
(914) 713-5650
owner@fitbodybootcampscarsdale.com
fitbodybootcamp.com/scarsdalefitnessbootcamp