LimeBikes Show Up On Scarsdale Streets
Wednesday, 15 August 2018 12:58
Last Updated: Wednesday, 15 August 2018 12:59
Published: Wednesday, 15 August 2018 12:58
Joanne Wallenstein
Hits: 3308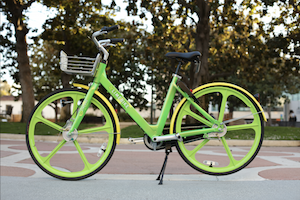 Have you seen any green and yellow bikes on sidewalks or lawns around town? It turns out that LimeBike is testing their dockless bikes in White Plains and a few are now showing up in Scarsdale as well. Cyclists can download a free phone app to find the nearest bike and to pay for its use. LimeBikes tracks the bikes locations using GPS and redistributes them to busy areas.
We spoke to Assistant Village Manager Josh Ringel about the bikes and he said that both White Plains and Yonkers have agreements with the company to run the cycle share program there, and bikes from other towns may be showing up in Scarsdale. For now, the Village has no formal policy on these bikes and hopes that people will leave them in racks and off the sidewalks to avoid any safety issues.
One resident was not happy with the appearance of the bikes and sent the following letter to the Mayor:
"I just saw what appear to be shared bikes just sitting unattended in the middle of the sidewalk on the Popham Bridge near the train station. Of course I have read about these in the Wall Street Journal and how they are often a public nuisance. If this has not come to the board's attention, please accept this as my request that the Village review whether leaving unattended property as a public nuisance on a public sidewalk is a violation at least justifying the impounding of the property. Seems to me it is litter at a minimum. I have no problem with bike shares so long as they are not left in the way like these were. The Popham Bridge is very busy with pedestrian traffic and requiring everyone to walk around two bikes blocking half the sidewalk is not pretty and certainly unnecessary. If people are forced to walk in the street it could even be dangerous."
Have you used a shared cycle? Share your experience and your thoughts on this in the comments section below.