Scarsdale Remembers 9-11
Wednesday, 12 September 2018 15:31
Last Updated: Wednesday, 12 September 2018 16:08
Published: Wednesday, 12 September 2018 15:31
Joanne Wallenstein
Hits: 1887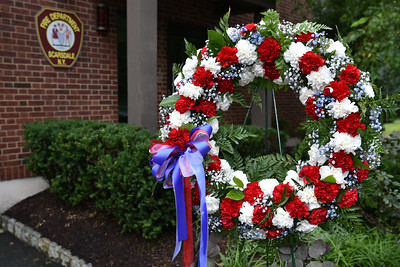 The Scarsdale Department of Public Safety and village officials gathered on Tuesday September 11 to remember those who were killed on September 11, 2001 and to honor the sacrifices of the first responders and recovery workers. The ceremony commenced with a moment of silence and four sets of five bell rings, replicating a code used by the FDNY to announce the death of a firefighter. Father Sebastian Bacatan of St. Pius X Church delivered an invocation. Scarsdale Police Chief Andrew Matturro and Fire Chief James Seymour raised and lowered the American flag to half-staff and Police Officer Malcolm Greer sang the national anthem.
Deputy Mayor Carl Finger, Police Commissioner Jane Veron and Fire Commissioner Matthew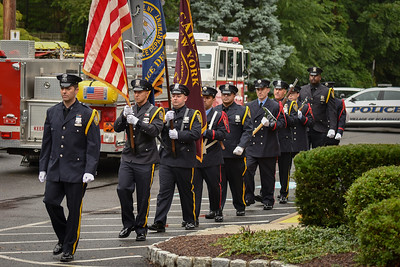 Callaghan addressed the group. Scarsdale High School student, Megumi Ozawa, sang a beautiful rendition of Amazing Grace as Scarsdale PBA and UFFA members placed wreaths at the bases of their respective commemorative monuments to honor the fallen.
Members representing both the Scarsdale Volunteer Firefighters and Ambulance Corps placed an additional wreath at the base of the flagpole. Fire Captain Christopher Mytych acknowledged the first responders, recovery workers, and those that lived or worked in lower Manhattan following the attacks, who are now afflicted with 9/11-related illnesses. Reverend Kelly Rogers of Scarsdale Congregational Church delivered a benediction.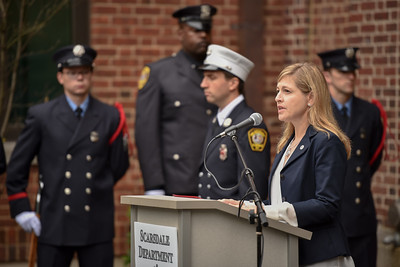 Police Commissioner Jane VeronTrustee Jane Veron made the following remarks at the ceremony:
I join you today to pay tribute to those whose lives were tragically cut short and to
honor the selfless dedication and bravery of you and your colleagues, our first responders.
It is seventeen years later, and we remember vividly as if it were yesterday. We all knew precisely where we were, what we were doing, the moment we learned of the horrific attack on our great nation, on our beloved city of New York. So incomprehensible, intensely personal, an affront to everything we hold dear.
We carry with us, deep in our hearts, the memories of the loved ones, friends and colleagues we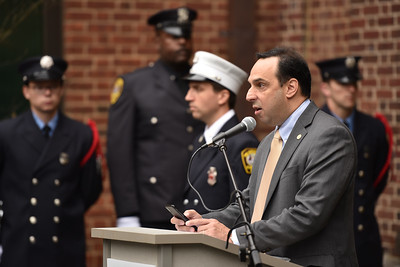 Deputy Mayor Carl Fingerlost that day. These many years later, we continue to reel from the debilitating health struggles faced by our rescue and recovery workers. So much has been sacrificed; we shall not forget.
On Sept 11, 2001, several of our Scarsdale police officers joined the emergency response effort, and for the ensuing months, each member of our police force assisted the NYPD. Among our current fire department professionals, several of you were at ground zero or covering for the FDNY.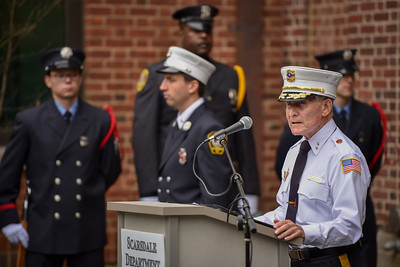 Fire Commissioner Matthew CallaghanThose days and months following the attack were grueling for all of us. We were seething with anger, emotionally drained, completely devastated, exhausted, heart broken. But we were also kinder and gentler to one another. We stopped focusing on petty differences. We embraced both friends and strangers. We came together in a way that I had never before experienced in my life. Out of the depths of despair, we emerged stronger and more united.
What I love so much about our country, about New Yorkers specifically, is our resilience and resolve. We do not cave in. We fight to protect what we hold dear.
You, our first responders, live that ethos. You were drawn to a profession that puts others above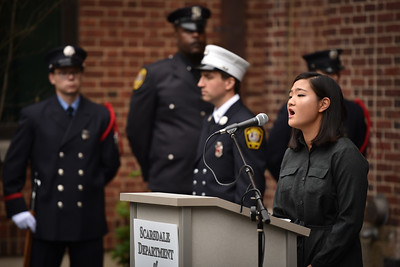 SHS Student Megumi Ozawa sang Amazing Graceself. You keep us safe and secure; help us when we're in need. You are the reason the rest of us can go about our daily lives.
We are grateful to you, our dedicated public servants, and we will forever cherish the memories of those who have sacrificed for our country.
Photos by Jon Thaler -- See more here.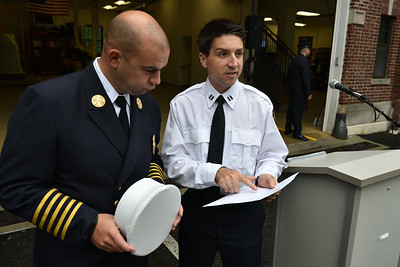 Fire Chief James Seymour with Fire Captain Christopher Mytych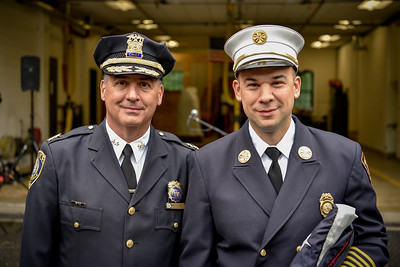 Police Chief Andrew Matturro with Fire Chief James Seymour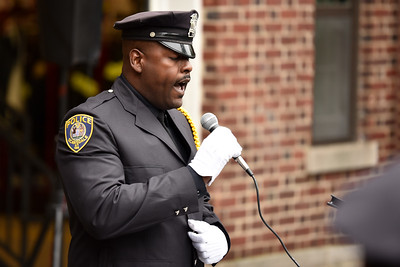 Police Officer Malcolm Greer sang the national anthem.