Make the Switch to a Smart Sprinkler Controller – Save Water and Save on your Water Bill
Monday, 15 October 2018 11:57
Last Updated: Monday, 15 October 2018 12:00
Published: Monday, 15 October 2018 11:57
David Fenigstein
Hits: 1678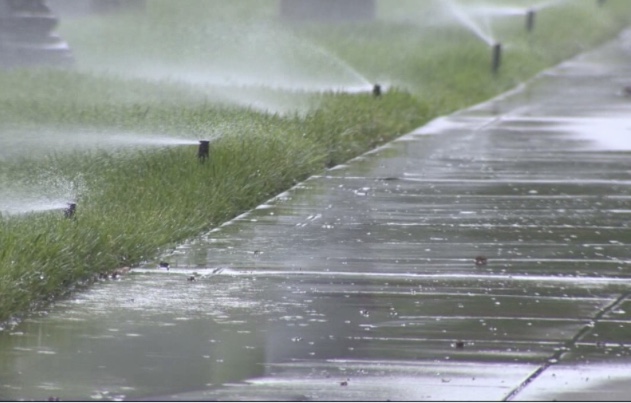 With all the rain we have been experiencing, our lawns certainly don't need any additional help from us. Yet how often do we see sprinklers running during or directly after a major rainstorm?
The lonely sprinkler controller, the box that houses all the wires and where you go to set up the time each zone delivers water, is probably one of the most overlooked and neglected of all the home systems. Probably for good reason, as most sprinkler controllers are considered "dumb" controllers – they so antiquated that programming and making changes to them is akin to working a VCR from the 80s. Most people set-it up one time, either when it was first installed or at the beginning of the season, to a certain schedule such as every other day or for certain days of the week and that's it. As the famous infomercial guy Ron Popeil would say, "set-it-and-forget-it".
If you have a rain sensor, a small device that mounts to your gutter and senses how much rain has fallen and then shuts off your sprinklers, then you are doing better than most. However while rain sensors are more effective than nothing and for a long time were the only option on the market, they are not without their own issues. First they don't shut the system down until a certain amount of rain has fallen such as 1/4" or ½" so you are still wasting water during a storm. Second they tend to have a short lifespan and go bad over time. If you don't have a rain sensor, you can add one which requires running a wire from the controller to the outside and up to a gutter for mounting, not exactly easy in most cases. Alternatively, wireless sensors are available, but these are expensive, require changing a battery every so often and still require wiring from the receiver to the controller.
If you have been thinking about conserving water or cutting down on your water bill and this all sounds hopeless, there is good news. There are new "smart" controllers that help make managing you sprinkler systems much easier. The real benefit and the power of these new smart controllers is that they connect to the internet via WiFi so they are able to receive weather forecasts in your local area. They know hours or even days before it's going to rain and will readjust your watering schedule accordingly. That means these smart controllers eliminate the need to have a rain sensor (although you can still use one if you have it already). I have been testing such a system for 2 seasons now and wanted to share my experience.
I chose the Rachio 2 which has been one of the best sellers on Amazon in this category. There are other brands out there but many of the mainstream sprinkler equipment companies such as Rainbird and Hunter are still playing catch-up in this space. Most function similarly but in my opinion the Rachio has one of the best and easiest interfaces. I bought the 16-zone version for around $200 (it also comes in an 8 zone). Rachio recently released a newer version 3, which has some nice additional features and I would purchase this one if installing one today.
I installed the Rachio controller myself and while I would consider myself handy and comfortable with electronics I think most people could tackle this project. All wires are low voltage and the power is disconnected during install so there is no chance of getting a shock. Labeling the wires before disconnecting from the old controller is the most important part. Rachio has great videos on their website as does YouTube to explain the process. If you are not up to the task, an electrician, handyman or sprinkler company can do it for you. A great time to think about swapping out your controller is right about now when they come for winterization turn off or spring turn on.
Once the new controller is in place all the magic happens through the app on your phone and the cloud. The controller has virtually no buttons, only a series of blue indicator lights showing connection status. After you've launched the app and made a connection between your home WiFi and the controller, your next step is to set up your zones and a schedule. When setting up each zone, the app asks for data such as the sun exposure, soil type, amount of slope and the type of grass or shrubs. (Don't worry its easy and the answers are multiple choice.) After you fill in these details you select the type of schedule you are looking for such as fixed, for specific days or flexible which will adjust accordingly based soil moisture from both past weather data and the information you entered for each zone. The algorithm in the flexible schedule helps to build the most efficient water saving routine possible.
The app lets you monitor how much water you are saving and stores all your zone and schedule information in the cloud so there's never a need to reset anything after a power outage. Also, I have it set up with alerts to tell me when a watering "skip" has occurred and it even tells me when it automatically performs a "seasonal adjust" for times when it's either very dry or very wet.
Overall, having a smart sprinkler controller has been one of the most useful and effective home devices I've ever installed. Since installing the controller I've reduced my water usage by 36% from my original schedule. My lawn also looks great. Overwatering your grass not only wastes water but is bad for the grass. Another benefit of a smart controller!!
While you still may not be excited about updating your sprinkler system, maybe you can get excited about the possibility of saving water, saving money, doing something good for the earth or at the least not being the person who's sprinklers are constantly running during the latest downpour.
I am happy to speak with and help anyone who is interested in this topic.
David Fenigstein
fenigstein.david@gmail.com