Shop & Dine the 'Dale December 6-8
Wednesday, 28 November 2018 07:20
Last Updated: Wednesday, 28 November 2018 10:02
Published: Wednesday, 28 November 2018 07:20
Joanne Wallenstein
Hits: 3056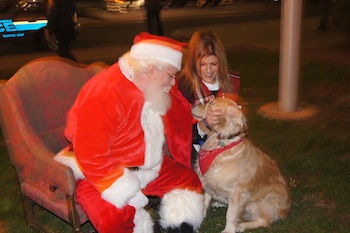 The Scarsdale Business Alliance (SBA) is proud to announce its First Annual Holiday Shop & Dine the 'Dale, Thursday, December 6th through Saturday, December 8th (with extended evening hours until 8pm on Thursday).

Over 35 SBA merchants and restaurants from Scarsdale Village, Golden Horseshoe, Five Corners, Colonial Village, Scarsdale Commons, Garth Road and Scarsdale Avenue will be participating in this community-wide event.

The SBA will hold a collaborative grand raffle with gift cards to your favorite stores and restaurants. Make a purchase at a participating store or dine at an SBA establishment to be entered into the raffle. The more local businesses you patronize, the more chances you have to win! In addition, some of the participating merchants will be offering in-store incentives and/or discounts during this three day event.

There will be live musical entertainment in Scarsdale Village on Thursday evening December 6th, from 6pm - 7pm, and during the day on Saturday, December 8th from 12pm - 2pm. New Orleans Renaissance is a collection of outstanding brass musicians currently living and performing in New York City. They can be heard at venues throughout the metropolitan area. Come hear some wonderful holiday sounds that are sure to make your shopping season one to remember.

There will be family-friendly activities on Saturday, December 8th at Space NK in Scarsdale Village from 11am - 2pm. Music Together, an internationally recognized early childhood music program, will be hosting a free class from 11am - 12pm. Music Together is primarily for children from birth through kindergarten age - and the grownups who love them! - But, older children do enjoy singing the songs and playing the instruments, too. Research-based and developmentally appropriate, the Music Together curriculum helps families, caregivers, and early childhood professional rediscover the pleasure in and educational value of informal musical experiences.

There will also be a Ukulele Holiday Strum and Sing Along (a Starlight Starbright Music Offering) on Saturday from 1:15 pm - 2pm. BYOU - Bring your own uke! For kids and adults.

From 12pm - 2pm on Saturday in Space NK there will be additional activities and art and crafts for families to enjoy.

Participating merchants as of November 26th: Bango Bowls, BLVD, Bronx River Books, Coldwell Banker, Current Home, Daniele Trisi, Eye Gallery of Scarsdale, Great Stuff, Greenwich Medical Spa, Haagen Dazs, Holsten Jewelers, Houlihan Lawrence, I Am More Scarsdale, Julius Michael, La Dentelliere, Langes, Learning Express, LF Stores, Martine's Fine Bake Shoppe, Meritage, Mixology, Nordic Edge, Pamela Robbins, PlushBLOW Scarsdale, Popojito, Rothmans, Rudys Music, SoulCycle Scarsdale, The Bar Method, Trapp Opticians, Via Forno, Vintology, William Raveis Real Estate, Wilson & Son Jewelers, Wyatt Lilly, Zachys Wine & Liquor.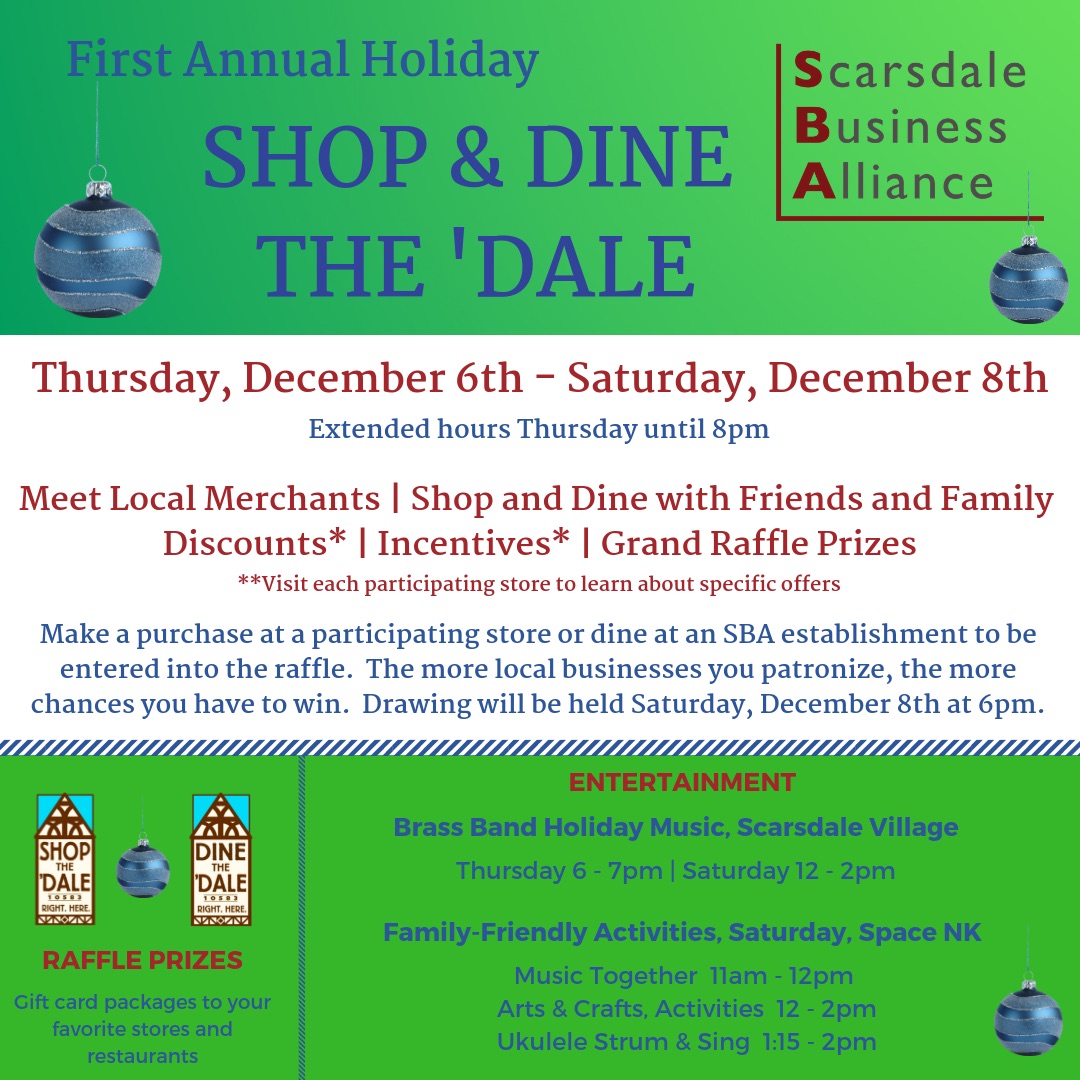 The SBA is a new, non-profit organization dedicated to supporting the Village of Scarsdale and its local businesses. The SBA was created to foster cooperation and innovation amongst these local businesses. Scarsdale is fortunate to have many large independent, successful retail businesses along with new emerging entrepreneurial ventures. There is also a robust contingent of realtors, banks and independent practitioners throughout the area that support the community. The SBA looks to combine all of these elements, and work closely with Village government to improve Scarsdale and create a vibrant downtown.

Jane Veron, Scarsdale Village Trustee and SBA Liaison said, "In virtually no time, the newly formed Scarsdale Business Alliance, with its professional Executive Director and top notch Board, has created a purpose-driven, high growth organization of dedicated merchants and service providers. The SBA has energized around a central theme, to make Scarsdale the preferred place for shopping, dining and gathering. This Holiday Shop and Dine event delivers on their promise. With extended hours, entertainment and special offers, this event brings relevance, value-added service and community building to our local retail hubs. The SBA also provides a voice for the business community as it collaborates with the Village government on a range of policy issues."

Please follow the SBA on Instagram at @scarsdalebusiness.

For more information please contact Darci DeMatteo, SBA Executive Director, or visit our website.