Scarsdale Library Campaign Meets $7.5 Million Commitment
Details

Written by

Joanne Wallenstein

Hits: 1807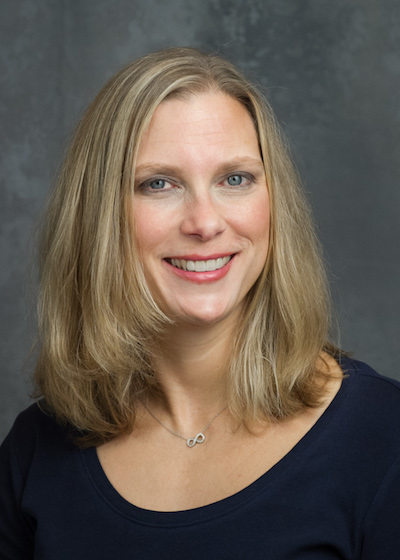 Scarsdale Library Director Elizabeth BermelThis letter was sent to Scarsdale10583 by Scarsdale Library Director Elizabeth Bermel: It is with pleasure and gratitude that I announce that the Scarsdale Public Library's Capital Campaign has met its cash obligation to the Village. With the most recent gift received by the Scarsdale Village Board of Trustees from the Friends of the Scarsdale Library (at the February 12th Village business meeting,) over $7.5 million dollars has been given to the Village. The Campaign has exceeded its fundraising goal by an additional $500,000 in written pledges, bringing the total raised to $8 million, a truly humbling expression of community commitment to our institution. A special thank you to the Campaign for Excellence for the remarkable fundraising efforts.

When I became the Scarsdale Library Director over 9 years ago, I had no idea I would be on such a journey. I am overwhelmed by the generosity of the donors, the dedication of the volunteers, the expertise of the professional staff and consultants, and the support of our patrons. Every one of them has been an integral part of my sometimes exhausting, but always exhilarating, experience transforming your library into the community resource that reflects the unique needs and expectations of this special community. I am also amazed by the patience and support of our patrons during our transition. The work at the Library's 54 Olmsted Road building is going very well. We are pleased with the progress, and though we have a way to go, I am hopeful to return home by the summer of 2020. Meanwhile, please come by our temporary location, the Library Loft at Supply Field at 244 Heathcote Road.

Over these years, I have worked with over 70 volunteers on Library boards and committees. I offer my sincere thanks to past and present members of the Scarsdale Public Library Board, the Friends of the Scarsdale Library Board of Directors, the Building Committee, the Village Board of Trustees, and of course, all the donors, patrons and the full community for their tireless commitment to the Library's mission supporting lifelong learning in Scarsdale.
Hope to see you soon, perhaps at the Friends-sponsored 'Casino Night' Gala on March 8th!
Warm regards,
Elizabeth Bermel, Director
Scarsdale Public Library
More than Three Times the Required Number of Voters Sign Petitions for the CNC-designated Candidates for Mayor and Village Trustees
Details

Written by

Joanne Wallenstein

Hits: 2174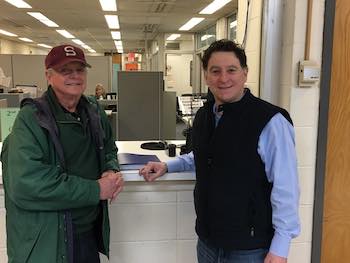 Candidate Samwick with CNC Chair MarkThe nominating petitions for Marc Samwick for Mayor, and Jonathan Lewis, Seth Ross, and Rochelle Waldman for Village Trustee were delivered today to the Village Clerk – a critical milestone for the candidates to be placed on the ballot for the forthcoming Village Elections on March 19, 2019.

The petitions were filed in accordance with state election law and contained the signatures of registered Village of Scarsdale voters. The candidates filed with 372 voters' signatures – well over three times the number required by election law. The total also represents a 29% increase over the number filed on behalf of Citizens Nominating Committee-selected candidates in 2018, and a 55% increase from 2017.

"Jonathan, Seth, Rochelle, and I want to thank the volunteers who made this happen from the bottom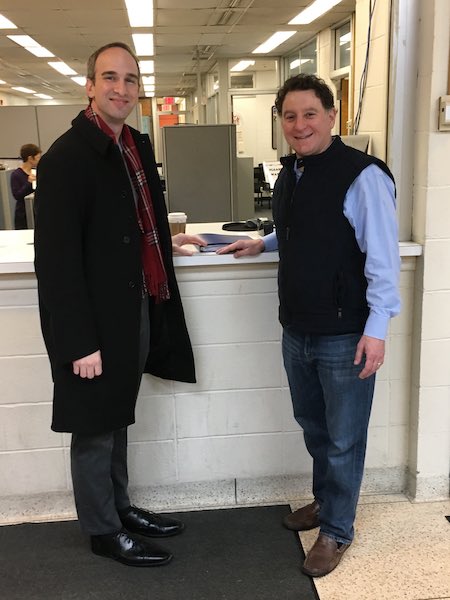 Candidate Samwick with CNC Vice Chair Tim Foley of our hearts," said mayoral candidate and two-time Village Trustee Marc Samwick. "We know how tirelessly the members of the Citizens Nominating Committee worked to research and vet all of the potential candidates, and then to carefully and respectfully deliberate. So many of them then went to their friends and neighbors, and joined other volunteers to knock on doors in the freezing cold to ensure their choices would go before the voters in March."

"We look forward to using the weeks before the election to introduce ourselves and our backgrounds to our fellow Scarsdalians and to engage in conversations about the challenges and opportunities we face. Most important of all, we want to listen to our neighbors about what their hopes and aspirations are for this village we are all proud to call home."

Outgoing CNC Chair Jon Mark and Vice Chair Tim Foley were on hand to witness the completion of the successful volunteer effort.
The Village Election will take place on Tuesday March 19, 2019. The Village will make the final determination on the location of the polls and will provide further information on where voting will be held.
Fire and Ice: Scarsdale Fire Chief Explains Why It Was So Hard to Put Out the Flames at 72 Mamaroneck Road
Details

Written by

Joanne Wallenstein

Hits: 6895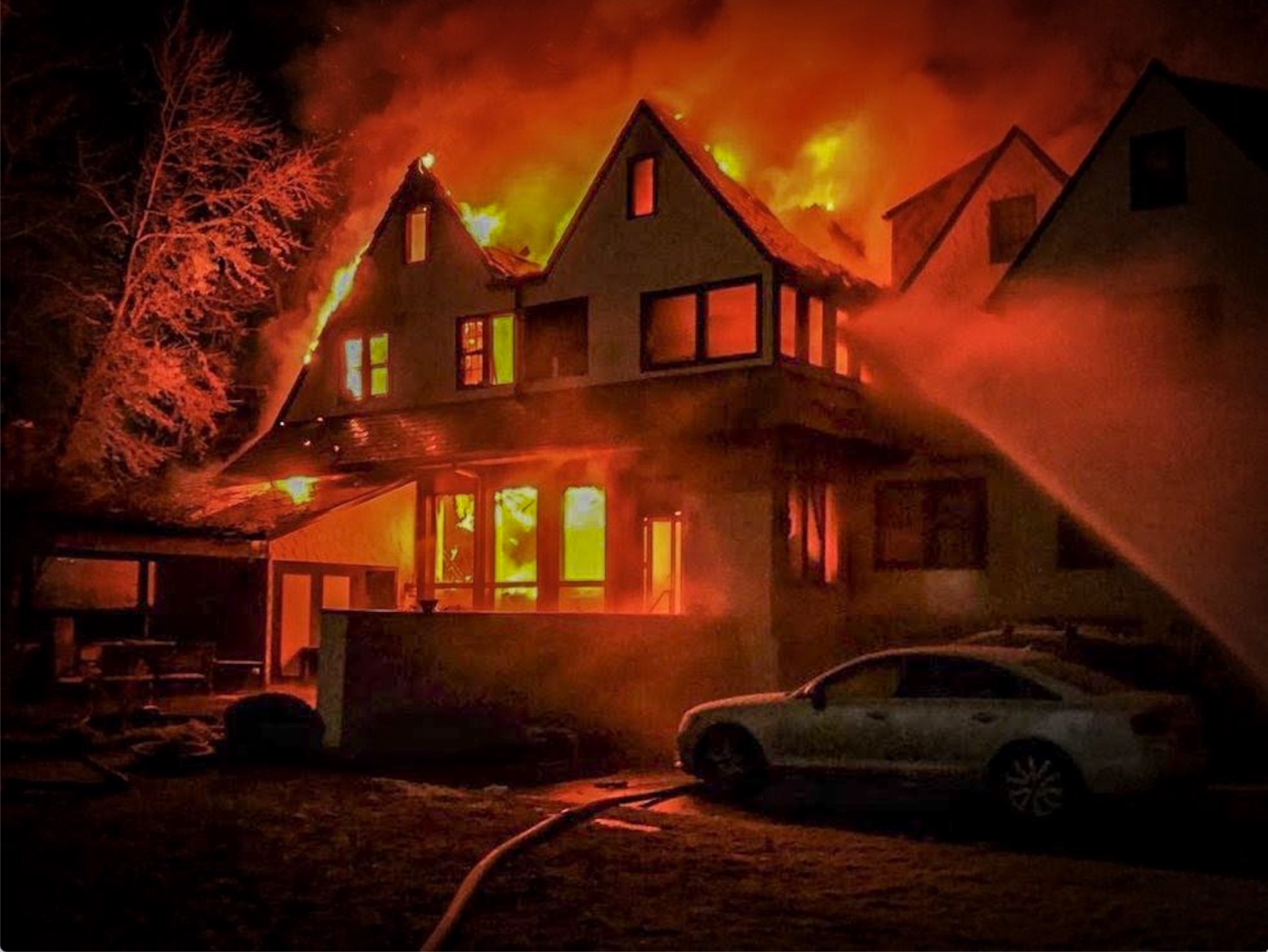 Subzero temperatures, gusty winds, frozen hydrants and a large old home resulted in Scarsdale's largest home fire in recent memory. Scarsdale Fire Chief Jim Seymour, who battled the fire with 80 firefighters from all over Westchester, said this was the biggest home fire he ever encountered – and said that frozen water lines, broken hydrants and hidden nooks and crannies in the 8,000 square foot Tudor-style home made fighting the fire extremely challenging.
Police received the call about a fire at 72 Mamaroneck Road just before 1 am on January 21. When the police arrived they learned that one family member was still in the house and police and the homeowner went into the house and were able to escort a 13 year-old boy out from a third floor bedroom.
The first firemen arrived at the scene in just 3 minutes, located the fire in the living room and quickly stretched their hoses inside. They found the fire next to the first floor fireplace and knocked down that blaze. However, using thermal imaging they quickly learned that the entire basement was in flames.
By then, crews from Hartsdale and Greenburgh had arrived and the men found heavy fire in the basement and also saw that the fire had moved up a wall of sheet rock next to the chimney, climbing all the way to the attic of the house.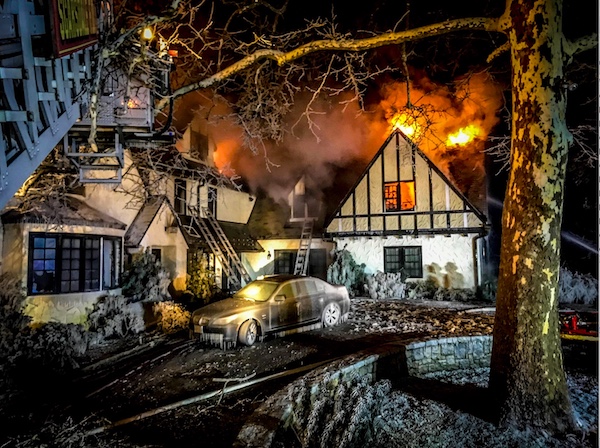 At this point, Seymour said they determined that the fire had spread to all four levels of the house and sent men to the basement, first, second and third floors to fight it. The house had many knee walls and concealed spaces that made it difficult to find the fire. They attempted to stop it from inside the house until 2 or 2:30 am when it was determined that conditions were rapidly deteriorating. Due to the thick smoke and dangerous conditions, Seymour ordered the 16 to 25 firefighters who were inside to get out of the building.
After 2 pm, the firefighters attempted to stop the fire from outside the house. But frozen water lines and hydrants diminished their success. The men were eventually able to find a working hydrant with water from another source at the end of the Murray Hill Extension. They strung 1,500 feet of hose from that hydrant to the house.
Seymour said that fighting the fire from outside was difficult because they were "chasing it blindly," unable to see the source of the flames until they eventually leapt out of the third floor windows and roof.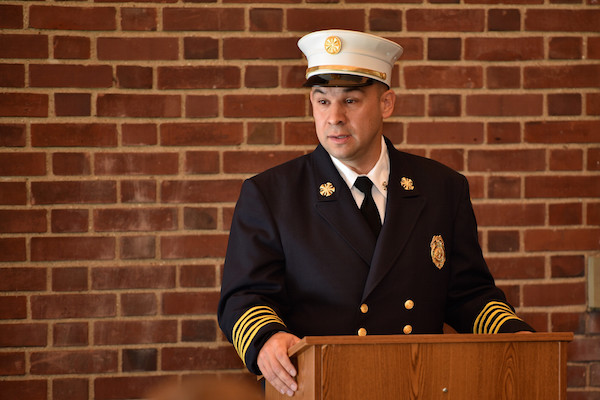 Scarsdale Fire Chief Jim Seymour
The first team of eight firefighters from Scarsdale were joined by teams from all over the county. Seymour said they had 70-80 people all together, including career and volunteer firefighters who were cycled through due to the freezing cold, fatigue and icy conditions. The team realized they needed a bus to warm the freezing crews, and a school bus arrived from Buchanan and Beeline provided a bus as well. Yonkers sent a mini-bus and the Fairview Fire Department produced a 15 passenger bus, which all proved useful during the long night. Firefighters also warmed up in ambulances dispatched by the Scarsdale Village Ambulance Corps. They were unable to secure a Scarsdale school bus.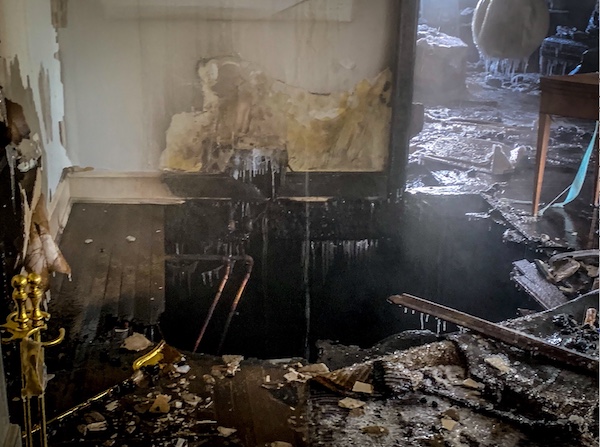 The fire was not under control until 9 am the following morning – and was not declared over until 4:30 pm that afternoon.
Many firefighters slipped or inhaled excessive amounts of smoke but refused treatment, but three were evaluated by SVAC and sent to the hospital. They were treated and released later in the day. There were no serious injuries.
The cause of the fire is under investigation by the Westchester Causes and Origins team and Seymour believes it began in the living room fireplace. He said the family did report lighting a fire in the fireplace the night of the fire.
What can we do to prevent a tragedy like this one? Seymour said it was good that the house was armed with smoke alarms which detected the fire and woke the family. He advised residents to have their chimneys cleaned and fireplaces checked annually and to have an agreed upon meeting place outside the house in case fire does break out.
Seymour does not believe that the house at 72 Mamaroneck Road can be salvaged but says that's up to the insurance company. The family left without any personal belongings and even the cars they had parked in front of the house are now encased in ice.

Photos courtesy of the Scarsdale Fire Department.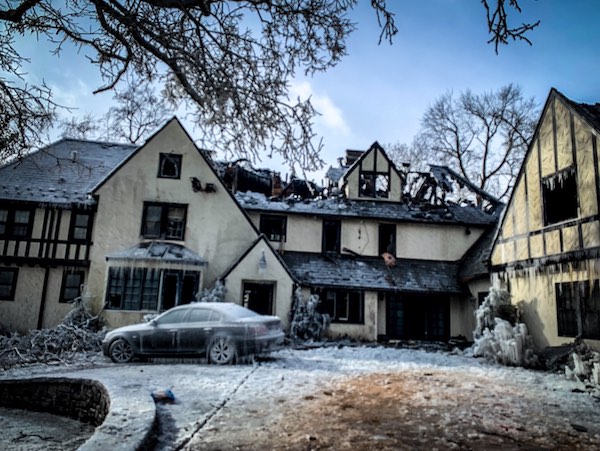 Former Scarsdale Bowl Recipient Eleanor November Passes Away
Details

Written by

Joanne Wallenstein

Hits: 2360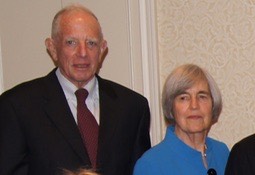 Robert and Eleanor November at the 2015 Scarsdale Bowl AwardsEleanor Tripp November passed away January 30, 2019 at her home in Rye, NY, to which she and her husband moved from Greenacres six years ago. She and her husband Robert were the recipients of the Scarsdale Bowl in in 2001. The bowl Committee recognized her many volunteer activities in her then 36 years in Scarsdale.
They included President of the Greenacres PTA and Secretary of the PT Council, Chair of the Task Force on Drugs and Alcohol, President of Scarsdale-Edgemont Family Counseling, service on many village advisory boards, including Environmental Preservation (chair) Advisory Committee on Youth and Advisory Committee on Human Relations. She started teaching Living in America an English as a second language program for international women at Hitchcock Church in 1977 and became the coordinator of the program in 1988.
Mrs. November was a member of Hitchcock Church for 47 years, and an elder, deacon and the chair of the Mission Committee and other committees.
After graduating from Smith College Mrs. November studied at The London School of Economics, earned a Teachers Training Certificate from The Shady Hill School in Cambridge, MA and an MA in history from Columbia University. She taught at Shady Hill School for several years and after receiving her Columbia degree, authored "To America", a supplementary middle school textbook published by Harcourt Brace.
Mrs. November was an enthusiastic skier, tennis player and sailor as well as a devoted wife, mother and cook, well known for her chocolate chip cookies.
She leaves her husband Robert, sons Peter (Elana) and David (Megan) and grandchildren Zachary, Lucas, Hadley and George November. She is survived by her brother James TB Tripp and sister Frances Hawke and was predeceased by her brother William V Tripp III.
There will be a memorial service at Hitchcock Presbyterian Church at 2 pm on Sunday, February 3, 2019. Contribution in her memory may be made to the Living in America Program of Hitchcock Church or to Scarsdale-Edgemont Family Counseling Service.
Get in the Game: Scarsdale Invites Residents to Apply for Boards and Councils
Details

Written by

Laura Halligan

Hits: 5544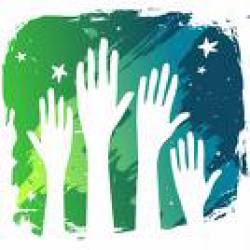 It's that time of year again. The Scarsdale Board of Trustees' Personnel Committee is making its annual appeal for residents to apply for open positions on Scarsdale boards, councils and committees. While vacancies occur from time to time throughout each year, most volunteers begin their terms in early April.
Putting Ideas to Work
The village boards and councils provide residents with real opportunity to take an active role in shaping Scarsdale government policies and programs. Working with village staff and trustees, these volunteer groups consider important civil matters such as property assessments, architectural preservation, local cable television programming, sustainability, technology and recreation.
Some boards, councils and committees are "decision making" bodies that independently review resident applications and requests for approval or revision (such as the Scarsdale Committee for Historic Preservation), while others are "advisory" in nature, and review issues referred by the board of trustees and provide advice to assist in creating policy (like the Scarsdale Advisory Council on People With Disabilities). Ad hoc committees, dealing with timely issues such as food scrap recycling or LED streetlights, research and review specific matters to provide actionable recommendations to the village board.
To offer residents with additional information about Scarsdale boards, councils and committees, village administrators, with assistance from the newly minted Advisory Council on Communications, recently launched a revised and expanded "Volunteer Opportunities" section of scarsdale.com. Click here to volunteer.
Residents now can access general information about each body, such as meeting schedules and time commitment. Expanded descriptions for specific groups, lists of current members, and relevant documentation also are available. In addition, interested individuals can apply online to join the board, council or committee of their choice. All residents are invited to review the information and consider putting their ideas to work for the Scarsdale community.
My Two Cents
For years, our local government has benefitted from the efforts of resident volunteers in creating plans and programs for the village. Those with a strong interest in civic affairs should add their voices to conversations about Scarsdale's future. Community input is what makes government effective, responsive and inclusive in resolving problems, addressing current needs, expanding successful programs, and preparing for what lies ahead. And, getting in the game does more good than playing armchair quarterback. Check out how you can make a difference.
The Basics
When applying for membership on Scarsdale's boards, councils and committees, applicants should consider the following criteria:
Residency
Scarsdale boards, councils and committees are comprised of village residents. While comments from those outside the community may be sought as needed, actions recommended or taken by these groups should ultimately reflect the views of Scarsdale residents.
Professional or Business Affiliation
In some cases, specific professional skills and/or training are required by Scarsdale Village law or deemed desirable by the Scarsdale Board of Trustees for the successful fulfillment of some board, council or committee charters.
Civic Interest and Involvement
Many members of the village boards, councils and committees are appointed due to demonstrated interest in Scarsdale affairs. Since the overriding purpose of these bodies is to assure the continuation of high community standards, it is appropriate that members be those residents who have shown a willingness and initiative to work in support of this objective.
Specialized Knowledge
Certain boards, councils and committees benefit by having one or more members with specialized knowledge. Individuals with specific industry or work expertise are encouraged to apply for membership in groups where they can have the most impact (e.g., those with real estate experience would be suited for the Scarsdale Town Board of Assessment Review).