Esurance Donates Car to Scarsdale Police Department
Details

Written by

Joanne Wallenstein

Hits: 2279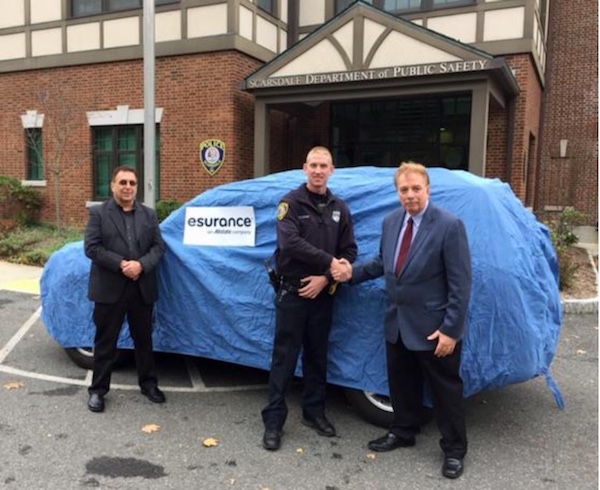 Esurance has donated a car to the Scarsdale Police Department to be used for undercover police operations. This vehicle will assist the Scarsdale Police Department in undercover patrols and crime prevention operations. The car is covered so that it will not be recognized when used for surveillance and undercover operations.
Pictured above from left to right are esurance Senior SIU Major Case Investigator Michael Sepanara, Officer Michael Coyne who accepted the donation on behalf of the police department and esurance SIU Investigator John Ferris.

The Scarsdale Police Department would like to thank esurance for this generous donation.
Flywheel Charity Ride Honors Doctor Slain in Pittsburgh
Details

Written by

Joanne Wallenstein

Hits: 1744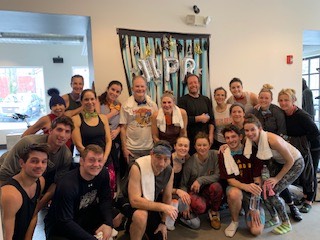 A former Scarsdale resident wanted to do more than mourn one of the victims of the tragic shooting at the Tree of Life Synagogue in Pittsburgh on Saturday October 27. Leslie Berkowitz decided to organize a charity ride at the Flywheel Studio in Scarsdale to honor Dr. Jerry Rabinowitz, who was the husband of one of her oldest friends, Miri Rabinowitz. Berkowitz knew Dr. Rabinowitz since he and Miri met in Pittsburgh in the early '90's.
Berkowitz learned that Jerry had arrived at synagogue early on Saturday morning 10/27 as he did every Saturday, to set up for a Torah study session. When he heard gunshots, he ran out of the safety of the Rabbi's study, to offer help to those who might be wounded and in need of care. Jerry's immediate decision to risk his own safety resulted in his death; he was gunned down in the hallway, by a murderer who entered the synagogue shouting, "All Jews must die". However, no one that knew Jerry was surprised to hear that he had run towards the shots; not only was he a physician, who had practiced Family Medicine for over 30 years in Pittsburgh, he was a kind and compassionate man, whose greatest accomplishments were the relationships he developed and cherished, with family, friends and patients.
Why a charity ride? Jerry was an avid cyclist. After diagnosing one of his patients with multiple sclerosis many years ago, he made a commitment to raise money to search for a cure, by riding in the annual 150 mile, 2-day, MS ride. Since 1996, Jerry completed 21 of 22 rides, raising over $16,000 for the MS Society.
Berkowtiz saw the headlines that there were multiple fatalities in the Tree of Life Synagogue when she finished her usual Saturday 9:30 Flywheel class. Fearing the worst she shared her concern that friends Miri and Jerry Rabinowitz, were members of a Congregation which rented space in that Synagogue. Berkowtiz was overwhelmed with the kindness and compassion of everyone she spoke to that morning, and decided to honor Jerry with a ride at the studio.
Twenty riders joined Berkowtiz at the studio on December 9 wearing bow ties (Jerry's signature look). Fly Wheel's Eve Bondareva led them with a playlist of hits by Bruce Springsteen, The Stones, the Bee Gees, Paul Simon, and Billy Joel (just to name a few). The energy was high and they raised $3,150 for the National Multiple Sclerosis Society in Jerry's honor.
To donate to the Multiple Sclerosis Society in Jerry's name, please click here and follow the instructions on the MS Society website.
Shop & Dine the 'Dale December 6-8
Details

Written by

Joanne Wallenstein

Hits: 2875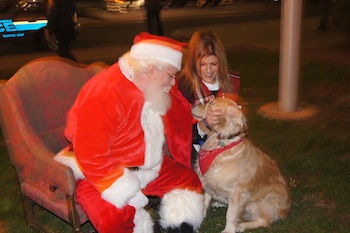 The Scarsdale Business Alliance (SBA) is proud to announce its First Annual Holiday Shop & Dine the 'Dale, Thursday, December 6th through Saturday, December 8th (with extended evening hours until 8pm on Thursday).

Over 35 SBA merchants and restaurants from Scarsdale Village, Golden Horseshoe, Five Corners, Colonial Village, Scarsdale Commons, Garth Road and Scarsdale Avenue will be participating in this community-wide event.

The SBA will hold a collaborative grand raffle with gift cards to your favorite stores and restaurants. Make a purchase at a participating store or dine at an SBA establishment to be entered into the raffle. The more local businesses you patronize, the more chances you have to win! In addition, some of the participating merchants will be offering in-store incentives and/or discounts during this three day event.

There will be live musical entertainment in Scarsdale Village on Thursday evening December 6th, from 6pm - 7pm, and during the day on Saturday, December 8th from 12pm - 2pm. New Orleans Renaissance is a collection of outstanding brass musicians currently living and performing in New York City. They can be heard at venues throughout the metropolitan area. Come hear some wonderful holiday sounds that are sure to make your shopping season one to remember.

There will be family-friendly activities on Saturday, December 8th at Space NK in Scarsdale Village from 11am - 2pm. Music Together, an internationally recognized early childhood music program, will be hosting a free class from 11am - 12pm. Music Together is primarily for children from birth through kindergarten age - and the grownups who love them! - But, older children do enjoy singing the songs and playing the instruments, too. Research-based and developmentally appropriate, the Music Together curriculum helps families, caregivers, and early childhood professional rediscover the pleasure in and educational value of informal musical experiences.

There will also be a Ukulele Holiday Strum and Sing Along (a Starlight Starbright Music Offering) on Saturday from 1:15 pm - 2pm. BYOU - Bring your own uke! For kids and adults.

From 12pm - 2pm on Saturday in Space NK there will be additional activities and art and crafts for families to enjoy.

Participating merchants as of November 26th: Bango Bowls, BLVD, Bronx River Books, Coldwell Banker, Current Home, Daniele Trisi, Eye Gallery of Scarsdale, Great Stuff, Greenwich Medical Spa, Haagen Dazs, Holsten Jewelers, Houlihan Lawrence, I Am More Scarsdale, Julius Michael, La Dentelliere, Langes, Learning Express, LF Stores, Martine's Fine Bake Shoppe, Meritage, Mixology, Nordic Edge, Pamela Robbins, PlushBLOW Scarsdale, Popojito, Rothmans, Rudys Music, SoulCycle Scarsdale, The Bar Method, Trapp Opticians, Via Forno, Vintology, William Raveis Real Estate, Wilson & Son Jewelers, Wyatt Lilly, Zachys Wine & Liquor.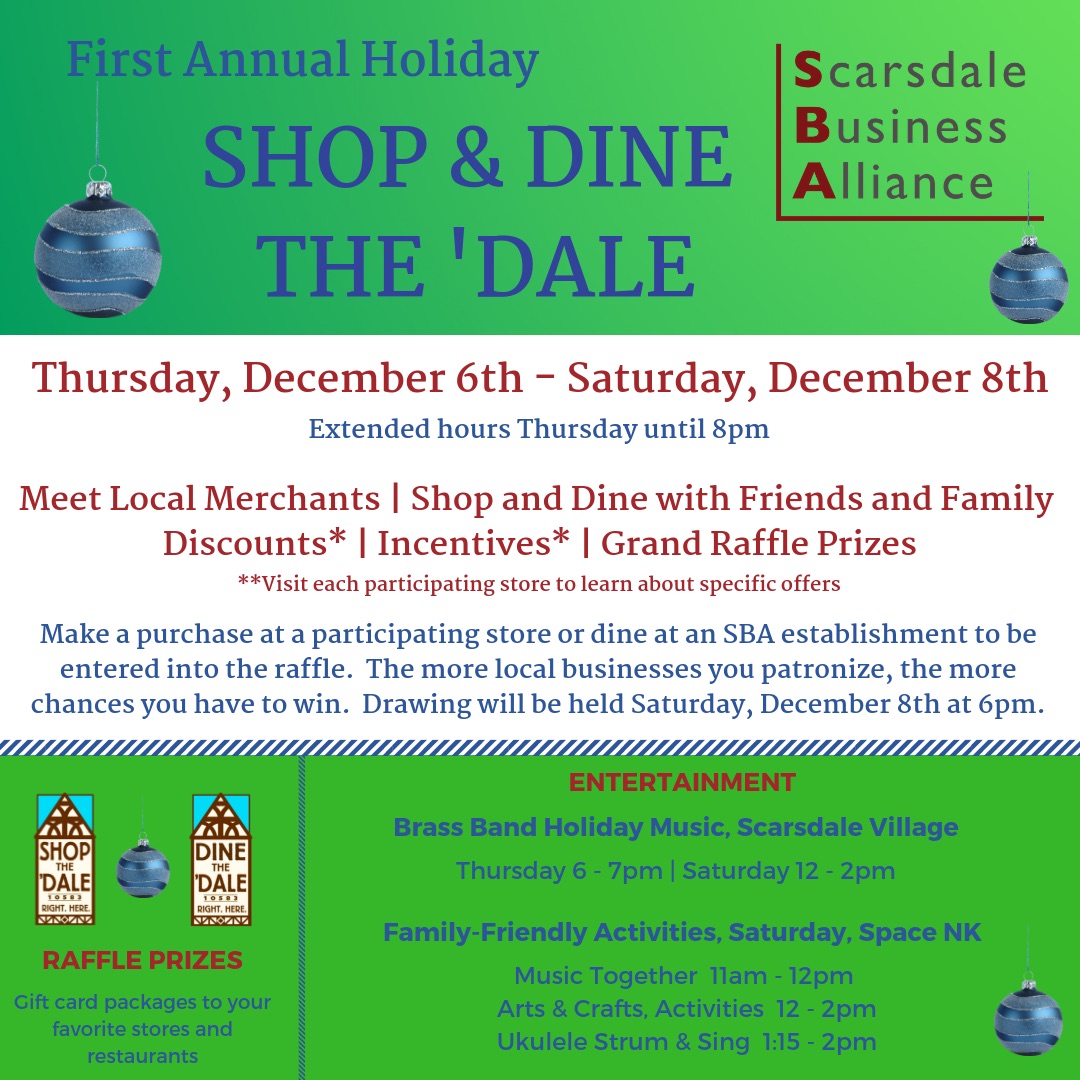 The SBA is a new, non-profit organization dedicated to supporting the Village of Scarsdale and its local businesses. The SBA was created to foster cooperation and innovation amongst these local businesses. Scarsdale is fortunate to have many large independent, successful retail businesses along with new emerging entrepreneurial ventures. There is also a robust contingent of realtors, banks and independent practitioners throughout the area that support the community. The SBA looks to combine all of these elements, and work closely with Village government to improve Scarsdale and create a vibrant downtown.

Jane Veron, Scarsdale Village Trustee and SBA Liaison said, "In virtually no time, the newly formed Scarsdale Business Alliance, with its professional Executive Director and top notch Board, has created a purpose-driven, high growth organization of dedicated merchants and service providers. The SBA has energized around a central theme, to make Scarsdale the preferred place for shopping, dining and gathering. This Holiday Shop and Dine event delivers on their promise. With extended hours, entertainment and special offers, this event brings relevance, value-added service and community building to our local retail hubs. The SBA also provides a voice for the business community as it collaborates with the Village government on a range of policy issues."

Please follow the SBA on Instagram at @scarsdalebusiness.

For more information please contact Darci DeMatteo, SBA Executive Director, or visit our website.

Obituary: Carmela Maria Guerney at Age 61
Details

Written by

Joanne Wallenstein

Hits: 2477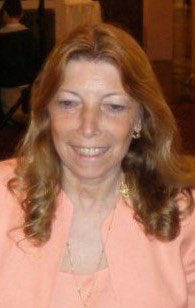 It is with great sadness that the family of Carmela Maria Guerney (nee Meccariello) of Scarsdale, NY announce of her passing on December 7, 2018. She was born on August 5, 1957 in the Dominican Republic to Felice and Immacolata (nee LaPietra) Meccariello. Carmela will forever be remembered and is survived by her adoring husband and college sweetheart of 31 years Dennis Guerney, by their precious children Katherine and Caroline Guerney, her sister Marianna Meccariello, her sister-in-law Denise Carbone, her brother-in-law Michael Carbone and their children Matthew and Lauren.
Carmela will also be forever remembered by her extended family and dear friends.
She was predeceased by her son Christopher, her mother Immacolata and her father Felice.
The family will receive friends at the Westchester Funeral Home, Inc. Eastchester on Wednesday - December 12, 2018 from 2-4 and 7-9 pm. A Mass of Christian burial will be held on Thursday - December 13, 2018 at 10:00 am at Immaculate Heart of Mary Church, Scarsdale. Interment to follow at Gate of Heaven Cemetery, Hawthorne NY.
In lieu of flowers, donations can be made to the American Heart Association and at the request of Carmela's family to please consider organ donation.
To sign the online guest-book, please visit www.westchesterfuneralhome.com.
Westchester Funeral Home, Inc. 190 Main Street Eastchester, NY 10709 914-337-4585
Not in My Backyard: Residents Growl About Proposed Dog Park
Details

Written by

Joanne Wallenstein

Hits: 5092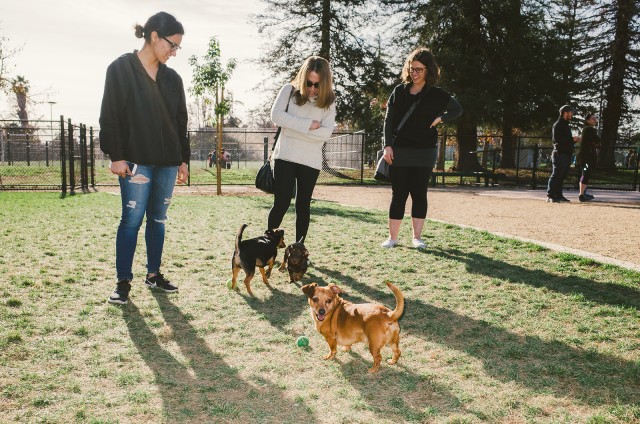 A dog park may not be in the stars for Scarsdale. At a heated public forum on Tuesday November 13, scores of residents came out to voice their objection to the location of a dog park at Weinberg Nature Center, at Drake Field and at Crossway.
Their objections started with concerns about the proximity to their own backyards and extended to fear of parasites, wildlife preservation, potential litigation, children's safety, parking traffic and unwarranted spending.
The response was so negative, that by the end of the meeting it was difficult to understand how the proposal had come this far.
As background, both the Scarsdale Forum and Scarsdale Neighborhood Associations Presidents (SNAP) had issued reports asking the Village Trustees to look into building a dog park in Scarsdale. Both reports extolled the many benefits of dog parks for dog owners and dogs alike. The SNAP report called a dog park a "much-needed amenity" for the Village of Scarsdale and asked the Village Board to "consider the establishment of a dog park in an appropriate location."
The Scarsdale Forum report concluded by saying, "The availability of a dog park in the Village is of interest not only to many of the 418 registered dog owners in Scarsdale, but also to others who would have to register their dogs if a dog park were made available, a not inconsequential benefit to the general public health and welfare. "However, the Forum report did note that siting the dog park could be a challenge, saying, "The issue of the location for the dog park will be of primary interest to neighborhood residents."
Following these recommendations, at their September 25 meeting, the Scarsdale Board of Trustees approved a resolution to "identify a qualified vendor for the development of dog park plans and specifications, as well as to complete any necessary environmental review, with such proposal for services to be presented to the Village Board at a future Recreation Committee meeting where consideration of park feasibility will continue."
However, rather than simply identify a consultant, it appears that the Village retained consultants JCY to examine the feasibility of a dog park at Weinberg Nature Center, which the Mayor said posed the most challenges and therefore required professional expertise. At the opening of the meeting on November 13, residents wanted to know why Weinberg was the only site studied and why Village Managers had not followed the Board's instructions.
Lucille Munz from JMC Planning presented the findings of their study on the feasibility and costs of a dog park at the Weinberg Nature Center. They examined the compatibility of the site with existing uses and adjacent uses, its impact on vegetation, wetlands, visuals and noise. They studied Rumbrooke Dog Park and Yorktown Dog Park to understand usage and parking needs. They determined that 40 parking spaces would be required to accommodate peak usage from 9-3 on weekdays and on weekends.
They recommended that the park be 100 to 200 feet away from homes, that the site have potable water and that the site be relatively flat and at least 1 acre. JMC was only able to identify three quarters of an acre at Weinberg that was flat and met the necessary setbacks from homes and wetlands.
Considering Weinberg, Munz found that the site vegetation was primarily invasive species such as Norway maples, burning bush and ivy, and estimated that to build a dog park 27, 16-caliper invasive trees would need to be removed, 1.75 acres would be disturbed and 15,000 square feet of impervious surface would be lost.
She recommended that 25 additional parking spaces should be built, adding to the already existing parking lot that runs along Mamaroneck Road.
The total cost for items such as tree removal, land clearing, grading, drainage, wood chips, planting of evergreens, construction of gravel paths and parking, fencing and a key fob system was estimated at $361,850, with annual maintenance costs of $9,200. These estimates were far higher than expected and some of the costs were related to specific conditions at the Weinberg Nature Center.
Munz also noted that potential affects of a dog park included increased traffic mostly on weekend, impact on nature center activities and the Leatherstocking Trail connection and noise disturbance due to increased visitors.
Trustees were invited to comment first and Justin Arest said, "The Board was clear that no contracts should be issued by village staff. It is unclear as to how we arrived here – with an executed contract – and I intend to look into this…The board needs to hear from the community that this is wanted and desired. Even if you are here to speak about one site, please also give your thoughts on a dog park in general. Where is this money coming from in the current climate? Should we consider a public private partnership? Is there grant money available? Can permits help offset the costs? How many dogs are there in Scarsdale? How will we staff the park? How will we enforce use by those who have permits?"
Jane Veron echoed Arest's concerns about the consultants and added, "I am very interested in hearing from the community. We received a Forum report and SNAP commentary."
Carl Finger said, "I think this report gives us something to chew on. We need to see if there is significant support for a dog park. What are the costs for a less challenging site? How does this compare to the Weinberg costs? Anyone in the abstract would like a dog park. When you get down to the site and the costs it is more difficult to reach a resolution. I have significant concerns about the site."
Seth Ross said, "We have not found a location that the community can get around. Weinberg seems like a less than ideal site. I think there will be similar objections to other sites. Another factor is size. It's optimally an acre or more but at Weinberg we have ¾ acre and the topography is not ideal. I don't think we are far along in the process of agreeing to go forward."
Lena Crandall said that the President of the Weinberg Nature Center had written a letter saying she is concerned from a scientific perspective. Disease could be transmitted between dogs and wildlife. She is concerned about coyotes and strongly opposes the idea of mixing wild and domestic animals. Crandall also had a response from a realtor who feels that a dog park would enhance the community.
The Board then invited the public to speak and a long line formed. Speaking at length, Sabine Bochner of 1 Barker Lane called the dog park "a horrible nuisance." She said that Weinberg is already an active place and feared that the dog park would cause cars to "spill out onto Barker Lane," and "impact traffic going to the Hutch." She questioned the estimate of $9,200 to run the park and warned, "If the dogs fight, owners will sue the village. There will have to be someone there enforcing usage."
Melanie Spivak, the President of the Quaker Ridge Neighborhood Association said she is "in support of a dog park but not at Weinberg Nature Center." She said, "I love that I can see wildlife in our neighborhood. As a member of SNAP I endorsed a dog park – but it has to be the right location." She said the Weinberg Nature Center is a "sanctuary for animals and a place to enjoy peace and beauty." She feared that "more trees will be taken down," and called the traffic
'problematic."
The President of Bronx River Audobon called Weinberg Nature Center "a living memorial," that was opened in 1958 as a wildlife preserve and should stay that way." Discussing the dog park at Ward Acres he said, "Birding has stopped because the dogs chased away the birds."
Residents also objected to a dog park at Drake Field. Tom Wilentz said, "I am alarmed at the thought of a dog park in Drake Field. I don't believe there is a 200-foot buffer. It is a multi-use park. If it were turned into a dog park it is only 1 acre – that would be it for Drake Field? This is not an ecologically friendly idea."
Gregg Schwinn of 49 Barry Road said, "I am against a dog park at Drake Field or anywhere. My area faces flooding and sewer back ups. The idea of spending $60,000 or $360,000 at a time when we have sewage backing up into people's houses makes me wonder why this is on the table. If we have 422dogs in Scarsdale, that's not a high percentage of dog ownership. Who would pay for this? Some won't take the dog to a dog park – people are afraid of their dogs getting sick. Why not look at something everyone could use?"
Anu Ramachandran of 3 Barker Lane said he lives across from the nature center. He said, "We took our dog to the dog park but she was injured. I heard the study was of many sites. Now I am alarmed – you have commissioned a study of one location. I am concerned that a judgment has already been made. Quaker Ridge is the home for an enormous number of activities. Golf courses, the pool, Crossway Fields… We have enormous traffic on Mamaroneck Road. There is a good chance that I will get into an accident. It takes 3-4 minutes for us to exit our house."
Sarah Bell, President of SNAP and the President of the West Quaker Ridge Neighborhood Association said she had many letters from residents to read. She said, "SNAP favored the village researching the feasibility of a dog park. Ultimately they did not recommend any one location. SNAP thought this meeting should be adjourned to get information about the other sites."
Mayor Dan Hochvert asked her not to use up all the remaining time but she continued, "Jeremy Gans, President of the Scarsdale Youth Soccer Association is opposed to using Crossway for a dog park as it competes with those using the field for sports." Adding her own opinion she said, "Crossway is also inappropriate."
Sarit Fuchs 2 Penn Blvd said, "I am not in favor of a dog park at Crossway. It's a busy place and there are lots of kids. Weinberg not an appropriate place."
Maura Mandrano a three-year employee of the nature center said, "I object to the idea of a dog park at the nature center. I love dogs – it's not that. I am a wildlife rescuer. I looked for a release spot to release wildlife – it was a perfect place for squirrels, opossums, birds. The spot for the dog run is far from the parking lot. There is a tendency for people to leave the dog off leash when they are going to and from the pen. They will impact the wildlife. Weinberg has programs for children
Kids are out on the trails all year round."
Roger Pellegrini of 22 Drake Road said, "I am surrounded by Drake Park. Turning my house into a dog park would make it uninhabitable. I am a dog owner. In theory a dog park is a great idea. I went to Ward Park – it's a dust bowl – and every time you go there is a fight."
Fred Green of 459 Mamaroneck Road said "I am a dog owner and a lifetime Scarsdale resident. We should use taxpayer funds to enhance the community. People move here because of the schools and the fields. They don't move here for a dog park. When the tax burden is this high we should invest in enhancing the community. If we have funds for a dog park, let's revisit the tax rate. There is litigation around dog parks. They fight with each other and bite people. In the abstract it's a nice idea. We are not desperately in need of a dog park. But we are in need of infrastructure."
Bob Berg, who was one of the authors of the SNAP report said, "We recommended that this meeting be adjourned. We asked that the Village study the issue. We wrote a report explaining the positives of a dog park. Because you focused on Weinberg, people have come out to object to it. Why not have the consultant do a study of all the sites? Let's see if there is a suitable place? The actual costs should be lower and fees should cover them. Dog parks are not crazy zones where dogs attack each other. A Scarsdale facility will be well run and supervised by friends of the dog park.
Instead of having hysteria lets have the consultant analyze it. I don't see this as a major expenditure. It upsets me that we spent $50,000 on a tennis court."
Rich Schechner said, "I have a petition signed by 33 residents against a dog park at Drake Park. We are opposed to a dog park. Montgomery Road is the parking lot for Edgewood School. Any added spaces will not change the traffic on Montgomery Road. Houses on Montgomery all get run off from the park – if you change the surface it will run off – and have a potential problem of parasites. There are other areas that would be better suited. There is currently no parking at Drake – take it off the list tonight."
Tom Giordano quoted the September 28 issue of the Scarsdale Inquirer which excerpted the Forum report on a dog park. It said, "Finding a location might be very difficult to solve….no matter how well suited, the residential owners will be upset."
He asked, "Why create all this turmoil for a dog park? Let's concentrate on other important matters."
Allison Park said, "I am opposed to a dog park, primarily because of parasites. Parasites would get into water."
Gwen Horn of Stratton Road is a fan of dog parks. She said, "I frequent Ward Acres. I have wonderful experiences there. It's a great way to keep people in the community. It brings people together."
Stuart Katchis of 2 Barker Lane said, "Why don't you partner with neighboring communities that have one. Let us register there and defer their expenses. Let's use things in other communities."
Ron Parlato of 1 Sherbrooke Road said, "I own the 10 acre site next door to the Weinberg. When I did my DEC updates they found the American beaver swimming in the 2.7 acre pond. What did the Weinberg family dedicate and donate this park for?
As time ran short before the start of the Board of Trustees meeting, the Board invited speakers to continue during the public comments portion of the regular meeting.
As one speaker said, "Don't' ask people if they are in favor of a dog park. Ask them if they favor a dog park in their own backyard." With NIMBY concerns ruling the night, it was doubtful whether the Trustees would continue to pursue the creation of a dog park. There appeared to be no location that would not upset someone.