Two Greenacres Fifth Graders on Broadway National Tours
Details

Written by

Joanne Wallenstein

Hits: 4068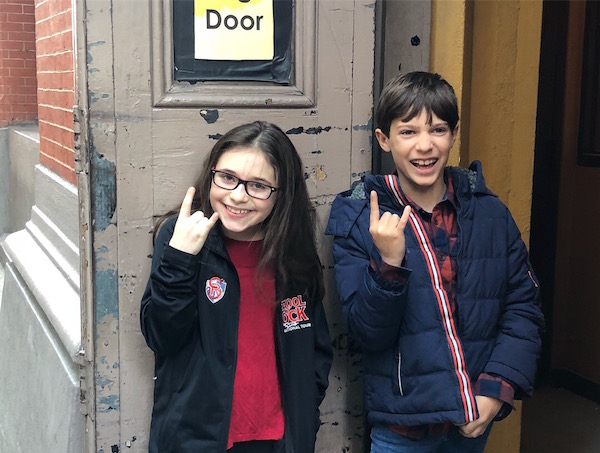 Alyssa Marvin and Caleb PaulTwo Greenacres Elementary fifth graders, , won't be attending any classes this year. Instead, they will be traveling the country performing in Broadway National Tours.
Caleb will be performing as Peter, Jack and George in Finding Neverland. Based on the Academy Award-winning Miramax motion picture by David Magee, and the play The Man Who Was Peter Pan by Allan Knee, Finding Neverland follows the relationship between playwright J.M. Barrie and the family that inspired Peter Pan. Finding Neverland opened on October 2 in Hershey, Pennsylvania. The tour will hit approximately 90 cities in 40 states over the next 8 months including Washington DC, Worcester MA, and closer to home, New Haven CT (March 15-17, 2019), New Brunswick NJ (March 22-23, 2019), and Brookville NY (May 18-19, 2019).
Alyssa has been on tour with Andrew Lloyd Webber's School of Rock since February 2018, when she joined the tour to play the role of Marcy. Based on the hit film, this irresistible new musical follows Dewey Finn, a failed, wannabe rock star who decides to earn a few extra bucks by posing as a substitute teacher at a prestigious prep school. There he turns a class of straight-A students into a guitar-shredding, bass-slapping, mind-blowing rock band. Alyssa has already performed in more than 250 shows in 25 cities across the U. S. and Canada. The tour will travel to approximately 25 more cities over the next nine months, including Washington, DC, Boston and closer to home, Schenectady, New York (February 5-10, 2019).
Caleb and Alyssa, both 10, are best friends. They have performed together in several Greenacres school plays, including The Wizard of Oz in 2017 in which Alyssa played Dorothy and Caleb played the Scarecrow, and earlier this year Charlie and the Chocolate Factory in which Alyssa played Veruca Salt and Caleb played Charlie. Last fall, they performed in a regional theater production of Miracle on 34th Street at Yorktown Stage here in Westchester.
Life on tour is an entirely different adventure for Caleb and Alyssa. "I'm so excited for this adventure! I can't wait to see different parts of the country. This show is amazing and the cast and crew are fantastic," said Caleb. Caleb and Alyssa each travel with their mom, dad or grandma (who rotate between tour and home with their younger siblings), with visits from the rest of their families on school breaks and long weekends. Due to the demanding schedule which includes performing eight shows a week, school, travel, rehearsals, press events and, of course, seeing the cities they are visiting, they rarely are able to come home. Alyssa has come home for a single one week break since she left in February and approximately half a dozen single days when travelling between cities. Caleb has a scheduled week off in the spring and hopes to squeeze in some short visits home before then.
They each attend "tour school" during the day with tutors that travel with the shows to ensure they keep up with fifth grade work. Typically, they attend school for 15 hours a week anywhere from 3-6 days a week depending on the schedule of travel, shows, press and rehearsals, and school can take place anywhere from a hotel conference room to backstage to next to a pool to on a bus. Both children agree that the highlight of school on the road is weekly field trips to see the highlights of each city and learn about the places they are visiting.
When asked about some of the challenges of tour life, Alyssa said "Our schedule is jam packed with rehearsals, performing, promotional events, travel and going to school. I love all of it! The hardest thing is finding time to talk to my friends and family at home and I miss my brother and sister and dog Cookie a ton when they aren't travelling with us." This summer, Alyssa's younger brother and sister joined her and her mom on tour, which Alyssa said made it a "family adventure" and Caleb is looking forward to his family visiting over the upcoming holidays. This pair of best friends makes time to facetime each other (often late at night after shows) to talk and work on the plays they write together!
You can find out more about tour dates, including some upcoming in this area, at the tour websites: www.findingneverlandmusical.com and www.schoolofrock.com. Also, you can follow Caleb and Alyssa's adventures on instagram at @calebreesepaul and @alyssaemmarvin.
Announcing the Winners of the 2018 Halloween Window Painting Contest
Details

Written by

Joanne Wallenstein

Hits: 3810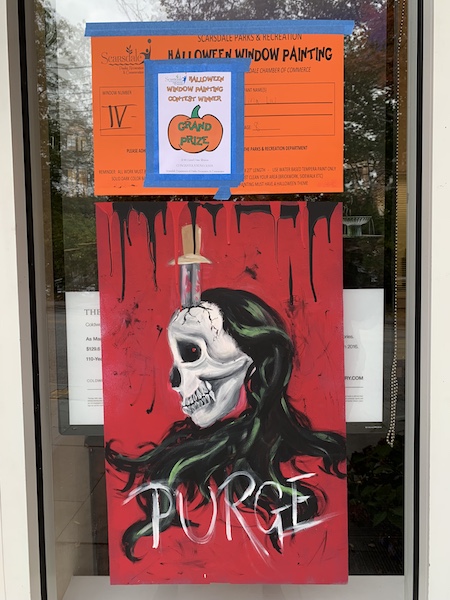 The Scarsdale Recreation Department has announced the winners of the 2018 Halloween Window Painting Contest that took place on Sunday October 21 at locations around town. The Village reports that 260 windows were painted and with team entries and parent-child windows, 600 people participated.

The Grand Prize winner was Olivia Liu with her painting titled "Purge" which was done at the office of Coldwell Banker.
The award ceremony will take place on November 1, 2018 in the auditorium of the Quaker Ridge School.
See the complete list of winners and the first place paintings below:

Group 1 Winners
1ST Weston, Finley Zachy's Liquor Store
2ND Friedland, Rebecca Pookie & Sebastian
3RD Israel, Ellis VACANT
MOST COMICAL Zitrin, Adena Rudy's Music
Group 1 Honorable Mention
Rieber, Eden Parkway Coffee Shop 1
Rudsenske, Whitney Pookie & Sebastian 7
Group II
1ST Koch, James Value Electronics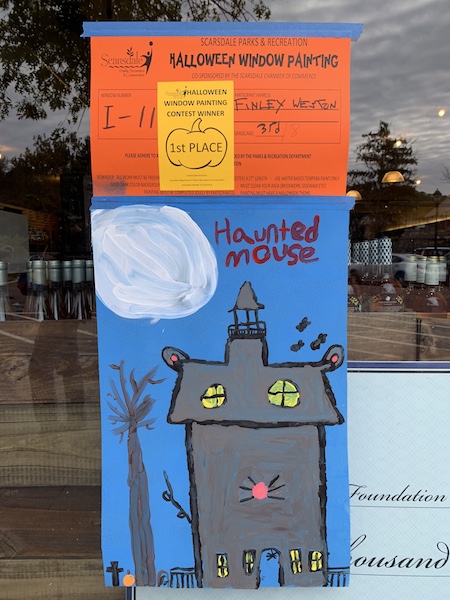 2ND Cecil, Michael Value Electronics
3RD Mazer, Lena Merle Norman Cosmetics
MOST
COMICAL Bennett, Daisy Douglas Elliman Real Estate
Group 3 Winners
1ST Dong, Joshua Lange's Deli
2ND Cecil, Elizabeth Bronx River Books
3rd Israel, Alexandra Learning Express

MOST COMICAL Bochner, Matthew Gregory Giliin
Group III Honorable Mentions
Luo, Sarah DeCicco's
Lenskis-Kristian, Lilah Learning Express
Rudsenske, Blair Learning Express
Hodes, Talia Great Stuff
Bochner, Sara Bronx River Books
Barro, Julia Lange's Deli
Culang, Camryn Lange's Deli
Liebman, Grace Parkway Coffee Shop
Group IV Winners
1ST Henry, Anna Henry's Barber Shop
2ND Pollack, Zoe Authentic Pilates
3RD Matula-Osterman, Claire Authentic Pilates
MOST
COMICAL Kristol, Zachary Authentic Pilates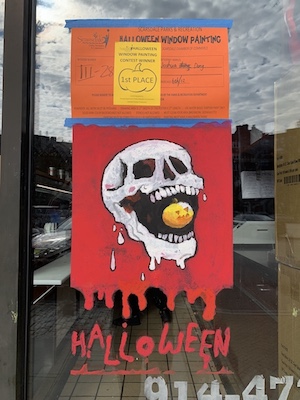 Group IV Honorable Mentions
Akbarian, Ava Scarsdale Hardware Company
Hanson-Carlson, Annika Authentic Pilates
Barro, Danielle Remax
Zik, Flora Remax
Group V Winners
1ST Stefanou, Anastasia Rothman's
MOST
COMICAL Kantor, Patrick Rothman's
Group VI Winners
1ST Daniel, Emma Gabrielle Daniel Vintology Wine & Spirits
2ND Detmer, Lucy Brooke O'Grady Heathcote Hand Laundry
3RD Etkes, Liam Elinor Etkes NuMint Nail & Spa
MOST
COMICAL Walker, Anna Layla Ghahremani Chase Bank
Group VI Honorable Mentions
Rifkin, Sabrina Tessa Berger Metro Deli
Fischer, Ivy Skylar Allen Jean Claude Hair Design
Group VII Winners
1ST Goldban, Natalie Sammy Goldban Embassy Cleaners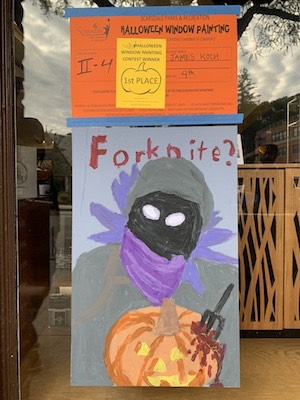 2ND Paquin, Ursula Ali Greco Bank of America
3RD Friedman, Greta Isabella Xirau Bank of America
MOST
COMICAL Mayer, Sarah Rachel Lucek Bank of America
Group VII Honorable Mentions
Shedroff, Kaitlyn Tara Bamji Bank of America
Arakawa, Alessandra Leah Im Embassy Cleaners
Brooke Goldstein & Julia Sobel
Group VIII Winners
1ST Kefer, Jordan Lily wise Spruce & Bond
2ND Dhiman, Maya Sarina Mehta Pookie & Sebastian
3RD Ji, Chloe Sonya Chen Sam Lehr
MOST
COMICAL Aldridge, Charlotte Ava Feldman Wyatt Lily


Group IX Winners
1ST Simon, Alexandra Olivia Liu Pure Hair Salon
2ND Feldstein, Anna Melanie Toubin Jade Spoon
3RD Cukierman, Maya Halle Jakubowicz A Touch of Polish
MOST
COMICAL Weiser, Lana Ariella Sobel A Touch of Polish
Group IX Honorable Mentions
Geringer, Ellis Carolyn Big Top
Geringer, Sydney Chase Big Top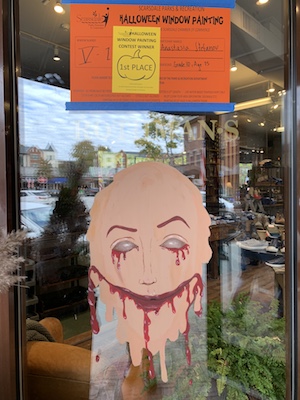 Group X Winners
1ST Kohn, Danielle Emily Messerle Framing @ Depot Place
2ND Kefer, Samantha Leah Breakstone Dunkin' Donuts
3RD Roberts, Eleanor Hadley Schwall Pizzarelli's
MOST
COMICAL Finegold, Sabrina Lydia Doherty Skinny Buddha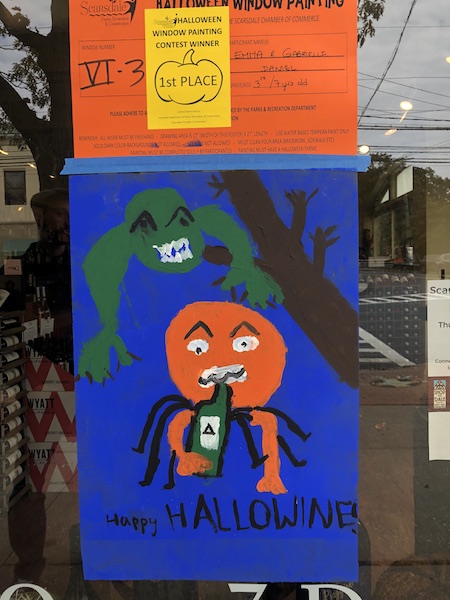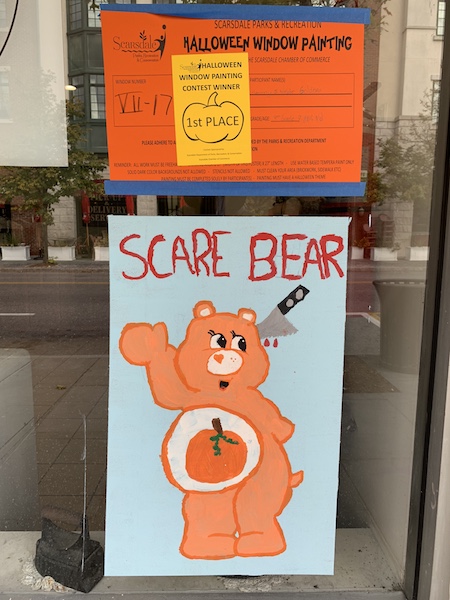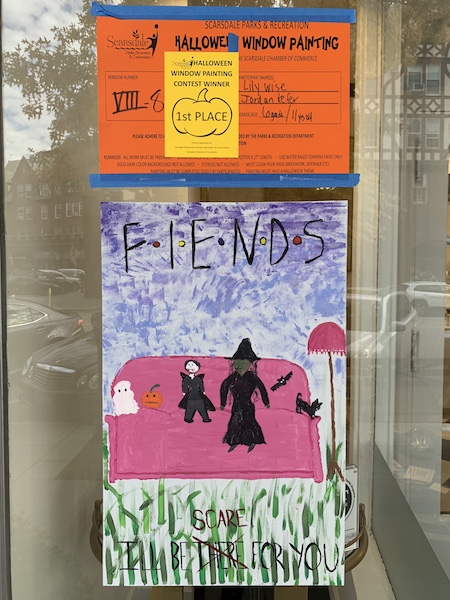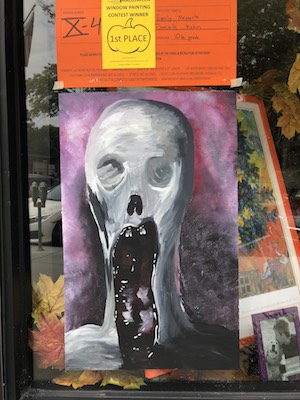 15th Annual Scarsdale Concours Draws Cars and People to the Village
Details

Written by

Sydney Albert

Hits: 1945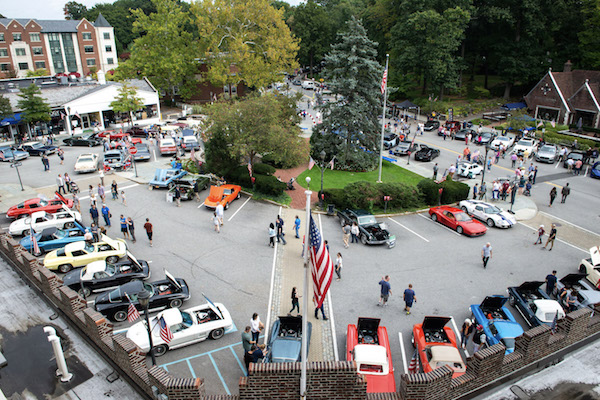 Around 130 cars filled the streets of Scarsdale Village on Sunday, October 7th for the 15th annual Scarsdale Concours D'Elegance. 103 cars were pre-registered for the show, and others drove to the show and entered their cars upon arrival.
The weather forecast played an important role in this year's show. The overcast skies and slight drizzle the morning of the show led many who pre-registered their cars to leave their special vehicles at home to avoid water damage. Consequently, some of the pre-registered cars were not present at the show. Many car owners wait until the day of the show to register their vehicle to ensure nice weather. Although clouds filled the sky on the morning of October 7, the weather cleared up for the afternoon and those who did attend the show were able to enjoy a sunny day.
The Scarsdale Concours D'Elegance is a charity event and all proceeds are donated to local organizations. Donations this year were record-breaking; significant funds were raised for the Scarsdale Volunteer Ambulance Corps, Scarsdale PBA, and Scarsdale Edgemont Family Counseling Services.
The vintage and exotic cars present at the show often have special meaning to their owners. Many vintage cars have extraordinary stories behind them, especially those that still belong to their original owners. Stuart Royal, a member of the Scarsdale community and owner of Royal Green Appliances in White Plains, enters his vintage car into the show each year. He is the original owner of a 1973 Volvo 1800 ES. This year, Royal was awarded the Preservation Award by the judges, which means that he has done an exemplary job keeping his car in great condition.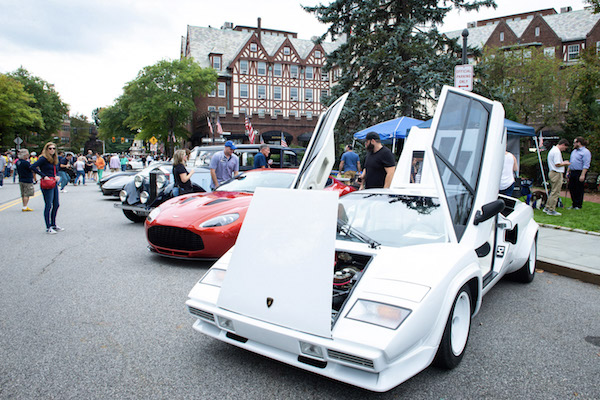 Royal originally bought the car in 1973 due to rising gasoline prices that made driving his previous car too costly. The Volvo, which Royal describes as a "muscle car," was much more fuel efficient. Royal immediately fell in love with the car, and still drives it 4-5 times a year.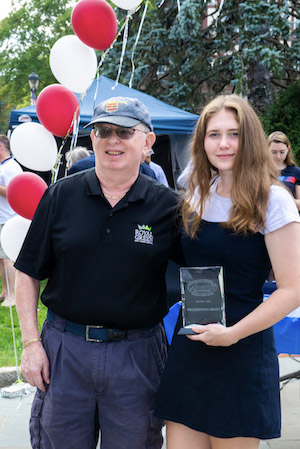 Stuart Royal Receives the Preservation AwardIn his 45 years as owner of this car, Royal has many memories that involve driving this special vehicle. The car holds a special familial importance since Royal met his wife while driving this car. He also recalls driving the car all the way to Milwaukee, Wisconsin for a car event. The car has maintained its functionality throughout the 45 years; Royal is proud that his vehicle has never broken down. "It is an amazing car," he says.
Memorable stories like Royal's are not uncommon at the Scarsdale Concours D'Elegance. The unique cars that are displayed each have a story behind them, which adds to their significance.
The show's spectators were impressed by the array of vehicles on display. While many visitors had attended previous shows, both newcomers and returnees enjoyed the day. The show's board members are proud that their hard work paid off and look forward to continuing this tradition for years to come.

Photo Credit: Andi Schreiber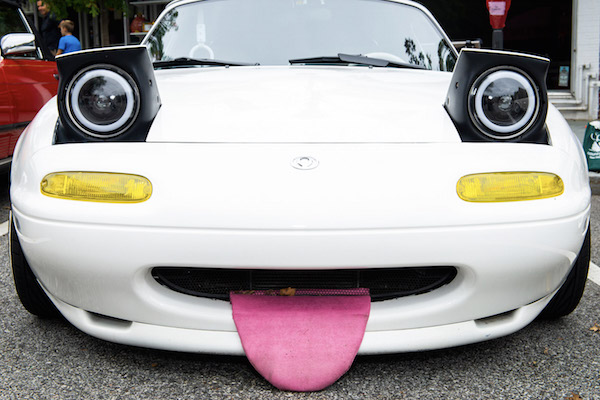 Make the Switch to a Smart Sprinkler Controller – Save Water and Save on your Water Bill
Details

Written by

David Fenigstein

Hits: 1753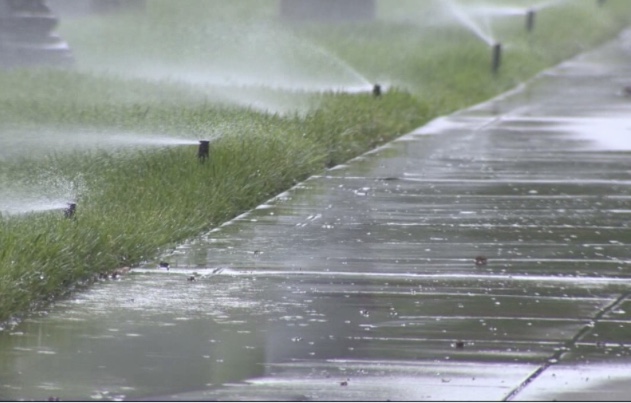 With all the rain we have been experiencing, our lawns certainly don't need any additional help from us. Yet how often do we see sprinklers running during or directly after a major rainstorm?
The lonely sprinkler controller, the box that houses all the wires and where you go to set up the time each zone delivers water, is probably one of the most overlooked and neglected of all the home systems. Probably for good reason, as most sprinkler controllers are considered "dumb" controllers – they so antiquated that programming and making changes to them is akin to working a VCR from the 80s. Most people set-it up one time, either when it was first installed or at the beginning of the season, to a certain schedule such as every other day or for certain days of the week and that's it. As the famous infomercial guy Ron Popeil would say, "set-it-and-forget-it".
If you have a rain sensor, a small device that mounts to your gutter and senses how much rain has fallen and then shuts off your sprinklers, then you are doing better than most. However while rain sensors are more effective than nothing and for a long time were the only option on the market, they are not without their own issues. First they don't shut the system down until a certain amount of rain has fallen such as 1/4" or ½" so you are still wasting water during a storm. Second they tend to have a short lifespan and go bad over time. If you don't have a rain sensor, you can add one which requires running a wire from the controller to the outside and up to a gutter for mounting, not exactly easy in most cases. Alternatively, wireless sensors are available, but these are expensive, require changing a battery every so often and still require wiring from the receiver to the controller.
If you have been thinking about conserving water or cutting down on your water bill and this all sounds hopeless, there is good news. There are new "smart" controllers that help make managing you sprinkler systems much easier. The real benefit and the power of these new smart controllers is that they connect to the internet via WiFi so they are able to receive weather forecasts in your local area. They know hours or even days before it's going to rain and will readjust your watering schedule accordingly. That means these smart controllers eliminate the need to have a rain sensor (although you can still use one if you have it already). I have been testing such a system for 2 seasons now and wanted to share my experience.
I chose the Rachio 2 which has been one of the best sellers on Amazon in this category. There are other brands out there but many of the mainstream sprinkler equipment companies such as Rainbird and Hunter are still playing catch-up in this space. Most function similarly but in my opinion the Rachio has one of the best and easiest interfaces. I bought the 16-zone version for around $200 (it also comes in an 8 zone). Rachio recently released a newer version 3, which has some nice additional features and I would purchase this one if installing one today.
I installed the Rachio controller myself and while I would consider myself handy and comfortable with electronics I think most people could tackle this project. All wires are low voltage and the power is disconnected during install so there is no chance of getting a shock. Labeling the wires before disconnecting from the old controller is the most important part. Rachio has great videos on their website as does YouTube to explain the process. If you are not up to the task, an electrician, handyman or sprinkler company can do it for you. A great time to think about swapping out your controller is right about now when they come for winterization turn off or spring turn on.
Once the new controller is in place all the magic happens through the app on your phone and the cloud. The controller has virtually no buttons, only a series of blue indicator lights showing connection status. After you've launched the app and made a connection between your home WiFi and the controller, your next step is to set up your zones and a schedule. When setting up each zone, the app asks for data such as the sun exposure, soil type, amount of slope and the type of grass or shrubs. (Don't worry its easy and the answers are multiple choice.) After you fill in these details you select the type of schedule you are looking for such as fixed, for specific days or flexible which will adjust accordingly based soil moisture from both past weather data and the information you entered for each zone. The algorithm in the flexible schedule helps to build the most efficient water saving routine possible.
The app lets you monitor how much water you are saving and stores all your zone and schedule information in the cloud so there's never a need to reset anything after a power outage. Also, I have it set up with alerts to tell me when a watering "skip" has occurred and it even tells me when it automatically performs a "seasonal adjust" for times when it's either very dry or very wet.
Overall, having a smart sprinkler controller has been one of the most useful and effective home devices I've ever installed. Since installing the controller I've reduced my water usage by 36% from my original schedule. My lawn also looks great. Overwatering your grass not only wastes water but is bad for the grass. Another benefit of a smart controller!!
While you still may not be excited about updating your sprinkler system, maybe you can get excited about the possibility of saving water, saving money, doing something good for the earth or at the least not being the person who's sprinklers are constantly running during the latest downpour.
I am happy to speak with and help anyone who is interested in this topic.
David Fenigstein
fenigstein.david@gmail.com
Edgewood Kicks Off Centennial Celebration
Details

Written by

Joanne Wallenstein

Hits: 1262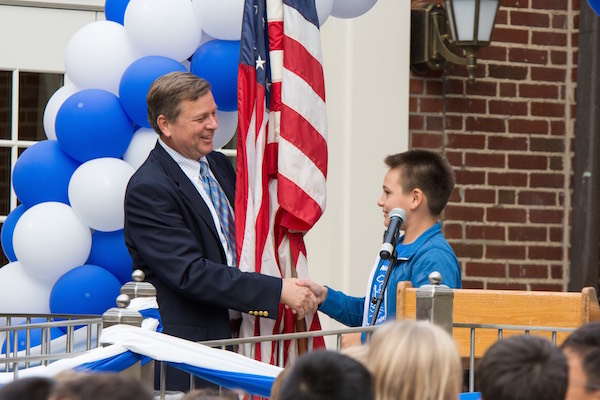 Edgewood Elementary School kicked off the commemoration of their Centennial year with a ceremony on Monday, September 24th to celebrate their new library. The ceremony began with the pledge of allegiance, followed by the singing of the national anthem by the 5th grade chorus. The student band accompanied the singing of the Edgewood School Song.
Speakers at the ceremony included the Principal Dr. Houseknecht, Scarsdale Mayor Dan Hochvert, school alum and Village Trustee Carl Finger, former teacher Dorothy Bench and a fifth grade student.
The annual school picnic followed the ceremony in the back of the school. It was a fun evening for all attendees!
(Photos courtesy of the Edgewood PTA)