Teen Drives Jeep Into DeCicco's
Details

Written by

Joanne Wallenstein

Hits: 6977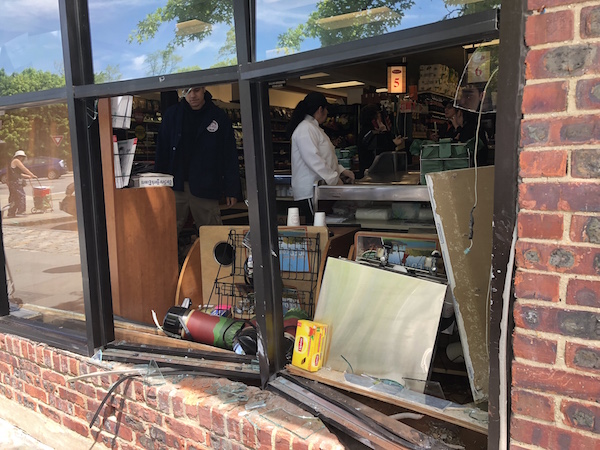 DeCicco's was hit hard by a Jeep, midday on Monday.Just before noon on Monday May 21, there was the screech of brakes, the sound of breaking glass and a loud boom in Scarsdale Village. Shoppers looked out their windows and saw a white jeep in the window of DeCiccos Market on East Parkway.
It turns out that a confused 16 year-old teen hit the gas pedal instead of the brake, jumped the curb and headed straight for the store in her 2018 Jeep Wrangler. The accident shattered the front glass windows and turned over the coffee station in front of the check out counters.

Fortunately no one was seriously injured though one of the workers at the check out was scraped and bruised and removed from the scene by Scarsdale Volunteer Ambulance Corps.
One shopper reported that surprisingly, the incident barely stopped any of the shoppers or workers in the store or on the street. After a moments pause, everyone was back to business.
This is not the first time a car was driven into DeCicco's. In July 2012 a 64 year-old woman drove her car into the windows on the other side of the entry to DeCiccos, breaking the plate glass windows, taking down salad dressing and mayonnaise and leaving the lingering odor of vinegar in the store. A 97 year-old passenger was in the car at the time.
(Photo credit: Susan Jureller)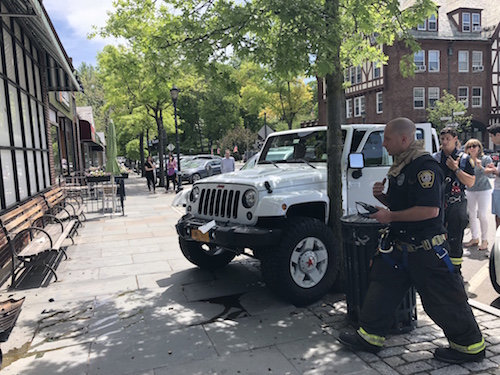 Police and SVAC rushed to the scene.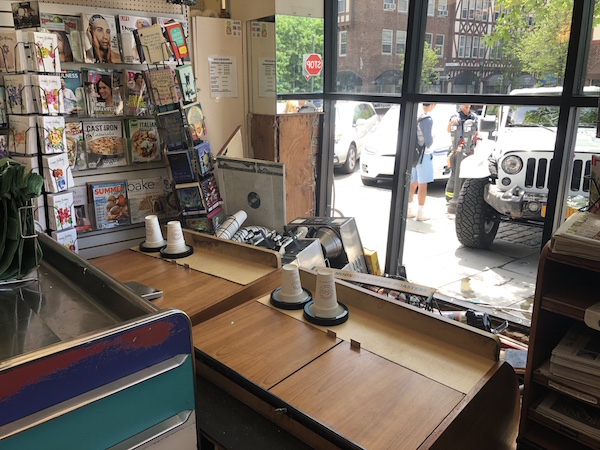 The Jeep shattered the front window and took down the coffee counter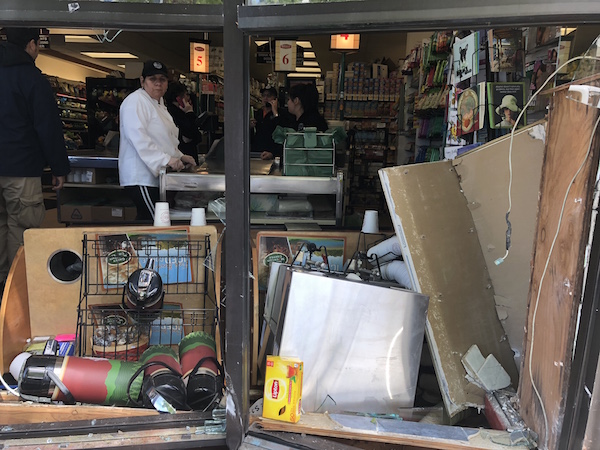 The Jeep knocked out the front window of the market.
Add a comment
The Little Mermaid On Stage at SHS this Weekend
Details

Written by

Sarah Kazan

Hits: 1796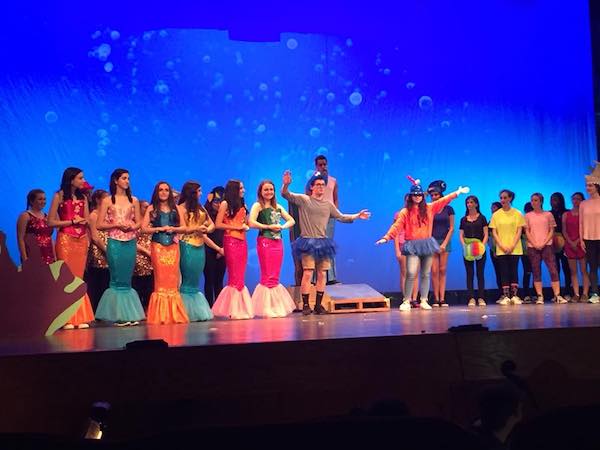 Travel under the sea with the senior class this weekend. Directed by Camila Tardiff and assistant director Sophia Roth, along with musical director Hudson Lin, Disney's The Little Mermaid will be this years senior class play. The cast and crew has been working intensely on the production which will be onstange this Friday, Saturday, and Sunday. The play stars Caroline Stemmerman as Ariel and Jacob Greenberg as Prince Eric, alongside Chloe Faegenburg as Flounder, Camila Grisanti as Sebastian, Jolie Suchin as Ursula, and Eashan Panjwani as King Triton.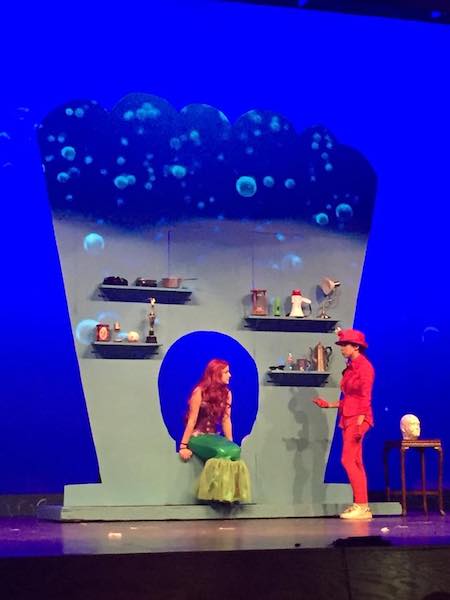 Everything in the play is done by students, from choreography, costumes, and makeup, to publicity. The seniors have worked tirelessly to make sure the show goes on without a hitch.
Both directors are in the drama club and therefore could not participate on stage, however, they decided to take part in the production in a different way. "Because I couldn't be in it I decided to do the other side of theater which is directing and producing," commented Roth. "So many of my friends decided to do this production so it's been fun to share this experience with them. I've been able to work together with them and meet new people that I've never had classes with before and form a bond with them through singing, dancing and acting"
As much as the two directors have taken away from this experience, they have faced some challenges. "It's been pretty difficult to assemble a group of people… Most of the people in the show have never done a show before, with a few exceptions,… for Camila and I it was mostly introducing them to the world of theater, the rules and courtesy of doing a show and how to be respectful of their cast mates, their directors and supervisors," said Roth. "I give any director I've ever worked with a lot of credit because now I know how much work goes into it"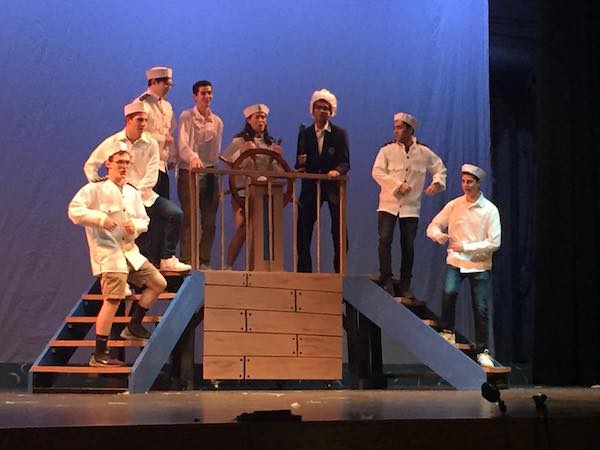 After much consideration The Little Mermaid was chosen as the senior class play due to the large character list which allows many people to participate. "It's one of my favorites and its a ton of fun, great music and characters," noted Roth. "Were really excited to put this on we hope a lot of people come to see it. A lot of work has gone into it."
Come see the play this weekend, May 17 and May 18 at 7:00pm and May 19 at 2:00pm in the Scarsdale High School Auditorium. Tickets will be sold at the door or buy your tickets online here.
Add a comment
Lacrosse Team Presents Coach Appreciation Day, Saturday, April 28
Details

Written by

Jordy Love

Hits: 1476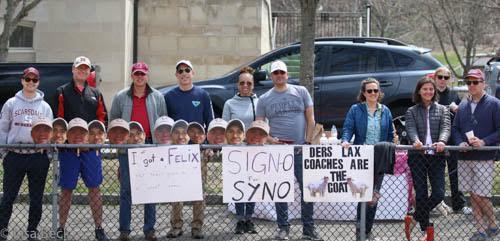 Lacrosse families are not complaining about their coaches, in fact, just the opposite. The Raiders Varsity lacrosse team families surprised their coaches with the first ever Scarsdale High School Coach Appreciation Day Saturday, April 28 during their home game against Westlake. As Coach James Synowiez and Coach John Felix led their team onto the field, fans lined their path holding sticks with pictures of their faces and posters to show their support for the Varsity Head Coach and Assistant Coach. Large helium balloons in numbers 23 and 39 were tied to the fence in tribute to the numbers the coaches wore when they played in college. Coach Synowiez was number 39 at Manhattan College and Coach Felix was number 23 at Geneseo.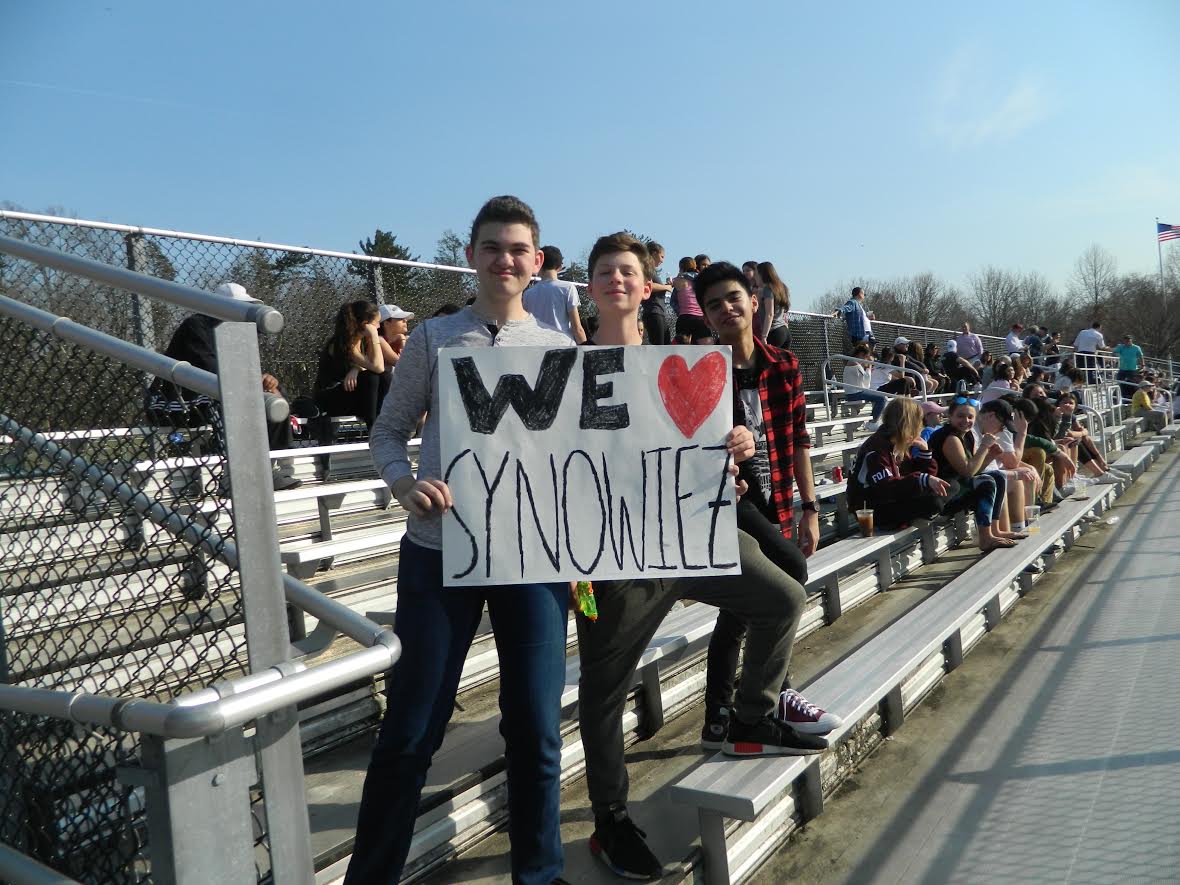 Although they coached Junior Varsity hockey together, the pair only began coaching Varsity lacrosse at Scarsdale High School as Head Coach and Assistant Coach last year. They managed to capture the Section 1 Class A league IB Championship title in their Inaugural season. After being down by as many as five goals last Saturday, Synowiez and Felix motivated their team to a come from behind win in overtime, defeating Westlake 12-11.

The secret to their coaching success is the chemistry they create with the boys; the coaches have done an incredible job bringing these boys together over the last two years. Some of the team activities they've done this year include team yoga, trivia night with the Girls Varsity team, Olympics day (dodgeball, spike ball, relay races), bowling, and a day trip to Syracuse for a scrimmage with Coach Synowiez's high school. The team has also attended lacrosse games at Manhattan College, Synowiez's alma mater, a Syracuse/Johns Hopkins game (Senior Seth Thornton will play for Syracuse next year), and the Army/Navy game (Senior Jeremy Wolfe will attend the US Naval Academy next year). In addition, the team has held numerous dinners and breakfasts.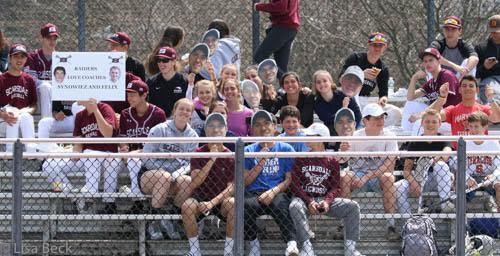 Carol Wolfe, a team parent says, "in the past 10 years, my children have participated in a variety of different sports at the high school. I consider being part of a team, any type of team, an essential role in learning how to work well with other in achieving a common goal. The coaches that have dedicated their time and energy to working with our kids not only teach them skills on how to play a sport well, but a great coach will take that even further and teach your child life lessons about winning, losing, teamwork, disappointment, courage, strength, and perseverance. I award and profusely thank our coaches for spending countless hours with my children in helping them become the best that they can be. I think our motto, non sibi, says it all."
See the team play in their next home game against Mamaroneck on Tuesday, May 8th at 5:00pm.
Add a comment
Aaron Panken Remembered as a Sage, Scholar and Visionary
Details

Written by

Joanne Wallenstein

Hits: 3388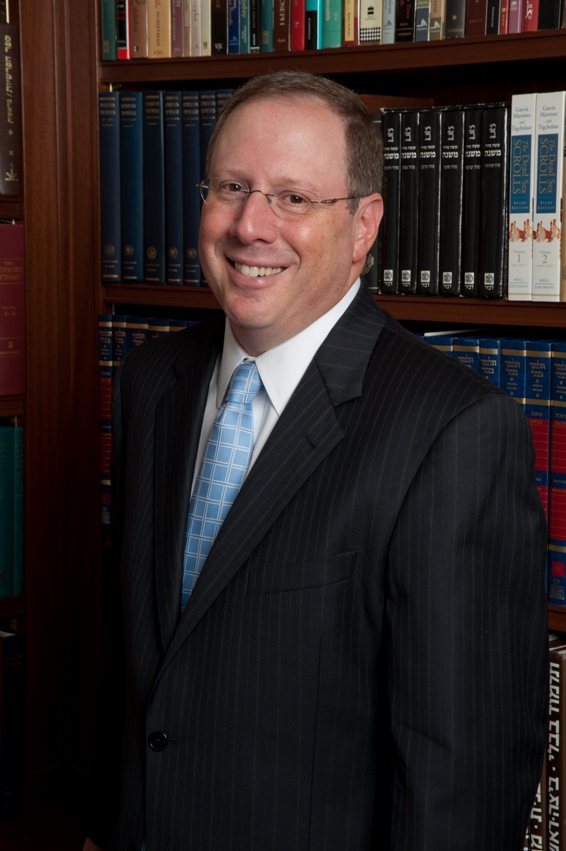 Hundreds of mourners from near and far came to Westchester Reform Temple in Scarsdale on Tuesday May 8 to pay their respects to Rabbi Aaron Panken, a leader of the Jewish Reform Movement and the twelfth President of Hebrew Union College who died in a plane accident at the age of 53 on Saturday May 5. The synagogue overflowed with visitors, with mourners filling the main sanctuary and spilling over to an adjacent room to watch the proceedings on monitors.
The service was led by colleagues and family members, all who were rabbis and cantors, who knew Panken intimately and were deeply shaken by his loss. They eulogized Panken, noting his deep knowledge of the Talmud, his impact on his colleagues, trainees, family and friends and his vision for the Jewish movement here and around the globe. Both Panken's sister Melinda Panken and his sister in law Sarah Messinger are rabbis, and they participated and shared more personal comments about the Aaron they knew as a boy, teen, father and friend.
WRT Rabbi Jonathan Blake opened with the question that was on everyone's mind; saying, "How can this be? He was right here three weeks ago celebrating WRT's 65th anniversary… He was wise and witty.... Now there are no words, only fathomless grief. When a sage dies, we have no one like him."
Rabbi Sarah Messinger introduced three speakers; Rabbi Larry Hoffman, author and professor at HUC, Rabbi David Stern of Temple Emanu-El in Dallas and President of the Reform movement's Central Conference of American Rabbis and Rabbi Rick Jacobs, the former rabbi at WRT who now serves as the President of the Union for Reform Judaism. All three spoke of Panken's intellect, compassion and humanity.
Hoffman, who worked with Panken at HUC said that Panken had "a double major in vision, competence and intellect and at the same time plain goodness and sweetness." He called him, "thoughtful, modest and independent," and said he was a Talmudist who "never stopped studying." He said that Panken was loved by so many of his students, and exclaimed, "Look how many have come from around the world today." Noting Panken's good character, Hoffman said, "One who lives without blame, who does what is right, such a one shall never be shaken…. The tragedy is he was just hitting his stride, just putting the puzzle together when he was taken from us."
Panken had been scheduled to ordain this year's class of rabbis and cantors on Sunday May 6, the day after the accident. Hoffman said, "He was planning to ordain the rabbis. He was going to tell them to take a stand, to commit themselves to a better world… On behalf of this college we will complete the sermon for you and give it to your ordainees." He concluded with a promise, "You remain our rabbi, even in death. We vow that you will not have worked and dreamed in vain."
Rabbi David Stern said he had "been meaning to ask Aaron a Talmud question this week. Here is the question. The text says that the priest chosen to remove the ashes from the alter – there was no lamp in his hand. Why – he could walk by the light of the flames in the alter? Or to keep his hands unencumbered? I wanted to ask if its good for a rabbi to show up empty handed for the service. … I can't ask him my question now. I can cite him as my answer. He showed up empty handed everyday, empty handed as in open hearted and open handed."
Stern discussed Panken's love of electronics and the opera, and his ability to as an electrical engineer to understand gadgets and fix things. He called Panken "The rarest of breeds – a rabbi who could fix stuff." He mentioned his love of travel, "to experience and to know more"…. and how he proudly showed Stern his hand steamer to prepare his suits for his many trips. Stern said it was "fun to disagree with him because he was smart, stubborn and practical." According to Stern, Panken "had a great sense of play and wicked sense of humor."
Stern discussed Panken's special relationship with Jack Stern, David's father, also a former rabbi at WRT. About Panken, Stern said, "My father adored Aaron. Aaron was the favorite Stern child. When the young couple (Aaron and Lisa) showed up they were greeted with a warm embrace and a punch list… the printer, the television, the air conditioner. He had a huge heart and the patience to make it all work. …For all of his achievements – he never stopped being a rabbi to us when my mother was dying and when my father was there alone. He made Jack Stern laugh or made him proud. He could put things together like printer cables and broken hearts. He was a mensch beyond measure."
Stern continue, "He loved sailing and he loved flying. He had a thing for the water and the wind. I believe he was most at home in the sky and in the water. He has fallen from a Sabbath sky and our hearts are broken. If a bunch of broken hearts together can make things whole, we can try."
He vowed, "Let Aaron's example guide our way. These are dark days. He taught us how to sail by a night sky. Good night sweet prince, flights of angels sing you to your rest."
Rabbi Rick Jacobs said he originally met Panken in the 1980's when Panken interviewed to be his intern. He said he was originally puzzled by Aaron, thinking, "Who is this guy? A degree in electrical engineering from Johns Hopkins – if I needed someone to fix the AV at the synagogue, he was the one. He also played guitar. Either he was a complete misfit or an extraordinary gem of a human being."
Jacobs said, "Rabbi Panken recruited, taught and mentored a new generation of Jewish leaders. He modeled how to lead a Jewish life. Greatness and goodness flowed forth from this remarkable man."
He said that Aaron had come to Judaism at an early age, asking his parents to send him to religious school. He met his wife Lisa Messinger at Camp Eisner in Great Barrington. About Aaron he said, "You could have dropped Aaron into any room in our movement. He possessed all of God's leadership gifts." He called Aaron's love of Israel, "full throated and constant," and said he advocated for a more inclusive and pluralistic Israel."
He called for everyone to "Be disciples of Aaron. How do Aaron's disciples conduct themselves? They spend their days loving and pursuing peace. Today this sanctuary is filled with the many disciples of Rabbi Aaron Panken who aspire to bring us to the deep water…Pursue peace and love all of God's children."
Jacobs also noted that Panken was unique, "In the Talmud there are some sages that are irreplaceable. Aaron Panken can never ever be replaced."
Panken's father Peter Panken shared his stories of watching Aaron grow up. He said that after getting his undergraduate degree at Johns Hopkins Aaron carefully weighed his decision about a profession, telling his father, "I want a vocation which requires life long learning. I want to spend my time helping other people. I want to teach and mentor other people. I want to be a force for good, a community leader. He thought about medical school or a PhD in engineering but decided that what he wanted to do was at the heart of the rabbi's profession." He said that Aaron called his parents everyday, from all over the world and said, "Aaron we will miss your calls and we will miss you our son."
His sister Rabbi Melinda Panken said that she and her brother "grew up laughing," and described a joyful home and raucous family dinners. She said, "laughing was Aaron's coping mechanism." She looked up to him, and said, "I loved my big brother so much that I would do anything he told me to do." She continued, "I will especially miss his Seders, 25 charosets, reading the Aramaic, shaking the table when Elijah came in the door, the pounding on the table."
She then told a story that perhaps foreshadowed Panken's fate. She said the family was on vacation in Martha's Vineyard when Aaron was eight years old. He was outside riding his bike and they went to check on him but couldn't find him. They started searching and finally found him at a nearby airstrip, sitting inside a plane. She ended by saying, "Aaron was taken to soon, with too much left undone for our family and the Jewish people."
Sarah Messinger remembered meeting Aaron "the geeky guy" at Camp Eisner. She called him "genuine, honest and sensitive." She remembers Aaron admiring her sister Lisa from afar, and told Lisa, "he loved and respect you. You decorated his life with love and laughter." She told Panken's children, "You were the jewels that adorned your father's heart. He will always be with you because you are each the best parts of him. … May his name be a blessing."
Former Scarsdale resident Cantor Tamara Wolfson, who was ordained on Sunday May 6 at a ceremony at Congregation Emanuel that Panken planned to lead, said, "A few days ago, you taught me that the Talmud says that smicha doesn't always require laying hands on someone's head — that it is enough for a community to recognize you as their leader for smicha to be granted. But all I wanted was that moment. You and me before the open ark. You had an ability to bless, to teach, to really hear people, to inspire people — unlike anyone I'll ever know. I knew I'd wrestle with God forever, but this is a new fight. And I plan to channel all my shock and anger and grief and sadness into being exactly the kind of leader you challenged us all to be through your example. That's the only thing left to do."
It was evident that Panken touched so many lives and will be missed first by his family, but also by his Scarsdale friends, his colleagues, his students, and the international Jewish community. Though his life was cut short, he made an extraordinary contribution in the time he was here.
Add a comment
Trustees Approve Tree Code Amendments; Clear Cutting To Be Addressed Later
Details

Written by

Laura Halligan

Hits: 4150
The Scarsdale Board of Trustees voted unanimously Tuesday to approve proposed amendments to the village tree code, shortly after making yet another change to address residents' concerns. Homeowners now will be able to remove two trees in a 12-month period, as opposed to 24 months. And, of particular interest, the code permits residents to remove diseased, dying or dead tress without a permit or replacement requirement. The code amendments, however, do not address clear cutting.
As in past hearings, a number of residents expressed support and opposition to the proposed measures. Ron Schulhof (Springdale Road), chair of the Conservation Advisory Council (CAC), began the public comment session by expressing CAC's support. "Over the last five years, the CAC has examined Scarsdale's current tree code, measured our tree canopy, listened to community feedback about the importance of trees in our village, researched many municipal tree codes, drafted and discussed various proposals to update the tree code, and worked with Friends of the Scarsdale Parks and village staff to propose certain updates…" He continued, "(Our recommendation) is to move forward with the code provisions currently listed… that the replacement tree threshold move to a 24-inch diameter at breast height... that replacement trees be native, and that permits are required for small-caliper trees that are important… at three inches instead of six inches for the rest of trees. We believe… there should be no change to the 'as of right' provision that allows homeowners to remove two trees per 12-month period as a right."
Bob Selvaggio (Rochambeau Road) voiced his opposition to the code changes by saying, "Where is the evidence of any significant support for this proposal, outside of a couple of vocal special interest organizations? On the contrary, my own perception is that there is a groundswell of opposition." He continued, "I am perplexed (as to) why anyone would think that our homeowners want to deal with more permits, and the hassles and tributes that are associated with permits… I am perplexed when I hear it said that this ordinance is really aimed at developers. If that's the case, why not just aim it at developers? ...More to the point, I ask, who owns the trees on my private property? …What if a homeowner doesn't want trees near his or her house for whatever reason? Is there any evidence at all that homeowners in Scarsdale are choosing to denude their properties of trees? Is there any empirical evidence, whatsoever, that reduction in tree count is leading to soil erosion or worsened air quality… There's no justification to trample on our property rights."
Bob Berg (Tisdale Road) said, "(The experience of having a large tree fall on our house) has taught me that residents know best what they need for the safety of their families, as it concerns trees on or near their property. This proposed law disincentivizes people from cutting down trees that they reasonably fear may pose a threat to their houses and property. The tree that fell on our house was a healthy village tree… under the law, if it was our tree and we wanted to cut it down, we would have had to pay for that right." He went on, "I saw what happened in that giant nor'easter, when half the trees that fell on power lines were private trees and a third of the village was out of power for up to 10 days. One house was completely destroyed and condemned. People should have the right to cut down these trees as they see fit… The danger you want to control here is the developers clear cutting land. This law does nothing to address that… No one is really supporting this law except for the CAC and the Friends of the Scarsdale Parks."
Michelle Lichtenberg (Greenacres Avenue) stated her concern for tree protections by stating, "We are allowed to take down two trees per year… and I respect that right. If people do take trees down without looking at the whole environment... there's the canopy, yes, but let's not forget the root system and what it does to our water, and water runoff."
Michelle Sterling (Brighton Road) then said, "I do support the CAC position as a CAC member. Personally… I feel it is a compromise position… There are other communities that take a stronger position." She continued, "We have a 50 percent tree canopy in this community. It is a community asset. People think they might own that asset; it, actually, is theirs and also a community asset that we all enjoy and value… The second way I would have made the proposed changes stronger would be (to keep) the aggregate test. Taking the aggregate test out… really gutted the code… One of the things this code could have addressed and (doesn't) address is clear cutting… If you take out 10 23-inch trees, you don't have to put in replacements; the aggregate test would require you to compile those and you would have to plant replacements if it totals 24 or more. It's an important point that I do hope gets addressed either through land use committee or revision."
Jeewon Park (Richbell Road), a new member of the CAC, said, "I know we just had some pretty bad storms; in other years, the village has had massive issues with flooding… We've all talked about the fact that we also need to deal with soil erosion, storm water runoff and flooding issues. A large tree can absorb 100 gallons of water in a day... We have so many other potential benefits from having this tree canopy, and I think it would be a pity if we didn't grab this opportunity to really try and add to that reserve of (a) very precious resource within our town."
Madelaine Eppenstein (Fox Meadow Road), an officer of Friends of the Scarsdale Parks and the CAC working group, followed by stating, "The tree chapter amendment balances, in a fundamentally reasonable manner, private rights and the responsibility of the village to protect our environment. As a private citizen, I urge you to approve the amendments, and I urge you not to walk back what are modest improvements."
John Auerbacher (Bradford Road) then said, "I am a member of the CAC, but would like to speak personally… I would like us to step up and be an environmental leader… I think, part of that, is to think deeply about how what the laws can do, because that's how we implement our ideas… Primarily, what we can do is educate people… People really don't understand what tree might fall and even some of the trees companies don't do a terribly good job of really understanding it. Oftentimes, even certified arborists have to guess." Switching gears, he stated, "People do think we have an absolute right on our (properties) to do whatever we want and (question) how the government can take stuff away from us. I want to point out that the issue was resolved in 1916 when the Supreme Court decided zoning cases… Do we want people to be able to do whatever they want because we believe in absolute property rights? The concept … is really not very valid and doesn't reflect what goes on in the world. We tax ourselves, don't allow lead paint, and have rules about aesthetics and about all sorts of other things (with regard to) our homes."
After hearing public comments, Trustee Carl Finger summarized the tree code review and revision process. He said, "In the course of this discussion… we were… trying to meet some of the concerns that people had. As a result of trying to meet those concerns, one of the compromises that seemed to make things more palatable was to remove the aggregate (requirement) but extend the period for removing two trees to 24 months… which, by the most recent amendment a few moments ago, has been changed back to 12 months. Basically, we compromise… trying to meet the feedback from the community." Finger continued, "That (was the reason for) the removal of the aggregate (amendment)... The aggregate was an attempt to address, in my estimation, the clear cutting issue. So, there were complaints that it was too restrictive, we tried to make an adjustment, and the downside, at the moment, is that we're not doing quite enough for a different problem."
He went on to express his opinion that some of the evening's comments were based on misunderstanding or misreading the code, for instance, not acknowledging that homeowners are not required to replace a dead or dying tree, which is actually a relief from the current code. "I'm concerned that some of the people who made comments have not fully comprehended the meaning of what we're trying to do here… The bulk of the comments that we've heard in the various meetings are favorably disposed; I know we've had a lot of negative comments… but my sense, overall, is that this is a modest change. It's really not going to address, it's fair to say, the issue that would have been addressed by the aggregate. It's my intention… to re-engage in the discussion of the aggregate… so we get that resolved… I'm favorably disposed towards this… it's a step in the right direction, to be followed immediately by a further step to address… removal of larger numbers of trees."
Add a comment