Tuesday Morning: Power is Still Out Around Town
Details

Written by

Joanne Wallenstein

Hits: 2586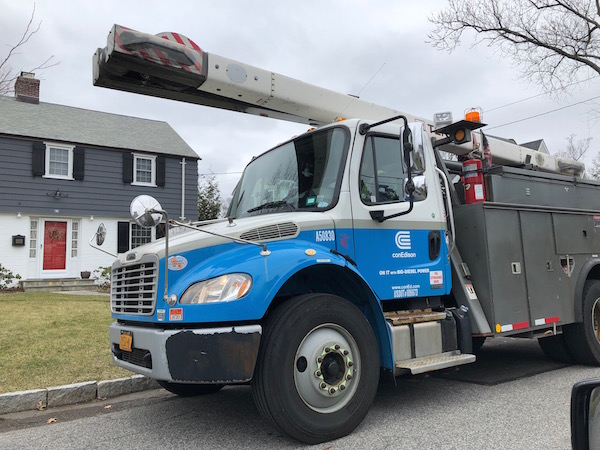 (Updated Tuesday) As of Tuesday morning, Con Edison is reporting that 1,012 customers are without power - up from 859 last night. Though we were originally promised restoration by 11 am today, we noticed that Con Edison has changed that deadline to 11 pm tonight. One friend just received a text saying power would not be restored until Friday - let's hope that was a mistake.
Unfortunately, the power went out at Scarsdale Middle School at 7:25 am, but power was restored a few hours later.

Also without power are the Scarsdale Synagogue and the Scarsdale Medical Center, which are both closed for today.
On Monday night we heard from friends in Edgewood that in some parts of the neighborhood the lights are back on. However Drake and Nelson Roads are still out. We're hopeful that we'll be hearing more good news today.... from Greenacres, Heathcote and Quaker Ridge.

We stopped by to chat with the Con Edison man who is guarding the fallen wires on Walworth that are causing our outage. He says that there are crews in town from Canada and Texas and appeared hopeful that a tree crew would remove the large branches from the wires today. However, the promised 11 am restoration time has now passed.

The weather forecast calls for rain and up to 12 inches of snow on Wednesday, so let's hope the out of state crews can get the job done before we're hit with another storm.

The Village Manager's update says "Con Ed has advised that over 290 out-of-state contractors have arrived to support the Westchester County recovery effort, with over 390 anticipated by tomorrow. ConEd continues to represent that they will have power restored to at least 90% of Westchester County customers by late Tuesday night, leading into early Wednesday morning."
So if you do have power and heat, invite friends to stay with you, because it's just too cold to hunker down in a house that has not been heated since Friday.
We received these photos today – please share yours by sending them to scarsdalecomments@gmail.com.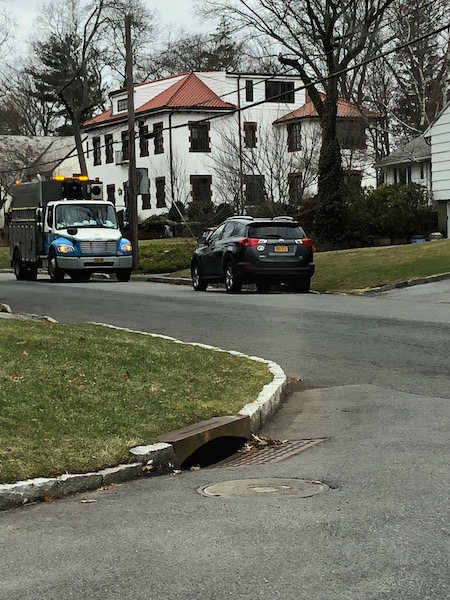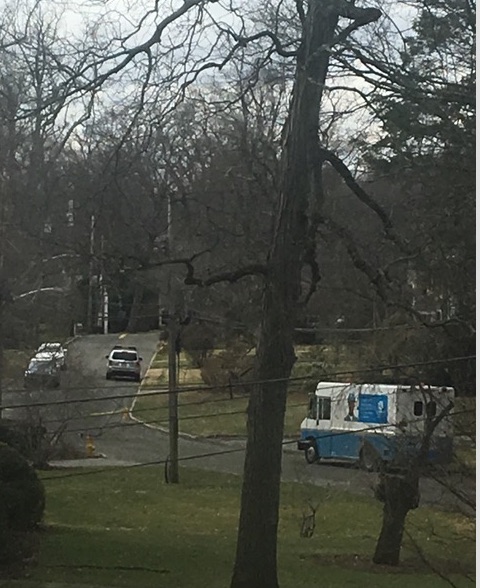 Add a comment
Downed Trees, Downed Power Lines and Not Too Many Crews in Site
Details

Written by

Joanne Wallenstein

Hits: 3539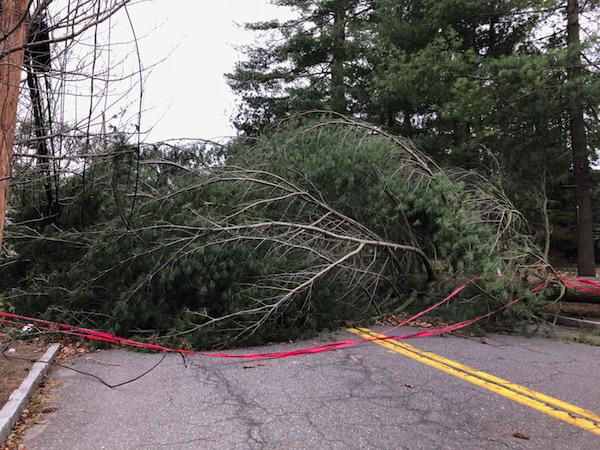 (Saturday at 5 pm) I just chatted with a Con Edison man on Walworth Avenue – and learned more than perhaps I needed to know:
Here's what he shared:
Some of the Westchester crews are in Puerto Rico! They have been rotating shifts there to help out after Hurricane Maria – which is nice – but leaves it very challenging to get work done here.
Con Edison crews from other places are en route. He said we would see trucks from Boston here tomorrow.
The large tree that fell on Walworth Avenue north of Brayton Road and cut off power to many in Greenacres is still lying on the power line. Why? Because it is a high voltage line and workers were afraid to remove the tree from the high-tension line. It needs to be deactivated and it's apparently complicated.
When we asked when he thought power would be restored, he couldn't give us an answer – but said that Tuesday was optimistic! So it may be Wednesday or even Thursday before the lights come back on. In the meantime, generators are roaring and those without them are getting very cold.
Trees were not the only casualties from the storm. Seems that many cars were hit too.
Here are a bunch of photos from around the Village. If you have photos to share, send them to scarsdalecomments@gmail.com. Stay away from downed power lines.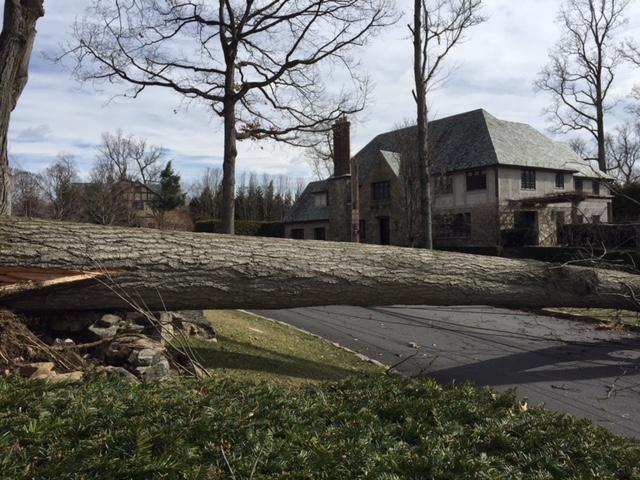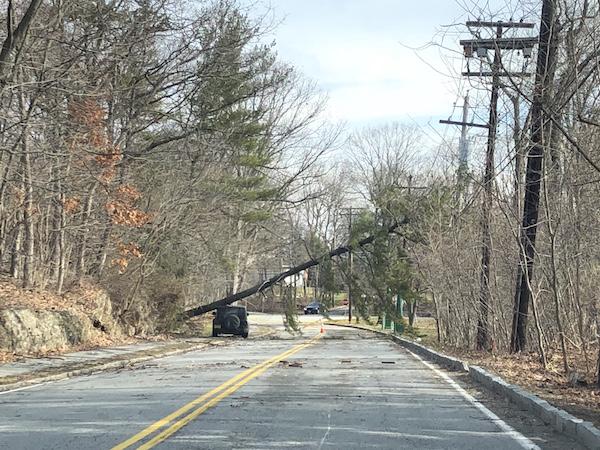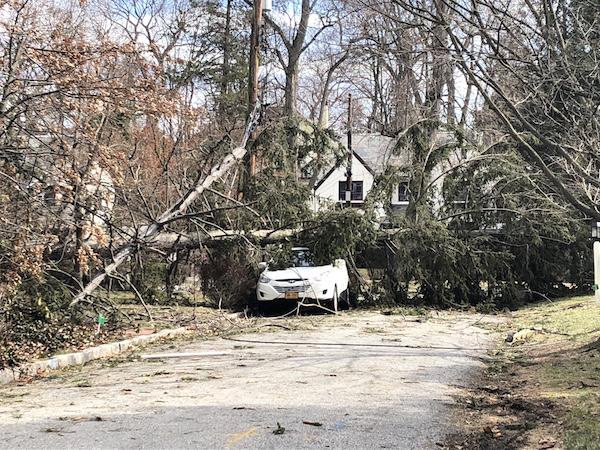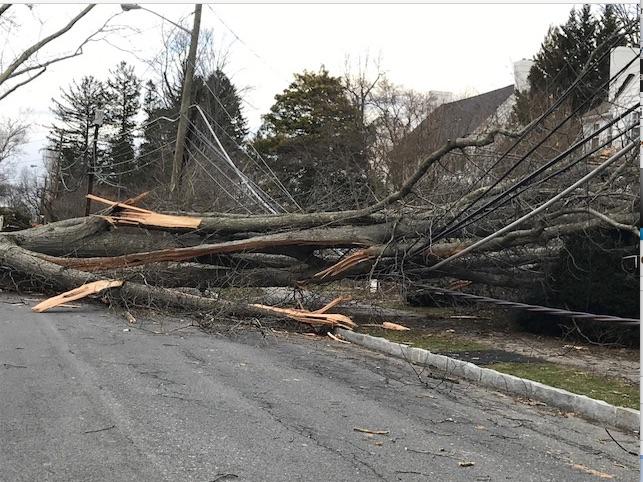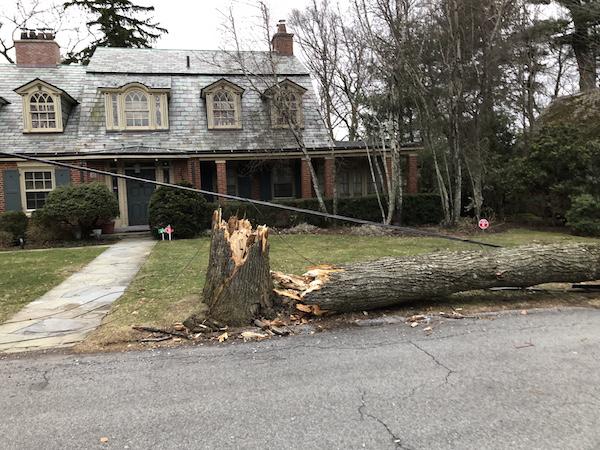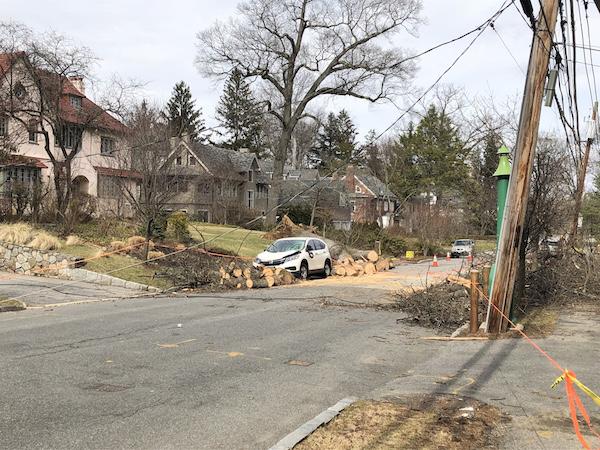 Add a comment
Vaping, E-Cigs and the Health of Our Youth
Details

Written by

Laura Halligan

Hits: 2721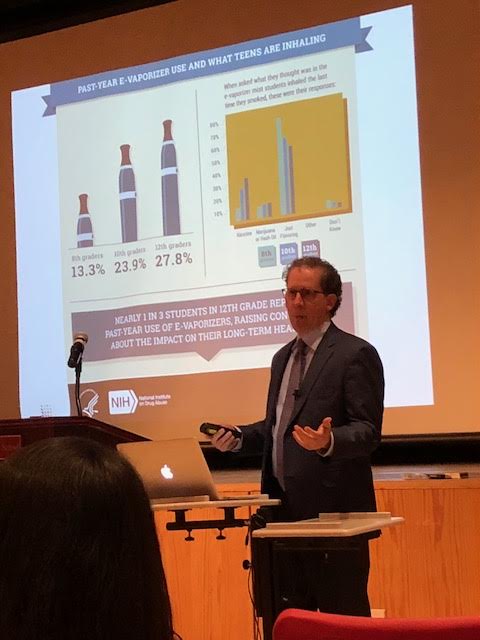 No doubt, you've heard stories about teens vaping at school or at parties, and you've seen recent headlines like "JUUL Leading To More Teens Vaping At School," "E-Cigarettes: A Shiny Alternative To Smoking," and "Vaping Is The New High School Epidemic." Well, this vaping "epidemic" is likely much closer to home than many think.
An ever-increasing number of teens and preteens are vaping, or smoking "e-cigarettes," each day, and its popularity is growing exponentially. It's believed that over a quarter of all middle school students and three quarters of high school students have tried e-cigarettes. In fact, when recently studying e-cigarette use among teens, the National Institute on Drug Abuse didn't bother asking whether they were vaping; it asked what they were vaping.
And, now, parents and school administrators are playing catch up, trying to learn more about e-cigarettes and how they can affect children's health. To provide some guidance, last week, the Scarsdale School District hosted "Vaping, E-Cigs and the Health of Our Youth," a presentation by Dr. Richard Stumacher, chief of pulmonary and critical care at Northern Westchester Hospital, and a smoking cessation expert.
"There's a lot of media, there's a lot of imagery... that are trying to grab your attention and (say) that vaping is not smoking, that vaping is not poison..." Stumacher began, as he showed the audience various advertisements. But, he finished with one alternative message that illustrated his point of view: a depiction of e-cigarettes as "the next generation cigarette for the next generation addict."
The most recent "official" or FDA opinion of vaping is that while e-cigarettes aren't without health risks, they're likely to be far less harmful than conventional cigarettes; they may help adults who smoke conventional cigarettes to quit smoking; their long-term health effects aren't clear; and, among young people, e-cigarette use increases the risk of transitioning to conventional cigarettes. In addition, there's conclusive evidence that e-cigarettes are addictive and contain a host of harmful chemicals, including nicotine.
In addressing the oft-mentioned health "benefits" of e-cigarettes over conventional cigarettes, Stumacher explained that substituting e-cigarettes for conventional cigarettes can reduce users' exposure to toxins and carcinogens, and may reduce short-term adverse health effects. However, he said, "that does not mean healthy or safe; it just means that, over the short term, it's not so bad."
Stumacher's main concern is nicotine addiction in adolescents and teens. A powerful, mood-altering substance, nicotine quickly affects the brain, causing a release of dopamine, which results in a feeling of pleasure and calm. After about 20 minutes, the feeling begins to dissipate, often leading a smoker to continue cigarette use throughout the day. "Nicotine affects the area in the brain that governs judgment and decision-making; that is the last part of the brain to develop," he said. "It disrupts growth of brain circuits that control attention, learning and susceptibility to addiction, and increases the risk of psychiatric disorders, cognitive impairment and attention deficit."
Stumacher explained that it's easier to convince teens about the dangers of smoking conventional cigarettes since there's indisputable evidence about exposure to carcinogens, and links to lung and heart disease. However, the medical community is actually divided over the effects of e-cigarettes. In short, "there are people who are pro and anti-vaping; insufficient literature and medical research; and, as of yet, no evidence of disease directly caused by vaping," he said.
So, Stumacher took the opportunity to present what is known about the risks of e-cigarette use. There are some 42 chemicals present in e-cigarettes, 19 of which that are especially harmful. And, of over 51 brands tested, 92 percent contained at least one of these harmful substances. Besides nicotine, quite a few of them, like diacetyl, are used as flavoring. "While many of the people who are pro-vaping will say that the chemicals are safe for food consumption... my perspective is that while it may be safe to go into your stomach, it may not be safe to go in your lungs," he said.
This, along with the fact that e-cigarette use is strongly associated with future cigarette use, led Stumacher to advise, "The question is not whether vaping is safe; the real question is should we allow our youth to vape, and the answer is clearly no."
He continued by explaining different vaping delivery methods and "e-juices." "What are our kids using? They're using JUUL devices, which are like the iPhones of vaping," he said. All JUUL pods (cartridges that hold vaping liquid or 'e-juice') contain nicotine; there are no 'just flavoring' versions. One JUULpod is the equivalent of approximately 200 puffs, or one pack of cigarettes.
Most teens cite availability of "appealing flavors" as the primary reason to begin vaping. Countless e-juice flavors are available, ranging from vanilla custard, blueberry, cookie milk, and peanut butter and jelly, to menthol and traditional tobacco, with varying levels of nicotine strengths. "This is clearly aimed at our children," Stumacher said. "Non-nicotine flavored vaping liquate is a gross and obvious gateway product aimed at youth to enter the nicotine addiction marketplace... It's already a $5 billion industry; there is a significant amount of money to be made in turning your child into a nicotine addict."
He then passed around samples of JUULs and showed how vaping devices can vary in size and appearance. They can look like pens or conventional cigarettes, and so-called "mods" can be changed and personalized. Many teens begin with a JUUL "starter kit," which costs about $50.00. The kits contain USB ports and easily can be charged discreetly at home or school. JUUL pods are sold typically in packs of four, at a cost of $20, making them much cheaper than a $15 pack of cigarettes.
Advice for Parents
"Stopping your child (from vaping) will prevent him or her from becoming enslaved by nicotine, which is the most addictive substance known to mankind," Stumacher said. He warned that increased vaping among youth will lead to devastating health issues in the decades to come. "We're going to see a tsunami of lung cancer and emphysema, heart disease, diabetes, etc., etc."
He then changed gears and provided parents with advice. "Alright, it's really not that bad; the kids aren't bad. They just don't know; they're not informed," he said, while urging parents to be patient and begin honest discussions with their teens. "Rather than yell at them or accuse them, just have conversations – frequent, small conversations. Your children are not going to, all of a sudden, decide they're not going to vape, especially if they're vaping nicotine."
Stumacher stressed that parents need to educate themselves, and begin open dialogues with children, not lecture them. He suggested beginning with a conversation in the car: "Your kid isn't looking you in the eye and there will be an end to the talk... " as opposed to a discussion at home that may go on and on, leading your child to tune out. Other tips include setting a positive example by being tobacco-free, preparing for questions that your teen may have about the health effects of vaping, and finding the right moment to discuss the issue, perhaps when seeing someone use an e-cigarette.
Another tactic is to simply prove the power of addiction. "None of the kids who vape want to go on to smoking. They think it's disgusting," Stumacher said. "If you think (your child) is a nicotine addict, suggest he or she go longer without vaping, and see how it feels. When kids feel the symptoms of withdrawal, they may realize they're addicted (and be willing to stop)."
To learn more about e-cigarettes and how to talk to your child about vaping, visit The National Academies Website here or the Surgeon General Website here. To see a recording of Dr. Sturmacher's presentation, visit the school district website here.
Laura Halligan, a new contributor to scarsdale10583.com, is a local writer, editor and marketing consultant. She is principal of Pinch Hit Prose and provides communications services to entrepreneurs, small businesses and nonprofits.
Add a comment
Letter to the Editor: Support the Extreme Risk Protection Bill
Details

Written by

Joanne Wallenstein

Hits: 2107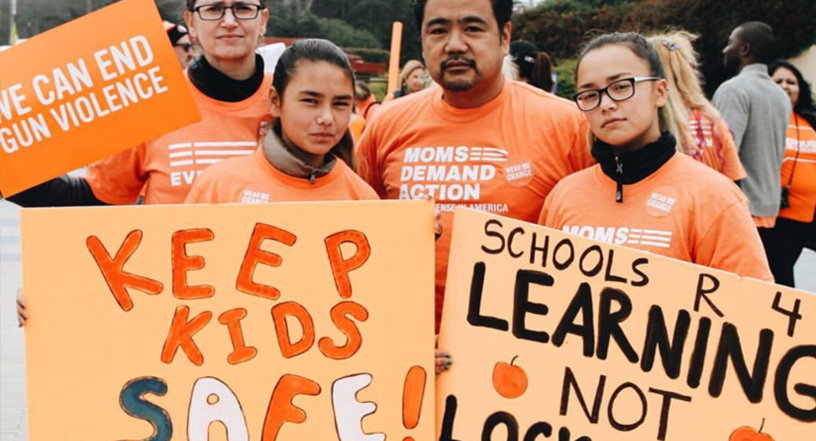 This is a letter to the editor from Pat Colella of Scarsdale:
I am a Scarsdale resident and mother, and the co-leader of the Westchester local group of Moms Demand Action for Gun Sense in America, which is the grassroots arm of Everytown for Gun Safety. Moms Demand Action for Gun Sense is a non-partisan, volunteer movement of Americans including moms, dads, gun owners, veterans, mayors, gun violence survivors and others working together to prevent gun violence.
Like everyone, I was saddened, shocked, and angry about the school shooting in Parkland, Florida, last week. Although New York has strong gun laws, both New York and Florida are missing a critical common sense law that could prevent shootings like what happened in Parkland. It's called an "Extreme Risk Protection Order" bill, or ERPO for short, which would empower family and law enforcement to ask a judge to temporarily block a person who poses a serious threat from having guns. Luckily, an ERPO bill is up for a vote in the New York State Senate and Assembly. You can help stop school shootings by calling your State Representatives to tell them to support the ERPO bill. If you want to get more involved, please join our local group of Moms Demand Action by visiting momsdemandaction.org.
Pat Colella
Add a comment
Recycling Change Sparks Discussion at Village Hall
Details

Written by

Joanne Wallenstein

Hits: 2524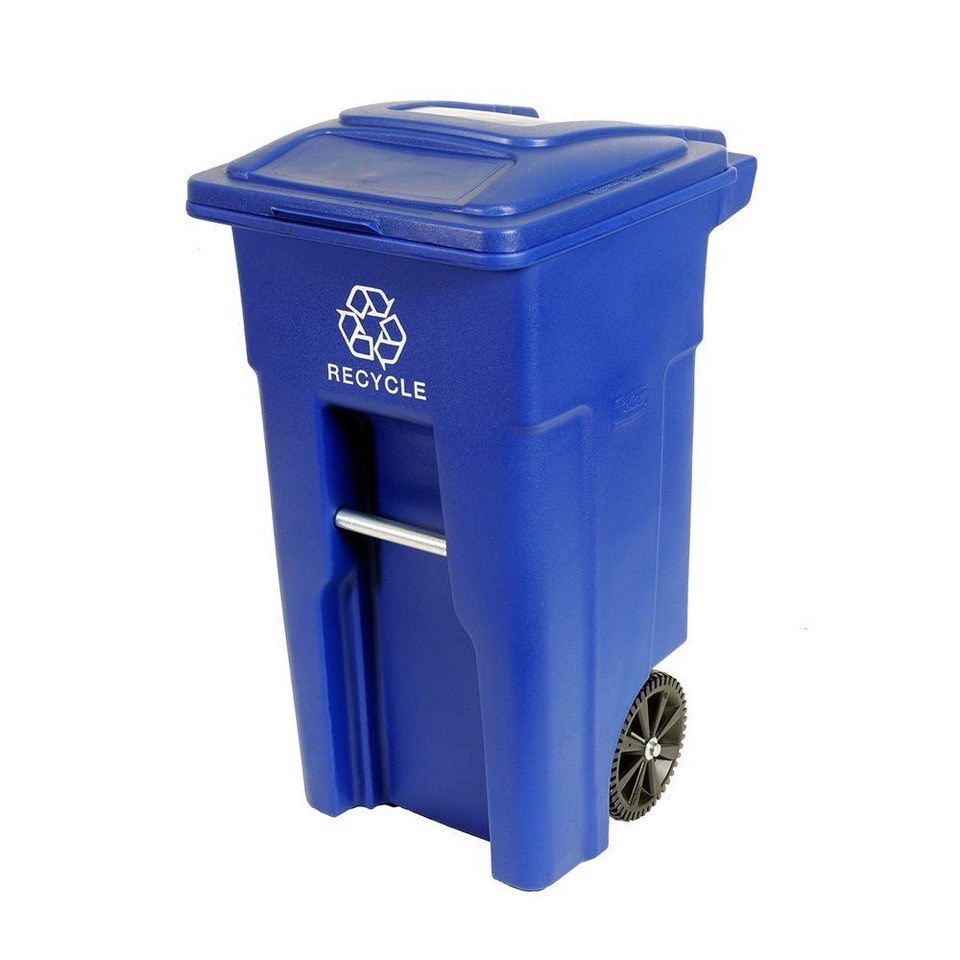 A public hearing on a proposed change to the pick-up of trash and recyclables drew an unexpectedly large group to Village Hall on Tuesday January 30. Noting the unusual crowd, Trustee Carl Finger joked, "It's great to see so many people here. I am going to recommend that we do a sanitation study every six months to bring you back!"
Why were residents so passionate about their trash?
The proposed change would mean weekly curbside pick up of both paper and co-mingled recyclables. Currently, paper and bottles and cans are collected on a bi-weekly basis – paper from the curb, and cans, bottles and cartons from the back of the house or the driveway. Under the proposal, food scraps would also be picked up curbside on a weekly basis, along with furniture donations which would be given to Furniture Sharehouse for donation to those in need.
Two points in the plan seem to have rankled residents:
First: the plan would require residents to bring their bottles and cans to the curb for pick-up, rather than dispose of them in the back of the house with their trash.
Second – some are concerned that the placement of paper, bottles, cartons and food scraps at the curb will look unsightly – and that garbage will end up in the streets due to wind, animals and the like.
So though most supported the concept of increased recycling, they saw this plan as a cut in service as their bottles, cans and cartons, (co-mingled recyclables) would no longer be picked up at the rear of the house.
Before hearing public comments, the trustees asked Ron Schulhof from the Conservation Advisory Council to share the results of the group's Sanitation Study.
http://scarsdale10583.com/about-joomla/village-voices/6592-trustees-ponder-revisions-to-sanitation-pick-up-and-recycling-program-as-well-as-led-streetlights
He explained that the goal of the change was to increase recycling and decrease the amount of waste in the trash. The weekly pick up of paper, co-mingled items and food scraps should increase the overall amount of recycling in Scarsdale. He explained that Scarsdale already has high compliance with recycling but a survey of other Westchester municipalities found that most have weekly pick up of paper and co-mingled recyclables. The committee believes that weekly pickup is more convenient and reduces the storage and handling of recyclables.
To those who were concerned about lifting heavy loads, the committee researched and tested different types of bins with wheels to make it easier for residents to pull recycling to the curb. They would also make available food scrap bins with wheels so that those could be pushed to the curb. Exemptions from curbside pick-up would be available for those who are not physically able to bring their items to the street – and the sanitation department could continue back-of-the-house pick up for those who require it.
The Village received 179 emails about the proposed change: 49 for the full program
61 for food scrap pick-up, 21 in opposition to the plan and 31 in opposition to curbside pick up.
Scores of residents lined up to comment on the proposal, some for and some against.
Christine Makuch of 21 Fairview Road spoke in support of the weekly pick up of food scraps. She said, "I already recycles food scraps and would love to stop that errand. Sanitation service here is excellent and I appreciate it."
Michale Ostow of 20 Butler Road was skeptical. He said this could "lead to less recycling in Scarsdale because of the effort to bring stuff to the curb. I have doubts about how many are capable of bringing recycling to the curb. Waste will be thrown out and we will recycle less. All the trash will be moved to the front and we will have an unsightly situation with trash all over the streets. This will not contribute to the beauty of the community. There's a small number of people want to recycle food scraps ... recycle it in your own backyard."
Marian Greene of 43 Butler Road said, "the trend is toward zero food scraps and we are creating food scraps. We are a very wasteful community and it's embarrassing. I have a compost pile. I have a garbage disposal. Our aim should be zero food waste.
I am on the Council on People with Disabilities and I commend the Sanitation Separtment for the way they help elders in our community. People with disabilities would like to have that exemption."
Diane Stern of Rural Drive said that moving recyclables to the curb was no problem for her. She said, "I am going to be 77 years old. I have one of those rolling bins. I can push it with my bum knee and artificial hip. I hardly have any garbage and I support what you're doing."
Jennifer Rossano of 31 Sycamore Road said, "It took us only five days to get used to food scrapping. I am on board."
Rona Shamoon of Edgewood Road said, "I recycle everything. I don't want to leave food on the curb so that the family of raccoons will come out and eat those containers. I read the report. It is written to support the conclusion to do what's best for the 300 families that are recycling the food scraps. A lot of us don't want rotting food in their kitchens. Using the 850 people who bought the kit as the number is not a good way to estimate potential users. I think you are underestimating the number of people who would recycle other materials.
Paulina Schwartz of Oakstwain Road said, "I am in support of all the recommendations and the exemption for the elderly. My kids want to do it. This is important to them. They are more concerned with saving our earth. It's a pain to go to Secor Road – I think this would bring in more recycling."
Referring to the food scrap recycling program, Karen Asher Metviner said, "I've been participating since it started. In Capetown they are rationing water. This is something that has to happen. If you sell it to millenials they will care about preserving the world. Wait until there's no water left to drink, no fish in the ocean.
This is coming soon. People want to be in the right town where they do the right thing."
Mitch Kahn said, "My parents' home is in Florida. All the trash is out on the curb. They are old people and they bring it out. We recycle for the kids – they are in control. It would be great to have the food scraps picked up. I am in strong support of the initiative."
Judith Schiamberg of Elm Road said she was at the meeting on behalf of her sisters and parents who all live in Scarsdale. She said, "My two sisters can't get to Secor ... they work long hours. My mother does participate."
Rona Muttner spoke in support the recommendations of the CAC. She said, "I already bring everything out to the curb. We have lots of stuff. We draw straws to take it out I would be grateful for weekly pick up. It would be half the work and a huge timesaver. It's a win, win, win."
Liat Altman gave her full support and said she was a "proud embracer of the program" that "has completely changed the way waste works in her home."
Susan Douglas of 69 Crane Road said, "Food scraps aren't wasted food, its food that's not going into the garbage. My garbage is super light because of the removal of food scraps."
A Heathcote Road woman said she was Swedish and has lived in several other countries. She said, "What's great about America is pretty much everything in America is voluntary ... people who want to can, people who don't want to don't have to."
Julie Stanley of 31 Brite Avenue said, "Zero waste in general is a better idea. Picking up comingled items weekly would really help. This helps people understand and see the chain of consumerism."
Debbie Rappaport of Brite Avenue spoke in favor of the pick up for Furniture Sharehouse but did not want to "schlep" items out to the curb. She said cans would be "unsightly" and that animals would be able to get into the food scrap bin, saying, "I can tell you the animals will laugh at that plastic."

Beth Zadek gave the proposal mixed reviews, saying "While we support changing the pick-up of paper and commingled recycling to weekly, we do not support the change of having to bring the commingled recycling to the curb. It would be a burden to residents who are unable to navigate the pulling of a heavy bin down to the end of their driveways. We also feel that it would reduce the amount of recycling that those people end up doing. Residents who are not able to drag their commingled recycling to the curb would throw those items out in the regular garbage instead, especially during cold and inclement weather."

Commenting after the meeting, Ron Schulhof Chair of the Conservation Advisory Council said, "We thought the meeting was productive and it was great to hear so much feedback from the community. The CAC also appreciated being able to share with the community why these recycling initiatives are so important: that all our trash in Westchester is burned at an incinerator just 30 minutes from Scarsdale - so every item we can remove from the trash and into a recycling stream not only turns that item into something new but also keeps our air clean. We heard the community embrace the goal of waste reduction and recycling - with overwhelming support for expanding the food scrap recycling program to weekly home pickup at the curb. And while many in the community also voiced support for the change to weekly recycling pickup, we also heard significant concern about the impact of bringing commingled (plastics, metal, glass and cartons) recyclables to the curb would have on our residents who would find this a burden. Given these concerns about implementing weekly recycling by moving commingled to the curb, and being that these two proposals can be implemented independently of each other, we believe it makes sense to separate the discussion of food scrap pickup and weekly recycling. We look forward to continuing the discussion with the Board and Community."
At the end of the meeting, the Municipal Services Committee decided to move forward with the Furniture Sharehouse component of the Conservation Advisory Council recommendation and kept the other two proposals in committee. Given the vast number of comments and the flurry of emails and phone calls, the committee will regroup, consider alternatives and schedule another meeting.
Add a comment