SHS Cares Community Dinner Raises $9,000 for Hurricane Relief
Details

Written by

Joanne Wallenstein

Hits: 1291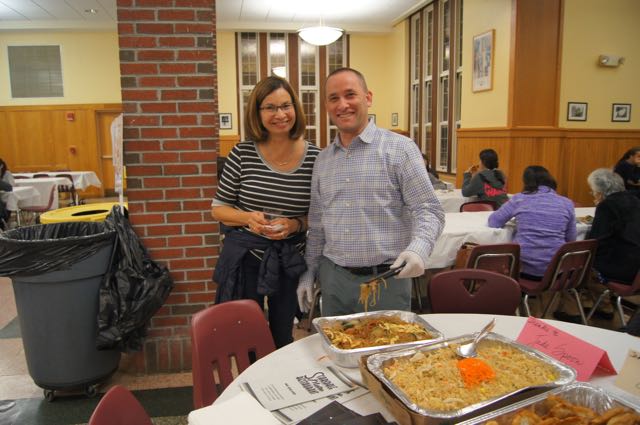 A community dinner at Scarsdale High School to raise money for hurricane relief on Monday November 6 was a big success. The event, called "SHS Cares: Community Dinner for Hurricane Relief," was hosted by parents, teachers and students in the school cafeteria. Food was donated by area restaurants and residents.
Faculty advisor Lauren Barton said, "We raised nearly $9,000 for hurricane victims and likely had close to 200 people in attendance. It was wonderful to have so many people from different parts of the community together. Nearly three dozen teachers helped ensure that the event was a success. Live music was provided by members of the class of 2021. All the extra food was donated to the Open Arms Men's Shelter in White Plains. Below is the list of restaurants that donated food.
Amore Pizza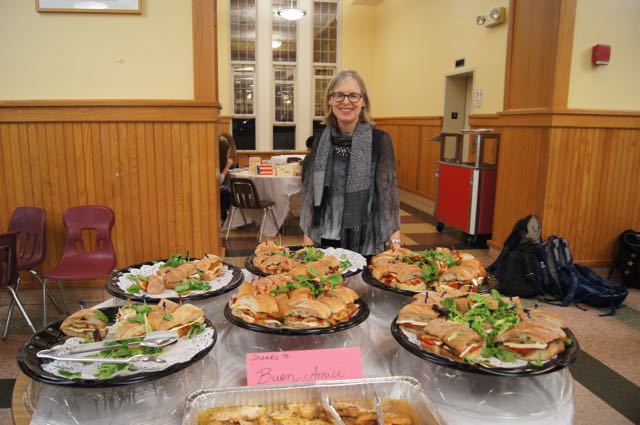 Buon Amici
Galloway's Bakery
Garth Road Inn
Green Harvest
Irish Bank
Lange's
Metro Diner
Patisserie Salzberg
Pissarellis
Ruffled Feathers
SHS PTA
SLICE of Scarsdale
South East Asian Sea
Yeomiji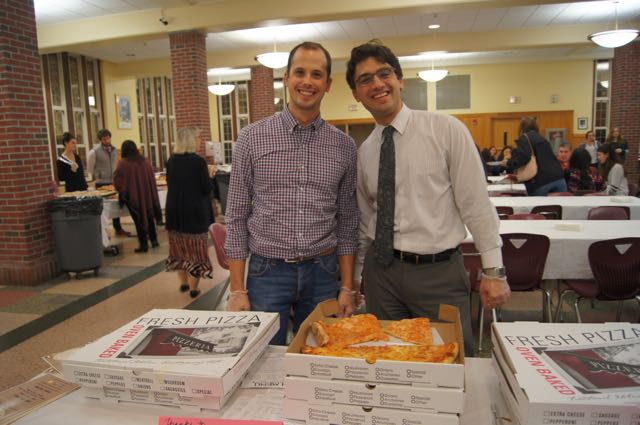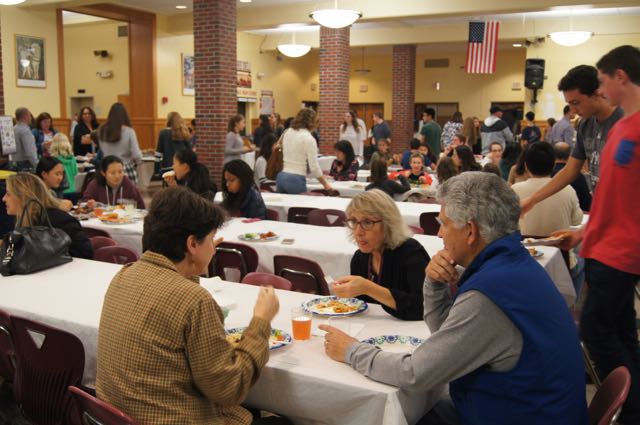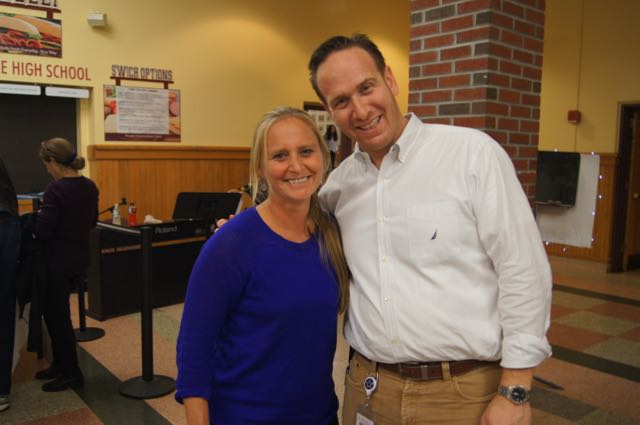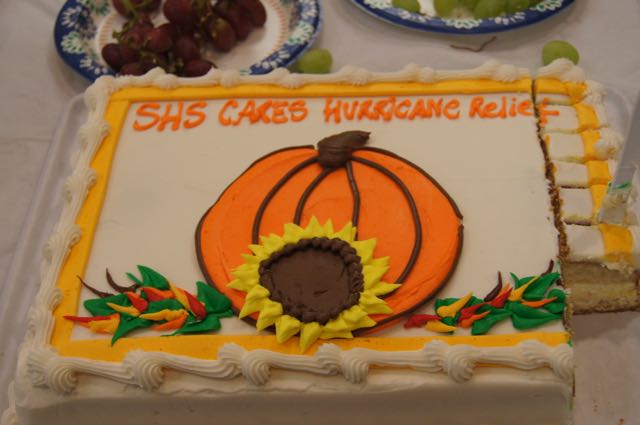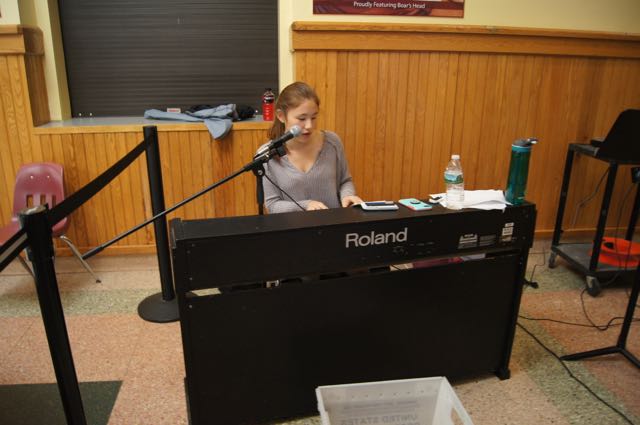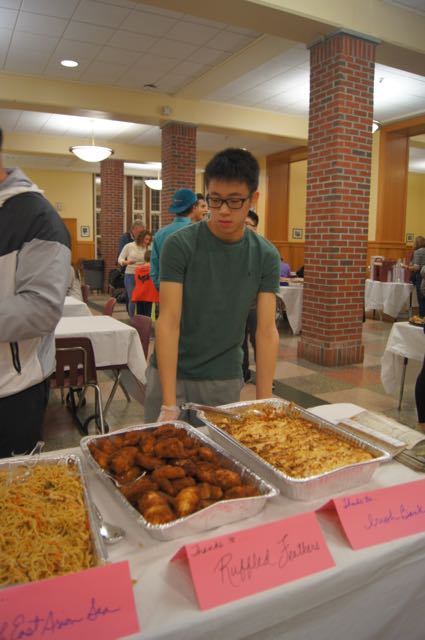 Add a comment
Election Day: Tuesday November 7th: Important Information for Voters from the LWVS
Details

Written by

Joanne Wallenstein

Hits: 1692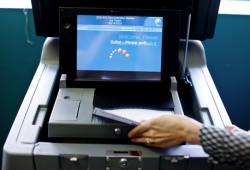 The League of Women Voters of Scarsdale would like to remind the community that Election Day is this Tuesday, November 7th. This year, Westchester County voters can vote for Westchester County Executive, which is a four-year position. Incumbent Robert Astorino (R, C) is being challenged by New York State Senator George Latimer (D, WF, IN, WE, REF).
Benjamin Boykin II (D, WF, IN), Westchester County Legislator for District 5, is running unopposed for re-election. The following additional offices will be on the ballot as well: County Clerk, NY Supreme Court Justice, County Court Judge, and County Family Court Judge.
In addition, voters on Tuesday will be asked to vote on whether New York State should hold a Constitutional Convention. The NYS Constitution requires that every 20 years the people decide if a convention should be held. The ballot question will appear as follows: Shall there be a convention to revise the Constitution and amend the same?
Voters will also be asked to vote on two additional Ballot Proposals concerning pension forfeiture for elected officials convicted of a felony, and Adirondack park maintenance, construction and water testing.
The polls will be open from 6:00 AM to 9:00 PM. Polling locations are as follows:
Election District Location
1, 2 & 19 Greenacres School
3 & 4 Fox Meadow School
5, 11 & 12 Scarsdale Library
6 & 7 Village Hall
8, 9 & 10 Edgewood School
13, 14 & 18 Heathcote School
15 & 16 Quaker Ridge School
17 Crossway Fire House
The deadline for voting by absentee ballot by mail is November 6, 2017, and November 7 if the ballot is delivered IN-PERSON to the Westchester County Board of Elections by close of polls on Election Day.
The Scarsdale League of Women Voters is committed to promoting informed and active participation of citizens in government. We encourage all voters to visit http://www.vote411.org/ and http://www.lwvs.org/ for additional information about the Candidates and Ballot Proposals.
Add a comment
SHS Girls Varsity A Soccer Team Completes Regular Season with Impressive Win and Prepares for Playoffs
Details

Written by

Joanne Wallenstein

Hits: 1498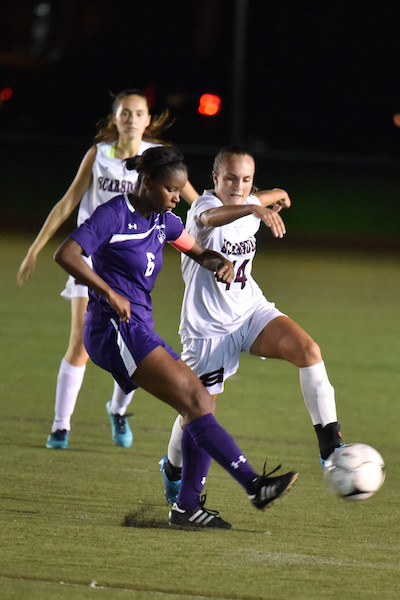 The Scarsdale High School Girls Varsity A Soccer team completed its 2017 regular season on Tuesday night, October 17, in the chill and under the lights at Scarsdale High School with a 3-1 win over the highly touted Suffern Mounties. The Raiders now head to the Section AA playoffs on a five game winning streak, potentially poised for a deep playoff run.
The last time the Raiders won the Section AA championship was back in 2000. In Tuesday evening's Suffern game, after falling behind 1-0 early in the first half on a header off a Suffern corner kick, the Raiders were able to establish control in the mid-field, creating a number of scoring chances. Mid-fielders Allison Stafford and Carly Rubin were effective in repeatedly thwarting attempts by Suffern to advance the ball, allowing Scarsdale to maintain possession and positioning the Raiders for offensive rushes.
The Raiders finally broke through on a beautiful goal by junior forward Jaeda Dean off a corner kick at about the 25 minute mark. In the second half, with the score tied 1-1, the Raiders continued to enjoy the better of the play. Stafford came within inches of scoring on a one-touch shot near the goal off a terrific centering pass from forward Olivia Bryant, as the ball went just over the crossbar. Finally, at about the 15 minute mark Rubin came through with a goal on a free kick from 20 yards out that eluded the Mounties' goalie.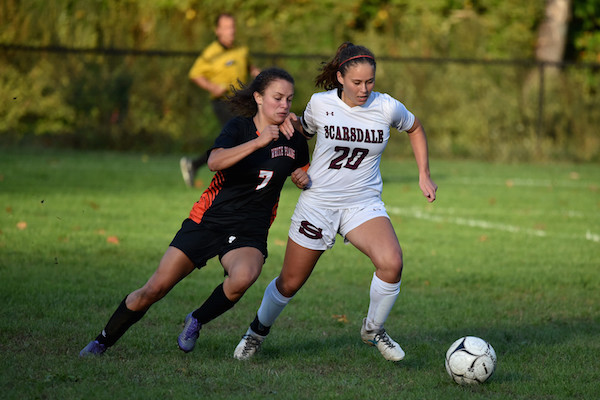 For the last part of the game, the talented Suffern team mounted a furious attack in a desperate attempt to tie the score. But the Raiders maintained their poise and the defense, led by Sam Mancini and Katie Reisman, were able to turn back the Mounties' attack each time. Finally, with fewer than five minutes left in the game and Suffern pressing up, mid-fielder Ella Ansell scored the clincher off a deflection in front of the goal. Christina Coco played well in goal for the Raiders and made some key saves and forwards Riley Edlitz and Nayumi Parente were key participants in the attack.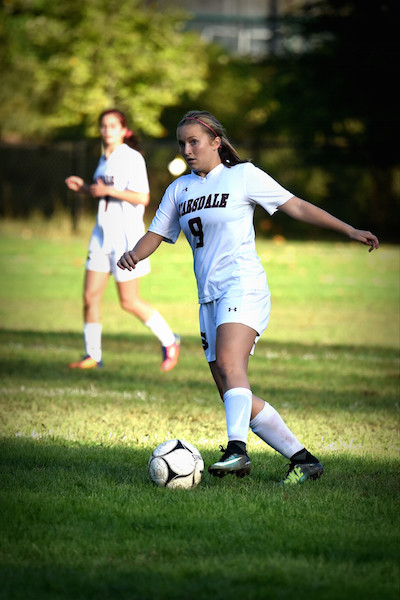 With the win over the Mounties, the Raiders finished the regular season with a record of 10-3-2 and as the 5th seed heading into the playoffs. After a difficult loss in their first game to Arlington, the number one ranked team in New York State, the Raiders have played better and better as the season wore on. They hope to have an opportunity to face Arlington again down the road in the playoffs.
The Suffern contest was the traditional game to celebrate the team's seniors. A ceremony was held before the game to honor team members who will graduate in June 2018. The honorees were Anna Distler, Dana Papandreadis, Kate Reisman, Sam Mancini and Carly Rubin. The closeness and friendship among the players was apparent as they paid homage to their soon-to-be graduating teammates. Under the leadership of long-time head coach Mindy Genovese and assistant coach Kiera Fox, the 2017 season has been highly successful regardless of how the team does in the playoffs, as evidenced by the camaraderie among the players and the team's steadily improving play as the season has progressed.
The Raider's first playoff game will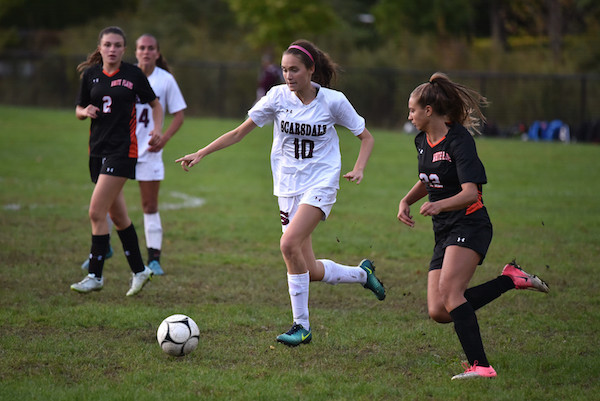 be held on Saturday, October 21 at 3:00 p.m. on the turf field at Scarsdale High School against No. 12 seed Mamaroneck. The Raiders played the Tigers, a traditional league rival, twice this season, winning once and tying once. Scarsdale residents are encouraged to come out and support the Raiders! Scarsdale10583.com will follow the team during the playoffs and report back on what will hopefully be a successful run.
Photos by Jon Thaler. See more here: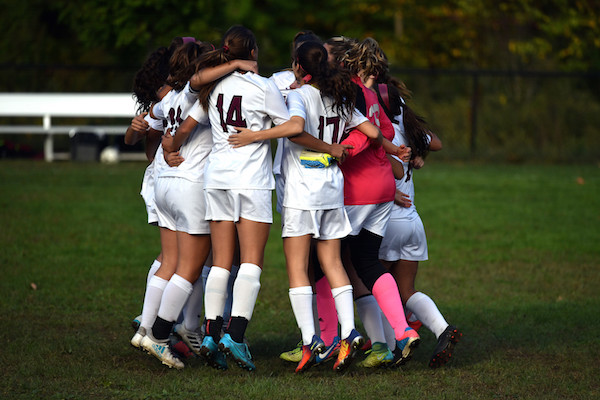 Add a comment
Scarsdale Forum Recommends Safety Measures and Asks for Resident Input on Traffic Survey
Details

Written by

Joanne Wallenstein

Hits: 1955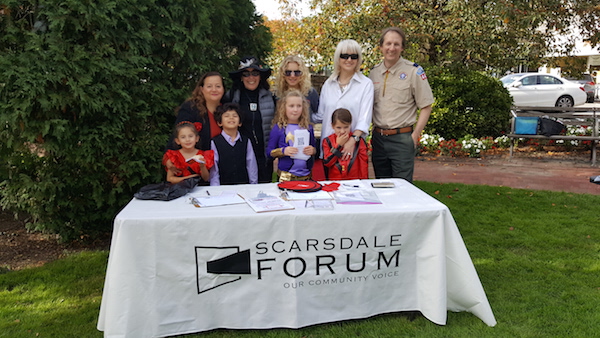 The Scarsdale Forum's Municipal Services Committee released a community survey as part of a continuing study being carried out by the Committee to examine traffic, pedestrian, and bicycle safety and parking issues throughout the Village of Scarsdale. This online survey seeks the input of residents of and visitors to Scarsdale about their experiences driving, walking, bicycling and parking in Scarsdale, and their views about ways to improve safety. Click here to complete it:
The Committee will be making recommendations to the Village based on the survey results about safety concerns without identifying individual questionnaire respondents. The survey follows the recent release of the Committee's Quality of Life Report that focused on how adherence to local ordinances is necessary to maintain and, possibly, improve the quality of life and safety in the Village.
The survey is a follow up to the Committee's previous traffic safety report, available on the Forum's report page.
Commenting on the survey, Municipal Services Committee Chair Madelaine Eppenstein explained that "The Committee began with a comprehensive initial report released to the Village in October 2015 that focused primarily on traffic safety issues in the Village center, with the intention of issuing an update to the recommendations that would cover the rest of Scarsdale's extensive road network." Eppenstein noted that "some of the same traffic problems that were detailed in the initial report could be observed at other locations throughout the Village and its neighborhoods."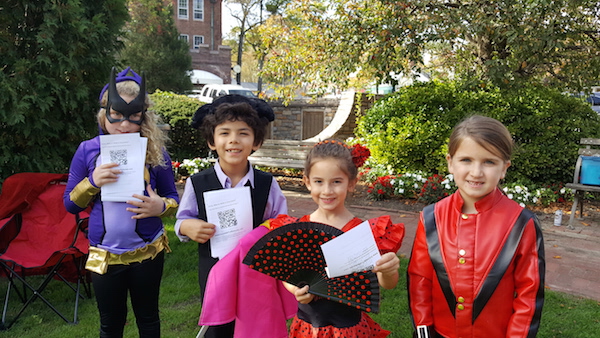 The Committee's initial report made the following recommendations, citing the precise locations in the Village where improvements in signals and signage might be made by the Village, to:
· promote pedestrian, bicyclist and motorist traffic safety by lowering the maximum allowable speed limit from 30 miles per hour to 25 miles per hour on designated roads;

· provide additional signals and/or signage and develop strategies in order to maximize pedestrian, bicyclist and motorist safety; and

· promulgate regulations, institute a public education campaign and enlist the cooperation of the public consistent with the Committee's recommendations.
The survey is being released at this time so that it can be presented to the Village Board of Trustees and Village Staff before the year-end holiday season and in time to be considered during the course of their budget considerations, which often begin on a preliminary basis during the fall. Given that timing objective, the Executive Committee of the Scarsdale Forum's Board of Directors approved the Survey's release on October 19, 2017 under the "Discussion Draft" provision of the Scarsdale Forum's By-laws.
Click here to complete the survey:

Add a comment
Scarsdale PBA Charity Golf Classic Unites Cops and Community for Greater Good
Details

Written by

Traci Dutton Ludwig

Hits: 4182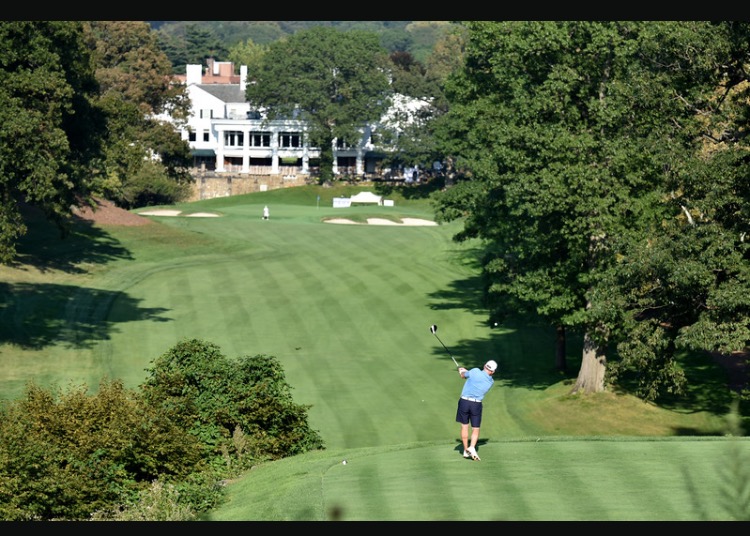 Sometimes, it takes a village ... and sometimes, you've got to bring together a team.
This was beautifully demonstrated last Monday, Sept. 25, when the Scarsdale Police Benevolent Association hosted their annual Charity Golf Classic, sponsored in part by Mercedes-Benz of White Plains, at Scarsdale Golf Club. The all-day extravaganza was superb in every detail, but the real magic came from the people involved. Under the leadership of PBA Event Chairman Ronnie Arefieg, this year's Classic showed an outpouring of generosity, loyalty and involvement from an ever-growing community of supporters – viewed by Arefieg, affectionately, as his "team."
The event's purpose was to benefit two charities with deep local ties – The Juvenile Diabetes Research Fund (JDRF) and #PaulieStrong Foundation – and to support the Scarsdale PBA. With monetary donations still coming in, the Scarsdale PBA is gearing up to present checks to JDRF and #PaulieStrong Foundation later this fall. Last year's Charity Golf Classic generated enough funds for the Scarsdale PBA to donate $25,000 each to JDRF and St. Jude Children's Research Hospital.
Arefieg has been a Scarsdale patrol officer, with the motorcycle unit,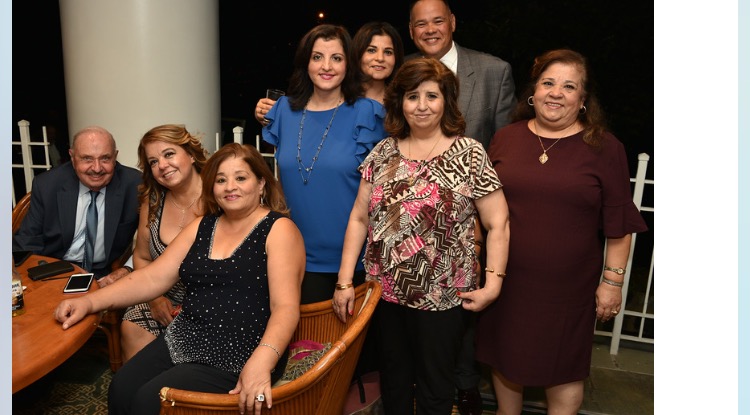 since 2004. He took over the annual Charity Golf Classic in 2005, two years after the event's inauguration in 2003. The Classic has grown exponentially through Arefieg's creative vision and meticulous attention to detail. As a result, it has now become one of the region's most anticipated and most talked-about events. It is by invitation only.
This year's event opened with an outdoor brunch at 10 a.m. The seductive sounds of Frank Sinatra, played by the live trio, "Stolen Moments," welcomed guests onto Scarsdale Golf Club's rear terrace. Golfers were treated to champagne, passed hors d'oeuvres and food stations offering lobster, crab, raw seafood, made-to-order omelets, fresh waffles, tropical fruit, fine pastries, imported cheese, meat and other delicacies. Cigar rollers from La Casa Grande, in the Bronx, were hand-rolling premium artisan cigars from Cuban-seed tobacco grown in the Dominican Republic. Golfers enjoyed mild Connecticut Shades or full-bodied Maduro Robustos, while others relaxed with shoulder massages provided by Equinox Gym. Local photographers Mark Jessamy and Jon Thaler captured the day's details.
Arefieg's focused planning and preparation ensured the event's coordination and success. Vendors, sponsors, special guests, musicians, and Scarsdale Golf Club staff under the direction of Connie Mintzer worked together seamlessly. The result for attendees was amazing. Food vendors included Decicco Marketplace, Scarsdale Bagels, Joe "Mozzarella" Piacquadio, John Gristina Gourmet Pizza, Kumo Sushi and Lounge, Lange's of Scarsdale, Lulu Cake Boutique, Martine's Fine Bake Shoppe, La Renaissance and Ruffled Feathers. Each vendor provided extraordinary food experiences that guests will long remember.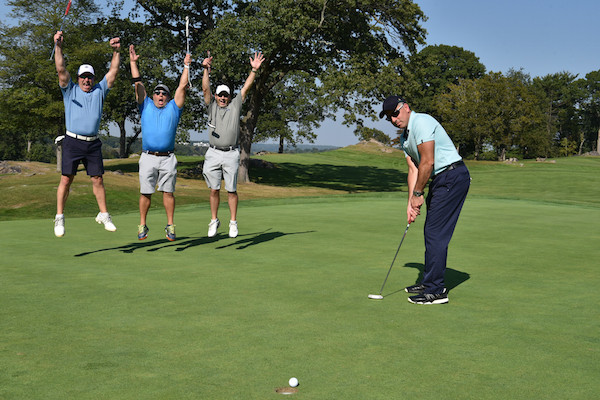 Zachys Wine & Liquor, of Scarsdale, oversaw the wines and spirits for the day. Don Zacharia, of Zachys, has long been a loyal contributor and supporter of the Scarsdale PBA and its endeavors. "Such dedication is exemplary," Arefieg said.
"Of course, I work hard to make this the best golf event that I can, but without the generosity, time and effort of everyone involved, it would not be what it is today," Arefieg continued. "This event happens because of all of us."
Robert Tucker, Esq., Chairman and CEO of T&M Protection Resources, LLC, said it is a "humbling honor" to be able to support the Charity Golf Classic. "This has become such an important community event. It supports our police, which is crucial in today's age, and it brings recognition to worthy charities that have been right under our noses," Tucker said. "It's a great opportunity to get together in a fabulous social setting. No one throws a better party than Ronnie. He has created a world class event, right here in Scarsdale."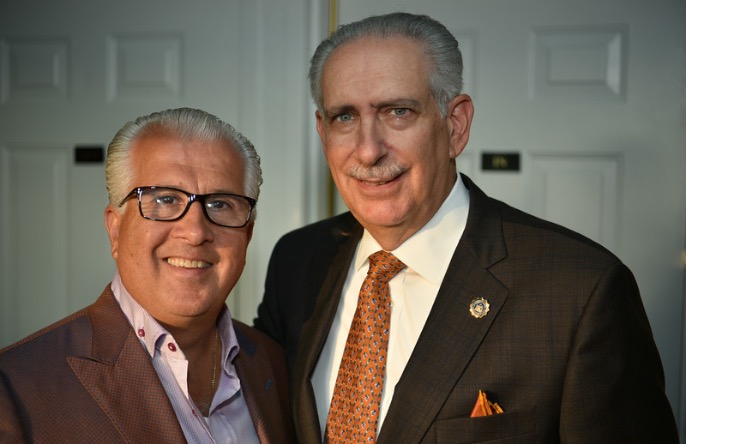 Describing the day's highlights, Arefieg was full of enthusiasm: "We have so many surprises for the golfers. Out on the green, there's fun at different holes. We have pizza making in a brick oven, a pig roast, specialty food and drinks. Even '104.7 Radio Live with The Woodman Show' is out there."
According to William Mayer, former Scarsdale resident and owner of Maestro Catering and Eastwood Manor in the Bronx, "Just when you think this event can't get any better, it does! This is the fundraiser of the year – and I go to a lot of fundraisers. Scarsdale is a great community, and Scarsdale police are amazing."
This year, Charity Classic golfers were limited to 36 foursomes. Tickets completely sold out in 17 days. Many golfers, like Adrian Regan, of Scarsdale, have been coming for years. Regan is a general contractor in New York City and owner of The Irish Bank, a popular Hartsdale pub, known for its good food and warm atmosphere. "Whatever you do, you've got to think about people and make that priority part of your success," Regan said. "I support the PBA because of the great job they do in my neighborhood and because this event donates to worthy causes. Doing good makes you feel good, and I look forward to being part of this event each year."
Following their games, players returned to the clubhouse for a lavish evening dinner. They were joined by spouses, friends and guests who did not play the course. Unlike other golf events that slowly fizzle out, this event always ramps up in the evening. This year's spectacular evening celebration, food, drinks and entertainment were made possible by the generosity of dinner sponsors: Mark Bezos, Scott Eichel, Scott Kleinman and Jordan Zaken.
This year's main sponsors were Mercedes-Benz of White Plains and Wilson & Son Jewelers. "I am thrilled with these sponsors' committed support and active involvement over many years. Their contributions and loyalty have helped this event grow in significant ways. This kind of loyalty is very special," Arefieg said.
James Macagna, Marketing Director for Pepe Auto Group and Mercedes-Benz of White Plains attended the event and shared his thoughts: "This is such an amazing day and such a spectacular event; the golf itself is almost secondary. As a company, we are proud to be part of this, since 2005, because it enables deeper involvement with the community, and we know our sponsorship supports good causes."
One of this year's grand prize raffles was a 2018 Mercedes-Benz C300 4MATIC sedan, from Mercedes-Benz of White Plains. The other grand-prize raffle was for a Rolex Oyster Perpetual, from Wilson & Son Jewelers. Mercedes-Benz of White Plains also slated a new 2017 C63 AMG cabriolet and a new 2018 E400 coupe as prizes for any golfer hitting a hole-in-one. No one did, but Macagna said, "We're always hoping someone gets a car. A hole-in-one is very exciting."
"A big part our business model is to do more and give back," Macagna explained.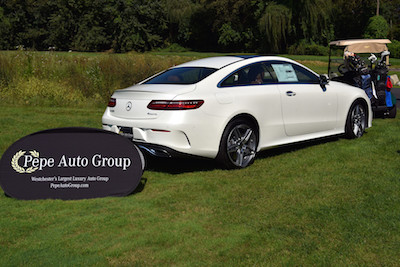 "We love participating in events like these because we want our customers to see the larger reach of their business. We've been in Westchester for almost 50 years, so we're deeply invested in this community. By doing business with Mercedes-Benz of White Plains, our customers enable us to support local causes and give back to the community. This makes everyone stronger."
Arefieg starts planning each year's Charity Golf Classic about four months after the previous one concludes – and in the meantime, he's gathering ideas. In total, approximately six to eight months of intense planning, active networking, mind-blowing organization, and many long days and nights, comprise the behind-the-scenes activity leading up to the event. Arefieg makes sure every detail is perfect; nothing is overlooked; and every effort is thoughtfully coordinated and executed. "I owe a lot to Connie Mintzer and her team at Scarsdale Golf Club. They have been amazing and have catered to our every need," Arefieg said.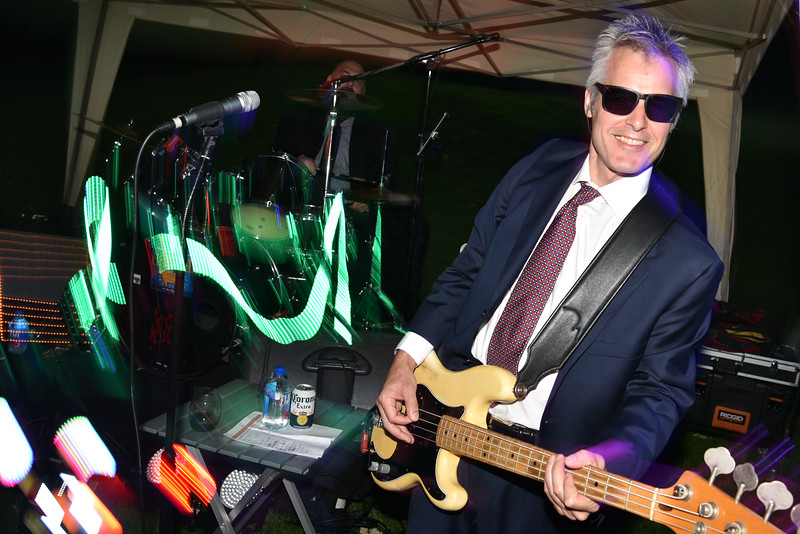 A cocktail hour on the clubhouse terrace began the evening festivities this year. Everything was of the highest caliber. "Someday Radio," a band formed by Scarsdale firefighters Mike and Tom Dwyer and their brother Pete, entertained guests with live rock music. Hand-rolled cigars were provided by Eagles Nest Cigars, of Harrison, and Pride Cigars, of Miami, Florida. Whiskey and Scotch tastings, sponsored by Zachys Wine and Liquor, featured Johnnie Walker Blue Label and Black Label, Lagavulin and Macallan 18. Additionally, a professional pourer featured Hudson Whiskey, a craft label produced by Newburgh's Tuthilltown Distillery. Across from the tasting table, fresh lobsters were being roasted over charcoal, and fresh mozzarella was being made by Joe "Mozzarella" Piacquadio, of the Chappaqua farmer's market.
Michael Wilson, of Wilson & Son Jewelers, spoke about his dedicated support of the event, the PBA and the Scarsdale community. "It is an honor to be a longtime sponsor of this Charity Golf Classic," he said. "We take part in many charitable fundraisers, but nothing compares to the passion and energy of this event. It is impressive and heartwarming. Everyone here represents the best of Scarsdale – and I'm proud to be a member of this very special community and a supporter of the Scarsdale PBA."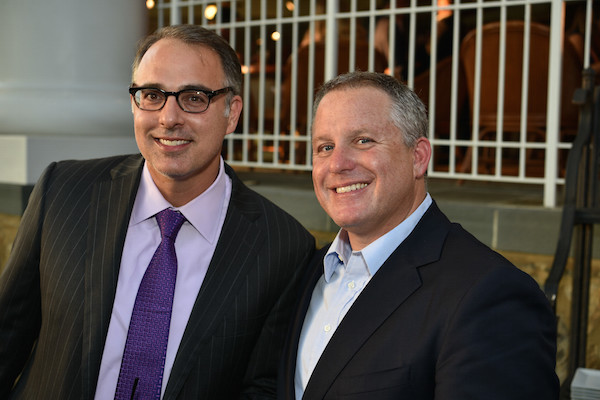 Following the extraordinary cocktail hour, the party moved inside for dinner and dessert. DJ Serge Entertainment, of White Plains, energized the dance floor, as a silent auction occurred. People mingled and came together over smart conversation, plates of food, fine wines and shared purpose. They learned about valuable juvenile diabetes research funded by JDRF and groundbreaking pediatric cancer research supported by the #PaulieStrong Foundation. The #PaulieStrong Foundation was formed by the Jimenez family, of Greenacres, to honor their 10-year-old son Paul Ulysses Jimenez, who tragically lost his life to Rhabdomyosarcoma, a rare soft tissue cancer, on January 5, 2016.
In addition to generously supporting these and other charities, as part of Scarsdale PBA's mission, the annual Charity Golf Classic provides crucial funding for the Scarsdale PBA itself. It is the organization's biggest annual fundraiser, and the PBA counts on it to keep healthy, continue operating and forward initiatives.

Scott Eichel has been a resident of Scarsdale for 11 years and is an important PBA supporter. He explained: "Scarsdale is a special community, where the intersection between police and community is key. The annual PBA Golf Classic is unique because its benefits are twofold. It not only supports the PBA's financial and budget needs. It also helps the PBA give back to important charities that positively impact residents in the community. It also brings people together in wonderful ways – police and people important to them, residents, old friends and new friends. It provides a great forum for members of the community to understand the needs and challenges of the police department, and for the police to hear what the community needs from them."

"It's really inspiring to see this event come together," Arefieg said. "It's a great event for many reasons, but its special energy comes from all the people who support it and participate in so many different ways."
Arefieg described how the event draws doctors, lawyers, judges, Scarsdale residents, non-residents, CEOs, business owners, entrepreneurs, current and former police chiefs, members of New York State police, county officials and police officers from across the region. He described how their collective support combines with the support and participation of sponsors, vendors, volunteers and the entire golf club staff to make the event happen.
"It's really a result of many great relationships that have been building over years, to allow us to reach this point, and make this incredible event what it is today," Arefieg said.
His sentiments were echoed by two local dignitaries at the evening event.
Westchester County Executive Rob Astorino commented that he looks forward to attending the each year. "It's certainly the 'Who's Who' event in law enforcement, a great party and a nice occasion to get together," he said. "And the Scarsdale PBA does a fantastic job raising money for good causes."
Westchester County District Attorney Anthony Scarpino, agreed: "As the chief of law enforcement in Westchester County, I go to a lot of fundraising events, but nothing compares to this gathering. It's the best in the county. What really stands out is the entire community's support for the police and the very positive relationship between police and community – which, these days, is really great to see."
Scarsdale Police Chief Andrew Matturro said the event made him proud: "I want to Congratulate PBA President Boris Grgas, Vice President Steve Delbene and Event Chairman Police Officer Ronnie Arefieg for the successful event. It was a beautiful day, and while everyone enjoyed their round of golf, the true success was in their ability to contribute to two very worthy causes – #PaulieStrong and juvenile diabetes. I want to commend all PBA members and police officers who volunteered their time to make this an incredible event. Those who participated saw a small example of how dedicated our men and women are to the PBA and to the Scarsdale community. I am fortunate to see this every day at work, and I am proud to be associated with these officers."
Following the event, Arefieg reflected on its success: "The greatest pleasure, for me, is in bringing so many people of different professions and backgrounds together, in one venue, for the same cause. It's a beautiful thing to experience. The Scarsdale PBA is so grateful to the entire Scarsdale community and to our supporters outside the community for their tremendous loyalty, generosity and kindness. My vision for this event has always been focused on a strong and authentic relationship between the community and the PBA, with everyone working together. I see this event as proof of one big team, one big effort, one big vision for the future."
If you are interested in attending, sponsoring or donating to the 15th Annual Scarsdale PBA Charity Golf Classic, scheduled for fall 2018, please contact Ronnie Arefieg or Scarsdale PBA at: rarefieg@scarsdale.com or 914-472-7877.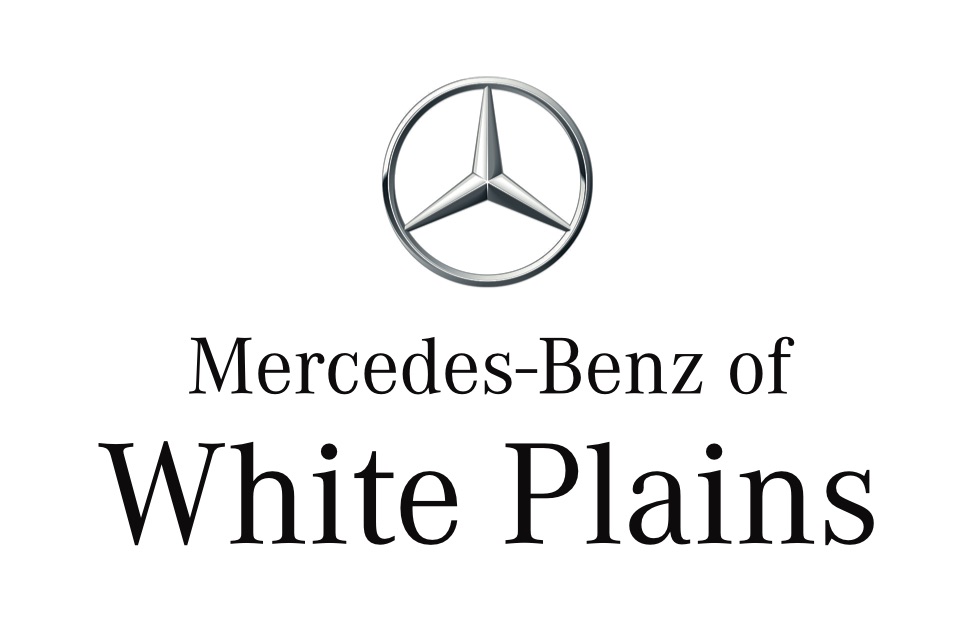 Content sponsored by Mercedes-Benz of White Plains
50 Bank Street, White Plains, NY, 10606
(914) 949-4000
www.mbwhiteplains.com
Mercedes-Benz of White Plains – "Expect Everything"
(Photo Credit: Jon Thaler: See more photos here.)
Add a comment