Protesters Demand that Families Be Reunited
Details

Written by

Michelle Lichtenberg

Hits: 2437
Almost 800 hundred locals came out in sweltering heat on Saturday June 30 to protest the practice of separating families of those seeking to immigrate to the United States. Under a new "no tolerance policy," the U.S. Government is placing adults in detention centers and separating parents from their children who have been shipped all over the United States. In fact, immigrant children are being held in four facilities in Westchester County, and elected officials have been denied access to them.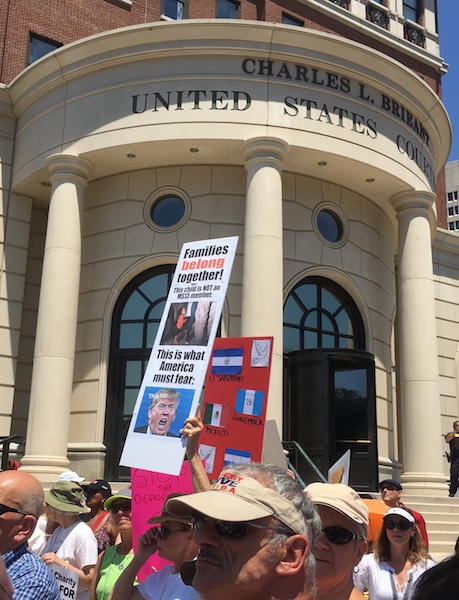 On Saturday June 30, local residents joined protestors across the country as part of the "Families Belong Together" campaign to demand that this policy be changed. Protestors called for the end of detention without due process and for the re-unification of parents and children, who in some cases are thousands of miles apart.
Westchester residents assembled at the Federal Courthouse in White Plains to hear speeches from Congressman Eliot Engel, County Executive George Latimer, State Senator Andrea Stewart Cousins and a 15 year-old boy who came home from school one day in November to find that his father had been picked up by ICE during the day and has not been heard from since.
Photos by Michelle Lichtenberg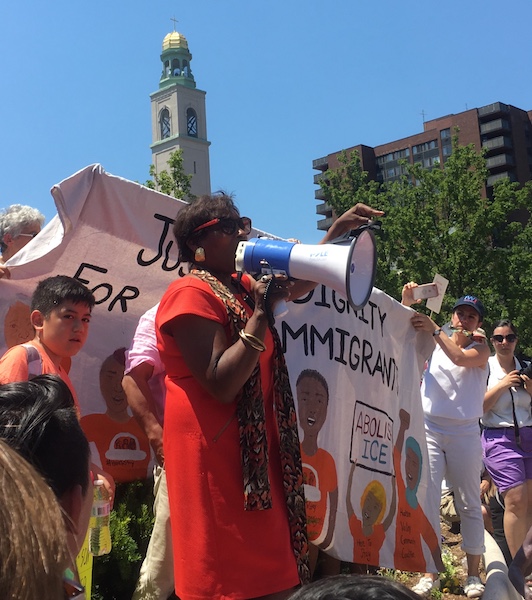 State Senator Andrea Stewart Cousins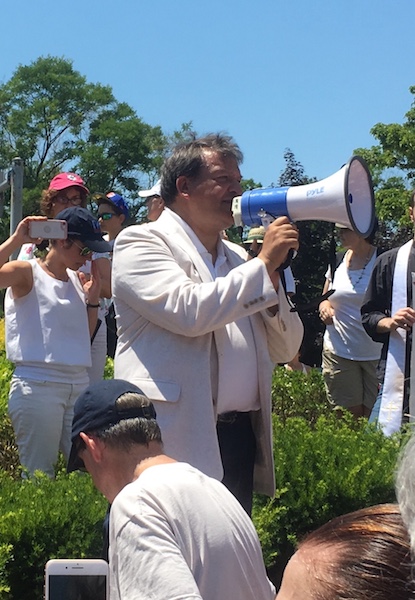 Westchester County Executive George Latimer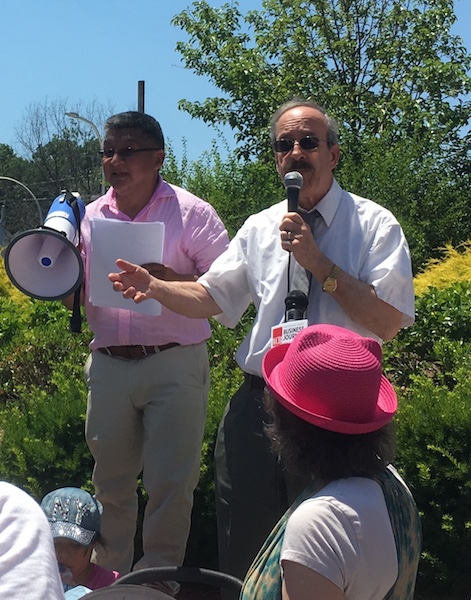 Congressman Eliot Engel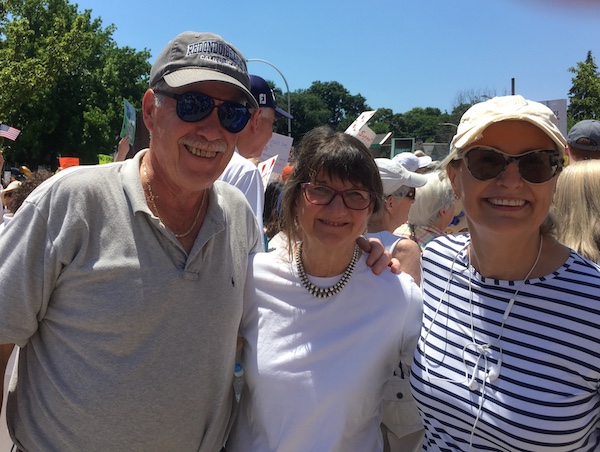 John Leslie, Deb Pekarek and Michelle Lichtenberg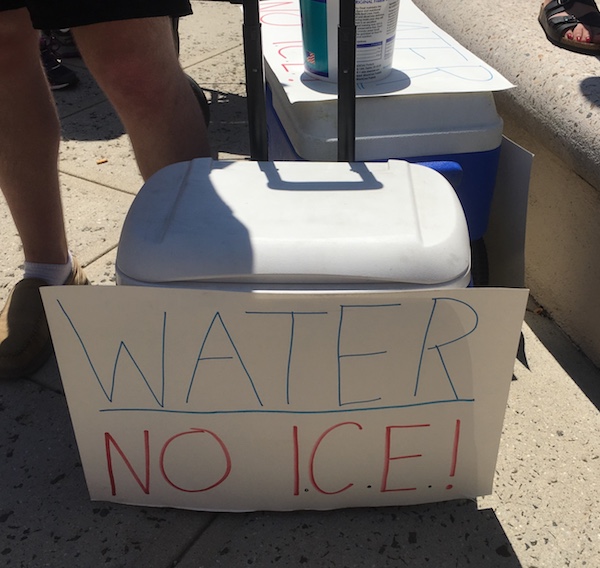 Accident Pins Woman Between Two Cars Near Greenacres Elementary School
Details

Written by

Joanne Wallenstein

Hits: 5513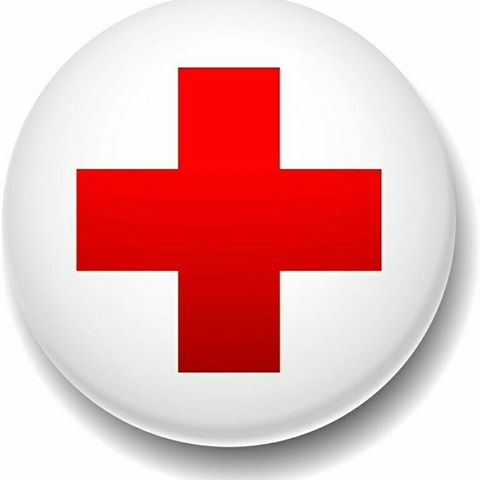 Just before 3 pm on Thursday June 21, a Greenacres woman was injured in a car accident on Montrose Road near the Greenacres Elementary School. Sinying Lin, age 24 of Valley Road backed the 2018 Volvo she was driving into a space on the west side of Montrose Road.
According to the police, when she backed in, she scraped a 2017 Toyota that was parked in the next spot. She got out of her car to assess the damage and the Volvo rolled toward the other car, pinning Lin in the middle.

Good samaritans rushed to help her. One moved the car to free her and another carried her to the grass to perform CPR until help arrived.
Scarsdale Police, firefighters and SVAC all came to the scene to extricate Lin who was taken to the trauma center at Westchester Medical Center for treatment. Her condition is unknown.
Sign Petitions to Put Candidates on the Ballot
Details

Written by

Joanne Wallenstein

Hits: 1291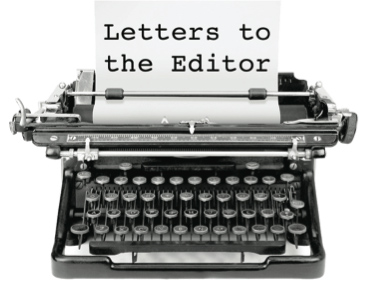 June 16, 2018
Letter to the Editor
This week starting June 16 and running until July 10, 2018 people will be coming to your door and asking you to sign petitions for Democratic, Republican, Independence, Conservative, Working Families, Green, Women's Equity and Reform Parties to get candidates, including incumbents, on the ballot. Please open your doors and sign these petitions. Each candidate must get a certain amount of signatures to qualify to be on the ballot in November. If they do not get the minimum number needed they will not qualify to be on the ballot. Once again, we ask you to open your door when a neighbor comes by and sign the petition to get the candidate of your party on the ballot.
Thank you for your help in this matter.
Yours truly,
Mark Lewis
Democratic Party Chair
Linda Killian
Republican Party Chair
914-725-3012
The 2018 Students Inside Albany Conference
Details

Written by

By Amanda Glik and Isabelle Riback

Hits: 1911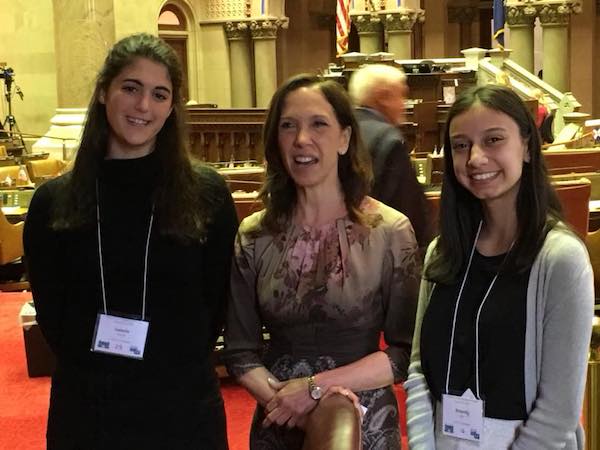 The League of Women Voters of Scarsdale selected and sponsored Scarsdale High School Juniors Amanda Glik and Isabelle Riback to attend this year's Students Inside Albany conference held from May 20-23. SIA is an intensive four-day conference run by the League of Women Voters of New York State designed to immerse students in the process by which public policy is proposed, revised and enacted in New York State and to educate them as to how they can influence and affect this process. If you would like more information about the League of Women Voters of Scarsdale and/or the Students Inside Albany Program, contact president@lwvs.org. Here is the report prepared by Amanda and Isabelle about their trip:

The beautiful view from the train foreshadowed the drastic change of scenery that awaited us in Albany. Once we were settled at the hotel, the group of 60 students from all over New York congregated and talked about our different experiences. We met people who lived 10 minutes away from us, and others who lived 10 minutes away from Canada. These unique and varied perspectives led to truly engaging conversations when we talked about politics and our daily lives. In order to prepare for the following days, Jennifer Wilson, the Legislative Director of the LWVNYS taught the group about New York State politics and how Assembly Sessions function. These presentations were particularly eye-opening, as we had not studied state government in school. Armed with knowledge and new friends, we prepared for the mock session with our peers.

The next morning, the group took a tour of the Capitol and learned about its rich history. Whereas some rooms had lavish carvings, the end of construction left many walls unfinished. We witnessed senators having private discussions in the only location of the senate chamber that doesn't echo: the fireplaces. In fact, we decided to try out the fireplaces ourselves. The Million Dollar Staircase provided insight to the amount of time, energy, and money that was put into to making our beautiful capital. On the Assembly floor, we participated in a mock session, discussing A6140, the Repeal the NY SAFE Act Bill. As we advocated and voted, we realized the diversity of New York State and the controversy of gun bills. The people who lived upstate had exceptionally different views than we are accustomed to hearing in our community. It felt amazing to engage in such thoughtful discussion and advocate on behalf of our "constituents." We also learned firsthand about the importance of civility on the assembly floor. Ultimately, the bill did not pass, which we learned is rare; in reality, the majority party of the Assembly would not likely allow a bill to be heard on the floor if it was not going to pass. Newly empowered, we were perfectly primed to learn about the power of the private citizen. The rest of the day consisted of guest speakers who spoke of political activism and lobbying successfully. A representative from the Alliance for Quality Education talked about the disparity between certain school districts and advocated for public education equality. Liz Moran of the Environmental Advocates of New York defined environmentalism and taught the group about issues in New York such as aging water infrastructure. We were encouraged to learn more about current environmental policy such as a bill that is currently sitting on the Senate Judiciary Committee, Senate Bill S5287, which relates to the right to clean air and water and a healthful environment. The most important message was that members of the public, because they are not special interest groups, are key to policy change. Not only was state government more influential to our lives than we thought, we have a lot of power, too!

Following our mock session, we got to witness our own legislators in action. Assemblywoman Amy Paulin, who represents the 88th Assembly District, was generous enough to give us an idea of what her life is like day to day. We learned about different bills she was working on. We were all amazed as we sat and watched her gracefully work out little bumps in her Assembly Bill A01030, which is set to be passed. We admired her use of power for good. The passion Assemblywoman Paulin has for what she does was evident in the way she fought for her beliefs and interacted with her fellow legislators. Despite our age, we were treated with a great amount of respect and promise. We look forward to following Assemblywoman Paulin's activity and hope to follow in her passionate footsteps toward positive advocacy.

Next, we had the honor of meeting Andrea Stewart-Cousins, Minority Leader of the New York Senate. We talked to her about the importance of state government and learned about her path to becoming a state senator. During our shadow session we witnessed Senator Stewart-Cousins second the nomination of Barbara Underwood to be the New York State Attorney General. As young women looking to enter the field of government as we get older, it was a tremendous privilege to see such an inspiring and historic moment. At the joint session, some members spoke about their unhappiness with the Constitution's requirement that the Legislature must appoint an acting Attorney General, as opposed to having a special direct election. The appointment of Attorney General Underwood was rare, as it was a result of the resignation of the previous Attorney General, Eric Schneiderman. Through this experience, we learned the state Constitution is not perfect; it is incumbent upon the members of the government and public to ensure a fair process.

On Tuesday night, at a media panel, our group asked questions about the role of media in politics and the influence media has on the public. The panelists, Rachel Silberstein from the Times Union, Don Clark from PolitiFact, and Tim Williams from WCNY, discussed their respective media and how they became involved in journalism. Many students asked about identifying reliable news sources and being well-informed. Many students were encouraged to reach out to magazines and submit their own work.

The knowledge and experience we gained in Albany was important, eye-opening, and inspiring. We formed connections with teenagers from all over the state. In fact, we have remained in touch with many of the other students from the group. We feel incredibly fortunate to have formed such close bonds and to have had such an incredible experience.
Scarsdale Library Preparing for Move to Library Loft
Details

Written by

Derek Moritz

Hits: 2134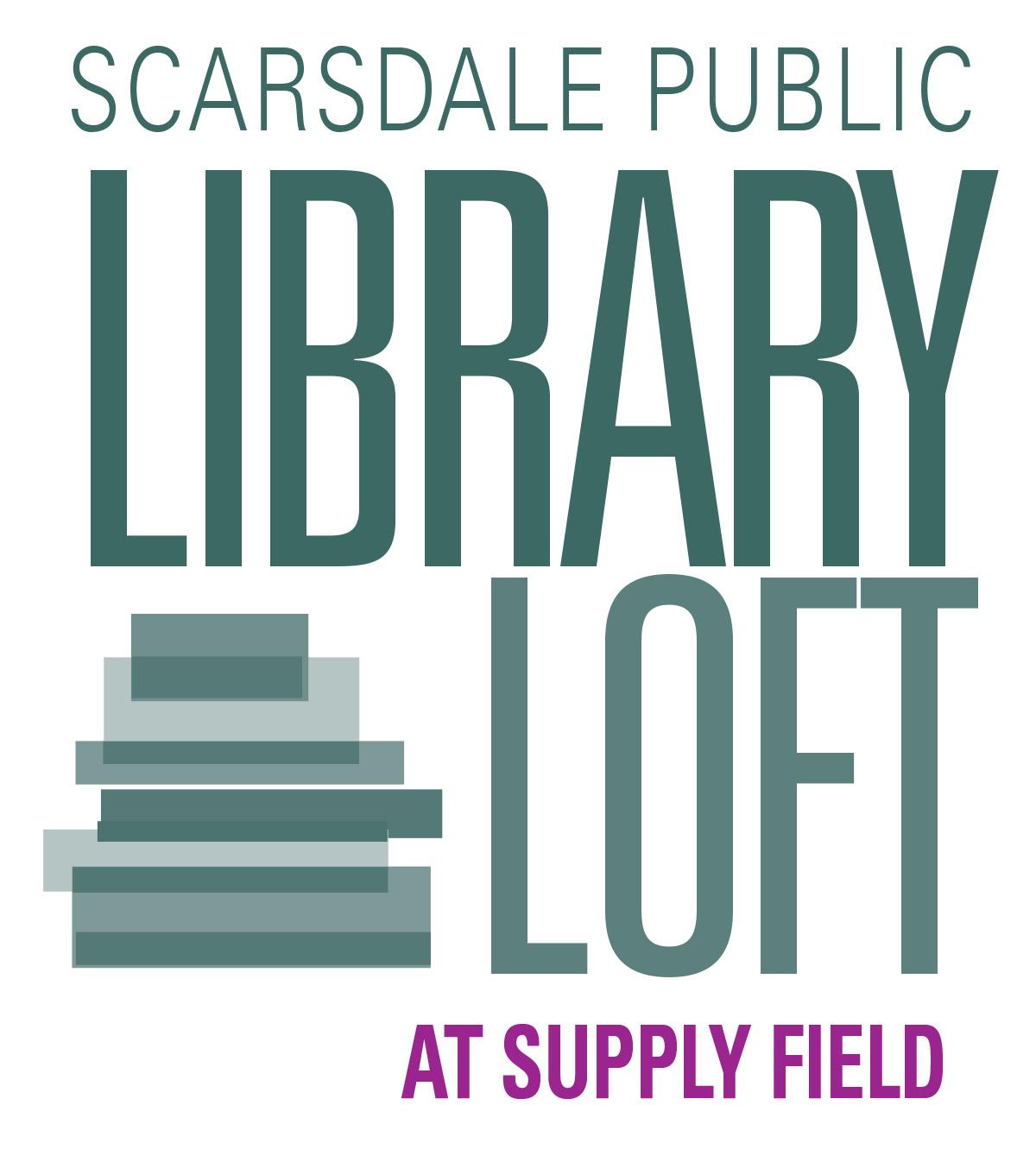 The time has come …. having raised the requisite amount of funding, the renovation of the Scarsdale Public Library on Olmstead Road is soon to begin! The library will move its operations to Library Loft at Supply Field, the temporary facility that will house library services while the Olmsted Road library is closed for renovation.
The Children's Room will close for packing, starting Monday, June 18 and then the entire Olmsted Road building will close to patrons beginning Sunday, June 24. Library Loft at Supply Field will open on July 5. Some services and programs will continue at the smaller space, with hours reduced at times to accommodate parking for field users. Some programs will be held at other sites.
"The best way for our users to keep track of hours and programs is via our website, scarsdalelibrary.org, the e-newsletter and local media," said Elizabeth Bermel, library director. "We urge all users to check the website periodically and sign up for newsletter alerts. Registration for the alerts can be found at the bottom of the website home page."
Library Loft will have a children's room; a reference section; Wi-fi; three public computers, a scanner and copy machine; new books, audiobooks and DVDs; magazines and newspapers. Seating will be limited. To prepare Scarsdale's youngest library-goers for the move, the library made a children's book that covers the 93-year history of the library. The book is titled Fly Through Time, and can be picked up at the Scarsdale Library or viewed online by clicking here.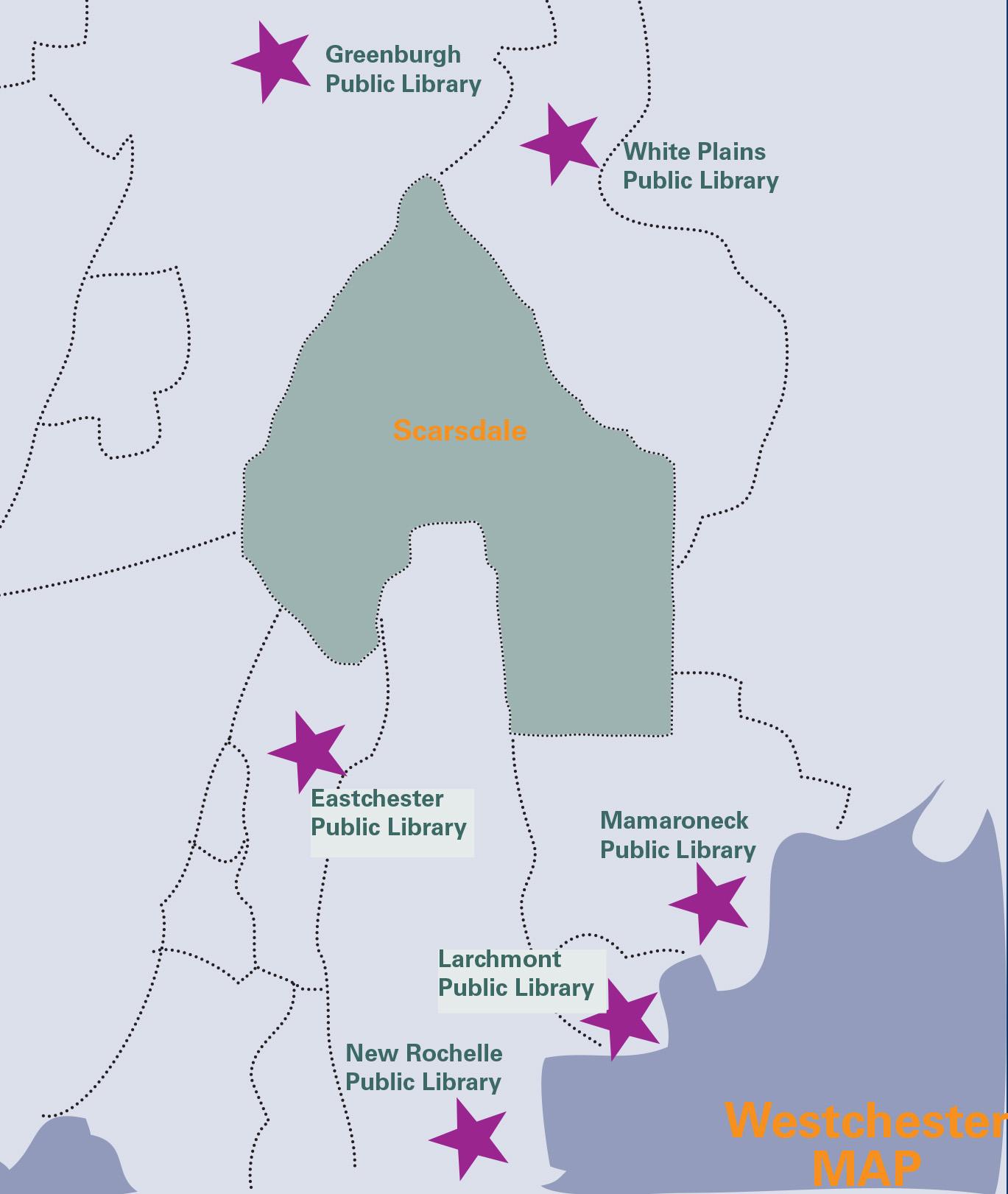 Local Libraries
Cardholders can use the other libraries of the Westchester Library System including to return books borrowed from Library Loft. Books may be reserved online, over the phone or in person from other libraries and picked up at Library Loft. A list and location of the nearest libraries is available on the website. There is also information on programs for all ages that will continue.
The move is necessary while the current library undergoes a major transformation made possible by funding by the Village of Scarsdale and generous donations of Scarsdale residents.
"We are thrilled and grateful to the many committed stakeholders and to the community for helping get us to the brink of construction," said Diane Greenwald, Library Board President. "The library staff is working to make this transition as smooth and safe as possible, but patrons may experience some inconvenience during the next few hectic weeks. We appreciate your patience during this busy transition."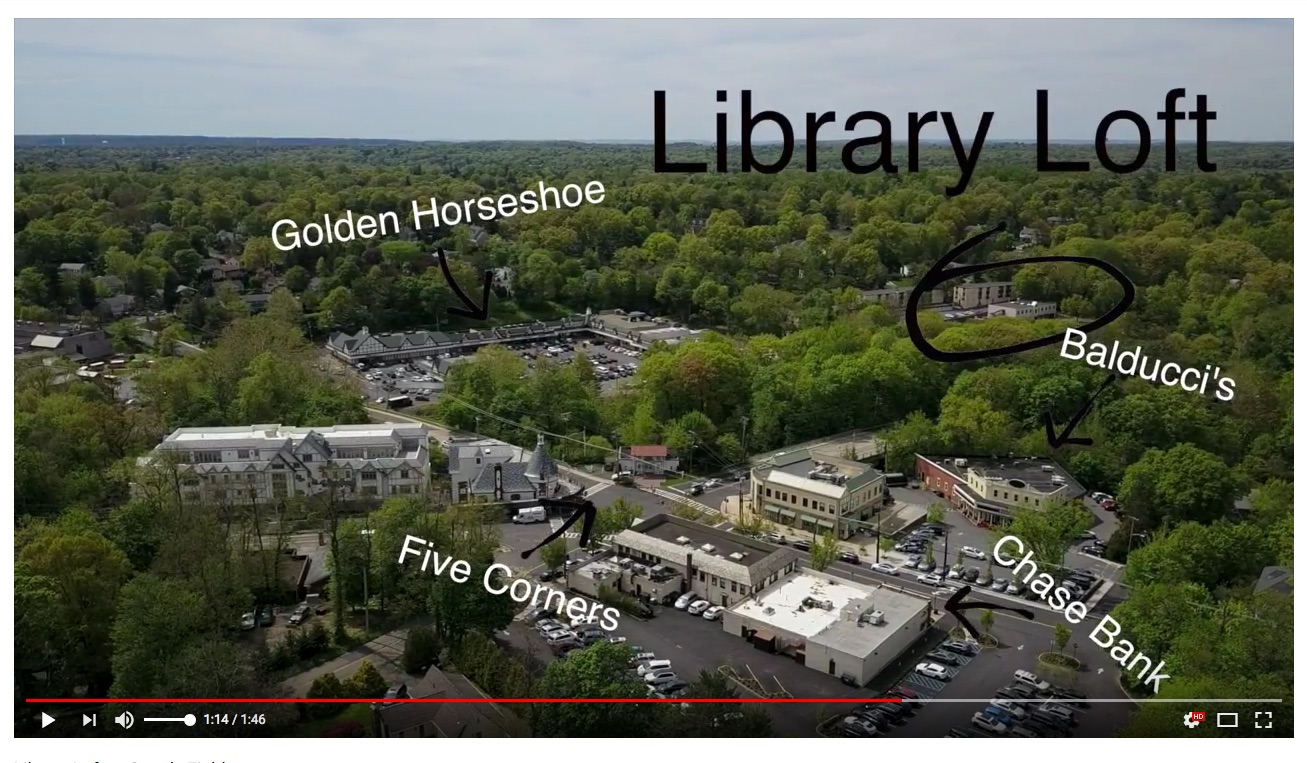 Click the Picture to Watch a YouTube Video About the Project!Other projects are on the horizon to help minimize disruption during the closure of the main library.
The Friends of the Library plans to expand the homebound delivery service to bring materials to residents who have difficulty getting to the library.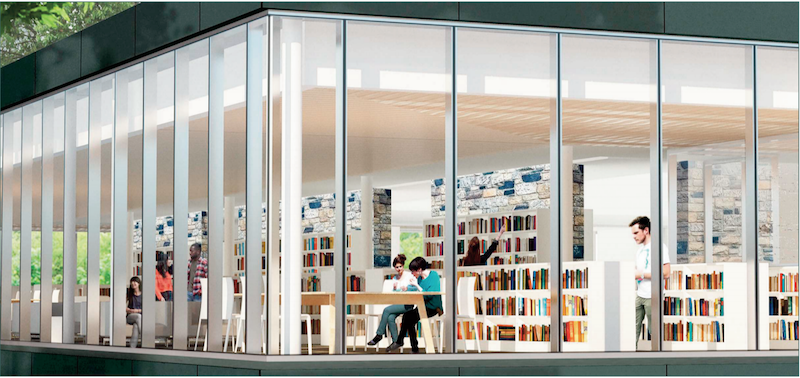 Rendering of the New Scarsdale Library
The website is being redesigned to become a virtual library, with many online resources readily available for children and adults.
The Library Loft renovations were supported by a $500,000 state grant secured by Assemblywoman Amy Paulin. The updated facility will be available for use by the Village after Library Loft. Learn more here: scarsdalelibrary.org