Bronx River Books: Now Open in Scarsdale Village
Details

Written by

Joanne Wallenstein

Hits: 5618
Jessica Kaplan and Mark Fowler of Bronx River BooksLike many of you, we were so excited to find that Scarsdale's new independent bookstore is open on Spencer Place and pleased to meet Jessica Kaplan and Mark Fowler, a White Plains couple who has opened their first bookstore, Bronx River Books.
What is their story and how did they end up in Scarsdale Village? They graciously agreed to an interview and here is what Jessica shared:
Tell us something about your background, your professional history and familiarity with our area?
My husband, Mark Fowler, has been a lawyer for the past 33 years and has represented publishing companies, newspapers, and magazines, as well as individual authors. Prior to becoming a lawyer, he was a freelance writer and also co-authored several books of purported humor.
I taught middle school English for most of my career at Rye Country Day School in Rye, New York. During the past three years of my retirement, I subbed for a semester as a sixth grade English teacher at Greenwich Academy, as a fourth grade teacher at the French American School of New York in Larchmont, and as a fourth grade teacher at Rye Country Day.
We have lived in White Plains for 37 years where we raised our three sons all of whom attended the White Plains public schools from kindergarten through 12th grade.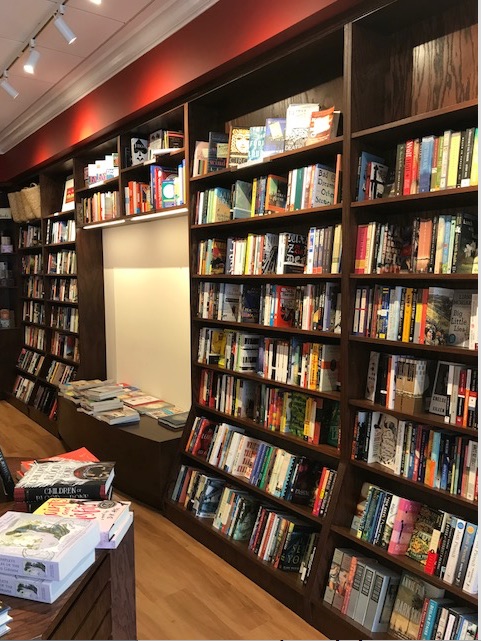 How did you get the idea to open a bookstore?
Bookstores like Three Lives in Greenwich Village, the venerable Grolier Poetry Bookshop in Boston, the old (alas, now departed) Gotham Book Mart in Midtown, and great little suburban bookish destinations like Books on the Common in Ridgefield Connecticut are among our favorite places in the world. Mark and I have always been omnivorous readers, and Mark is on the board of the Center for Fiction, which is in the process of relocating to a great new space in Brooklyn. At one point in recent history, we were in two book clubs (on of which has been meeting regularly for 26 years) in addition to taking literature classes at the Center for Fiction. We always visit bookstores wherever we happen to travel, and we hope and intend for Bronx River Books to continue to connect us to the Westchester community as we segue from our careers in teaching and the law.
How did you learn how to open and run a store?
Well, it remains to be seen if we have. We are greenhorns in the retail business and have been literally getting on the job training since Thursday, September 13 when we first opened. We have had no prior experience in selling but did take an online course that (we hope) teaches new bookstore owners some of the ins and outs of the book business. Also, as part of our research and preparation for opening Bronx River Books, we visited 62 independent bookstores to observe, gather ideas, and learn from other booksellers who have been incredibly generous in sharing their ideas and insights with us. We also received valuable information and support from the American Booksellers Association, which is headquartered in White Plains.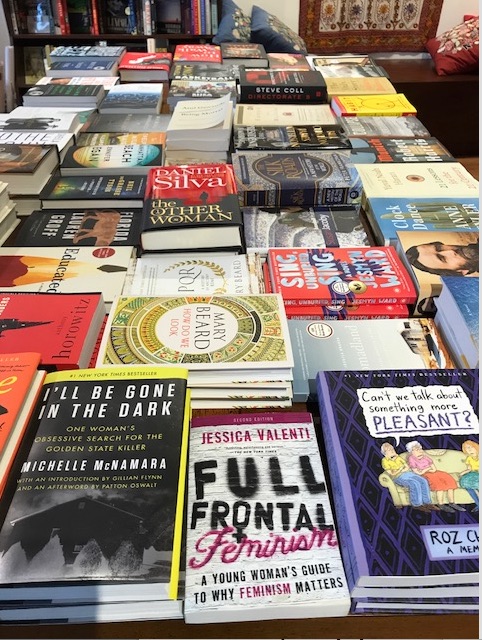 Where did you look for a site and how did you decide on Scarsdale?
We had a hard-working commercial real estate agent who showed us more than a dozen sites in White Plains, Hartsdale, and Scarsdale. We wanted to be in close driving distance of our home in White Plains, and Bronx River Books is just 2.8 miles from where we live. Reading, Writing and Wrapping in Scarsdale had been our local independent bookstore until it closed several years ago, and we fondly recall our youngest son Matthew buying his first Harry Potter book there. There are fine independent bookstores in Bronxville, Larchmont, Rye, Pleasantville, and Chappaqua, but we felt a certain absence in central Westchester since Reading, Writing, and Wrapping closed its doors. And, of course, there are many thousands of smart, highly engaged readers in Scarsdale, White Plains, Edgemont/Greenburgh, Eastchester, and other nearby towns.
Why do you think the community will support the bookstore?
Since we opened (and even while we were still unpacking books to set up) many readers from Scarsdale and the neighboring communities stopped by to say they were happy to have an independent bookstore back in town. They've made us feel very welcome
How did you design and build out the store?
We bought our bookshelves from a company in Tennessee that specializes in shelves for bookstores and libraries, had a local Scarsdale architect design our floor plan, and a local contractor from White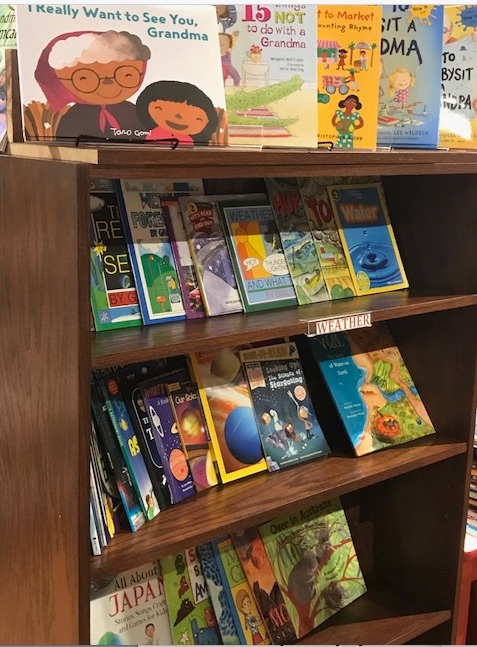 Plains execute the design.
How did you stock the store? How did you figure out how to strike the right balance of fiction, history, cookbooks, self help, children's books and more?
Mark and I read literally hundreds of reviews, countless lists of award winners, and begged for suggestions from all of our reader friends and family members. Mark and I collaborated on the fiction selections. He was largely responsible for the history and biography sections. And I chose all of the younger readers books.
Who supplies the books?
We've ordered books from seven of the major publishers, a few university presses, and from two large wholesalers.
What kind of reception have you received so far?
Everyone has been terrific. We are very grateful.
Do you plan to host author visits, children's events or other in-store events?
Yes, we do eventually plan to host author visits and story time sessions.
What are your hours?
Initially, we are planning to be open from 10:00 to 6:00 every day except Thursday, when we will be open from 10:00 to 8:00. Since we are the entire staff at the moment, we will probably give ourselves a designated day off one day a week -- but not right away, and we haven't decided which.
Will you accept special orders or bulk order for bookclubs?
Definitely!
How can readers reach you?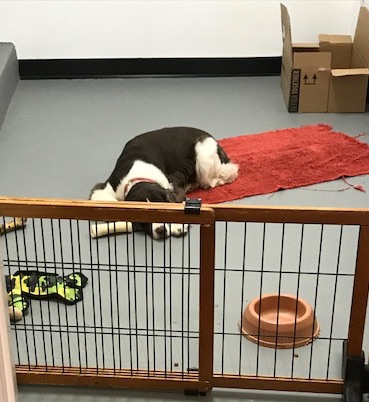 They can come to our store during business hours, call us at 914-420-6396, email us at info@bronxriverbooks.com, or order from our website at www.bronxriverbooks.com. We are also on Facebook, Twitter, and Instagram. We are glad to receive book requests by phone or email, and, if we don't already have a book on our shelves, we can usually get a copy in about two days or sometimes (to our amazement) sooner.
And what about your dog?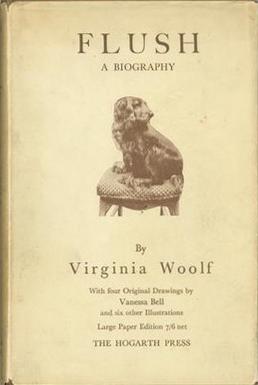 Virginia Woolf is our English Springer Spaniel, but she was named long before we conceived of the idea of opening a bookstore. She is, of course, named after the British novelist who owned a series of spaniels and who also wrote an imaginative biography entitled Flush from the point of view of the poet Elizabeth Barrett Browning's spaniel. (Mark will send you a copy of the cover in a separate email.)
Virginia is in the store periodically when she has nothing better to do.
Scarsdale Remembers 9-11
Details

Written by

Joanne Wallenstein

Hits: 2095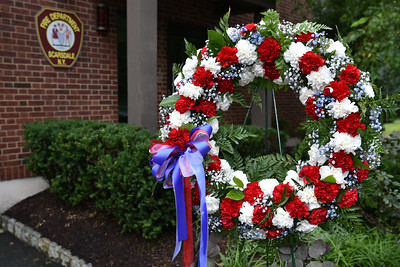 The Scarsdale Department of Public Safety and village officials gathered on Tuesday September 11 to remember those who were killed on September 11, 2001 and to honor the sacrifices of the first responders and recovery workers. The ceremony commenced with a moment of silence and four sets of five bell rings, replicating a code used by the FDNY to announce the death of a firefighter. Father Sebastian Bacatan of St. Pius X Church delivered an invocation. Scarsdale Police Chief Andrew Matturro and Fire Chief James Seymour raised and lowered the American flag to half-staff and Police Officer Malcolm Greer sang the national anthem.
Deputy Mayor Carl Finger, Police Commissioner Jane Veron and Fire Commissioner Matthew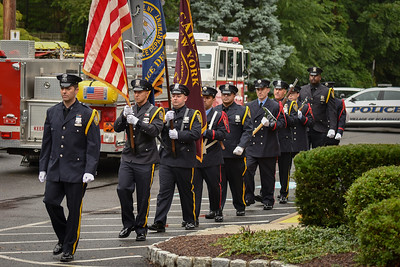 Callaghan addressed the group. Scarsdale High School student, Megumi Ozawa, sang a beautiful rendition of Amazing Grace as Scarsdale PBA and UFFA members placed wreaths at the bases of their respective commemorative monuments to honor the fallen.
Members representing both the Scarsdale Volunteer Firefighters and Ambulance Corps placed an additional wreath at the base of the flagpole. Fire Captain Christopher Mytych acknowledged the first responders, recovery workers, and those that lived or worked in lower Manhattan following the attacks, who are now afflicted with 9/11-related illnesses. Reverend Kelly Rogers of Scarsdale Congregational Church delivered a benediction.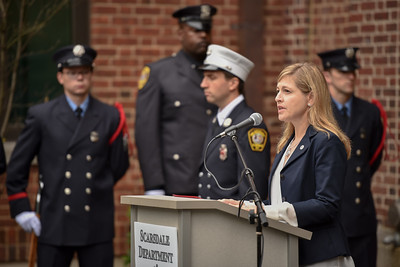 Police Commissioner Jane VeronTrustee Jane Veron made the following remarks at the ceremony:
I join you today to pay tribute to those whose lives were tragically cut short and to
honor the selfless dedication and bravery of you and your colleagues, our first responders.
It is seventeen years later, and we remember vividly as if it were yesterday. We all knew precisely where we were, what we were doing, the moment we learned of the horrific attack on our great nation, on our beloved city of New York. So incomprehensible, intensely personal, an affront to everything we hold dear.
We carry with us, deep in our hearts, the memories of the loved ones, friends and colleagues we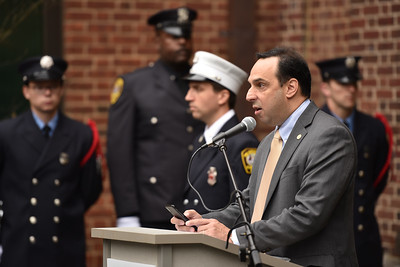 Deputy Mayor Carl Fingerlost that day. These many years later, we continue to reel from the debilitating health struggles faced by our rescue and recovery workers. So much has been sacrificed; we shall not forget.
On Sept 11, 2001, several of our Scarsdale police officers joined the emergency response effort, and for the ensuing months, each member of our police force assisted the NYPD. Among our current fire department professionals, several of you were at ground zero or covering for the FDNY.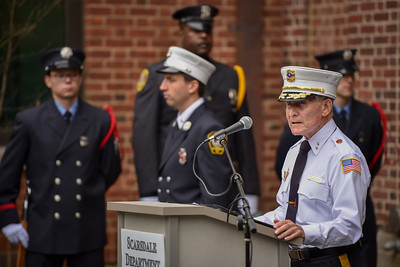 Fire Commissioner Matthew CallaghanThose days and months following the attack were grueling for all of us. We were seething with anger, emotionally drained, completely devastated, exhausted, heart broken. But we were also kinder and gentler to one another. We stopped focusing on petty differences. We embraced both friends and strangers. We came together in a way that I had never before experienced in my life. Out of the depths of despair, we emerged stronger and more united.
What I love so much about our country, about New Yorkers specifically, is our resilience and resolve. We do not cave in. We fight to protect what we hold dear.
You, our first responders, live that ethos. You were drawn to a profession that puts others above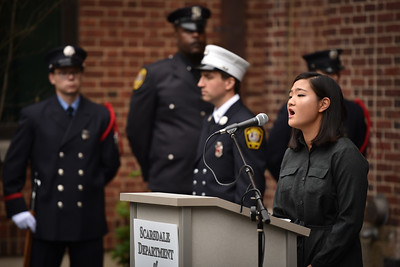 SHS Student Megumi Ozawa sang Amazing Graceself. You keep us safe and secure; help us when we're in need. You are the reason the rest of us can go about our daily lives.
We are grateful to you, our dedicated public servants, and we will forever cherish the memories of those who have sacrificed for our country.
Photos by Jon Thaler -- See more here.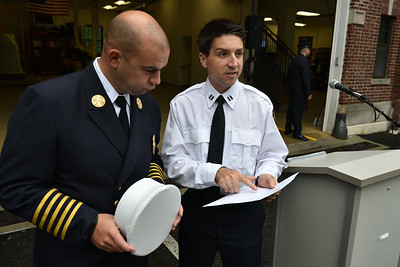 Fire Chief James Seymour with Fire Captain Christopher Mytych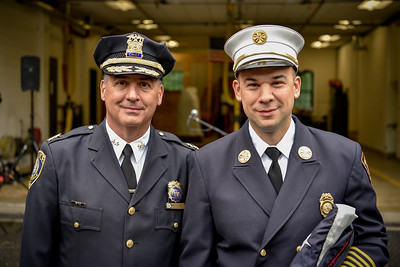 Police Chief Andrew Matturro with Fire Chief James Seymour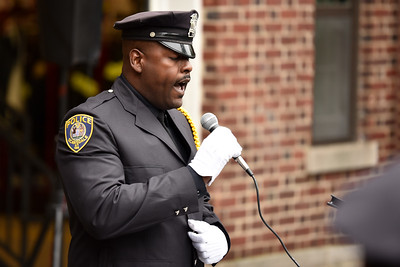 Police Officer Malcolm Greer sang the national anthem.
Scarsdale Summer Brides
Details

Written by

Joanne Wallenstein

Hits: 5895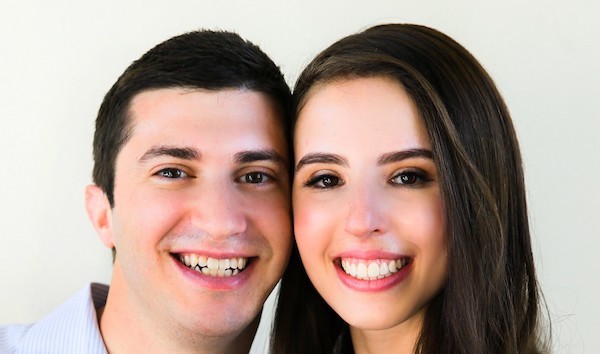 Wedding bells rang for many Scarsdale brides this summer. Here are wedding announcements from four happy couples. We would love to publish more happy news. Please send your wedding announcement to scarsdalecomments@gmail.com.
Jessie Gatof and Jason Morgan
Jessica Marie Gatof and Jason Alexander Morgan were married Aug. 11. Rabbi Jonathan E. Blake officiated at the Montage hotel in Laguna Beach, Calif.
The couple met at the University of Pennsylvania, from which both graduated magna cum laude.
Mrs. Morgan, 25, is an associate on the investments team at Lubert-Adler, a real estate private investment firm in Philadelphia.
She is the daughter of Bonnie Littman Gatof and Peter A. Gatof of Scarsdale, N.Y. The bride's mother is the chief executive of USAI Lighting, a LED lighting manufacturer in New Windsor, N.Y., and serves on the director's council at Rensselaer Polytechnic Institute's Lighting Research Center in Troy, N.Y. Her father was until 2013 the chief executive of US Data Capture, an electronic payment processing service that was in Rye Brook, N.Y. He is a director of the School in the Square, a charter school in New York.
Mr. Morgan, 28, is a senior vice president for acquisitions and investment management in King of Prussia, Pa., at Morgan Properties, a real estate investment and management company, for which the groom's father, Mitchell L. Morgan, is chairman.
Lindsay Marx and Michael Rappaport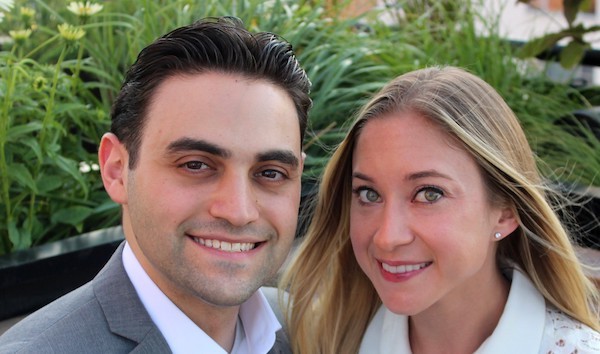 Lindsey Rachel Marx and Michael David Rappaport were married July 28. Rabbi Gary M. Katz officiated at Tappan Hill, an events space in Tarrytown, N.Y.
Mrs. Rappaport, 29, is a science teacher in the elementary grades at the Stephen Gaynor School, a private special-education school in New York. She graduated magna cum laude from Syracuse and received a master's degree in childhood general and special education from Bank Street College of Education.
She is a daughter of Sandra J. Marx of White Plains and Brendan R. Marx of Hartsdale, N.Y. The bride's father, a lawyer, is a principal, in New York, in the law firm Offit Kurman. The bride's mother retired as a founder of Schiffman, Ekman, Morrison, Marx, an advertising talent agency in New York, and is now a storyteller who appeared on a PBS series, "Stories From the Stage," in October 2017. The bride is also a stepdaughter of Renée L. Marx and Keith R. Marshall.
Mr. Rappaport, also 29, is a principal consultant at Capco, a financial services consulting firm in New York. He graduated cum laude from the University at Buffalo.
Brett Sereysky and Jospeh Kaufman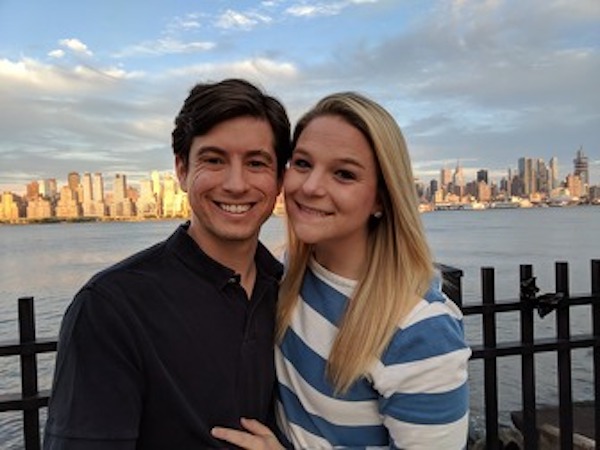 Brett Sanders Sereysky and Joseph Charles Kaufman were married on August 18, 2018 at the Tarrytown House Estate in Tarrytown, NY. Rev. Mickey Correa officiated the wedding. The bride, 30, and the groom, 31, met through mutual friends in 2013 on a ZogSports kickball team. Mrs. Kaufman is the head of recruitment at CardFlight, a financial technology start-up in Manhattan. She graduated from the University of Rochester and will receive her master's degree in clinical social work from Fordham University this month. She is the daughter of Andrew and Joan Sereysky of Scarsdale, NY The bride's father is a sales executive with SALT Payroll Consultants. Her mother retired from MediaCom. Mr. Kaufman is an Account Manager on the Client Strategy team at Path Interactive, a digital marketing agency in New York. He graduated from Quinnipiac University. He is the son Jonathan Kaufman of Kinnelon, NJ and Charlotte Rakay of Butler, NJ. The groom's father is currently the Chief Strategy Officer at Fusion headquartered in New York, NY. The groom's mother is a Senior Client Associate at Wells Fargo Advisors in Wayne, NJ. The groom is also the stepson of Lisa Kaufman.

How They Met

Brett and Joe met on a Zog Sports kickball league on Roosevelt Island in New York City in the Spring of 2013. The team was put together by mutual friends. (Joe was wildly impressed by Brett's pitching skills!) Brett and Joe got to know each other throughout the season, both on and off the field. They had their first date on August 23rd, 2013 at Dave and Busters in Times Square. A sign of things to come, Brett and Joe continue to embody a fun and playful couple to this day. Brett and Joe love visiting new places and going on adventures. They have visited Ireland, London, Nashville and Arizona to name a few and are honeymooning in French Polynesia this October. However, that's not to say a night in on the couch with takeout is out of the picture! After four years of dating, Joe took Brett to Cape Cod, MA for her birthday- a favorite place for Brett who spent her childhood summers there. On August 4, 2017, Joe proposed on a jetty at Bank Street Beach in Harwich.
Jodi Zucker and David Hassman
Ms. Jodi Zucker of Scarsdale was married on Aug 4, 2018 to Dr. David Hassman in Avalon, New Jersey. Jodi is the mom to Shelby, Nicole, Ben and Julia. David is the dad to Corey, Brooke and Abigail. The couple will reside in both New York and New Jersey.
Rachel Johnson Weds Jacob Ramsay
Details

Written by

Joanne Wallenstein

Hits: 3963
Rachel Glenn Johnson and Jacob Mills Ramsey were married September 1. Rabbi Tom Weiner of Congregation Kol Ami in White Plains officiated at Second, an event space in New York City.
Mrs. Ramsey, 28, is Administrative Director of Programming at Sala Institute for Child and Family Centered Care and Hassenfeld Children's Hospital at NYU Langone. She is a 2008 graduate of Scarsdale High School and graduated with honors from Cornell University, receiving a Bachelor of Science degree from the College of Human Ecology in Policy Analysis and Management. She has a Master's Degree in Healthcare Administration from The Sloan Program at Cornell.
She is the daughter of Ellen Kurtz of New York City (formerly of Scarsdale) and Dr. Michael Johnson of White Plains N.Y. The bride's father is a physician specializing in cardiovascular disease and interventional cardiology and is affiliated with Montefiore Medical Center and White Plains Hospital. The bride's mother is a Registered Nurse and founder of Kurtz Legal Nurse Consulting, a professional medical resource for defense and plaintiff attorneys.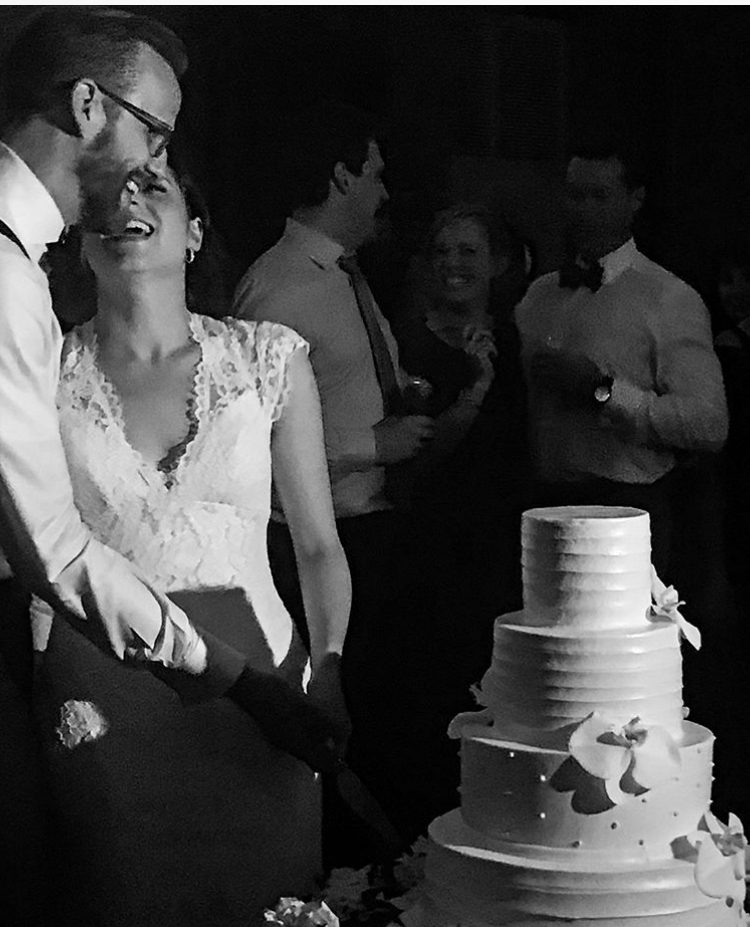 Mr. Ramsey, 35, is Assistant Director of Operations at Perlmutter Cancer Center at NYU Langone. He received a Bachelor of Arts degree in Psychology and Sociology from Indiana University, Master of Public Health from The University of South Carolina and Master of Health Administration from Cornell University.
He is the son of Holly and James Ramsey of Ann Arbor, Michigan. The groom's father formally of Ford Motor Company Finance Division and the groom's mother formally of Integrated Health Associates are enjoying their retirement with their four children and six grandchildren.
The couple met at Cornell in graduate school over a beer pong championship where they reigned undefeated. They will honeymoon in Hawaii and live in New York City.
LimeBikes Show Up On Scarsdale Streets
Details

Written by

Joanne Wallenstein

Hits: 3555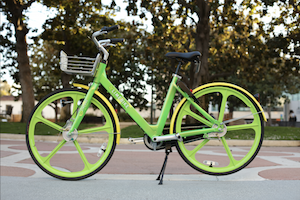 Have you seen any green and yellow bikes on sidewalks or lawns around town? It turns out that LimeBike is testing their dockless bikes in White Plains and a few are now showing up in Scarsdale as well. Cyclists can download a free phone app to find the nearest bike and to pay for its use. LimeBikes tracks the bikes locations using GPS and redistributes them to busy areas.
We spoke to Assistant Village Manager Josh Ringel about the bikes and he said that both White Plains and Yonkers have agreements with the company to run the cycle share program there, and bikes from other towns may be showing up in Scarsdale. For now, the Village has no formal policy on these bikes and hopes that people will leave them in racks and off the sidewalks to avoid any safety issues.
One resident was not happy with the appearance of the bikes and sent the following letter to the Mayor:
"I just saw what appear to be shared bikes just sitting unattended in the middle of the sidewalk on the Popham Bridge near the train station. Of course I have read about these in the Wall Street Journal and how they are often a public nuisance. If this has not come to the board's attention, please accept this as my request that the Village review whether leaving unattended property as a public nuisance on a public sidewalk is a violation at least justifying the impounding of the property. Seems to me it is litter at a minimum. I have no problem with bike shares so long as they are not left in the way like these were. The Popham Bridge is very busy with pedestrian traffic and requiring everyone to walk around two bikes blocking half the sidewalk is not pretty and certainly unnecessary. If people are forced to walk in the street it could even be dangerous."
Have you used a shared cycle? Share your experience and your thoughts on this in the comments section below.