Thursday Morning Update: Outages Climb to 1,660 After Winter Storm in Scarsdale
Details

Written by

Joanne Wallenstein

Hits: 4429
As of Thursday morning, Con Ed is reporting 1,660 customer outages in Scarsdale, which have resulted from 112 discrete events, representing a sharp increase over yesterday's remaining outage count of 444. This new outage count sets up back to even more outages then there were after the first nor'easter on Friday.
All Scarsdale Schools are closed today after outages occurred. We believe power to the high school and Fox Meadow is out.
From conversations with the restoration crews around town we learned that many of the workers are unprepared to fix the devastation. We spoke to a worker who was surveying the large outage on Walworth Avenue during the snowstorm on Wednesday. He looked surprised and said he was not capable of fixing the issue which was far larger than he had anticipated.
A reader in Edgewood had a similar experience. She wrote, "Still without power in Edgewood! One of my neighbors told me a Con Ed crew person was in Edgewood yesterday and said he did not have the right equipment to do any repairs and left. No crew in site today. A ConEd person in Heathcote on Tuesday night told me he was sorry, did not know the neighborhood at all and was getting information from customers!"
It appears that the Village has been frustrated in their attempts to coordinate work with Con Edison.
Meanwhile, the heavy snows and wind caused additional downed trees yesterday, resulting in new road closures, as follows:
1. Tunstall Road (Madison Road –Nelson Road)
2. Brewster Road (Huntington Ave –Kingston Road)
3. Claremont Road (Berkeley Road –Walworth Avenue)
4. Post Road (Burgess Road –Olmsted Road)
5. 77 Popham Road –Westbound lane closed
6. 9 Carman Road closed at Gaylor
7. Eton and Greendale Roads
8. Cambridge and Rugby (Mamaroneck –Rugby)
9. 55 Penn –Branch on house service across the road
The global restoration target for all power outages in Westchester County is now Friday at 11:00 PM, though the Village continues to pressure Con Ed for additional local restoration crews.
Wednesday Morning: SVAC Headquarters Opens Warming Station
Details

Written by

Joanne Wallenstein

Hits: 2521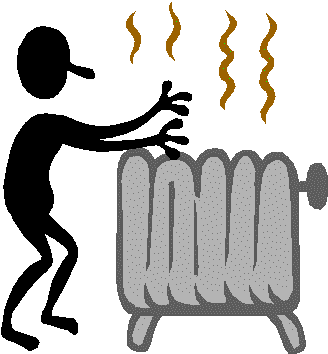 It's Wednesday morning – and though Con Edison promised to restore power to everyone in Scarsdale by Tuesday at 11 am, they have failed again. The Village reports that 444 customers are without power, but the outage summary for Westchester County on the Con Edison website is not working. Some of us have been told that the new restoration date is Friday night at 11 pm. Many have received emails and texts from Con Edison saying their power is on, when it's not.

The Village update from Tuesday said, "Four Con Ed crews are working in Scarsdale today, two of which are de-energizing and clearing downed wires and another two that are also working on power restoration. It is noteworthy that some municipalities in Westchester County reported today that they still have not observed a ConEd crew in their community." We don't know if any crews are working during the storm.

In Greenacres, the downed trees on Walworth that have knocked out the power main remain atop the wires. The only sign of life is the Con Edison man asleep in his car across the street. On my street, Cablevision has installed a portable generator to power internet and phone. It ran out of gas for a while yesterday but it's working again now.
Winterstorm Quinn is here and predicted to bring eight to twelve inches of snow to Scarsdale. As of Wednesday am, it's only snowing lightly. School for Wednesday was called off on Tuesday night in anticipation of the snowfall.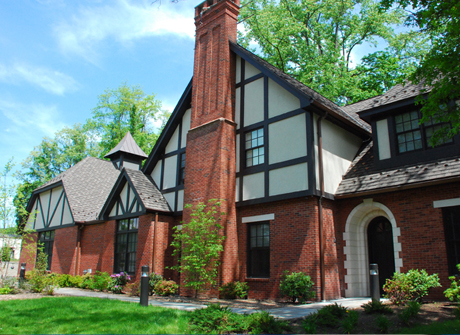 For those who need a warm place to hang out, David Raizen, President of the Scarsdale Village Ambulance Corps invites you to come to SVAC headquarters at 5 Weaver Street where you'll find power to recharge, showers, heat, television and internet. The building is open to residents from 7 am to 10 pm. No pets please. Questions? Call 914-722-2288 or 914-723-3003. Thank you David!
Do you see any signs of life out there? Please share what you see in the comments section below.
Downed Trees, Downed Power Lines and Not Too Many Crews in Site
Details

Written by

Joanne Wallenstein

Hits: 4284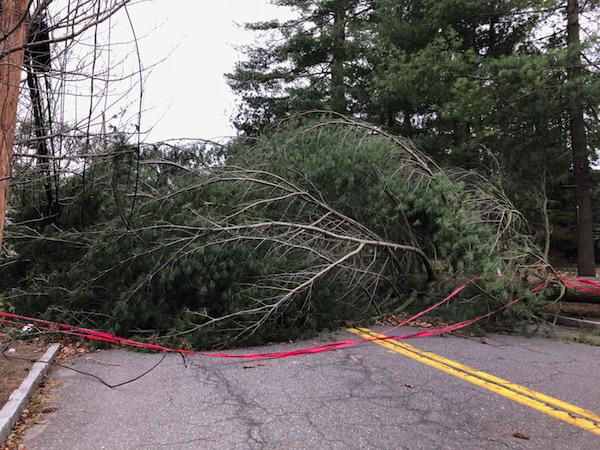 (Saturday at 5 pm) I just chatted with a Con Edison man on Walworth Avenue – and learned more than perhaps I needed to know:
Here's what he shared:
Some of the Westchester crews are in Puerto Rico! They have been rotating shifts there to help out after Hurricane Maria – which is nice – but leaves it very challenging to get work done here.
Con Edison crews from other places are en route. He said we would see trucks from Boston here tomorrow.
The large tree that fell on Walworth Avenue north of Brayton Road and cut off power to many in Greenacres is still lying on the power line. Why? Because it is a high voltage line and workers were afraid to remove the tree from the high-tension line. It needs to be deactivated and it's apparently complicated.
When we asked when he thought power would be restored, he couldn't give us an answer – but said that Tuesday was optimistic! So it may be Wednesday or even Thursday before the lights come back on. In the meantime, generators are roaring and those without them are getting very cold.
Trees were not the only casualties from the storm. Seems that many cars were hit too.
Here are a bunch of photos from around the Village. If you have photos to share, send them to scarsdalecomments@gmail.com. Stay away from downed power lines.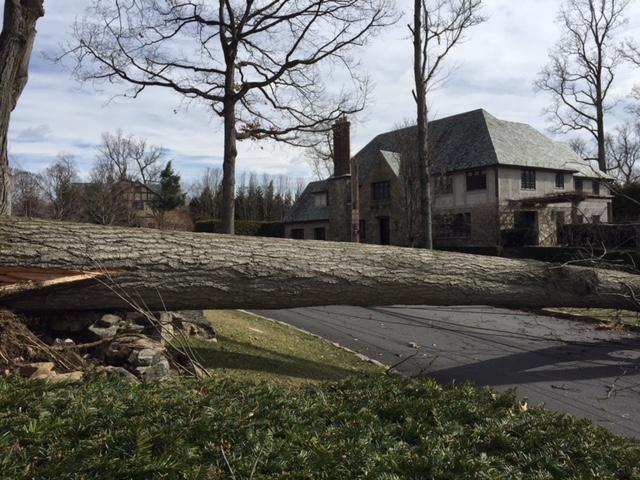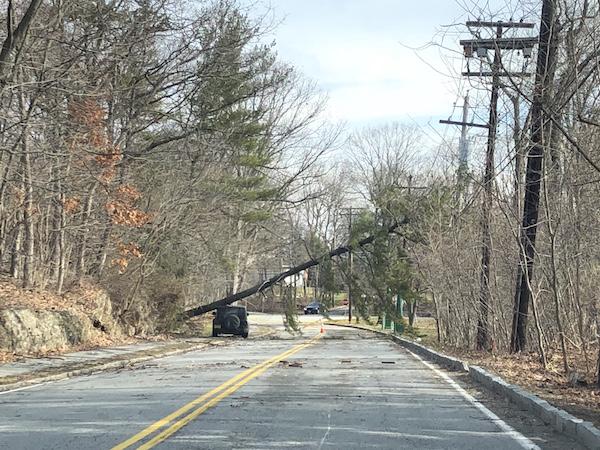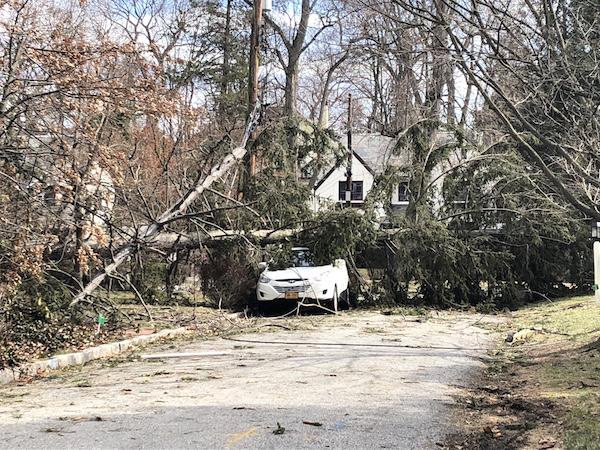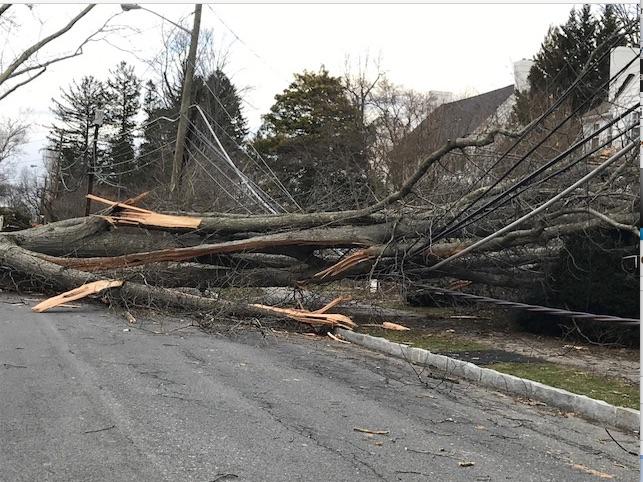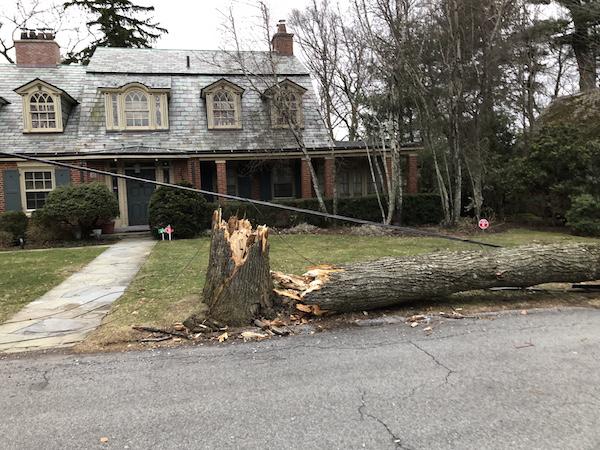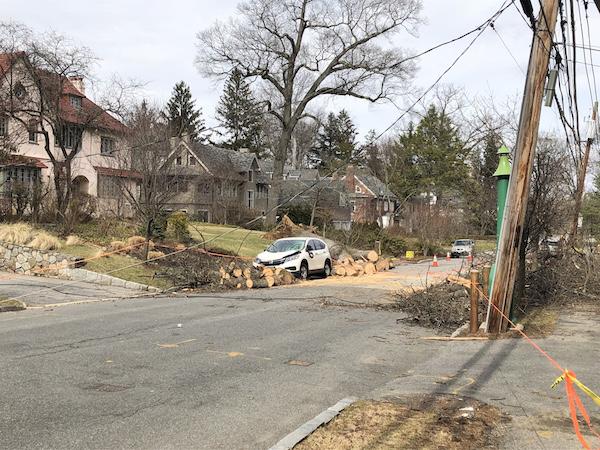 Tuesday Morning: Power is Still Out Around Town
Details

Written by

Joanne Wallenstein

Hits: 3148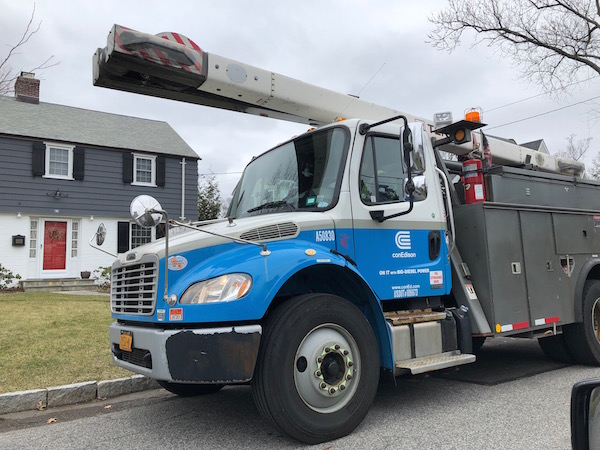 (Updated Tuesday) As of Tuesday morning, Con Edison is reporting that 1,012 customers are without power - up from 859 last night. Though we were originally promised restoration by 11 am today, we noticed that Con Edison has changed that deadline to 11 pm tonight. One friend just received a text saying power would not be restored until Friday - let's hope that was a mistake.
Unfortunately, the power went out at Scarsdale Middle School at 7:25 am, but power was restored a few hours later.

Also without power are the Scarsdale Synagogue and the Scarsdale Medical Center, which are both closed for today.
On Monday night we heard from friends in Edgewood that in some parts of the neighborhood the lights are back on. However Drake and Nelson Roads are still out. We're hopeful that we'll be hearing more good news today.... from Greenacres, Heathcote and Quaker Ridge.

We stopped by to chat with the Con Edison man who is guarding the fallen wires on Walworth that are causing our outage. He says that there are crews in town from Canada and Texas and appeared hopeful that a tree crew would remove the large branches from the wires today. However, the promised 11 am restoration time has now passed.

The weather forecast calls for rain and up to 12 inches of snow on Wednesday, so let's hope the out of state crews can get the job done before we're hit with another storm.

The Village Manager's update says "Con Ed has advised that over 290 out-of-state contractors have arrived to support the Westchester County recovery effort, with over 390 anticipated by tomorrow. ConEd continues to represent that they will have power restored to at least 90% of Westchester County customers by late Tuesday night, leading into early Wednesday morning."
So if you do have power and heat, invite friends to stay with you, because it's just too cold to hunker down in a house that has not been heated since Friday.
We received these photos today – please share yours by sending them to scarsdalecomments@gmail.com.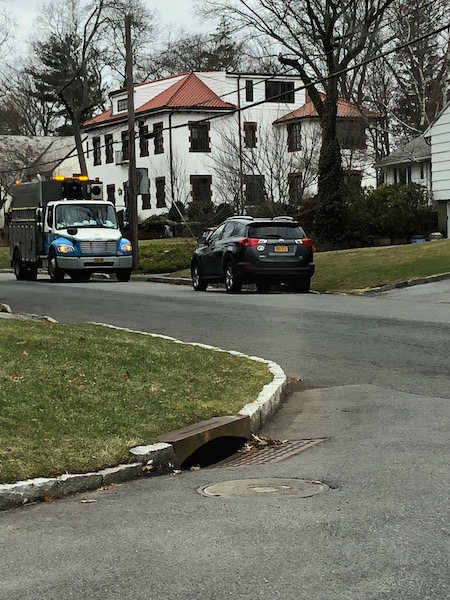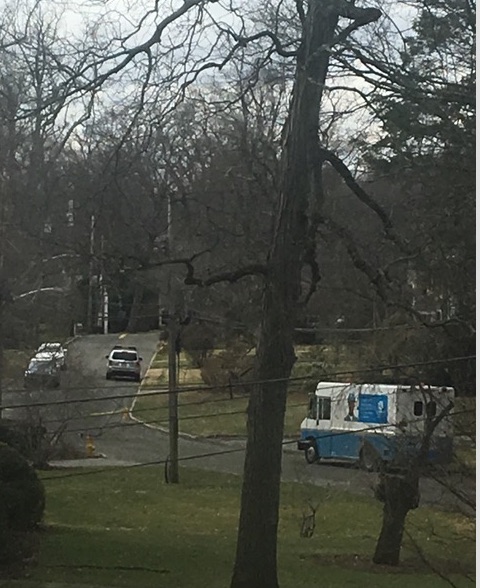 Letter to the Editor: Support the Extreme Risk Protection Bill
Details

Written by

Joanne Wallenstein

Hits: 2895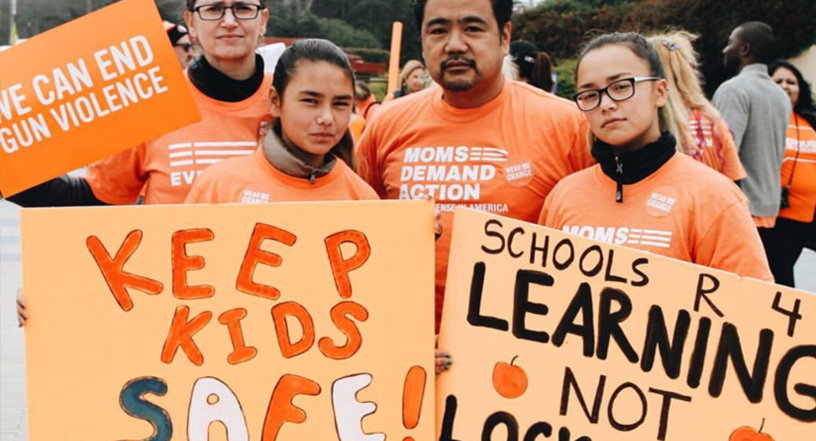 This is a letter to the editor from Pat Colella of Scarsdale:
I am a Scarsdale resident and mother, and the co-leader of the Westchester local group of Moms Demand Action for Gun Sense in America, which is the grassroots arm of Everytown for Gun Safety. Moms Demand Action for Gun Sense is a non-partisan, volunteer movement of Americans including moms, dads, gun owners, veterans, mayors, gun violence survivors and others working together to prevent gun violence.
Like everyone, I was saddened, shocked, and angry about the school shooting in Parkland, Florida, last week. Although New York has strong gun laws, both New York and Florida are missing a critical common sense law that could prevent shootings like what happened in Parkland. It's called an "Extreme Risk Protection Order" bill, or ERPO for short, which would empower family and law enforcement to ask a judge to temporarily block a person who poses a serious threat from having guns. Luckily, an ERPO bill is up for a vote in the New York State Senate and Assembly. You can help stop school shootings by calling your State Representatives to tell them to support the ERPO bill. If you want to get more involved, please join our local group of Moms Demand Action by visiting momsdemandaction.org.
Pat Colella