Lacrosse Team Presents Coach Appreciation Day, Saturday, April 28
Details

Written by

Jordy Love

Hits: 1906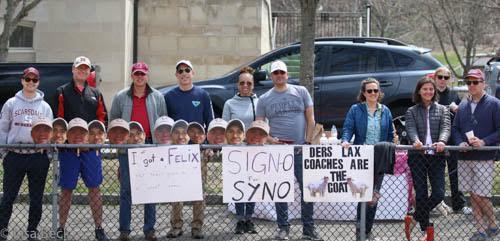 Lacrosse families are not complaining about their coaches, in fact, just the opposite. The Raiders Varsity lacrosse team families surprised their coaches with the first ever Scarsdale High School Coach Appreciation Day Saturday, April 28 during their home game against Westlake. As Coach James Synowiez and Coach John Felix led their team onto the field, fans lined their path holding sticks with pictures of their faces and posters to show their support for the Varsity Head Coach and Assistant Coach. Large helium balloons in numbers 23 and 39 were tied to the fence in tribute to the numbers the coaches wore when they played in college. Coach Synowiez was number 39 at Manhattan College and Coach Felix was number 23 at Geneseo.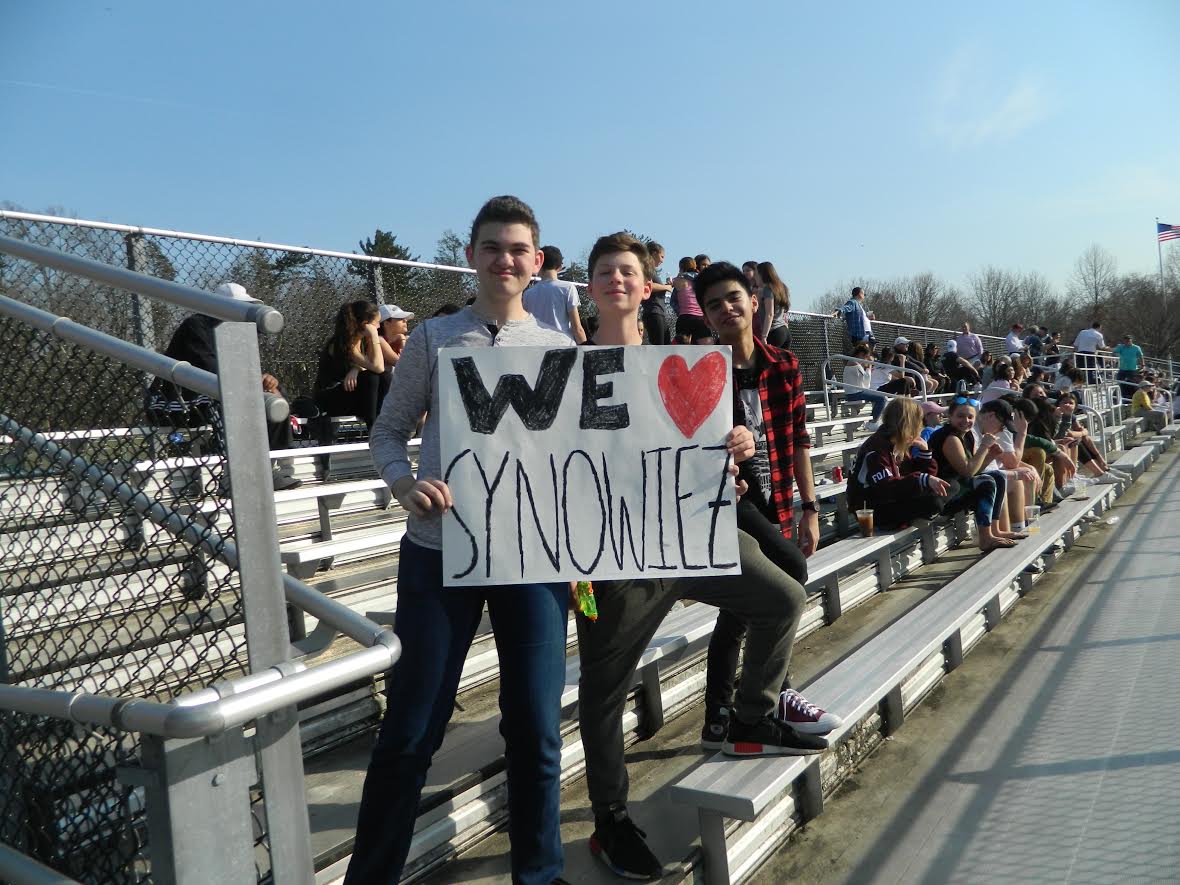 Although they coached Junior Varsity hockey together, the pair only began coaching Varsity lacrosse at Scarsdale High School as Head Coach and Assistant Coach last year. They managed to capture the Section 1 Class A league IB Championship title in their Inaugural season. After being down by as many as five goals last Saturday, Synowiez and Felix motivated their team to a come from behind win in overtime, defeating Westlake 12-11.

The secret to their coaching success is the chemistry they create with the boys; the coaches have done an incredible job bringing these boys together over the last two years. Some of the team activities they've done this year include team yoga, trivia night with the Girls Varsity team, Olympics day (dodgeball, spike ball, relay races), bowling, and a day trip to Syracuse for a scrimmage with Coach Synowiez's high school. The team has also attended lacrosse games at Manhattan College, Synowiez's alma mater, a Syracuse/Johns Hopkins game (Senior Seth Thornton will play for Syracuse next year), and the Army/Navy game (Senior Jeremy Wolfe will attend the US Naval Academy next year). In addition, the team has held numerous dinners and breakfasts.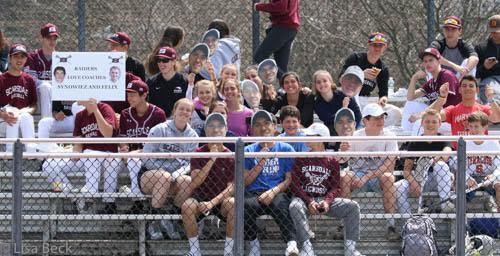 Carol Wolfe, a team parent says, "in the past 10 years, my children have participated in a variety of different sports at the high school. I consider being part of a team, any type of team, an essential role in learning how to work well with other in achieving a common goal. The coaches that have dedicated their time and energy to working with our kids not only teach them skills on how to play a sport well, but a great coach will take that even further and teach your child life lessons about winning, losing, teamwork, disappointment, courage, strength, and perseverance. I award and profusely thank our coaches for spending countless hours with my children in helping them become the best that they can be. I think our motto, non sibi, says it all."
See the team play in their next home game against Mamaroneck on Tuesday, May 8th at 5:00pm.
Trustees Approve Tree Code Amendments; Clear Cutting To Be Addressed Later
Details

Written by

Laura Halligan

Hits: 5100
The Scarsdale Board of Trustees voted unanimously Tuesday to approve proposed amendments to the village tree code, shortly after making yet another change to address residents' concerns. Homeowners now will be able to remove two trees in a 12-month period, as opposed to 24 months. And, of particular interest, the code permits residents to remove diseased, dying or dead tress without a permit or replacement requirement. The code amendments, however, do not address clear cutting.
As in past hearings, a number of residents expressed support and opposition to the proposed measures. Ron Schulhof (Springdale Road), chair of the Conservation Advisory Council (CAC), began the public comment session by expressing CAC's support. "Over the last five years, the CAC has examined Scarsdale's current tree code, measured our tree canopy, listened to community feedback about the importance of trees in our village, researched many municipal tree codes, drafted and discussed various proposals to update the tree code, and worked with Friends of the Scarsdale Parks and village staff to propose certain updates…" He continued, "(Our recommendation) is to move forward with the code provisions currently listed… that the replacement tree threshold move to a 24-inch diameter at breast height... that replacement trees be native, and that permits are required for small-caliper trees that are important… at three inches instead of six inches for the rest of trees. We believe… there should be no change to the 'as of right' provision that allows homeowners to remove two trees per 12-month period as a right."
Bob Selvaggio (Rochambeau Road) voiced his opposition to the code changes by saying, "Where is the evidence of any significant support for this proposal, outside of a couple of vocal special interest organizations? On the contrary, my own perception is that there is a groundswell of opposition." He continued, "I am perplexed (as to) why anyone would think that our homeowners want to deal with more permits, and the hassles and tributes that are associated with permits… I am perplexed when I hear it said that this ordinance is really aimed at developers. If that's the case, why not just aim it at developers? ...More to the point, I ask, who owns the trees on my private property? …What if a homeowner doesn't want trees near his or her house for whatever reason? Is there any evidence at all that homeowners in Scarsdale are choosing to denude their properties of trees? Is there any empirical evidence, whatsoever, that reduction in tree count is leading to soil erosion or worsened air quality… There's no justification to trample on our property rights."
Bob Berg (Tisdale Road) said, "(The experience of having a large tree fall on our house) has taught me that residents know best what they need for the safety of their families, as it concerns trees on or near their property. This proposed law disincentivizes people from cutting down trees that they reasonably fear may pose a threat to their houses and property. The tree that fell on our house was a healthy village tree… under the law, if it was our tree and we wanted to cut it down, we would have had to pay for that right." He went on, "I saw what happened in that giant nor'easter, when half the trees that fell on power lines were private trees and a third of the village was out of power for up to 10 days. One house was completely destroyed and condemned. People should have the right to cut down these trees as they see fit… The danger you want to control here is the developers clear cutting land. This law does nothing to address that… No one is really supporting this law except for the CAC and the Friends of the Scarsdale Parks."
Michelle Lichtenberg (Greenacres Avenue) stated her concern for tree protections by stating, "We are allowed to take down two trees per year… and I respect that right. If people do take trees down without looking at the whole environment... there's the canopy, yes, but let's not forget the root system and what it does to our water, and water runoff."
Michelle Sterling (Brighton Road) then said, "I do support the CAC position as a CAC member. Personally… I feel it is a compromise position… There are other communities that take a stronger position." She continued, "We have a 50 percent tree canopy in this community. It is a community asset. People think they might own that asset; it, actually, is theirs and also a community asset that we all enjoy and value… The second way I would have made the proposed changes stronger would be (to keep) the aggregate test. Taking the aggregate test out… really gutted the code… One of the things this code could have addressed and (doesn't) address is clear cutting… If you take out 10 23-inch trees, you don't have to put in replacements; the aggregate test would require you to compile those and you would have to plant replacements if it totals 24 or more. It's an important point that I do hope gets addressed either through land use committee or revision."
Jeewon Park (Richbell Road), a new member of the CAC, said, "I know we just had some pretty bad storms; in other years, the village has had massive issues with flooding… We've all talked about the fact that we also need to deal with soil erosion, storm water runoff and flooding issues. A large tree can absorb 100 gallons of water in a day... We have so many other potential benefits from having this tree canopy, and I think it would be a pity if we didn't grab this opportunity to really try and add to that reserve of (a) very precious resource within our town."
Madelaine Eppenstein (Fox Meadow Road), an officer of Friends of the Scarsdale Parks and the CAC working group, followed by stating, "The tree chapter amendment balances, in a fundamentally reasonable manner, private rights and the responsibility of the village to protect our environment. As a private citizen, I urge you to approve the amendments, and I urge you not to walk back what are modest improvements."
John Auerbacher (Bradford Road) then said, "I am a member of the CAC, but would like to speak personally… I would like us to step up and be an environmental leader… I think, part of that, is to think deeply about how what the laws can do, because that's how we implement our ideas… Primarily, what we can do is educate people… People really don't understand what tree might fall and even some of the trees companies don't do a terribly good job of really understanding it. Oftentimes, even certified arborists have to guess." Switching gears, he stated, "People do think we have an absolute right on our (properties) to do whatever we want and (question) how the government can take stuff away from us. I want to point out that the issue was resolved in 1916 when the Supreme Court decided zoning cases… Do we want people to be able to do whatever they want because we believe in absolute property rights? The concept … is really not very valid and doesn't reflect what goes on in the world. We tax ourselves, don't allow lead paint, and have rules about aesthetics and about all sorts of other things (with regard to) our homes."
After hearing public comments, Trustee Carl Finger summarized the tree code review and revision process. He said, "In the course of this discussion… we were… trying to meet some of the concerns that people had. As a result of trying to meet those concerns, one of the compromises that seemed to make things more palatable was to remove the aggregate (requirement) but extend the period for removing two trees to 24 months… which, by the most recent amendment a few moments ago, has been changed back to 12 months. Basically, we compromise… trying to meet the feedback from the community." Finger continued, "That (was the reason for) the removal of the aggregate (amendment)... The aggregate was an attempt to address, in my estimation, the clear cutting issue. So, there were complaints that it was too restrictive, we tried to make an adjustment, and the downside, at the moment, is that we're not doing quite enough for a different problem."
He went on to express his opinion that some of the evening's comments were based on misunderstanding or misreading the code, for instance, not acknowledging that homeowners are not required to replace a dead or dying tree, which is actually a relief from the current code. "I'm concerned that some of the people who made comments have not fully comprehended the meaning of what we're trying to do here… The bulk of the comments that we've heard in the various meetings are favorably disposed; I know we've had a lot of negative comments… but my sense, overall, is that this is a modest change. It's really not going to address, it's fair to say, the issue that would have been addressed by the aggregate. It's my intention… to re-engage in the discussion of the aggregate… so we get that resolved… I'm favorably disposed towards this… it's a step in the right direction, to be followed immediately by a further step to address… removal of larger numbers of trees."
Girls Varsity Lacrosse Team Weathers Stormy Season
Details

Written by

Emmeline Berridge

Hits: 2379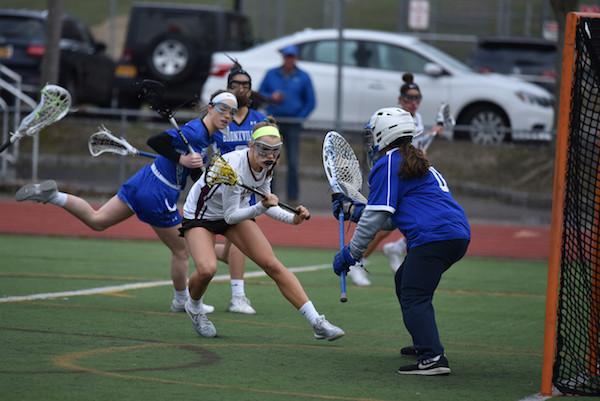 Sophomore Sophia Franco dodges past a defender en route to goal. The Scarsdale Girls Lacrosse team has been weathering a chaotic storm since the abrupt firing of their 3-year head coach Genette Zhongetti. Since Zhongetti was let go with little time to fill the head coaching position, Athletic Director Ray Pappalardi and assistant coach Megan Matthews courteously stepped in to fill the void. With an 0-4 record, including one loss against a Bronxville team that now carries Zhongetti as an assistant coach, the Raiders have not started the season with the best foot forward. On Thursday (4/5), the team lost to White Plains, a program that the Scarsdale girls lacrosse program has swept every season in recent memory. Other losses were to Rye and Mahopac, both respected lacrosse programs.
Still, the demonstrated issues do not stem solely from the dismissal of the head coach. What some seem to neglect in talking about this team's losses is the large hole created by the graduation of several impact players from last season. Emma Coleman, a now freshman defender playing lacrosse at St. Michaels, Erin Nicholas, a ruthless midfielder who plays at Middlebury, Angie Burns, a stellar goalie, and Jilly Mehlman, a player with unmatched speed who now runs at Yale, were all main contributors to the team's success last year.
Additionally, the new Scarsdale team boasts a minuscule roster compared to other programs in the area. While teams like Bronxville and Mamaroneck could fill an entire roster from their bench alone, the Raiders have a mere two subs on the bench at a time, 14 players in total on the Varsity level.
The team has seen progression from their first game to the most recent match against Bronxville. Junior Sam Felder noted that the squad needed to work on playing together as a team, as well as "the basics: ground balls, crisp passes, and communication on defense." Following the disappointing loss to White Plains, the Raiders entered the Bronxville game with a unique fire and passion which they hope to continue in their upcoming games against Ursuline Wednesday (4/11) and Saturday (4/14). Scarsdale ultimately lost to Bronxville 13-21. When asked about the importance of the Bronxville game, Senior Captain Lily Steckel noted that "to be honest, this game was just like any other game. Of course, we wanted to win. As we learned in our gut-wrenching loss against White Plains, they are all important. I don't think that as a team it is beneficial to dwell on things that we can't control. We learned from this game, and that's all we can ask for." Still, an inevitable sense of awkwardness radiated from the Scarsdale bench as players lined up to shake hands with Zhongetti, seeing their former leader and mentor for the first time since the suburban-scandal. The handshake line, which usually embodies sportsmanship and respect for the game, was more representative of ill will and division.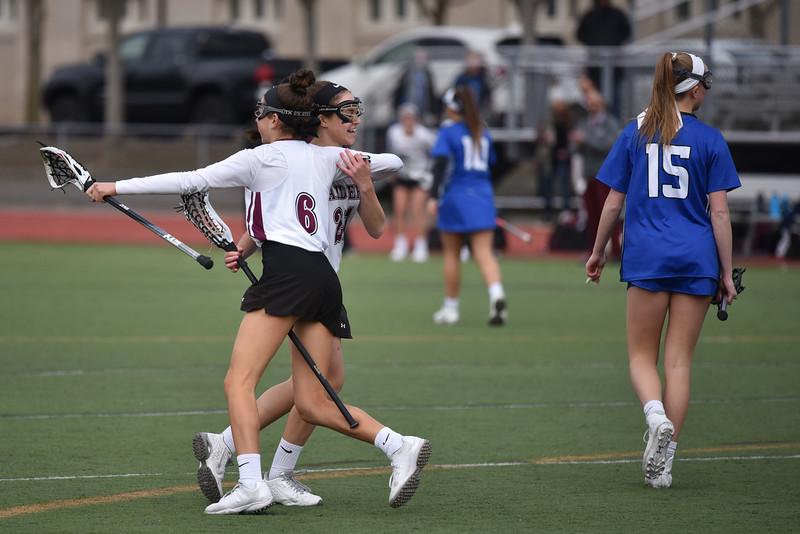 The Raiders celebrate after a goal.

Going forward, the team is focusing on "more intense practices", as highlighted by Junior Chessy Greenwald. "We all really want to be good, and we know that we can be, but everything just has to be elevated in the way we play and practice." With a majority of the season still ahead of them, the squad will try to make the most of it. When asked about the goal for the rest of the season, Steckel emphasized, "Ray always tells us that we should be in control of our season. Being in control means working as hard and as smart as we can, and accepting the result knowing we worked together as a team."
Photos by Jon Thaler - see more here.
300 Teens Support the Pediatric Cancer Foundation
Details

Written by

Joanne Wallenstein

Hits: 4448
The Pediatric Cancer Foundation Junior Executive Board which consists of high school students from across Westchester County hosted their inaugural PARTY IN THE USA event at the C.V. Rich Mansion in White Plains on Saturday, April 14th.

The event was a huge success with 300 high schoolers in attendance who came out to support PCF, resulting in $10,000 raised for the Westchester based charity. PCF President,
Bonnie Shyer states: "I'm really excited about the creation of the PCF Junior Executive Board and knowing that all of the money from this event is being used to help cure cancer in children. I can't thank the newly created PCF Junior Executive Board members enough for joining us in our mission as we are… Coming Together for a Cure." DJ Joe NYCE who kept the music spinning and the kids dancing added, "Now that was a party!"
Lending their support to the cause
Butler Field Turf Debate: BOE Schedules Info Session for April 10
Details

Written by

Laura Halligan

Hits: 4046

Turf fields are under debate At the beginning of this year's school budget process, renovating Butler Field seemed like a relatively routine facilities project. It was a top priority for the district due to its aging synthetic turf and the only question was how much to allocate for the work, based on a number of seemingly straightforward options.
Fast forward to recent budget forums, where board of education members, residents and school administrators discovered that the choice of which turf to install was more complicated than expected.
In fact, last week's session raised more questions than answers about the renovation, and the board has decided to collect more information about turf materials, and their related costs and benefits before making a decision about how much should be allocated for the project. It will meet again on Tuesday, April 10, at 6:00 pm to further discuss the issue and hear residents' opinions in an effort to create a plan prior to adopting a final 2018-19 budget on April 16.
The current draft budget includes $1,200,000 to replace the field and track surface; and suggests the use of crumb rubber infill, made from recycled tires, to provide bounce and cushioning. Assistant Superintendent for Business and Facilities Stuart Mattey explained that crumb rubber was used previously and was simply a rollover from past construction. It commonly is installed in many districts and while there are many differing opinions about the environmental impact of such material, but that the "jury is out" on these effects.
Other options include using coated crumb rubber infill (which reduces dust); EPDM infill, made from non-recycled rubber; organic infill, which includes natural cork, coconut shells and cornhusks; or, natural turf. All of these options, save natural grass, would be more costly to install and result in an increased tax levy for residents. The estimated increases range from $125,000 to $465,000 (or 0.09 percent to 0.33 percent in tax levy).
After presenting the various field options, Mattey stated that while administrators had an idea of what material would be used, they wanted to research the issue a bit more, but were sensitive to the budget timeline and wanted direction from the board on how best to proceed. Board of Education President Bill Natbony responded, "I think as a board, we're going to have questions… we'd also like to hear from the public… recognizing that we're not going to make a decision tonight. From a budgetary standpoint, there's only $1.2 million currently in the budget… and we see a $1.2 to a $1.665 potential cost there."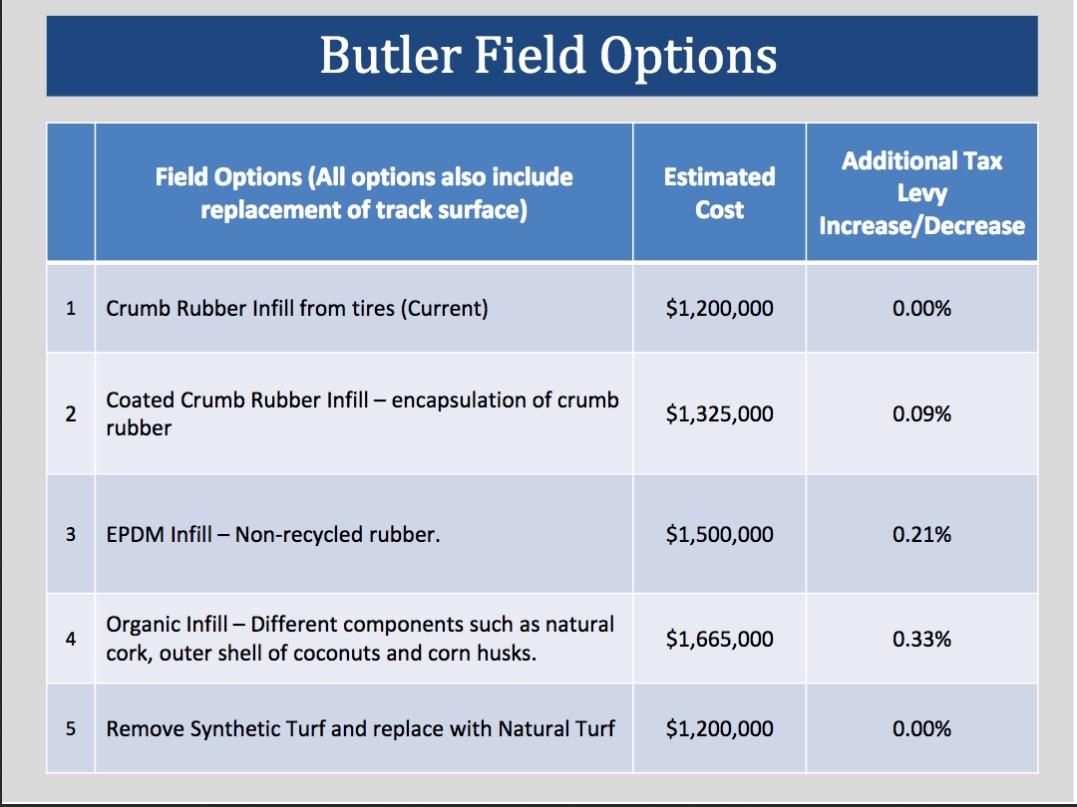 Hold on a Minute…
When residents were invited to discuss the draft budget, two raised concerns about the plan for Butler Field. Susan Lee Foley (Brown Road), Scarsdale PT Council Budget Study co-chair, said, "The Butler Field… renovation (has) safety implications. In last week's budget forum… two community members expressed deep concerns about synthetic turf and rubber crumb fields… We hope that the district and the board will make every effort to make the most informed and data-driven decision about the type of materials to be used to replace the existing field."

Michelle Sterling (Brighton Road) stated, "Bottom line, toxic tire scraps do not belong on our children's playing fields… It is absolutely antithetical to the health and safety and wellness, which I know you all are concerned with, of our kids to put an artificial turf with ground up tires on our field." She continued, "We know now that it offgases… it gets ingested; it goes onto abrasions. It's been particularly bad for soccer players and soccer goalies -- people who slide on the field." Sterling also mentioned that, "Both the Consumer Product Safety Commission and the US EPA have withdrawn their safety assurances for recycled rubber tire products (and) the EPA has posted new cautions concerning unexplored chemical exposure to more 30 compounds found in synthetic tire turf."
She acknowledged the desire to install synthetic turf by saying, "It absolutely extends the season… and the playing day. That's a real, positive benefit. It is up to you guys to really weigh the safety and health and wellness of our kids versus a few extra games in a season and a little extra playing time in a day. "
Sterling then went on to note specific negative environmental impacts of artificial turf and emphasized that it is not maintenance-free, requiring watering and disinfecting, and questioned the district's cost estimations for installation of a natural turf field, which also has been set at $1.2 million. "No where have I seen that putting down sod is equal to putting down artificial turf. It is always significantly cheaper to put down sod. Those numbers do not make sense, so what we really need to see is a breakout," she said.
Members of the board continued the Butler Field discussion, with a focus on its implications for this year's budget process. Board Member Art Rublin addressed the pending April budget deadline and new these new concerns about field materials. "We did talk about the possibility of adding a meeting… between March 19 and April 16. This, to me, is a significant issue and I think… we might continue the discussion," he said.
Board of Education Vice President Scott Silberfein followed, "I don't think anyone at this table wants to put crumb rubber infill from tires on the field… (This) means we're at a minimum of $1.3 million unless we go with natural turf… I probably would be in favor of continuing to use a synthetic turf, but I'd certainly like to hear more and see what the recommendations are. I would be leaning that way, but not (towards) a crumb rubber infill."
Natbony continued, "I'm very concerned about using rubber products on the field… when I look at the options, I'm looking at it from a budgeting perspective... You've got this $400,000 potential difference here… If we decide to go the synthetic route, where do we get that $400,000?"
Board Member Leila Maude explained her view, "… No one's writing to us saying, 'Please put down a synthetic turf.' … All my education (on the issue) is coming from the people who are coming here and speaking… If this is a decision that we have to (make) in the next four weeks… as an individual, I'm going to say please not use artificial turf."
Board Member Nina Cannon said, "I think this meeting has been eye-opening… In the interest of education, I'm open but, so far, all I've heard is everything telling me why I should not put another synthetic turf in that place." Board Member Pam Fuehrer echoed the sentiment, " I want to see what we can do with a grass surface… We talk about the toxicity… and the disposal of the existing field, from a sustainability issue, is pretty egregious. Rublin concurred, but wanted to learn more. "My leaning right now, is with (Maude, Cannon and Fuehrer). I would like to hear from… others about the benefits of artificial turf… and, also, the downsides of grass. Right now, my leaning is toward the grass. I really am open to hearing otherwise."
Scarsdale Schools Superintendent Thomas Hagerman cautioned the board about moving too quickly on the matter, stating, "We have had this artificially surfaced field for more than a decade and have heard, virtually, zero about it until the last two weeks. And, certainly it has come out as a very significant issue… There's lots of information (and issues)… and people are going to have very passionate views about these issues… I caution that moving too quickly is going to cause this to be a very reactive process that could pit groups with different interests against other groups." He later continued, "We really need to understand all the interests in this space are and have a plan moving forward… we need to understand the community's needs and desires, even more so than the research, although that plays into it."
Board members quickly came to the realization that the process may take longer than the month left before April 16. They debated the merits of postponing the work another year to allow for more review and allocating the maximum estimated cost of renovation to provide for any circumstance. They also discussed concerns about balancing potential increased costs, a need to know more and their commitment to renovate Butler Field as a priority one project. Unable to reach a consensus on how to proceed, the board agreed to leave the existing $1.2 million allocation for renovation in the budget and schedule another meeting to collect community input and additional information about materials options. Interested residents are urged to provide the board with their comments and concerns at the upcoming meeting on April 10 or before then via email.