Edgewood's Joyous Centennial Celebration
Details

Written by

Alexandra Wilson

Hits: 1884
Edgewood School's 100-year celebration on Monday January 7, 2018 was an uplifting event that concluded with the long-anticipated time opening of the time capsule. Students, parents, teachers and alumni gathered in the gym as MC and School Principal Dr. Scott Houseknecht used slides, songs and interviews to reflect on the school's 100 years. Meanwhile, Assistant Principal William Yang livened the audience as he acted as a newscaster, moving through the crowd to interview different audience members.
Throughout the presentation, the audience saw how much Edgewood has changed since its founding in 1919. The school's physical appearance was quite different; as Edgewood alumnus and Princeton emeritus professor Carl Schorske remembers, the building used to be surrounded by a beautiful apple orchard. He spent recess picking and eating apples. The building was also physically smaller, and before the expansion it was so overcrowded that the school secretary remembers three portable classrooms were brought in to accommodate all of the students.
There was no PTA until Edgewood's 10th year, making this the PTA's 90th anniversary. In the 1940s, the student-athletes wore black and gold, but they began wearing the current blue uniforms by the 50th anniversary. On that same anniversary, former Edgewood teacher Helen Holtz presented a 600- page book handwritten book depicting the history of Scarsdale. On the 75th anniversary, art teacher Helen Pasternak orchestrated a project to create a set of murals that tell the history of Edgewood school. Once the project was complete, Pasternak wrapped it in black paper and put a bow on the center before she unwrapped it and revealed it to the school on the anniversary. This was also the year that the school created the time capsule that was opened 25 years later at the assembly on Monday. The school also had an 88th celebration, where Schorske came in to speak to the kids.

On Monday, many Edgewood alumni were present as faculty and residents shared heartwarming stories from the
Debbie Franco chats with her first grade teacher Alice Gaskinschool's past. Current Edgewood students interviewed former teachers and alumni before the assembly began to hear about their lives at Edgewood. Susie Edwards Kelly, whose children are the fourth generation in her family to attend told the children that her parents met at Edgewood when they went there as children. Former teacher Ruth Friendly, who will celebrate her 95th birthday in February was there with her son, former Village Mayor Jon Mark. We met former first grade teacher Alice Gaskin, former third grade teacher Margaret O'Farrell and alumni Debra Franco – or Debra McCann as she was known as a student. The oldest former student in attendance was James Conlan, who was born in 1936 and attended Edgewood School from 1941-48. The Conlans' have five generations in the Edgewood community and three at Edgewood Elementary School.
The audience welcomed Nancy Nemlich, who retired as Edgewood's school secretary eight years ago. Ms. Nemlich began working at the school in 1966, where she also served as the sole lunch supervisor for the 8 to 10 kids who stayed in school for lunch. Her contributions to the school were so appreciated that upon her retirement the administration named the stage after her,.
While there was much reflection and nostalgia, the students were most excited about the time capsule that was about to be opened. The capsule that was created for the 75th anniversary was only meant to be the size of a laptop, but it swelled to the size of a kitchen table with the students' many contributions. In fact, at the time, each class was given a shoe box to fill and these many boxes were hidden in the wall of the school. In 2005, the school underwent construction and in the process the place where the time capsule was hidden was revealed. Much to the students' chagrin in 2005, they were no permitted to
Former teacher Ruth Friendly is interviewed by current Edgewood students.open the capsule. However, they still wanted to contribute to the capsule, so they made cards for future students to read in fourteen years. At the celebration on Monday, the audience heard excerpts of the letters, in which past students spoke about their life in school and current events from 2005.
Before opening the capsule, Dr. Houseknecht warned the kids that the items in it may be decayed, and that they should not feel disappointed if they were. Dramatic music began to play, and he opened the capsule slowly... a student wearing a white wig popped out, claiming he had been in the capsule for years, which caused an eruption of laughter in the kids' section. The students were then thrilled to find that the many boxes within the capsule were intact. The scene was somewhat anticlimactic because the boxes in the capsule were not opened during the assembly. A class plans on opening them and analyzing the contents later. However, the students were still pleased to see a photo album and drawings from former students, and they look forward to seeing what is inside the well-preserved boxes.
This event, along with a series of celebrations to mark the school's 100th anniversary, were organized by the school's administration in cooperation with PTA Co-Presidents Heedan Chung and Susie Smith. Heedan made short remarks about her time at the 60th anniversary as a 4th grader and shared a photo of moms dressed up as flappers from a musical revue called Edgewoodmania.
An adult Edgewood chorus will start on January 10 at 7:30 pm. Anyone interested should email edgewoodschoolpta@gmail.com.
PTA Presidents Heedan Chung and Susie Smith
Esurance Donates Car to Scarsdale Police Department
Details

Written by

Joanne Wallenstein

Hits: 1961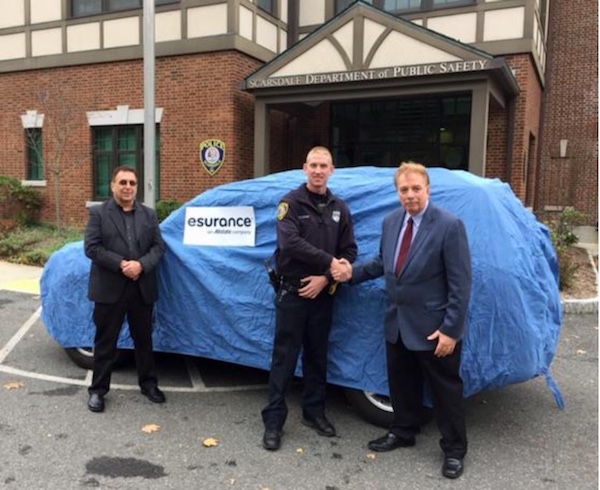 Esurance has donated a car to the Scarsdale Police Department to be used for undercover police operations. This vehicle will assist the Scarsdale Police Department in undercover patrols and crime prevention operations. The car is covered so that it will not be recognized when used for surveillance and undercover operations.
Pictured above from left to right are esurance Senior SIU Major Case Investigator Michael Sepanara, Officer Michael Coyne who accepted the donation on behalf of the police department and esurance SIU Investigator John Ferris.

The Scarsdale Police Department would like to thank esurance for this generous donation.
Obituary: Carmela Maria Guerney at Age 61
Details

Written by

Joanne Wallenstein

Hits: 2298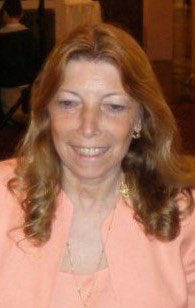 It is with great sadness that the family of Carmela Maria Guerney (nee Meccariello) of Scarsdale, NY announce of her passing on December 7, 2018. She was born on August 5, 1957 in the Dominican Republic to Felice and Immacolata (nee LaPietra) Meccariello. Carmela will forever be remembered and is survived by her adoring husband and college sweetheart of 31 years Dennis Guerney, by their precious children Katherine and Caroline Guerney, her sister Marianna Meccariello, her sister-in-law Denise Carbone, her brother-in-law Michael Carbone and their children Matthew and Lauren.
Carmela will also be forever remembered by her extended family and dear friends.
She was predeceased by her son Christopher, her mother Immacolata and her father Felice.
The family will receive friends at the Westchester Funeral Home, Inc. Eastchester on Wednesday - December 12, 2018 from 2-4 and 7-9 pm. A Mass of Christian burial will be held on Thursday - December 13, 2018 at 10:00 am at Immaculate Heart of Mary Church, Scarsdale. Interment to follow at Gate of Heaven Cemetery, Hawthorne NY.
In lieu of flowers, donations can be made to the American Heart Association and at the request of Carmela's family to please consider organ donation.
To sign the online guest-book, please visit www.westchesterfuneralhome.com.
Westchester Funeral Home, Inc. 190 Main Street Eastchester, NY 10709 914-337-4585
Flywheel Charity Ride Honors Doctor Slain in Pittsburgh
Details

Written by

Joanne Wallenstein

Hits: 1584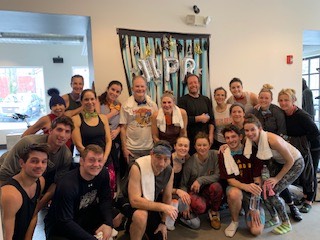 A former Scarsdale resident wanted to do more than mourn one of the victims of the tragic shooting at the Tree of Life Synagogue in Pittsburgh on Saturday October 27. Leslie Berkowitz decided to organize a charity ride at the Flywheel Studio in Scarsdale to honor Dr. Jerry Rabinowitz, who was the husband of one of her oldest friends, Miri Rabinowitz. Berkowitz knew Dr. Rabinowitz since he and Miri met in Pittsburgh in the early '90's.
Berkowitz learned that Jerry had arrived at synagogue early on Saturday morning 10/27 as he did every Saturday, to set up for a Torah study session. When he heard gunshots, he ran out of the safety of the Rabbi's study, to offer help to those who might be wounded and in need of care. Jerry's immediate decision to risk his own safety resulted in his death; he was gunned down in the hallway, by a murderer who entered the synagogue shouting, "All Jews must die". However, no one that knew Jerry was surprised to hear that he had run towards the shots; not only was he a physician, who had practiced Family Medicine for over 30 years in Pittsburgh, he was a kind and compassionate man, whose greatest accomplishments were the relationships he developed and cherished, with family, friends and patients.
Why a charity ride? Jerry was an avid cyclist. After diagnosing one of his patients with multiple sclerosis many years ago, he made a commitment to raise money to search for a cure, by riding in the annual 150 mile, 2-day, MS ride. Since 1996, Jerry completed 21 of 22 rides, raising over $16,000 for the MS Society.
Berkowtiz saw the headlines that there were multiple fatalities in the Tree of Life Synagogue when she finished her usual Saturday 9:30 Flywheel class. Fearing the worst she shared her concern that friends Miri and Jerry Rabinowitz, were members of a Congregation which rented space in that Synagogue. Berkowtiz was overwhelmed with the kindness and compassion of everyone she spoke to that morning, and decided to honor Jerry with a ride at the studio.
Twenty riders joined Berkowtiz at the studio on December 9 wearing bow ties (Jerry's signature look). Fly Wheel's Eve Bondareva led them with a playlist of hits by Bruce Springsteen, The Stones, the Bee Gees, Paul Simon, and Billy Joel (just to name a few). The energy was high and they raised $3,150 for the National Multiple Sclerosis Society in Jerry's honor.
To donate to the Multiple Sclerosis Society in Jerry's name, please click here and follow the instructions on the MS Society website.
Shop & Dine the 'Dale December 6-8
Details

Written by

Joanne Wallenstein

Hits: 2733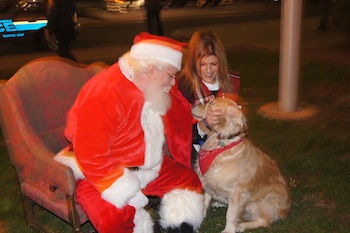 The Scarsdale Business Alliance (SBA) is proud to announce its First Annual Holiday Shop & Dine the 'Dale, Thursday, December 6th through Saturday, December 8th (with extended evening hours until 8pm on Thursday).

Over 35 SBA merchants and restaurants from Scarsdale Village, Golden Horseshoe, Five Corners, Colonial Village, Scarsdale Commons, Garth Road and Scarsdale Avenue will be participating in this community-wide event.

The SBA will hold a collaborative grand raffle with gift cards to your favorite stores and restaurants. Make a purchase at a participating store or dine at an SBA establishment to be entered into the raffle. The more local businesses you patronize, the more chances you have to win! In addition, some of the participating merchants will be offering in-store incentives and/or discounts during this three day event.

There will be live musical entertainment in Scarsdale Village on Thursday evening December 6th, from 6pm - 7pm, and during the day on Saturday, December 8th from 12pm - 2pm. New Orleans Renaissance is a collection of outstanding brass musicians currently living and performing in New York City. They can be heard at venues throughout the metropolitan area. Come hear some wonderful holiday sounds that are sure to make your shopping season one to remember.

There will be family-friendly activities on Saturday, December 8th at Space NK in Scarsdale Village from 11am - 2pm. Music Together, an internationally recognized early childhood music program, will be hosting a free class from 11am - 12pm. Music Together is primarily for children from birth through kindergarten age - and the grownups who love them! - But, older children do enjoy singing the songs and playing the instruments, too. Research-based and developmentally appropriate, the Music Together curriculum helps families, caregivers, and early childhood professional rediscover the pleasure in and educational value of informal musical experiences.

There will also be a Ukulele Holiday Strum and Sing Along (a Starlight Starbright Music Offering) on Saturday from 1:15 pm - 2pm. BYOU - Bring your own uke! For kids and adults.

From 12pm - 2pm on Saturday in Space NK there will be additional activities and art and crafts for families to enjoy.

Participating merchants as of November 26th: Bango Bowls, BLVD, Bronx River Books, Coldwell Banker, Current Home, Daniele Trisi, Eye Gallery of Scarsdale, Great Stuff, Greenwich Medical Spa, Haagen Dazs, Holsten Jewelers, Houlihan Lawrence, I Am More Scarsdale, Julius Michael, La Dentelliere, Langes, Learning Express, LF Stores, Martine's Fine Bake Shoppe, Meritage, Mixology, Nordic Edge, Pamela Robbins, PlushBLOW Scarsdale, Popojito, Rothmans, Rudys Music, SoulCycle Scarsdale, The Bar Method, Trapp Opticians, Via Forno, Vintology, William Raveis Real Estate, Wilson & Son Jewelers, Wyatt Lilly, Zachys Wine & Liquor.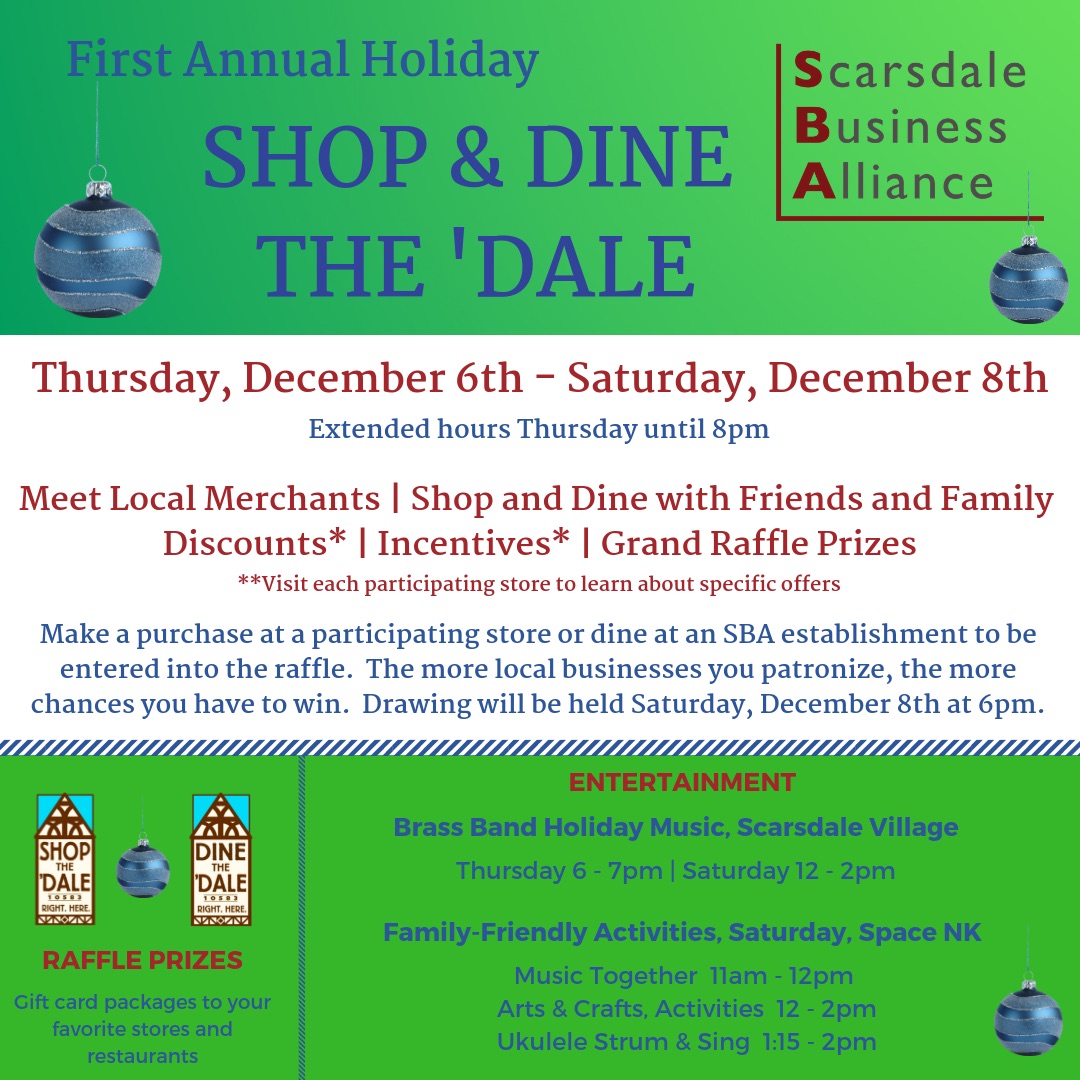 The SBA is a new, non-profit organization dedicated to supporting the Village of Scarsdale and its local businesses. The SBA was created to foster cooperation and innovation amongst these local businesses. Scarsdale is fortunate to have many large independent, successful retail businesses along with new emerging entrepreneurial ventures. There is also a robust contingent of realtors, banks and independent practitioners throughout the area that support the community. The SBA looks to combine all of these elements, and work closely with Village government to improve Scarsdale and create a vibrant downtown.

Jane Veron, Scarsdale Village Trustee and SBA Liaison said, "In virtually no time, the newly formed Scarsdale Business Alliance, with its professional Executive Director and top notch Board, has created a purpose-driven, high growth organization of dedicated merchants and service providers. The SBA has energized around a central theme, to make Scarsdale the preferred place for shopping, dining and gathering. This Holiday Shop and Dine event delivers on their promise. With extended hours, entertainment and special offers, this event brings relevance, value-added service and community building to our local retail hubs. The SBA also provides a voice for the business community as it collaborates with the Village government on a range of policy issues."

Please follow the SBA on Instagram at @scarsdalebusiness.

For more information please contact Darci DeMatteo, SBA Executive Director, or visit our website.