SHS Soccer Player Named to All-State team for Second Consecutive Year
Tuesday, 18 December 2018 16:50
Last Updated: Thursday, 20 December 2018 15:58
Published: Tuesday, 18 December 2018 16:50
Joanne Wallenstein
Hits: 1638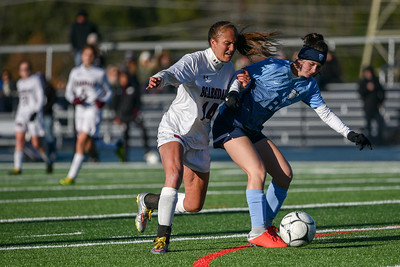 Allison Stafford has been named fourth team All-State 2018 for Class AA by the New York State Sportswriters and Coaches Organization for Girls Sports. She was also recently selected as a member of the Westchester/Rockland/Putnam/Dutchess Coaches Association's Elite 12, which recognizes the 12 high school girl soccer players in the region who best combined standout play on the field with outstanding classroom performance. Class AA consists of the largest high schools in New York State and Section 1 is comprised of high schools in Westchester, Rockland, Putnam and Dutchess counties.

It's the second consecutive year that Stafford, a senior at Scarsdale High School and a three time All Section and All League selection, has been named to the New York All-State team. She's the first female player from SHS to receive the honor since 2011. What makes the All State and Elite 12 designations especially impressive in Stafford's case is that she played midfield the past two years for the Raiders even though her natural position, and the position for which she's been recruited by college coaches, is center back.

Coach Mindy Genovese believed that Stafford's talents would best serve the team if she played mid-field. In describing her experience playing a different position for the Raiders, Stafford said "I have great respect for Coach Mindy's judgment and wanted to do whatever I could to help the team. I believe that playing midfield helped our team maintain possession and start many offensive rushes. It also helped me continue to develop my all-around game by giving me a greater role in the offensive attack."

Stafford, who looks forward to continuing her soccer career at Amherst College, said she had an exceptionally good experience playing high school soccer, having developed camaraderie with her teammates, enjoying her leadership role as co-captain, and experiencing on the field success each year. The success in the 2018 season culminated in the Raiders' hard fought, 1-0 overtime loss to eventual section champion Arlington in the Section 1 playoffs in October. "I really enjoyed playing on the high school team these past four years and am going to miss it. I'm especially grateful to Coach Mindy for everything she did for our team. It was so much fun and the memories, including the inspiring play of my teammates late this past season that had us playing at a Section champion level, will stay with me forever," Stafford said.