One Third of Scarsdale is Without Power After Nor' Easter
Friday, 02 March 2018 16:36
Last Updated: Friday, 02 March 2018 22:01
Published: Friday, 02 March 2018 16:36
Joanne Wallenstein
Hits: 6835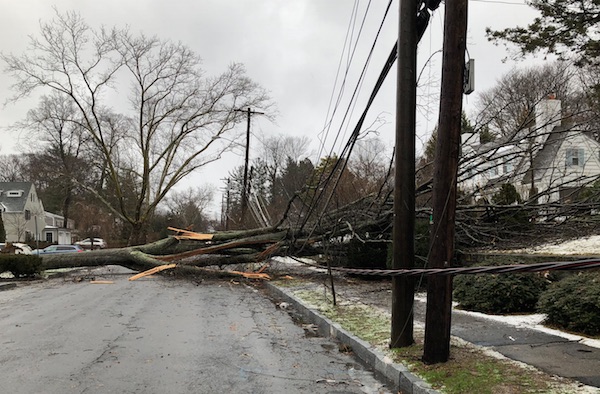 Updated at 7:15 PM: We received the following from Captain Thomas Altizio of the Scarsdale Police: "According to ConEd, as of 6:30 pm, there were 1,345 customers in Scarsdale without power. The Police Department has received dozens of reports of trees down with wires as well as downed utility poles. We have been forced to close roads at multiple locations while we wait for ConEd to remove wires. Where wires are not involved, our Public Works Department has personnel working throughout the afternoon and evening to remove downed trees and limbs. The Police Department has additional personnel working throughout the afternoon and evening, and have received a high volume of calls reporting auto accidents, downed trees, poles and wires, medical emergencies, as well as our normal volume of daily calls."
"We have no information from ConEd regarding restoration estimates. Keep in mind that the damage and outages from this storm are widespread, so I think it is fair to say that restoration will take longer than usual. Because of the dangers posed by all of the downed wires, poles and trees, the Village has issued a press release declaring a "State of Emergency" as of 5:30 pm, and until the necessary repairs and cleanup can be completed. Additional information will be disseminated through Press Releases and the Village website as the situation changes."
Powerful winds, sleet, rain and snow blew threw Scarsdale today, taking down power lines in many areas of Scarsdale. Here in Greenacres, the power is out after a large tree fell across Walworth Avenue just north of Brayton Road, taking down the power main. Another big tree fell on Ogden Road in Fox Meadow leaving some in the dark. The Police are inundated with calls about downed trees and power lines throughout the Village. Even the Con Edison outage map is not working properly.
The Village of Scarsdale declared a State of Emergency at 5:30 pm, prohibiting driving and parking on Village roadways until the State of Emergency is lifted. Freightway Parking lot is open and available for parking. Storm related calls should be made to the Scarsdale Emergency Operating Center at 914-722-1150. Call 911 or 722-1200 if using a cell phone. Report power outages to Con Edison at 1-800-752-6633.

As of Friday night at 6 pm, authorities said that at least half the village is without power and Con Edison cannot work until the winds die down. The Fire Chief did not sound optimistic that the power would be back on anytime soon.

The picture above is the one on Walworth - and below see windblown fences in Quaker Ridge. Let us know where the power is out by commenting in the section below.