Iceland: the New Frontier in Travel
Monday, 30 July 2018 16:07
Last Updated: Monday, 30 July 2018 16:28
Published: Monday, 30 July 2018 16:07
Sarah Kazan
Hits: 2923
If you're looking for a new frontier to explore, a country with a beautiful city and even more breathtaking landscapes, plus a noticeably slower pace than New York, then Iceland may be the place for you! In the past ten years, tourism in Iceland has grown significantly, eclipsing fishing as their top industry. The nation, whose population is roughly 330,000, hosts approximately 2 million tourists each year. So what makes Iceland such a popular destination? Top reasons include the country's unique landscapes, rich history and progressive society.
We chose to go in June when the weather was the warmest it probably ever gets, ranging from 50-55 degrees everyday. But some choose to go during the winter, while the temperatures are lower, however not unbearable, and there are significantly fewer hours of daylight.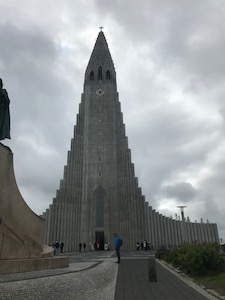 Hallgrímskirkja ChurchReykjavík, the nation's capital city, boasts good food, shopping, museums and other landmarks showcasing Icelandic culture and heritage. One of this waterfront city's biggest attractions is the hard-to-miss Hallgrímskirkja Church, which looks like an asparagus and stands so tall above any other building in the capital that it can be seen from almost every street. There is no entrance fee to admire the inside of the beautiful church and its massive 5275-pipe organ; however, visitors can buy tickets to go to the top of the tower for spectacular views of Reykjavík.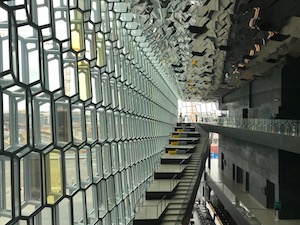 Harpa Concert Hall
Another popular activity around Reykjavík is exploring the city's many museums, which offer the chance to dive deeper into Icelandic culture and history. Something you may learn is the popular belief in trolls and elves; 50% of Icelandic people actively believe in them while the rest will not deny their existence. A few museums to visit are The Saga Museum and the Settlement Exhibition, not to mention the beautiful and uniquely built concert hall, Harpa, situated by the rapidly developing Reykjavík harbor. Harpa offers several concerts, shows, exhibitions and other events (not to mention it was also the set for an episode of Black Mirror).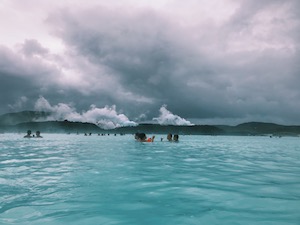 The Blue Lagoon Geothermal SpaJust outside of Reykjavík is the must-visit Blue Lagoon Geothermal Spa. Here, visitors can lounge in the naturally heated pool, swim up to the bar for drinks or try out a few of the spa's natural face masks (like one made from silica). It is recommended that travelers stop at the Blue Lagoon on their way into Reykjavík from the airport. After hours of travel, the spa is a great way to relax and prepare for the trip ahead. No matter how cold the air temperature may be, the 100 degree spring will keep you warm (but will have you running back to your towel when you get out).
Another popular activity is whale and puffin watching. Step out onto a RIB boat and travel along the sea for a chance to spot whales up close.
Traditional Minke whale served with soy sauce and fresh wasabi Reykjavík is also home to several incredible restaurants. Not surprisingly, the fish served is among the freshest in the world due to Reykjavík's waterfront location and enormous fishing industry. Many restaurants also serve some unique Icelandic cuisine, such as horse, whale, puffin and fermented shark (not recommended). I tried whale, which turns out to be red meat that was surprisingly good. The city is also known for its delicious hot dogs that can be found at many street carts. In fact, they are so delicious that on one visit, Bill Clinton fell in love with them; one cart even has a hot dog named after him.
Getting around Reykjavík there is no need for a car, every destination is walkable and cabs are available all over the city. However, if you are leaving the city to see other parts of Iceland, it is recommended to drive yourself or use a guide and driver.
The Mid Atlantic Ridge which can be viewed at Þingvellir National ParkLocated in Southern Iceland, only a little more than an hour outside of Reykjavík, is Iceland's Golden Circle, a popular tourist route that contains three equally beautiful locations: Þingvellir (Thingvellir) National Park, Geysir Geothermal Area, and Gullfoss Waterfall. Þingvellir National Park is full of geological wonder and packed full of history. This park is the only place in the world where the Mid-Atlantic Ridge (where the Eurasian and North American tectonic plates diverge) is visible above sea level. The breathtaking views of the national park should not be missed; in fact, many Game of Thrones episodes have been filmed using Þingvellir as the backdrop. Þingvellir is also where Althing, the parliamentary assembly representing the entirety of Iceland, was established in 930 and continued to meet until 1798, making it a UNESCO World Heritage Site.
The next stop on the Golden Circle tour is the Geysir Geothermal Area, where visitors can watch the Great Geysir go off, roughly every ten minutes. Water from this geyser can reach up to 130 feet or more. While there are many other geysers in this area, most have been inactive for several years. Located just across from the geyser is The Geysir Center, which contains a boutique with many locally crafted Icelandic goods – like knit sweaters and gloves - and several restaurants serving traditional Icelandic food.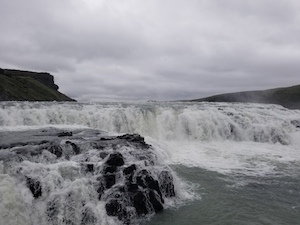 Gullfoss waterfallThe final location of the Golden Circle is Gullfoss waterfall, one of the most astonishing waterfalls in Iceland. During the summer, when there is no ice, a pathway is accessible right to the edge of the falls. Over the years, the falls have been preserved for visitors from all over the world to enjoy their beauty.
Travelers can explore the Golden Circle either through a guided tour, offered by many companies, or by renting a car and driving to the sites.
While the sights alone are worth the drive to southern Iceland, there are several opportunities for activities throughout the Golden Circle, including snorkeling (in a wetsuit), caving, rafting and more. We decided to ride Icelandic horses. Bred in Iceland, these horses are smaller than average and are sometimes referred to as pony-sized. Riding horseback around trails is a great way to take in some of Iceland's beauty.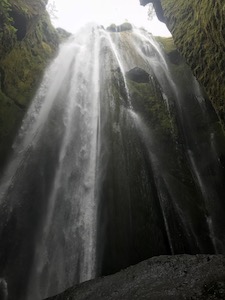 Getting up close to waterfalls at the hidden GljúfrafossTo fully explore the majestic natural beauty of the entire southern region of Iceland (beyond the Golden Circle), it's best to stay a few nights here instead of going back to Reykjavík. There are plenty of lodges and hotels located throughout the region.
One aspect of Iceland that makes it so unique is its abundance of breathtaking waterfalls (good luck pronouncing any of their names). At Seljalandsfoss waterfall, you can walk behind the waterfall to capture its entirety. It is also worth the trip to visit Skógafoss, one of Iceland's biggest waterfalls, where one can walk right up to the falls and probably get drenched in the process. Though there are several more to be seen, one final notable waterfall is Gljúfrafoss. While Gljúfrafoss is much smaller than the other falls, it is probably the most magnificent (and my personal favorite). While visiting Gljúfrafoss, make sure to wear rain gear, or even waders, to really stay dry. Gljúfrafoss is hidden in a valley and in order to see the waterfall, visitors must first walk through a small river and will most likely be sprayed by the waterfall. Getting so close to the falls and taking in the landscape's natural beauty makes seeing this waterfall an indescribable experience.
Sólheimajökull glacierAnother must of southern Iceland is hiking the Sólheimajökull glacier. Strap on your crampons and helmet and grab an icepick for this adventure (a guide is necessary for the hike). This glacier walk is a great way to explore Icelandic nature and see firsthand why Iceland so unique. While in theory glaciers are thought of as white snowy mountains, this glacier, and many other Icelandic glaciers, is primarily black at first glance due to the volcanic ash (from an eruption in 1918) that covers the ice. This does not take away from its beauty but adds to its fascination. In fact, this is an up close look at why the country is known as the "Land of Fire and Ice." The glacier is receding so make sure you visit while you still can! From here you can see Eyjafjallajökull glacier, which last erupted in 2010 and closed airports across Europe for days.
Super jeep used to drive through ThórsmörkStill want to see more? Check out Thórsmörk. This gigantic valley can surely take your breath away, and so will the vehicle necessary for the trek. Since the valley consists of no roads and only rocky terrain, it's essential to get the right guide and the right vehicle, such as a Super Jeep (a car with 46 inch tires made for driving on rough terrain and even through water). Here there are several beautiful hikes to do. The experience is one of a kind.
While these are only a few of the highlights of Iceland, there is so much more to explore. Visit in the summer and you will experience daylight nearly 24-hours a day (pack your sleep masks!); visit anytime September to April for a chance to experience the Northern Lights. Whenever you go you will get a sense of the Icelandic character of humility and forward thinking. Their optimism helps get them through cold and dark winter months and keeps smiles on their faces when there is only a few hours of daylight during the winter.
Next time you're considering taking a vacation, instead of laying on the beach or going to the same city you've been to before, try Iceland. It's a trip you will always remember!