Scarsdale Bowl to Honor Jill Spieler April 10
Saturday, 30 March 2019 12:50
Last Updated: Monday, 01 April 2019 03:13
Published: Saturday, 30 March 2019 12:50
Joanne Wallenstein
Hits: 4015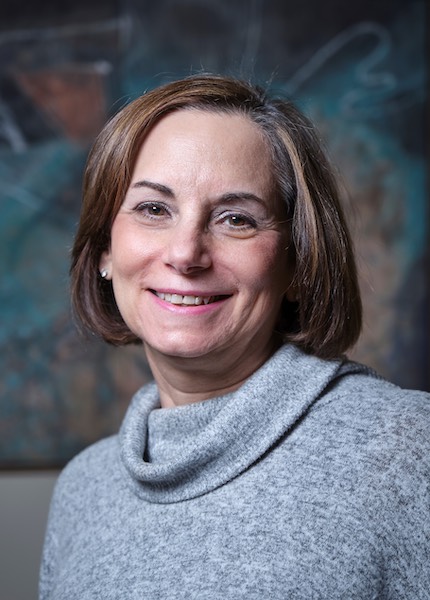 Scarsdale Bowl Recipient Jill Spieler: Photo Credit Michael ChayesPleasePlease
RSVP via PayPal by April 5th:

Jill Spieler, a Scarsdale resident with 40 years of dedicated volunteerism, will be the 2019 recipient of the community's highest award, the Scarsdale Bowl. The dinner will be held on Wednesday April 10 at Mulino's at Lake Isle and the entire community is invited to celebrate Jill and volunteerism in Scarsdale. Click here to learn more:
We asked Jill a few questions about living and volunteering in Scarsdale, and here is what she shared:
How many years have you lived in Scarsdale and how did you begin volunteering? What were a few of your early activities?
I moved to Edgewood in 1976. In 1979 my first child was born. That same year my husband started to work from home. We needed a bigger house, so we moved to Greenacres in 1980. We have been in our current home for 39 years.
In Greenacres I met many other young women who already had elementary age children. They were involved with the yearly PTA fund raiser. I asked if I could help? I wanted to be involved, enjoy the new friendships I was making.
My first big commitment was getting involved with the Child Care Association of Scarsdale (Kids BASE),
an idea that came out of PT Council. More moms were going back to work and there weren't many licensed, educational child care programs in the county for elementary school age children. This was something I valued, so I volunteered wherever I could. I was asked to join the Board in 1984.
Looking back — what were your favorite volunteer jobs in Scarsdale – and why?
Working on the Kids BASE board gave me an incredible opportunity to work with many creative, intelligent, caring women. Most of them were already leaders in many other community organizations. I learned so much during those early years.
There were many challenges during the first few years. Developing the program, building a following, and, most of all the constant question, "Where will there be room for us next year?" The sale of the American Legion Hall couldn't have come at a better time. Not without controversy, but with many supporters, the Village and Kid BASE Boards worked out an agreement for Kids BASE to lease the property. Plans for the building, setting up the bonds, selling the bonds, and seeing it through. All these efforts and so many more details took dedication from numerous Board members and community volunteers. It was so exciting to see the finished building, with little chairs and tables, educational toys, a gym, outdoor playground equipment and a kitchen for preparing meals. It was such a gratifying moment for everyone involved.
One of the most engaging, fun, jobs I had was being President of the TVCCEF (Scarsdale Forum) as they were going into their 100th Year. I had a first-hand opportunity to learn about the history, and important studies the TVCCEF had done over the past 100 years. It was an exhilarating time. Working with many community members and reuniting so many past leaders of the TVCCEF. We had a wonderful turnout of over 300 people and raised $100,000 for the TVCCEF, which would help as we moved forward in our efforts to educate and inform Scarsdale residents with stimulating, thoughtful, provoking debate and conversations.
What was one of the toughest jobs you held?
There were many challenges over the years. The hardest times were when the community was at odds on an issue. I found it especially difficult when I was the chair of an organization, whether it be PRC, Scarsdale Forum or the Board of Education. You try your hardest to listen, be open minded, and have all sides heard from. Ultimately there needs to be some decisions to move the question forward. Sometimes the answer is working towards compromise, but that's not always attainable. With the help of my peers, we tried our best to make the right choices.

Why do you like living in Scarsdale?
I have enjoyed living it Scarsdale because it gave me a sense of community. I took pleasure in watching my own children growing up with their friends. I made many friends through my children. And many more friends volunteering. I truly appreciate the sharing of knowledge between generations that I have experienced.
What do you enjoy about the community –favorite activities, restaurants?
I am grateful for the education my children received, and the fun they had participating in Rec programs, day camp and at the pool. I am looking forward to the library renovation. My husband and I frequent many of the restaurants in Scarsdale. We are enjoying the new additions on Garth Road.
Some empty nesters decide to leave the community after their kids are grown. Why did you decide to stay?
I love my home, and still want to be part of the Scarsdale community. I like to be able to participate in some of the LVW and Forum activities. I enjoy bumping into familiar faces in town and enjoy occasionally volunteering on smaller projects.
What would you tell new residents about volunteering? Why should they get involved?
I know most of us move here for the Schools, but there is much to gain if one invests the time. You will be able to share your views, learn something and teach someone as well. You meet many people of different interests, feel part of something bigger than yourself, leave something behind for a community that has given so much to you and your family.
Were you surprised to learn you had been nominated to receive the Scarsdale Bowl?
Yes, it was unexpected. When you volunteer it is because you want to contribute your time to a good cause. Or someone has asked, and you feel it would be an interesting opportunity. I never looked back to see how involved I had been for so many years. I feel very honored, and fortunate to have had so many interesting experiences. I have met wonderful people from all areas of the community, across many generations.