Latin Flavors of Mexico and Peru at Salsa Y Brasa
Sunday, 17 March 2019 15:11
Last Updated: Sunday, 17 March 2019 15:12
Published: Sunday, 17 March 2019 15:11
Judie Dweck
Hits: 3481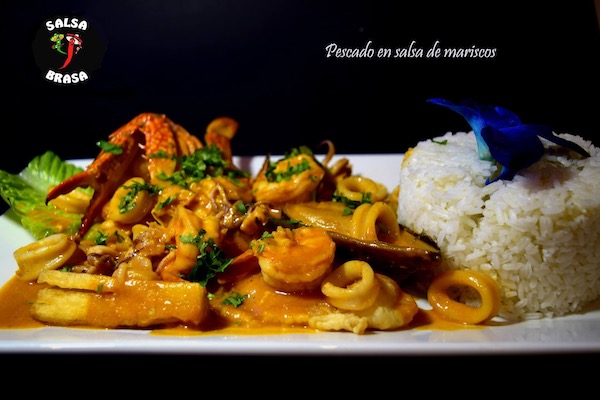 "You can't judge a book by its cover." In the case of Salsa Y Brasa, you can't judge a restaurant by its outer appearance. Don't let the location on a commercial street in New Rochelle deter you. Park conveniently in the municipal lot across the street and enter the simple 40 seat Salsa Y Brasa Restaurant. Dark wood floors and tables and a white banquette, provide seating. Several photos, a tv screen and a large photo of the Brooklyn Bridge adorn the walls. Latin music plays in the background. Owner, Eddie Bullon said, " The photo represents New York which is now my home town. " At this local spot, your focus will be on the authentic, ethnic dishes that are prepared with natural ingredients and spices which enhance, rather than overpower each dish.

The extensive selection of Mexican dishes are prepared by a seasoned Mexican chef in the kitchen. Burritos, fajitas, enchiladas, tacos and quesadillas are offered in many varieties, as well as specialties of carne asada, pollo mole, camarones a la diabla and filet of fish veracruzana. I saved my appetite for the Peruvian dishes which are not as popular in Westchester as the Mexican offerings. However, I did sample the chicken mole, the complex chocolate infused sauce. Wrapped in a sesame seed topped tortilla it was quite tasty.


There is a great diversity in Peruvian cuisine. There is the Spanish influence, the indigenous style of the Inca culture, and the influence of many immigrant groups that settled in Peru. My tasting included a cross section of these traditional dishes. The Peruvian dishes here are very authentic and bring back the many meals and snacks that I have enjoyed upon my visits to Peru, both in restaurants, private homes and from street vendors. The Peruvian menu here is prepared by owner Eddie Bullon, who learned his craft from his mother, who owns a restaurant in Lima. Bullon's eyes light up when he speaks of his native cuisine. " In Peru, everything is farm to table or sea to table. At Salsa Y Brasa, I use very fresh ingredients, as well. My favorite part of my work is meeting my guests and seeing that they leave happy. My goal is to familiarize the community with Peruvian cuisine and making it as popular as the cuisine of Mexico. Many of our ingredients are similar."

With at least 48 varieties of potatoes in Peru, it is no wonder that potatoes appear in many forms on the menu. We sampled papa a la huanciana as an appetizer. The steamed potatoes were steamed and sliced and enrobed in a feta like Peruvian cheese. Garnished with black olives , this sunny yellow dish was mild and delicious. The Incas were sun worshippers, and the yellow sauce represents it. Other popular appetizers are choritos a la chalaca where very fresh mussels are topped with onions, tomatoes and lemon juice and the popular aguacate rellena stuffed with chicken and vegetables. Very authentic are the anticuchos, served at many street corners in Peru. These grilled, spiced beef hearts are threaded onto skewers and accompanied by potatoes and corn.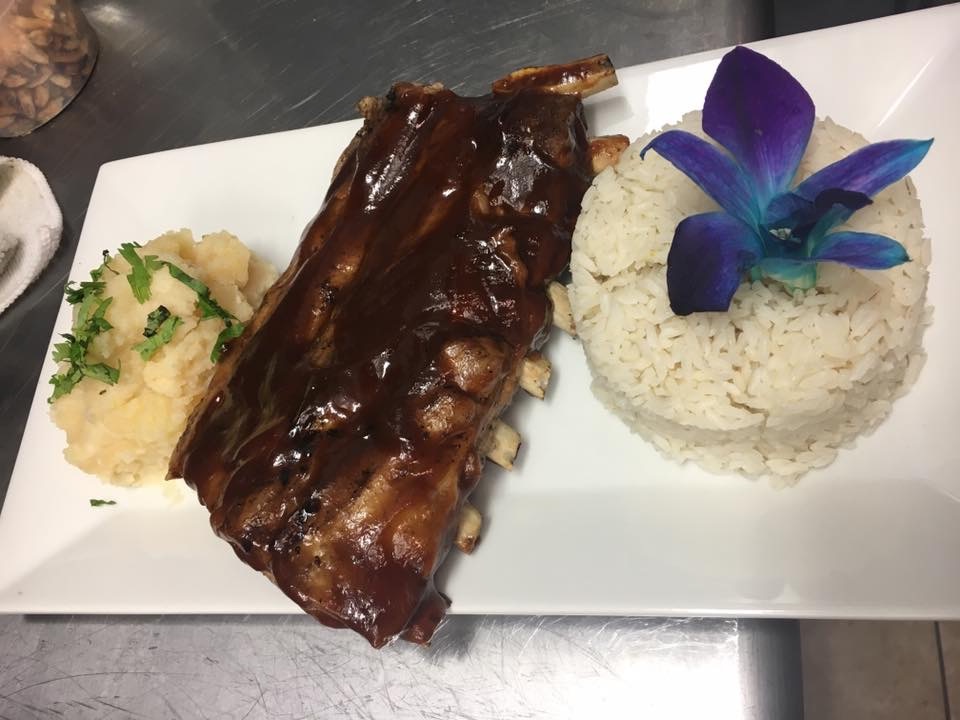 Seafood, meat and poultry appear in many classic forms on the menu here. The pollo a la brasa , or rotisserie chicken was super good. Marinated for fine flavor with seasonings, beer, salt and pepper it was moist within and simply delicious. You can order it whole, half or quartered or as a Peruvian combination with housemade fries, avocado salad, and arroz chaufa or as pollo salsa y brasa with yellow rice and beans, salchipapas, fried potatoes and avocado salad.

Italy has its fritto misto, Japan has its tempura, and England has its fish and chips, but it is Peru that has one of my favorites, jalea, a mountain of fried seafood. At Salsa Y Brasa it is presented in all its glory. The seafood is fried until golden and crisp enough to hear the crunch as you bite into each morsel. This fisherman's platter, includes white fish, shrimp, calamari and octopus and is paired with a tangy salsa criolla and tartar sauce. From the sea, consider pescado en salsa de mariscos in a creamy seafood sauce, arroz con mariscos with yellow rice and sudado de pescado , a fish stew with fried rice. Steak and chicken are represented by a classic lomo saltado, stir fried with onions, tomatoes, wine and soy sauce, fried rice in many varieties and tallarines [ spaghetti] in several sauces.

Possibly, my favorite dish here is the Peruvian ceviche mixto. The super fresh seafood, shrimp, white fish, and scungilli rest on a leaf of lettuce and the bowl is accompanied by giant Peruvian kernels of corn and sweet potato. Fresh lime juice, onion and cilantro give it its unique taste. Try it with shrimp, fish or a mix of seafood.

There is also a blackboard of daily specials such as salmon in mango sauce, baby back ribs and short ribs leaning toward innovative rather than ethnic choices. It is an impressive menu for a small restaurant. Desserts include churros and flan.

According to Bullon, a visit to Salsa Y Brasa will reinforce your enjoyment of Mexican dishes and introduce you to the " cool" cuisine of his native Peru. Both the Mexican Style and Peruvian Style Menus are sure to please you at the unassuming Salsa Y Brasa.

Salsa Y Brasa
10 Maple Avenue
New Rochelle, NY
(914) 740-5500

Recipe: Jalea (Serves 2 or more)

2 cups all purpose flour
3 cups corn oil
1 clove garlic, minced
1 Tbsp. soy sauce
1 tsp. mustard
Juice of 1 lemon
1 ½ pounds assorted seafood, shrimp, whitefish, calamari, octopus in cubes
2 green plantains, peeled, sliced and fried until crisp
1 pound yucca, boiled, sliced and fried

Toss fish and seafood in a mixture of garlic, soy sauce, mustard and lemon juice and salt and pepper and let it rest for a few minutes. Heat oil and dip fish cubes and seafood in flour and fry until golden. Drain on paper towels. Mound on platter with yucca and plantains and serve with salsa criolla and tartar sauce.

Salsa
2 red onions, sliced in julienne strips and soaked in cold water and drained
1 Tbsp .minced chili peppers
Juice of 5 limes
1 Tbsp. chopped cilantro
Salt and pepper, to taste
Mix all together and serve with jalea.