Festive and Fun Mexican Fare At Cantina Taco & Tequila Bar
Monday, 08 July 2019 16:08
Last Updated: Monday, 08 July 2019 16:11
Published: Monday, 08 July 2019 16:08
Judie Dweck
Hits: 3031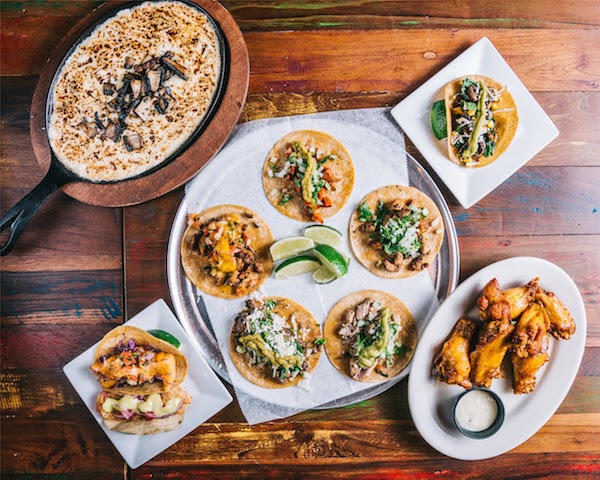 For a long time, it was new Italian restaurants that seemed to be lining our streets. Most recently, Mexican restaurants, both classic and contemporary seem to be making their mark in Westchester. Mamaroneck Avenue in White Plains just north of Post Road is filled with many popular restaurants and bars. Very new to the avenue is Cantina Taco & Tequila, a casual spot to enjoy tacos, empanadas and much more. With its friendly atmosphere, hospitality and good food and drink are its goals.
As you enter, a large bar seating about 20 is to your right. It has three t.v. screens, several high topped tables and is a comfortable spot at which to socialize. To the left are tables. The room seats about 84 guests and eventually the upstairs level will accommodate private parties of 25 to 30 guests.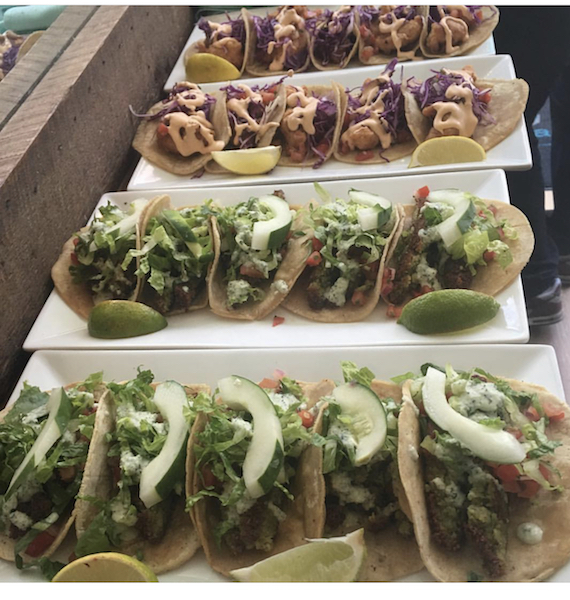 Cantina is owned by John Solo and Stefanos Katsikoumbas, who were childhood friends. Their families owned Greek diners and coffee shops and the boys helped in the family businesses at a very young age. Upon chatting with John Solo, I learned that he studied business in college and entered the corporate world. Eventually he realized that the restaurant business was the area he wanted to pursue. With restaurants in Astoria and Harlem, Solo and Katsikoumbas decided to open in Westchester, and when the space became available, Cantina Taqueria became a reality. The partners were familiar with the White Plains area and thought that this bustling area would be ideal for their restaurant concept.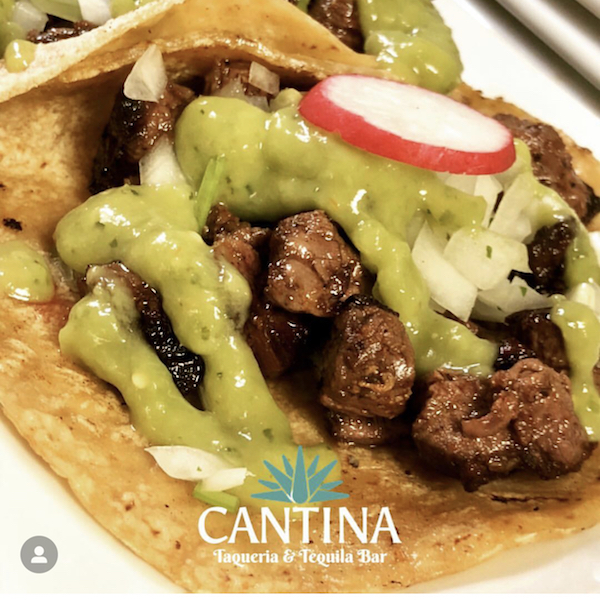 Solo, in addition to being a restauranteur, is an actor, as well said, "I learned hospitality while working at the family diners. Our goal is to have our Cantina simple and approachable, where everyone feels comfortable. A person in a suit as well as a guest in shorts will each feel welcome at our new spot. "When he thinks of whom he would like to serve at Cantina, he said." Of course some respected restauranteurs, but most of all , my two young children." If Solo was a guest at Cantina he would probably enjoy a coconut margarita and assorted tacos, and most of all good company. "We take great pride in our food and drinks as well as our friendly hospitality."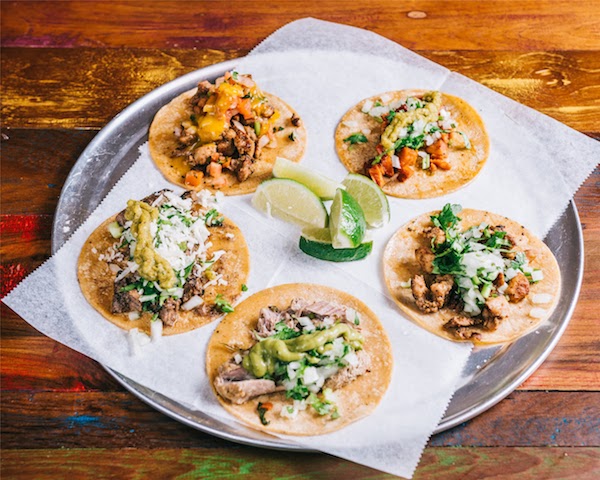 Heading the kitchen is Chef Martin Granados. He hails from Mexico where he received his culinary training. His dishes are based on the classics to which he has added a delightful contemporary touch. Our tasting started with a selection of varied tacos. These tortillas are piled high with toppings and are served flat, for the guest to customize with additional seasoning and fold up. Our feast was about to begin. There were pork tacos. Chopped onions, lots of fresh cilantro and a puree of avocado added a nice combination of flavors to the chunks of tender pork, all waiting to be wrapped around a corn tortilla. Beer battered fish tacos were excellent. The crisp battered catfish filet was topped with shredded red cabbage, and Cantina's house made chipotle mayo. While most of the tacos here start with a nice quality corn tortilla, the rock shrimp taco thrives on a flour tortilla. Pickled shredded red onion and an avocado sauce add flavor to this choice. A Jamaican style taco filled with mango jerk chicken was well flavored. Here, marinated cubes of chicken, pico de gallo and chunks of mango combine for a sweet and savory result. Future selections might include classic chicken tacos, chorizo with tomatillo sauce, Tijuana steak or vejetale with Portobello mushrooms, corn, spinach, queso fresco and avocado sauce. On many a street corner in Mexico, the aroma of grilled street corn entices you. At Cantina, a wonderful rendition of this treat awaits. Here, the fresh corn is charred and removed from the cob for easy eating. Topped with cotija cheese, sour cream and a generous sprinkling of cayenne pepper, this appetizer will perk up your taste buds in preparation for the many interesting dishes to come. We loved the sweet plantains as an appetizer. Here the thick banana segments were sautéed and topped with house made sour cream and cotija cheese. Plump empanadas can be enjoyed here when filled with pork, chicken or spinach and goat cheese. A nice shared appetizer is queso fondido, a baked Oaxaca cheese with tortillas and tomatillo sauce. It is tasty with the addition of mushrooms or chorizo. Cantina nachos are enjoyed by many guests, as well, with guacamole, sour cream, pico di gallo and shredded cheese. Very popular are the bowls filled with Mexican flavored rice, onions, peppers, black beans, avocado and fresh corn with choices of chili lime chicken, pork, shrimp, steak or spinach.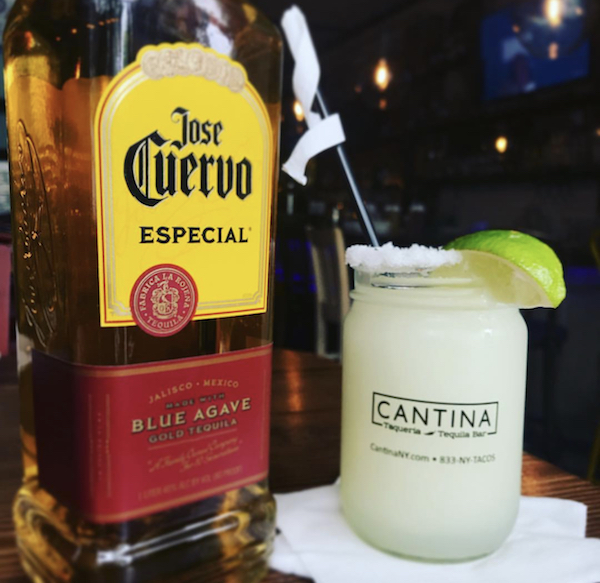 If you haven't satisfied yourself with tacos, appetizers or bowls, sample some of the entrees. We enjoyed the garlic shrimp with just enough garlic, without being too pungent. The tail on shrimp surrounded a mound of Mexican style rice in a mellow garlic enhanced sauce. Waiting to be sampled are chicken mole, carnitas and steak fajitas. Salads are popular here, as well. When enhanced by chicken, steak or shrimp, they become a complete meal. The southwestern salad with a honey mustard dressing mixes arugula, cotija cheese, corn, avocado tomato and strips of tortilla chips . The popular 7 th Avenue salad boasts spinach, strawberries, avocado, fried goat cheese and almonds with a tangy tamarind vinaigrette.
For those who must end the meal with something sweet, try the homemade churros with Nutella or flan. I especially enjoyed the tres leches cake, prepared by Chef Granados. Topped with freshly whipped cream and a sprig of fresh mint, it was the perfect dessert.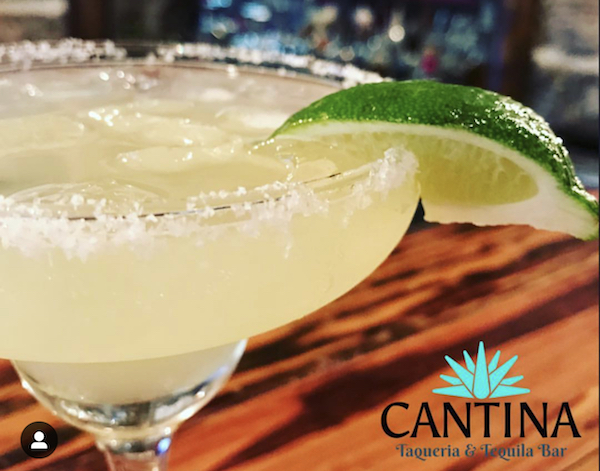 Mondays through Fridays between 3 pm and 7 pm, Cantina hosts a happy hour where tacos in several varieties, empanadas, a variety of margaritas, frozen rum punch, mojitos, wines and beers are a perfect change of pace after a day at work. Many cocktails, margaritas, sangria beers and wines are offered at dinner, as well.
Enjoy the friendly hospitality and tasty Mexican treats at the newly opened Cantina Taco & Tequila Bar in White Plains
Cantina
Taco & Tequila Bar
166 Mamaroneck Avenue
White Plains, NY
914-461-3959
cantinany.com