Letters to the Editor: Vote Lena Crandall, Justin Arest and Jane Veron
Details

Written by

Joanne Wallenstein

Hits: 2078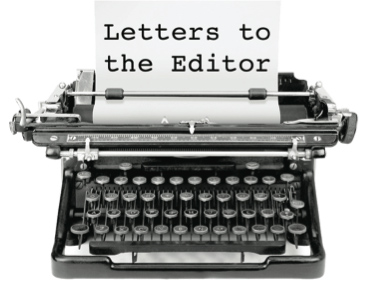 Democracy in Scarsdale (or anywhere) is precious and fragile. Many Scarsdale leaders for a century have maintained an effective democratic system here. The Scarsdale system depends on its Village Manager for safety and common services while it keeps the Village Manager's authority within popular democratic bounds. Government is the Village Manager and Village employees, on the one hand, and the Non Partisan system for electing vetted volunteer Trustees from throughout the Village, on the other hand, is our democratic safeguard.
Unlike New England town meetings, the residents of Scarsdale are represented through a nonpartisan system that works through a grass roots nominations process, engaging every neighborhood. The process ultimately selects a slate of locally experienced leaders whose gifts include primarily the capacity to listen to all points of view. As Trustees, their job is to be sure the ideas of residents are heard. This Trustee discipline curbs the power of the Village Manager.
Working against this tradition, of course, are individual champions of particular ideas who believe their own ideas are more important than the ideas of the people. These individual champions wind up in a fight against other Trustees and against the Village Manager.
During our 46 years of Scarsdale residency, we have witnessed this tug of war many times, between vetted volunteers who insist on listening to all the people and the self-anointed champions who need to upend the nonpartisan system to enforce their ideas. Every election is crucial to maintain Scarsdale as the democracy it is.
What struck us initially about Lena Crandall, a new Trustee candidate in the upcoming Village election, was her desire to "get all ideas on the table." Perhaps this desire stemmed from her legal training, or her immigrant family upbringing, but it became her personal signature. No matter how strongly she felt about an issue, she was restrained and encouraged contrary ideas.
We saw this first during her service in the Town and Village Civic Club (now the Scarsdale Forum). Lena wanted to be sure that special effort was undertaken to hear the ideas of residents who were Chinese or Latin American who had no experience with American democracy or limited English to understand. As Scarsdale has become more diverse in national heritage and languages, this emphasis on inclusion is even more necessary than in earlier years. Lena still insists that every resident, regardless of citizenship, needs to be included and heard.
It is not surprising to us that Lena Crandall, who rose through her twenty years of service within Scarsdale Forum (and other groups), first as Committee Chair, then Vice President, then President, and now a Past President and Co-chair of the Special Events Committee, has been nominated as a Trustee for Scarsdale's election in March. The nonpartisan system of Scarsdale has found her for us, along with Justin Arest and incumbent Trustee Jane Veron. It's up to us to vote the slate, elect Lena and keep Scarsdale on track.
Lynne and Merrell Clark
Walworth Avenue
(Letter from Eric Lichtenstein)

To the Editor:
I am a Scarsdale Village resident writing in strong and proud support of Justin Arest, one of the Scarsdale Citizens' Non-Partisan Party's candidates for election as Village Trustee on March 20, 2018. I was a member of this year's Citizens Nominating Committee.
I met Justin shortly after moving to Scarsdale in 2014. A mutual friend introduced us after realizing that Justin and I were neighbors with growing families on similar timelines. It was a successful match.
What I love most about my friendship with Justin is that he is a great listener. He cares deeply about his friends' lives and is never quick to make judgments. I have had numerous discussions with Justin about our mutual interests during family visits, phone calls and backyard chats. What we share is a deep commitment to our community. I did not grow up in Westchester, I'm a Long Island transplant, and although the various New York City suburbs share many things in common, there are some subtle differences that occur in Westchester and Justin – a Westchester lifer – is my go-to guy for answers.
Justin is extremely committed to the Scarsdale community. From serving on boards and volunteering, to being an active participant in neighborhood discussions, he has proven his eagerness to work hard for Scarsdale. Justin also brings a new and fresh perspective to the Village which in the current economic environment is a huge plus. We need to encourage more millennials and young people to want to move to Scarsdale and raise their families here. Justin sets an inspiring example of civic volunteerism for others in his generation.
I have witnessed Justin's hard work and commitment to Scarsdale and its improvement in working with him on the Library Renovation Project. Another example of Justin's commitment to the community is his work on both the Zoning Board of Appeals and on the Freightway Steering Committee. He has shown that he already dedicates extraordinary time and energy to be of service to Scarsdale even with the commitments of having a young family. I expect him to continue to do so if he is elected to serve as a Trustee.
Justin is rational, thoughtful, and conscientious. He can debate the issues with fairness and keep an open-mind to all sides of an issue. He exercises mature judgment, and he is not afraid to take an unpopular positon if he believes it is the right thing for the long-term.
I can't think of a better candidate to entrust with the position of Scarsdale Village Trustee. I know that Justin will have the community's best interests in mind and that residents will respect his values, judgments and overall character. I strongly urge all eligible Scarsdale residents to vote for Justin on March 20.
Eric Lichtenstein
15A Richbell Road
Scarsdale, New York
Add a comment
One Third of Scarsdale is Without Power After Nor' Easter
Details

Written by

Joanne Wallenstein

Hits: 5536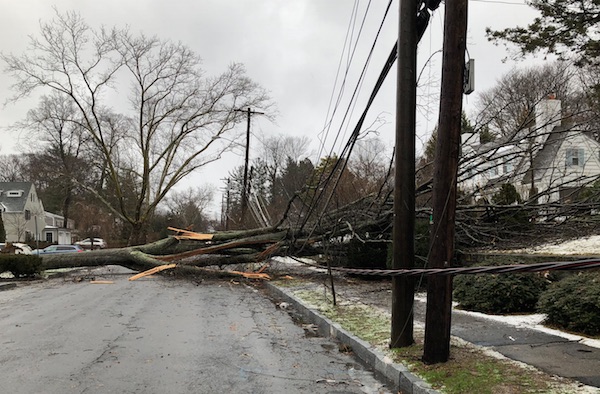 Updated at 7:15 PM: We received the following from Captain Thomas Altizio of the Scarsdale Police: "According to ConEd, as of 6:30 pm, there were 1,345 customers in Scarsdale without power. The Police Department has received dozens of reports of trees down with wires as well as downed utility poles. We have been forced to close roads at multiple locations while we wait for ConEd to remove wires. Where wires are not involved, our Public Works Department has personnel working throughout the afternoon and evening to remove downed trees and limbs. The Police Department has additional personnel working throughout the afternoon and evening, and have received a high volume of calls reporting auto accidents, downed trees, poles and wires, medical emergencies, as well as our normal volume of daily calls."
"We have no information from ConEd regarding restoration estimates. Keep in mind that the damage and outages from this storm are widespread, so I think it is fair to say that restoration will take longer than usual. Because of the dangers posed by all of the downed wires, poles and trees, the Village has issued a press release declaring a "State of Emergency" as of 5:30 pm, and until the necessary repairs and cleanup can be completed. Additional information will be disseminated through Press Releases and the Village website as the situation changes."
Powerful winds, sleet, rain and snow blew threw Scarsdale today, taking down power lines in many areas of Scarsdale. Here in Greenacres, the power is out after a large tree fell across Walworth Avenue just north of Brayton Road, taking down the power main. Another big tree fell on Ogden Road in Fox Meadow leaving some in the dark. The Police are inundated with calls about downed trees and power lines throughout the Village. Even the Con Edison outage map is not working properly.
The Village of Scarsdale declared a State of Emergency at 5:30 pm, prohibiting driving and parking on Village roadways until the State of Emergency is lifted. Freightway Parking lot is open and available for parking. Storm related calls should be made to the Scarsdale Emergency Operating Center at 914-722-1150. Call 911 or 722-1200 if using a cell phone. Report power outages to Con Edison at 1-800-752-6633.

As of Friday night at 6 pm, authorities said that at least half the village is without power and Con Edison cannot work until the winds die down. The Fire Chief did not sound optimistic that the power would be back on anytime soon.

The picture above is the one on Walworth - and below see windblown fences in Quaker Ridge. Let us know where the power is out by commenting in the section below.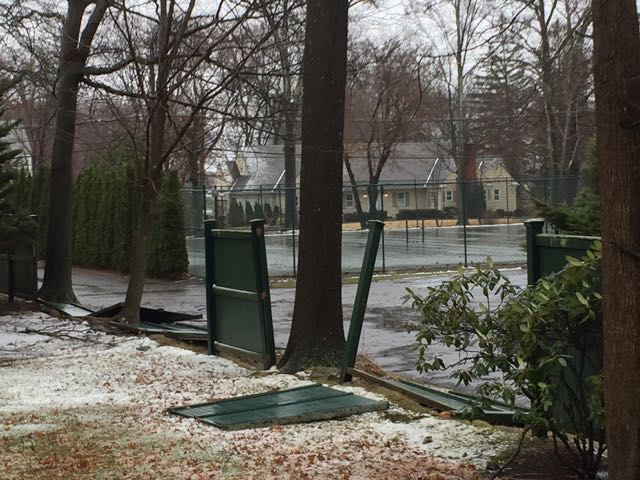 Add a comment
Scarsdale Middle School Mathcounts Takes First Place at Westchester/Putnam County Chapter Competition
Details

Written by

Joanne Wallenstein

Hits: 2180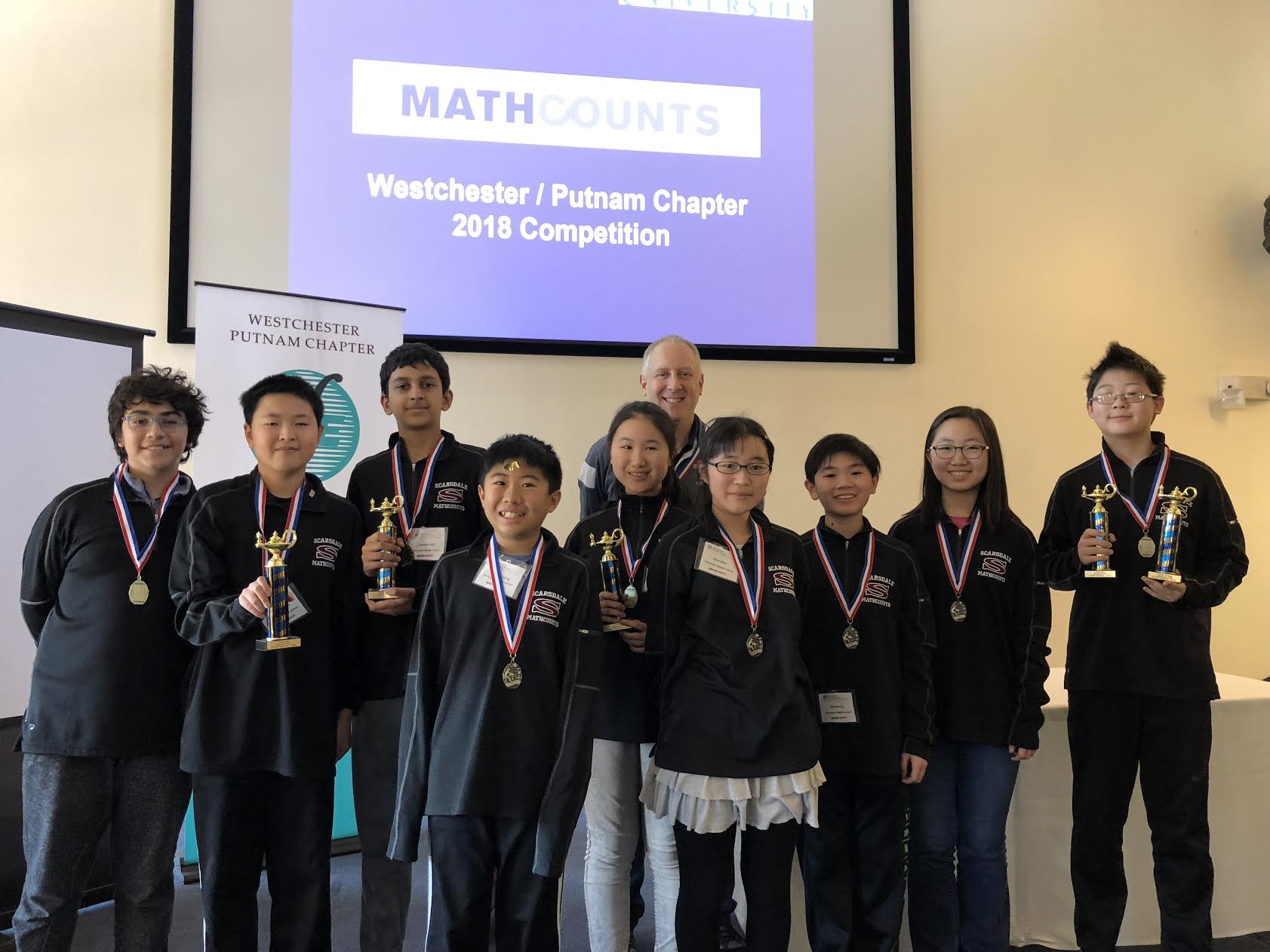 On Saturday, February 3, the Scarsdale Middle School Mathcounts team once again took first place at the Westchester/Putnam County Chapter competition. They now move on to the state competition at RPI on March 17.
The team of Four:
Renata Fu
Sameer Kini
Michael Wei - Number 2 overall
Matthew Zhao - Number 1 overall
The Six Individual Competitors:
Bryan Chung - top 12
Ali El-Moselhy - top 12. Countdown round finalist.
Hyunjin Lee
Sora Oba - top 12
Steven Su
Max Zhang
Add a comment
Board Approves Demolition of 3 Claremont Road
Details

Written by

Joanne Wallenstein

Hits: 3943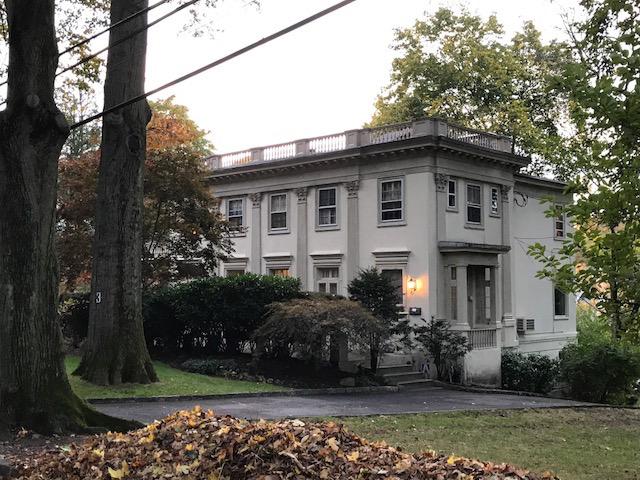 The Scarsdale Board of Trustees has granted permission for another historic house to be razed. The application to demolish 3 Claremont Road was originally denied by the Committee for Historic Preservation on November 21, just before the entire committee resigned to protest the fact, that under current Village code, almost no houses could be preserved.
The appeal went to the entire Board of Trustees who met on January 29, 2018 and found that the house lacked historical significance. Built in 1915, the name of the original architect is not on the plans. The decision says, "While the front façade is distinctive, the distinguished elements of the front façade are not continued on the sides and rear of the building." The Board also found that the house has been classified as four different architectural styles, "Beaux Art, Mediterranean, Colonial and Neo-Classical" and called it a "mish mosh" or "hodgepodge" of styles.
Though not confirmed, a neighbor told Scarsdale10583 that a developer has plans to raze 3 Claremont and a neighboring home and build three homes in their place.
In the past year, though the Board of Trustees noted that historic preservation was one of their priorities, no changes have been proposed to the Village code and almost every application to demolish a home has been approved.
Here is the Board's decision, read by Mayor Dan Hochvert at the February 12, 2018 meeting of the Board of Trustees:
In connection with 3 Claremont Road, Scarsdale, NY
Whereas: 3 Claremont Road, Scarsdale, New York a two story dwelling, located in the Greenacres section of Scarsdale, has been reported to consist of different architectural styles, including Colonial, Mediterranean, Beaux Arts and Neo-Classical, was built in 1915 with renovations and/or modifications to the Building taking place over the years. The original architect for the home is unknown; and
Whereas: pursuant to Scarsdale Village Code (SVC) §§182-5 and 182-6, an application was submitted to the seven member Committee for Historic Preservation (CHP) to demolish more than 51% percent of the above described building; and
Whereas: pursuant to SVC §182, the Committee for Historic Preservation held a public hearing on November 21, 2017 wherein six members of the CHP were present; and
Whereas: at the conclusion of the public hearing three (3) CHP members voted to grant a Certificate of Appropriateness finding that the Building was not of substantial historical importance to the community, while two (2) CHP members abstained from voting, and one CHP member voted to deny the grant of a Certificate of Appropriateness; and
Whereas: because New York State General Construction Law §41 requires a vote of the majority of the constituted board to approve a measure, at least four of the seven members of the CHP must vote in favor of or have opposed the measure for official action to be taken; and
Whereas: only three of the six members present voted to grant the applicant's request for a Certificate of Appropriateness, which resulted in a default denial; and
Whereas: SVC §182-11 provides that any applicant aggrieved by a determination of the CHP may appeal to the Village's Board of Trustees. The SVC also provides that during the appeal the Board of Trustees shall not be bound by the record adduced by the CHP; and
Whereas: on January 29, 2017 the Board of Trustees held a de novo hearing to determine whether the Building meets the criteria stated under SVC §182- 5; and
Whereas: the Village Board has reviewed the record, including a report and photographs submitted by the applicant, and have visited the site; now therefore be it
Resolved: in considering the level of significance in American history, architecture, archeology, engineering and culture present in the building, as well as the integrity of location, design, setting materials and workmanship, when applying the criteria specified under SVC §182-5, the Village Board makes the following findings of fact:
A. Whether the building is associated with events that have made a significant contribution to broad patterns of Village, regional, state, or national history;
There is no evidence in the record from the CHP or otherwise that the subject property, 3 Claremont Road, is associated with events that would contribute to broad patterns of Village, regional, state or national history. The Village Board notes that the Building is not individually identified in the Reconnaissance Level Cultural Resource Survey Report (2012), which provides a snapshot of the Village's architectural fabric as a preliminary effort to identify buildings and areas with potential architectural or historical significance.
B. That the building is associated with the life of a person or persons of historical significance.
The chain of title indicates that in 1915 the property was owned by Juana C. De Ajuria, who conveyed it to Sadie Siewers in 1924. In 1944, Sadie Siewers conveyed title to Eugene Mindlin, who later conveyed the property to Sandra Zwillinger in 1969. In 1983, Ms. Zwillinger conveyed title to Joyce & Gilbert Beidengreen, who in 1995 conveyed title to the property to the applicants herein, Abby Livingston & William Weinstein. A review of the title holders reveal that Ms. Zwillinger is perhaps the most noteworthy individual to hold title to 3 Claremont Road. Ms. Zwillinger was recognized as the first women pioneer on Wall Street. Indeed, Ms. Zwillinger's significance as a pioneer on Wall Street is commendable, but such accolade does not rise to the level that would render her a person of historical significance. Accordingly, the Village Board finds that the subject property is not associated with the life of a person or persons of historical significance such that the Building would warrant preservation.
C. That the building is the work of a master and embodies the distinctive characteristics of a type, period, or method of construction that possess high artistic values.
The record indicates that the building was constructed in 1915 and that the original architect is unknown. However, it should be noted that although the architect is unknown, that alone is not dispositive as to whether the building is a work of a master. By definition, a master is a person recognized for greatness in their field and is considered a craftsman of consummate skill whose work rises above and is distinguishable from others. Here, the Village Board finds that while the front façade is distinctive, the distinguished elements of the front façade are not continued on the sides and rear of the Building. Accordingly, the Village Board finds that the Building does not reflect the work of a master.
As to whether the Building embodies the distinctive characteristics of a type, period, or method of construction that possess high artistic values, the Village Board finds that while the front façade is noted as being distinctive, the Building has had several modifications, including but not limited to, a series of different windows, window and door closures, and cutouts all of which impact the integrity of the architecture and renders the Building inconsistent with its distinctive front façade. Further, the record indicates that the Building has been classified by four different architectural styles, including Beaux Arts, Mediterranean, Colonial and Neo-Classical, which suggest that the Building consist of a "mish-mosh" or "hodgepodge" of architectural styles rendering it uncharacteristic of a particular style or period. Accordingly, the Village Board finds that the Building does not embody the distinctive characteristics of a type, period, or method of construction that possess high artistic values.
D. That the building has yielded or may be likely to yield information important in prehistory or history.
The Village Board finds nothing in the record that suggest the Building yielded or may yield information important in prehistory or history; and be it further
Resolved: that based upon the forgoing, the Village Board herein grants a Certificate of Appropriateness to the owner and applicant of 3 Claremont Road for the purpose of facilitating the demolition of the existing structure located therein, subject to any other requirements, rules, and regulations of the Village of Scarsdale and the Building Department.
Submitted by: Village Manager Date Submitted: February 7, 2018 Submitted for: February 13, 2018
Add a comment
The Buzz on the Bond
Details

Written by

Joanne Wallenstein

Hits: 3892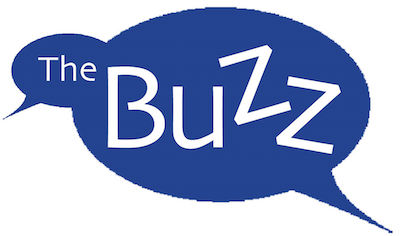 The vote on the largest bond referendum in Scarsdale's history is just weeks away. On February 8, 2018 residents will vote yea or nay on a controversial $64.9 million bond to underwrite the renovation and expansion of Greenacres Elementary School and infrastructure repairs and upgrades at other district schools. The proposal has been years in the making and has elicited strong views from many different factions of the community.
Here are a few of the comments we've heard over the past few months:
One observer said, "There was something wrong with the decision making process. After community dissent the superintendent declared a six-month moratorium. And when he brought the issue up again he had fired the district architect, sought new architects and wouldn't show the community the RFP for the work. Next thing we knew we were given one option for a renovation. We were not given a realistic analysis of the long-term costs of renovating the old school or the long-term savings of a sustainable new school. It seemed like Superintendent Hagerman made up his mind and then pressured the Board of Education and the community to go along with his plan. This is not the way we make decisions or build consensus in Scarsdale."
A young Greenacres parent said, "If this bond referendum is approved, my child will be in the school during the renovation. I have serious concerns about the construction timeline and the safety of the kids. First, it's taken the district 18 months to build one library onto Edgewood – how do they expect to build this massive addition at Greenacres in 15 months? There are lead pipes, there's asbestos and mold. What happens when they open up the walls? The gym has very poor ventilation and there's no plan to install air conditioning. The kids will have to walk by a noisy, dusty construction site to cross the street to get to the playground and the blacktop will be covered with construction equipment. It's already hard enough to drop off and pick up the kids. Consider the process when we have to drive around cranes and backhoes. We're looking into sending my daughter to private school, and it's a shame, because she loves Greenacres and is doing well there. And I'm not the only one who will pull their child from the district if this plan goes through."
A mother of high school students who is a proponent of the plan explained her view as follows. She said, "If we don't approve this, we'll get nothing. The funds will go away. I am tired of all of the arguing .... if the bond passes, at least something will happen at Greenacres. Also – if we build a new school at Greenacres, what will the district do when people at Edgewood and Fox Meadow starting asking for new buildings? We can't afford that! My taxes are high enough."
A lifelong resident of Greenacres who served on one of the Greenacres Building Committees and knows Greenacres well, said, "We are putting a band aid on serious problems at the Greenacres School... mold which will keep recurring because the water problems are still there, as well as lead pipes and the potential for asbestos in the walls. Many of the classrooms will still not be large enough for today's collaborative learning. They have not dealt with the huge parking problem and they are destroying the character of the building itself with the huge addition covering the front façade. I am concerned that we're spending good money for a bad result."
An empty nester said, "People think that if you're against this plan you're holding out for a new school. That's not why I am voting "no." In fact, I am perfectly happy to leave the school where it is. My objection is that they didn't provide a plan to clean up the existing school – to fix the dirt crawl spaces, get rid of the mold, replace all the lead pipes, install air conditioning and expand the existing classrooms to today's standards. Why wasn't this considered instead of the addition of a big cafeteria. Who asked for that?"
Longtime residents question if there is anything wrong with the current school. They say, "My kids went to Greenacres and they did fine! The building has been here for over a century. Why do we need to change it? My kids learned to ride their bikes on the blacktop and I like the field the way it is."
Some question the cost estimates. A neighbor said, "They say we will spend $35 million on Greenacres now, with another $5-$6 million in repairs down the road. That's $40 million of taxpayer money. I've seen new schools built all over the country for less than that amount. Have they given us a realistic estimate of what a new sustainable school would cost now – and in the future?"
Another long time resident who has been involved in village affairs said, "It seems to me this entire decision started with the premise of tax neutrality. Since when is that the primary driver? Most people who move here do so because of the excellence of our schools. Shouldn't we put excellence first?"
A mother of athletes said, "If they build the school on the field, we are going to lose another athletic field! We need that space."
Considering the years of decision-making, another woman said, "The district and the Board of Education have put years of work into this proposal. Maybe it's not perfect, but this is the best plan they could craft that is tax neutral and addresses issues like boilers and roofs. Trust that the Board has made the right decision for the community."
A friend who is trying to sell her 1940's house said, "I can't understand it. The Superintendent keeps saying that the Greenacres School is quaint and historic and the proposal maintains the building's character. But all the potential buyers who look at my house want new, new, new. They ask questions about the pipes and the basement and complain that we have too many small rooms. Why would these young parents want to move to a neighborhood with an antiquated school?
And another Scarsdale long timer said, "People shouldn't feel that we're putting the money into Greenacres only. We all live in Scarsdale. It's the Scarsdale School District not the Greenacres or the Fox Meadow district. People don't move here for a particular elementary school. Residents can't possibly think they will never have to build another school. Schools do not last forever. They will need to be rebuilt. If not now, when? All the schools are our schools. When we improve a school or build a new one, we improve the entire district."
What do you think? How will you vote?
Add a comment