Sign Up Today for Curbside Food Scrap Pick-up
Details

Written by

Michelle Sterling

Hits: 313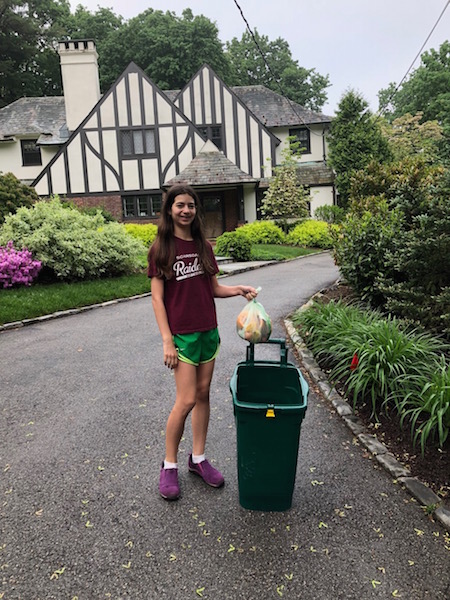 New Service: Curbside Food Scrap Pick-up
Starting the week of June 4th, the Village of Scarsdale will begin curbside residential food scrap pick-up as part of our continuing commitment to divert waste from incineration and increase recycling!
The new service follows our successful residential food scrap drop-off program hosted at the Scarsdale Recycling Center.
We are hopeful that the curbside pick-up enhancement will dramatically increase participation by making food scrap recycling a more convenient and feasible program for Scarsdale residents. The Recycling Center drop-off site will also remain available for those preferring that alternative.
Participation in the curbside collection program is easy and encouraged, but not required.
Please help to make the new service a success by familiarizing yourself with the Curbside Food Scrap Recycling Program. Some important program basics are featured below:
Sign-up is required and available at www.scarsdale.com/foodscraps.
Use of a Village-approved curbside bin is required. To make getting started and participating easy, the Village also offers Food Scrap Recycling Starter Kits and rolls of compostable bags for resident purchase, at cost, at the Recycling Center, 110 Secor Road, Monday through Saturday, from 8:00 AM – 3:00 PM. Payment is by check only.
Curbside pick-up will occur weekly on the same day as you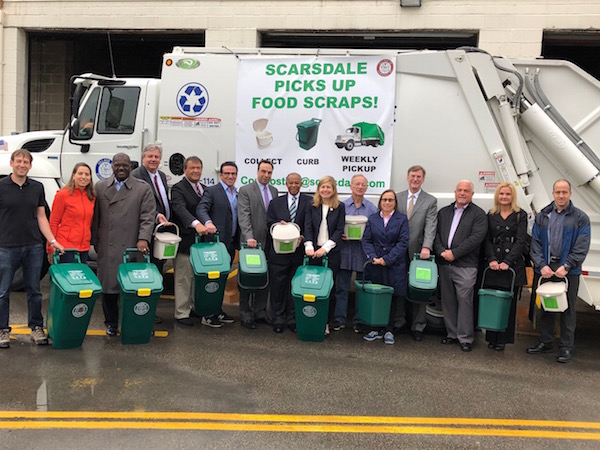 r first trash pick-up; please refer to the Sanitation Calendar if you are unsure of your first weekly trash collection day.
Food scrap bins must be placed curbside by 7:00 AM on collection day; please do not place bins outside the night before.
Food scrap recycling questions or comments may be emailed to composting@scarsdale.com.
Add a comment
Missed The Little Mermaid on Stage? See the Photos Here
Details

Written by

Sarah Kazan

Hits: 321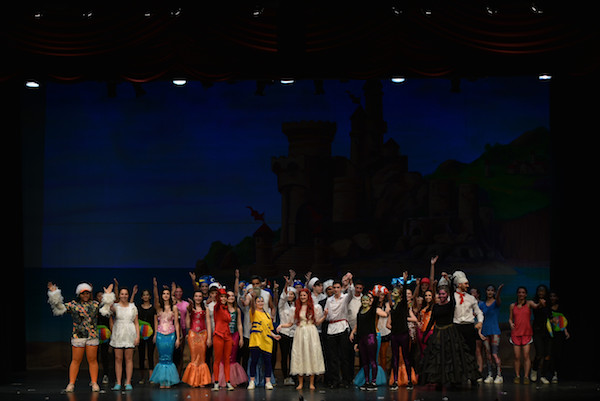 Drawing hundreds to the high school, the 3-day, student produced senior class production of Disney's The Little Mermaid was a success. None of it would have been possible without Director Camila Tardiff, assistant director Sophia Roth, musical director Hudson Lin, assistant musical director Dermot Kantor, and Technical Director Alex Hart along with around 70 other seniors in the cast, crew, band and orchestra. Also notable were the lively dances choreographed by Gabby Kaufman, costumes which turned the actors into mermaids by Aerin Cantor, and the lighting and scenery that made the cast appear to be under the sea by Ilana Tamir and Steven Orlofsky respectively. The production was produced by teachers Sandra Chan and Jose Lamela. Caroline Stemmerman started as Ariel, a sixteen-year-old mermaid princess, who is dissatisfied with life under the sea and curious about the human world. Despite her father's warning (played by Eashan Panjwani), Ariel seeks out the help of Ursula the Sea Witch, played by Jolie Suchin, to trade her voice for the chance to live on land and find love at last with Prince Eric, seen onstage as Jacob Greenberg. Also featured, were Chloe Faegenburg as Flounder and Camila Gristanti as Sebastian. "Camila and I were so happy with how it went! The cast really got it together in the end and the week leading up to the show… the show was so much fun for all of us!" said Roth. Photos below courtesy of Jon Thaler, see more here.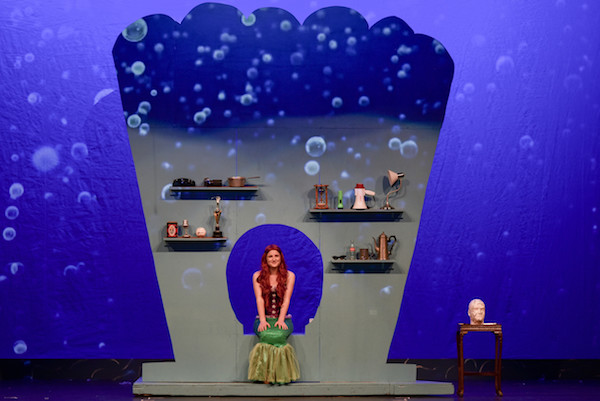 Caroline Stemmerman as Ariel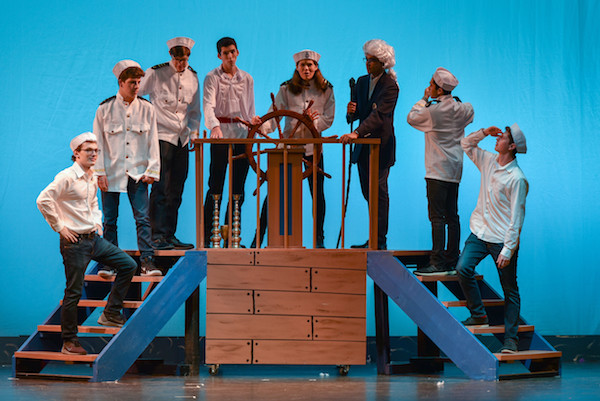 Prince Eric (Jacob Greenberg) and Grimsby (Arjun Ravi) with sailors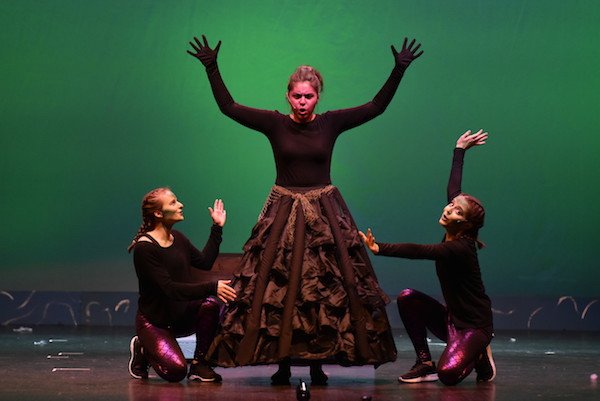 Ursula (Jolie Suchin) with her two eels Flotsam (Ari Stonberg) and Jetsam (Felicia Tuchman)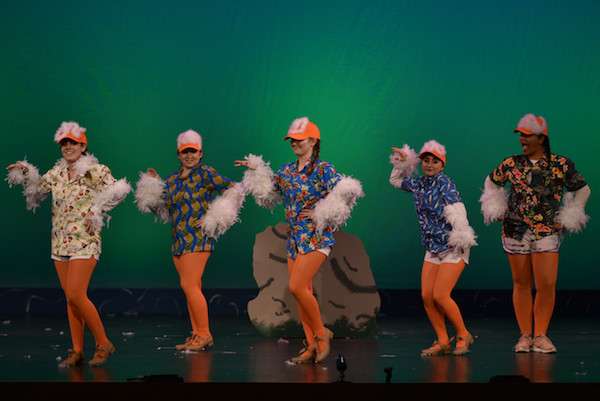 Featured dancers dressed as birds singing with Scuttle (Hannah Sanders)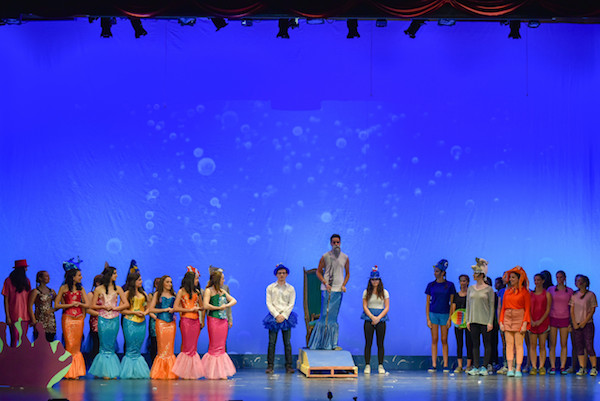 King Triton (Eashan Panjwani) and his kingdom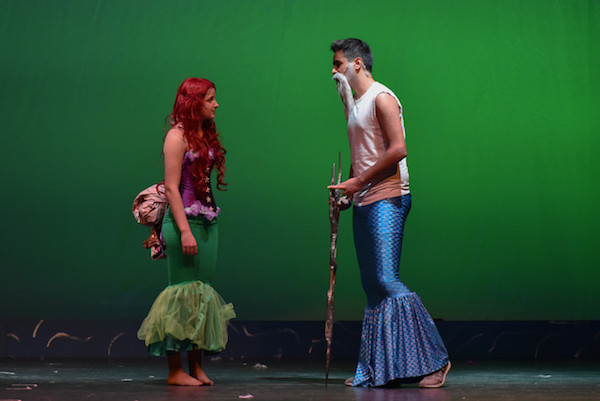 Ariel and King Triton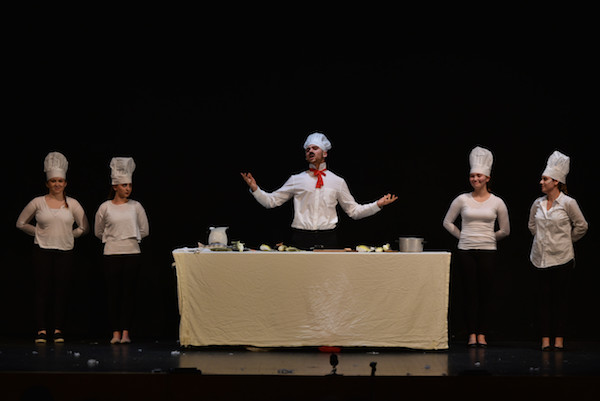 Blake Goldstein as Chef Louis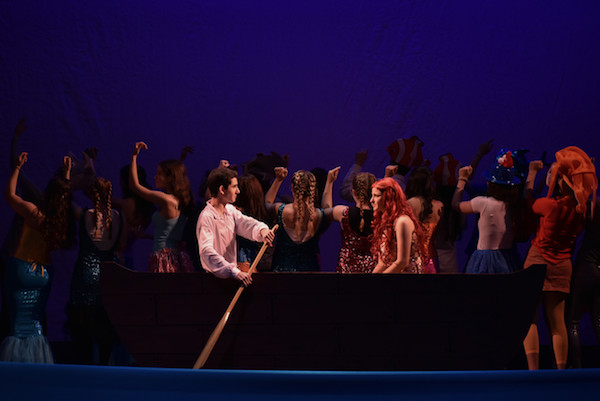 Prince Eric and Ariel during "Kiss the Girl"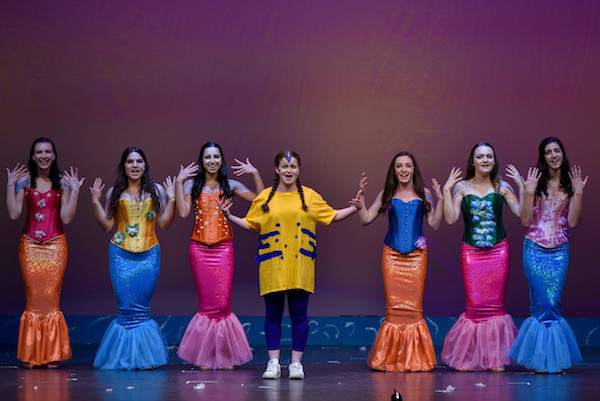 Flounder (Chloe Faegenberg) and Mer-sisters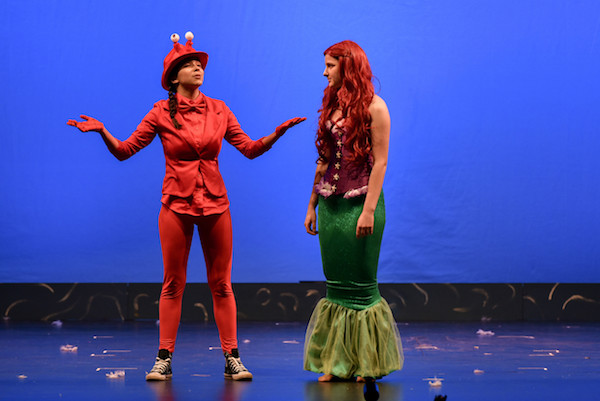 Sebastian (Camila Grisanti) and Ariel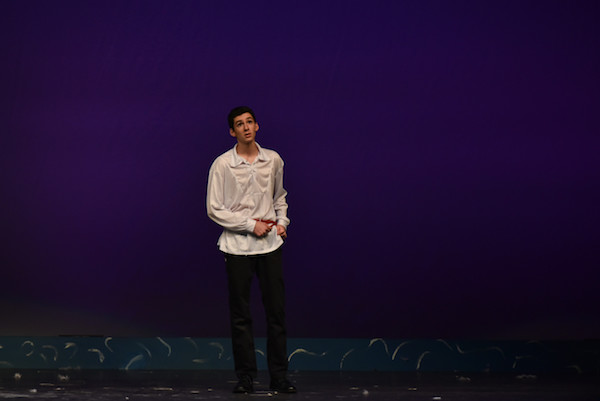 Jacob Greenberg as Prince Eric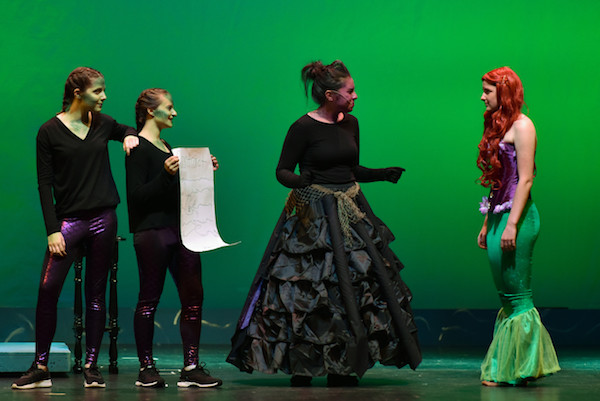 Flotsam, Jetsam, Ursula, and Ariel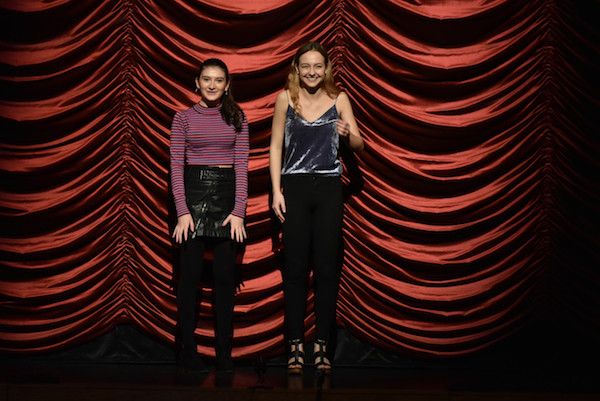 Assistant director Sophia Roth (Left) and director Camila Tardif (Right)
Add a comment
Letters in Support of Woodrow Crouch and Pam Fuehrer for School Board
Details

Written by

Sarah Kazan

Hits: 2372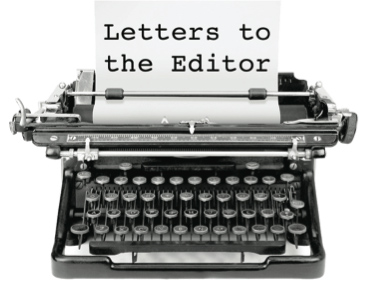 These letters in support of School Board candidates Woody Crouch and Pam Feuhrer were sent to Scarsdale10583 for publication. The election is on Tuesday May 15 from 7 am to 9 pm at Scarsdale Middle School from candidate for Scarsdale School Board Woodrow Crouch:
To My Scarsdale Neighbors:
I am honored and humbled that the School Board Nominating Committee selected me as a candidate for the nonpartisan slate. As a 40 year resident of Edgewood, with 5 grandchildren in the Scarsdale schools, I offer a long term perspective.
I have a MSME from Columbia and was honored by my alma mater, the US Merchant Marine Academy for exemplifying "ACTA NON VERBA" (Deeds Not Words). I have worked to exemplify this motto throughout my life.
I have a long commitment to serving the children in our community through volunteerism. As a past coach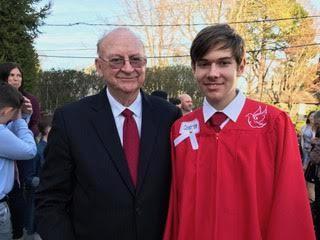 Candidate Woodrow Crouch with grandson Simonand Chair of the Edgewood Athletic Association, I insisted upon an inclusive approach to all children. Currently as a badge counsellor with Scarsdale Boy Scout Troop 2, I enjoy mentoring youth on Engineering, Energy, and Communication.
I welcome the opportunity to assist the school district as it seeks to refurbish and innovate our schools' facilities in ways that will enhance the learning environment. As a leader in the utility industry, including 30 years at the New York Power Authority, I managed billion dollar engineering projects and developed my ability to work with construction, budgets, timelines, and unions.
As a board and committee member, I listen, care about the mission, and respect colleagues, staff and community partners. At Sturge-Weber Foundation, I have worked to maximize positive board dynamics and advocate for children's needs. From my neighborhood work as SNAP President, to my national service as President of US Society on Dams, and Construction Committee Chair, I collaborated and built consensus at different levels.
I plan to contribute thoughtful guidance and build consensus for future issues and priorities facing the Scarsdale school board. I invite the community to visit www.woodyforboe.com to learn more about me.
Woodrow W. Crouch
Letter from Suzanne Seiden in support of Pam Fuehrer
I write in support of Pam Fuehrer for School Board. As a former member of the School Board for 6 years, including one year as President, I
Pam Fuehrerrespect the School Board nominating process and the candidates who were nominated by the process this year.
However, I believe the School Board Nominating Committee made a mistake; I know Pam Fuehrer, and our community needs Pam to continue to serve on the School Board.
Here are the three things you need to know about Pam:
First, Pam is EXPERIENCED.
Pam has served on the School Board for the past three years becoming familiar with the critical issues facing our children and our schools; she served with integrity, professionalism and dedication. For the past 14 years, Pam has been actively engaged in many facets of our schools and community (you can read Pam's bio at pamforboe.com). Pam is passionate about making the Scarsdale Schools the best they can be for our children.
Second, Pam is a LEADER.
Pam is a leader who regularly seeks input, listens to voices in the community, asks insightful questions, builds consensus and makes thoughtful decisions. Pam will continue to help lead the Board as it faces critical issues such as: keeping our curriculum cutting edge; negotiations for contracts; and navigating the impact of the new tax law's limit on state and local tax deductibility.
Third, Pam is a MENTOR.
Next year, three of the seven seats will be open and two must be filled by first-term Board members. The following year, two more will be open and filled by first-term Board members. No matter how qualified, all new Board members will have a steep learning curve. Pam will be an extraordinary mentor to new Board members as the Board faces critical issues.
Several years ago, a similar situation occurred with the Village Trustee Election. When Deb Pekarek was not re-nominated by the Citizens Nominating Committee, voters wrote her name on the ballot and elected her for a second term. The nominating system survived and continues to be supported by the community.
The same is true with this year's school Board election. The community can right this ship by voting for Pam and still support the system in the future.
I urge you to VOTE FOR PAM…..EXPERIENCED, LEADER and MENTOR.
Suzanne Seiden
22 Fairway Drive
Mamaroneck
Letter from Marc Carter, Jackie Irwin, and Jill Spieler in support of Pam Fuehrer
Pam Fuehrer has the credentials, experience and personal qualities that merit a second term on the Board of Education. We urge voters to choose her in the school board election on Tuesday, May 15 at the Scarsdale Middle School.
Pam's academic achievements - Wellesley cum laude and Columbia Business School - and management consulting career underscore the strength of her intelligence and multifaceted skills. She has been deeply engaged in school and community volunteer life for several years. She exhibited strong leadership skills in PTA, the League of Women Voters and the Junior League of Westchester.
She has earned the respect of a broad segment of the community. As a result of her prodigious volunteer work, she brings a strong understanding of the interests of both the parent community and those of us who care deeply about our schools.
Pam is committed to assuring the strength of our schools. She understands and supports improvements in curriculum, including STEAM and the latest, most impactful ways to use technology in student and professional development, all with the goal of preparing Scarsdale students for success in the 21st century.
All three of us served on prior Scarsdale school boards. We understand the importance of the qualities needed to be effective board members - proven leadership skills, high level of intelligence, good judgement, high energy level and extensive community connections. Pam brings all of these qualities to her position. She has been a solid board member of and a strong candidate for a leadership role on the Board of Education.
As longtime residents and community volunteers, we have also had the privilege of serving on our School and Village nominating committees. We have the utmost respect for those who volunteer to run for election and then spend many hours researching and deliberating prospective nominees. The process has worked well for our schools and community. At the same time, voters can and should exercise their judgement about who can better represent the interests and priorities of our community. Pam Fuehrer deserves our vote.
Marc Carter
101 Catherine Road
Jackie Irwin
51 Drake Road
Jill Spieler
33 Claremont Road
Add a comment
High School Sustainable Garden Project Enters a New Era
Details

Written by

Sarah Kazan

Hits: 419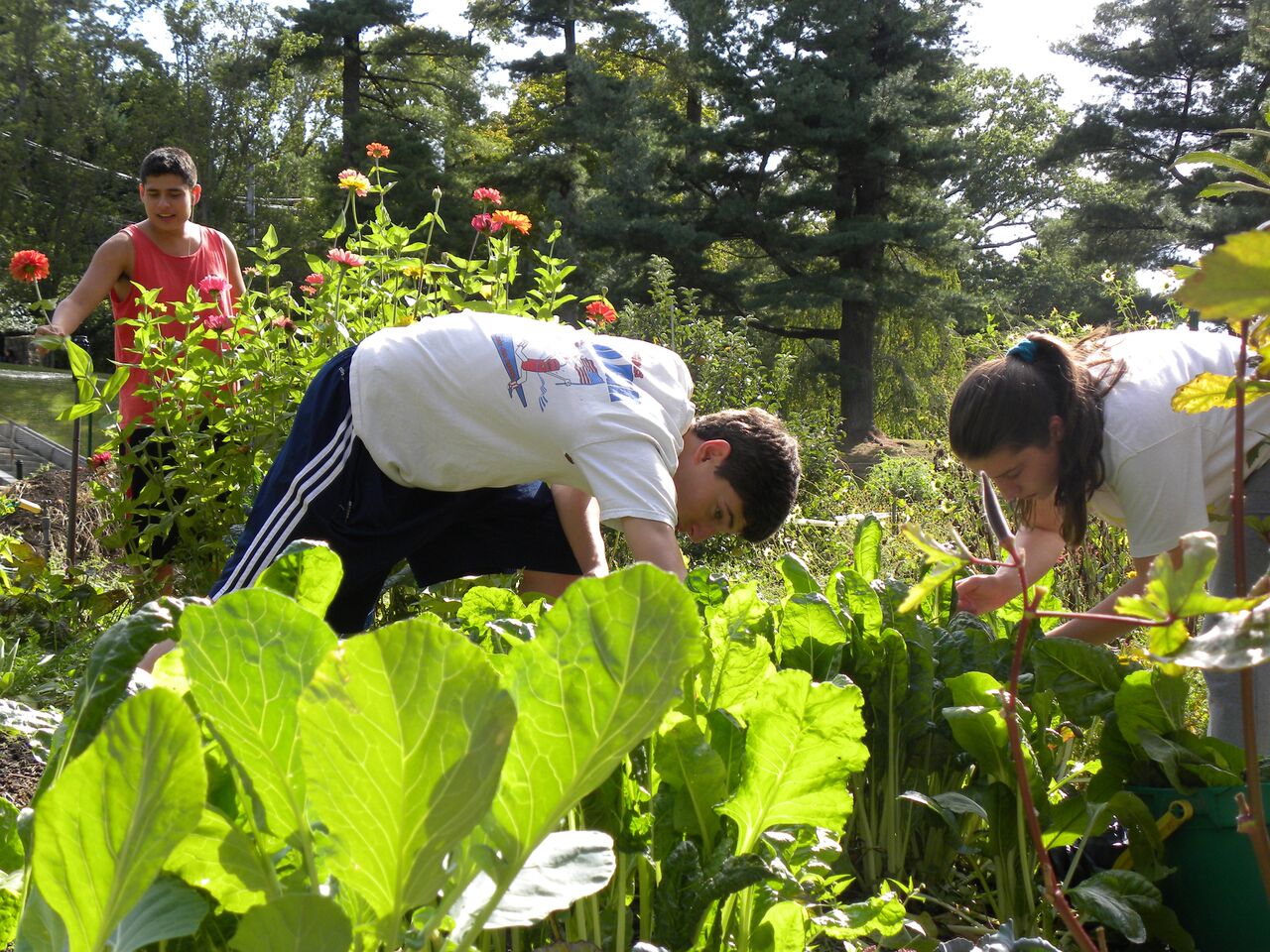 With founder Maggie Favretti retiring this spring, the SHS Garden enters a new season. Over the ten years since Favretti and her first "Garden Club" broke ground, thousands of pounds of hand-grown organic food has found its way to local soup kitchens and food pantries, and new Sustainable Garden Project advisor Amanda Filley looks forward to continuing that tradition. The garden also provides an outdoor classroom for all departments, and an experience of sustainable food production that builds confidence and collaborative problem solving skills.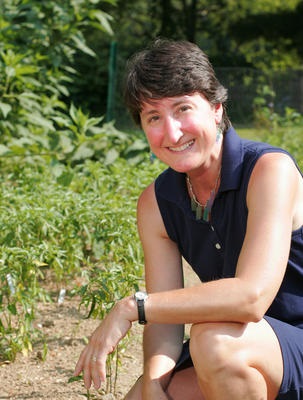 Maggie Favretti in the gardenFilley aims to emphasize wellness and the garden's role in creating well communities and in reducing student stress. Come join them for their annual spring celebration and volunteer day, May 19 from 9:00am until 3:00pm. Bring the kids, bring a potluck, they'll provide the tools and the fun at 1057 Post Rd, Scarsdale. Meet the new club and advisors. Yalies, this is also a Yale Day of Service, so Go Blue-Green and don't forget to register on the Yale Day of Service website. If you cannot come to the Spring Volunteer Celebration Day, but would like to be involved, they are looking for people who would be willing to volunteer in the garden periodically during the summer. Please contact afilley@scarsdaleschools.org to RSVP for the Volunteer Day (May 19) or to volunteer.
Memories of John Waters Requested:

Longtime SHS Math Teacher John Waters is also retiring from Scarsdale High School this year. Did you have him as a teacher? If so, please send Mr. Vermes your memories, anecdotes, or stories at dvermes@scarsdaleschools.org as soon as possible so they can be included when honoring Mr. Waters' retirement.
Add a comment
Learning for Learning's Sake: The Westchester Community College Celebrity Salon Series
Details

Written by

Sarah Kazan

Hits: 1244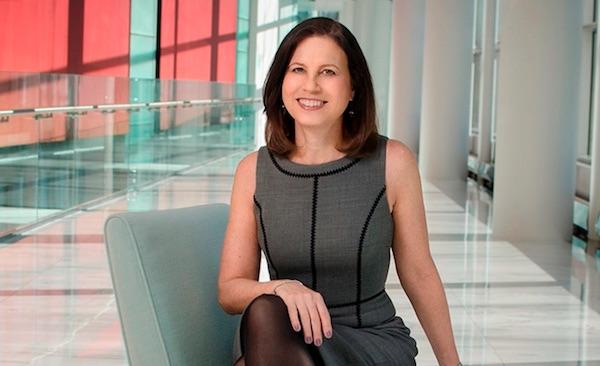 Joanne LipmanThe 2018 Westchester Community College Celebrity Salon Series kicked off on April 19 with a talk by the prolific University of Texas historian H.W. Brands. Each spring, friends of the Foundation host notable speakers at intimate salons. These exclusive events, held inside some of the most beautiful homes in the county, help raise money for student scholarships. Upcoming talks — ranging from arts and culture topics to gender politics issues and from criminal justice questions to cutting-edge approaches to handling climate change — will take place between now and mid-June.
Coming up on Thursday, May 3rd is veteran journalist Joanne Lipman addresses solutions to issues such as harassment in the workplace and the gender pay gap in her new book, That's What She Said: What Men Need to Know (and Women Need to Tell Them) About Working Together. Lipman, who most recently served as chief content officer of Gannett and editor-in-chief of USA Today, was the first female deputy managing editor at The Wall Street Journal and founding editor-in-chief of Portfolio, a business magazine. Sign up to hear anecdotes culled from Lipman's extensive interviews for the book, current statistics from across the globe, as well as personal tales from Lipman's own experience.
Annette Libeskind BerkovitsOne of the featured speakers Annette Libeskind Berkovits thought her attempt to have her father record his historically significant personal story for posterity had failed. But three years after his death, she found a box of tapes detailing his spectacular triumphs and tragedies. In The Unlikeliest of Places, Berkovits details how Nachman Libeskind survived a pre-war Polish prison; witnessed the 1939 Nazi invasion of Lodz; was held in a brutal Soviet gulag, where he helped his fellow inmates persevere; and upon regaining his freedom, trekked the foothills of the Himalayas, where he found the love of his life. Later, lingering postwar anti-Semitism in communist Poland drove Nachman and his young family to Israel, before making the United States their home. Leona Kern will be hosting his salon on Wednesday, May 9th at 6:00pm in her Scarsdale home while guests listen to this personal account of how the power of the human spirit endures.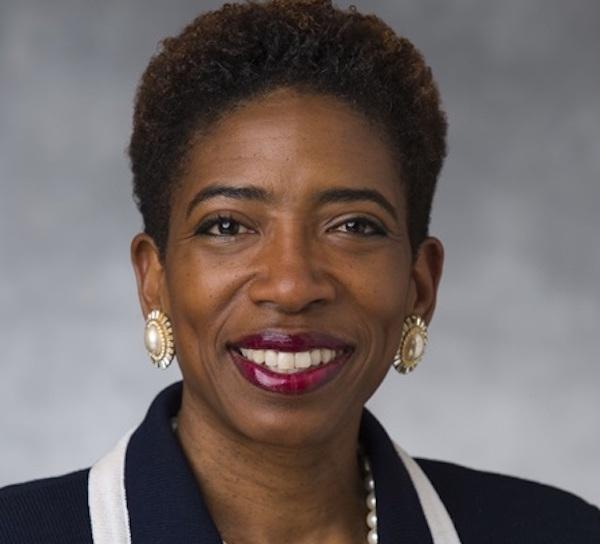 Carla HarrisAnother salon hosted by Sharon Cunningham Jaccoma and Brian Jaccoma spotlights Morgan Stanley Vice Chairman, Managing Director and Senior Client Advisor Carla Harris. Harris is known as a real Wall Street standout and model for other women. Appointed by President Barack Obama to chair the National Women's Business Council, Harris has been included on Fortune's list of The 50 Most Powerful Black Executives in Corporate America multiple times, as well as many others including Black Enterprise's Top 75 Most Powerful Women in Business last year. The author of two books about how to succeed, and an accomplished gospel singer to boot, Harris once vowed that when she reached senior management, and people came to her for advice, she would provide them with the tools and strategies that helped her achieve her goals.
To sign up for these or the six remaining salons, click here.
Add a comment