Cautious Optimism for Raiders Boys Soccer Team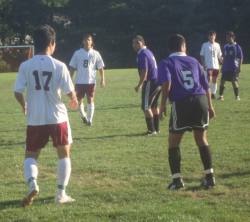 Through the first three games of the season, the Scarsdale boys varsity soccer team had outscored its opponents 13-0 en route to an undefeated beginning this year. Dominating lesser teams like Edgemont, Dobbs Ferry and Lincoln, the Raiders' success illustrated their fluid style of attack while dominating all facets of the game. Yet with the Class-AA portion of the schedule looming, coach Joe Cipriano recognizes that a tougher test lies ahead.
"We got a ways to go," said Cip (as he is lovingly referred to by his players). "We are still a work in progress for our league which will be much tougher."
Facing White Plains, New Rochelle and Mamaroneck will prove to be stiffer competition for the Raiders this season. Yet after a competitive defeat to a one-loss Arlington team in the sectional semi-finals last year, the expectations are greater for a team returning marquee seniors Andres Penfold and Hiroki Kobayashi.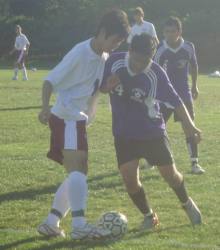 Penfold was named to the ESPN Rise's Starting-11 roster last month while securing a commitment to play at college soccer powerhouse Monmouth University currently ranked 5th in the country. Penfold cited the chance to play for the local club team as the reason he was recruited before his senior season even began. "Playing for FC Westchester, it put me in front of a lot of college coaches who saw what I can do," said Penfold. "I was flattered, 3 years ago I would have never thought I'd be in this position, and I hope that work comes together for the team." Kobayashi was also selected to the prestigious FC Westchester U18 club this past season, and while he has not decided on where he will be attending school next year, Penfold is certain that "a lot of guys on this team want to go play college ball. "Both players, along with co-captains Jonathan Geremia and Michael Abraham serve as the backbone for this senior-laden team that could be the cream of the Class-AA soccer crop this season.

But to reach the top, the Raiders will have to go through an impressive White Plains team that returns 19 players to their program from a year ago.Winning the section is the ultimate goal for this talented bunch, but Penfold recognizes the necessity of taking things one-step at a time to ultimately reach the team's desired end result. "We've all come in wanting to win it all, but we have to take things one game at a time."That next game comes Tuesday September 21st against Mamaroneck at 4:30 PM here on the Raiders home turf field.
Varsity Roundup:
Varsity Football: The Raiders began their season 1-0 after impressively defeating Class-AA foe R.C. Ketcham 29-22 last Saturday afternoon. Senior Quarterback Brian Bauersfield threw for 3 Touchdowns, two of them to senior wide receiver Matt Wheeler, while Anthony Cugini rushed 79 yards for the game winning score in the final quarter. Scarsdale will square off at Ossining Thursday afternoon before traveling to Lincoln a week from Saturday.
Girls Varsity Soccer: It was an impressive beginning for the defending league champion Raiders who walloped Yonkers 8-0 this past Tuesday. Erika Smith netted a hat-trick while Charlotte Miller added two tallies. The Raiders host Eastchester this Thursday at 4:30 PM.
Girls Field Hockey: After opening the season with a victory over Suffern, the Raiders finished in a 1-1 tie with Pleasantville on Monday afternoon. They now are 1-0-1 with a game Thursday at Irvington.
Girls Volleyball – The Raiders began the year defeating Clarkstown South 3-1 last Tuesday. Talia Plummer had 10 kills for the Raiders while Emma Fox had 8 kills and 10 assists. The squad hosted Yonkers earlier today and will travel to Eastchester next Tuesday afternoon.
BLOG COMMENTS POWERED BY DISQUS