Three Sisters Dominate Raiders Tennis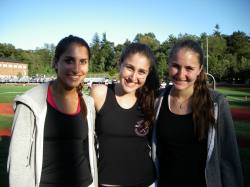 It's a year of firsts for the Scarsdale Girls Varsity A Tennis Team. This is the first time that Coach Jennifer Roane has had three sisters on the team at once and the first time in recent memory that eight of the thirteen girls on the squad were new to the team.
With so many graduating seniors playing in the top spots last year and the loss of junior Chloe Kaufman this year, Coach Roane was left with many openings on the team. Kaufman, a junior who has played first singles for the past two years opted not to play on the team this season in order to play more USTA tournaments and work on her ranking. Fortunately, junior Michelle Furnari, who is ranked 56 in the Eastern
16-and-under category is still playing for Scarsdale and is a strong first singles player. Furnari, who has played on the team since she was a freshman won her first match against Horace Mann in three sets, defeated her Pelham opponent 6-0, 6-4 and scored an easy win against Hastings on Tuesday September 21. She feels confident this year and is comfortable in the number one spot due to all of her tournament experience.
The three Rokito sisters are all playing key roles on the team. Senior Ariel Rokito is one of the team captains and is playing second singles. At the Hastings match, she
breezed by her opponent, winning 6-0, 6-1. Her twin sister Shelby Rokito and co-captain Cali Kurlan are in the first doubles position and won their match against Hastings when their opponents forfeited for medical reasons early in the match. The youngest and tallest Rokito, Lindsay, is the only freshman on the team and is playing second doubles with sophomore Stephanie Henkoff who has moved up to the team from Varsity B.
Parents Andy and Susan Rokito were on hand to watch the three girls play and Andy said, "As a parent it's a great feeling to have the three girls all play on the same varsity team. I have watched them play tennis since they were four years old and fed them balls until they got too good for me and moved onto professional coaches. It is good to see that all of their hard work paid off."
In third singles the team welcomes Junior Ciara (pronounced Sierra) Williams who did not play tennis for Scarsdale last year but played junior varsity as a freshman. So far she is ahead this season, winning her matches against Pelham and Hastings but falling to Horace Mann.
Moving up from Varsity B are sophomores Jessie Somekh and Shelby Zucker. At 5'6" and 5'9" the athletic duo bring some height to the team where they play doubles together. Though they feel more pressure playing on Varsity A, both enjoy the challenge and are finding it fun to be part of the team. The won both of their matches against Pelham and Hastings.
Seniors Alex Travis and Meagan Hom are returning members of the team and play doubles, alternating positions with juniors Jenna Karp and Julia Morris who have moved up from Varsity B. Karp and Morris played in the fourth position against Hastings on Tuesday, while Travis and Hom playing an extra doubles match. Both teams won and the overall score for the match against Hastings was 7-0.
The team did score two early losses in matches against Horace Mann and Edgemont, losing 2-5 against Horace Mann, who is not in the league and falling 2-5 to Edgemont who is in the league. Edgemont's team includes eighth graders and the team is young and tough.
This Thursday, September 23, the team crosses the bridge to play Suffern, and next week they will play Solomon Schechter at home on Monday, away at New Rochelle on Wednesday and home against Mamaroneck on Thursday September 30. Both Mamaroneck and Bronxville are said to have strong teams this year so it may be difficult to maintain the number one position in the league that Scarsdale has held for years. We'll be watching.
BLOG COMMENTS POWERED BY DISQUS