Offensive behavior: Scarsdale Field Hockey continues to dominate the competition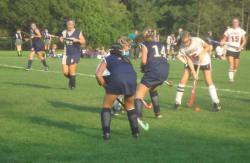 Since the beginning of last season the Scarsdale Varsity Field Hockey team has a grand total of one loss. That remarkable feat has coincided with the Raiders combined record of 14-1-6 under the direction of Head Coach Sharon Rosenthal over the past year. That strong play carried into 2010 where the Raiders began the year beating a Suffern team, that went undefeated a season ago, on their home turf. That win preceded victories against Hastings, Irvington and Pelham by a combined score of 15-0 demonstrating the growth of a squad that features nine seniors.
"We have a lot of great leadership," said Rosenthal after her team's victory Wednesday over Pelham 6-0. "I think they're really playing as a team instead of as one individual player…from the first day of preseason they have taken the sense of belief into practice and that carries over into the games."
Rosenthal, the captain of the varsity team back in 1992, has a squad devoid of selfishness. She also has a roster much larger than in years past. Anticipating the upcoming loss of nine seniors, Rosenthal has eight underclassmen and five juniors for a total of 22 varsity athletes. The early results suggest that the decision paid off as the girls are constantly cheering each other on, clapping their sticks together to celebrate each goal they score. And they do score quite often.
"I think we're putting pressure on teams early (and) were coming out strong in the first half," said Rosenthal. "My goal is to score in the first 5 minutes and we've done that in the last few games."
Two players in the Raiders starting lineup share something more than their placement on the field. Senior goalkeeper Emily Knapp and freshman forward Caroline Knapp are sisters. They may also be two of the team's most important players. "They're both very hard workers and its very hard to teach that," said Rosenthal. "When you have that naturally you're a step up."
The two play on opposite ends of the field, as Caroline and fellow teammate senior Margot Ehrlich provide the offensive firepower. It was the freshman that scored the team's first goal of the season against Suffern setting the tone for what has been a tremendous rookie campaign. On the back end, the senior captain has allowed just two goals through 20 quarters aptly earning the captaincy along with seniors Kathryn Peruski and Carly Levine.
With a roster full of talent and intangibles, there's a reason their coach is brimming with confidence heading into tough matchups with Class C favorite Bronxville and Class A favorite Mamaroneck in the next eight days.
"I think we're really setting precedence from the second we step on the field," said Rosenthal. "No matter who you are playing you have to play hard and we always have to be the best team on the field."
Photo Caption: Captain Carly Levine is pictured at the top
BLOG COMMENTS POWERED BY DISQUS